2019 Writing Retreat

We Are All Apprentices : 
A 4-day writing retreat with
Janelle Hanchett
***
April 10-14, 2019
Pescadero, California
In 2015, I held my first writing retreat with 8 women I had been writing with online for a year. In a word, it was magic.
And you know how I feel about expressions like "it was magic."
Only it was, in fact, magic.
Last year, I held my first retreat with 12 people who weren't in that writing group, and it was, again, don't make me say it.
We spent mornings on a sunny deck drinking coffee under the coastal redwoods, then headed off to the yurt with a roaring wood-stove to discuss various aspects of the craft of writing. We ate lunch together on a big wooden table, enjoying food prepared by one of my best friends, Sarah, who also happens to be a chef.
In the afternoons, we spread out around the retreat center and wrote or read or napped, sat in the hot tub or took a dip in the pool. One day, we went to the ocean and watched the waves crash on my beloved, jagged northern California shoreline.
In the evenings, we (well, they, since I don't drink) sipped wine on the deck and after dinner, gathered around the enormous fireplace in the main ranch house to workshop one another's writing.
We left friends, and better writers. And we possibly left crying.
The experience was transformative, and for that reason, I am doing it again this year.
Join me this August for a 5-day writing retreat on the north coast of California, just outside the town of Pescadero.
Here's a sample daily schedule (replace the second workshop with "group writing time"):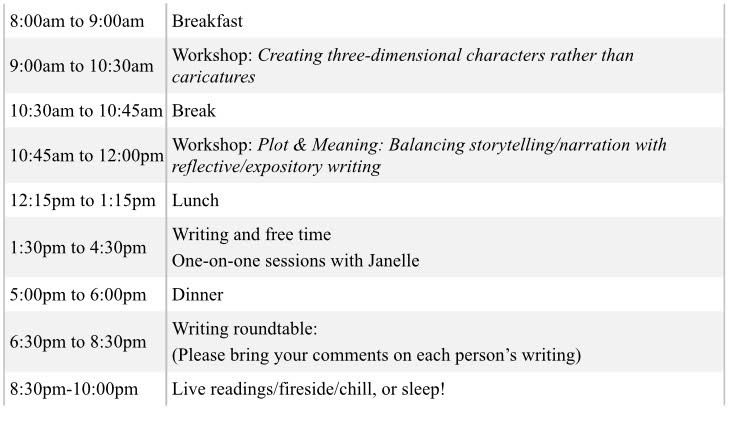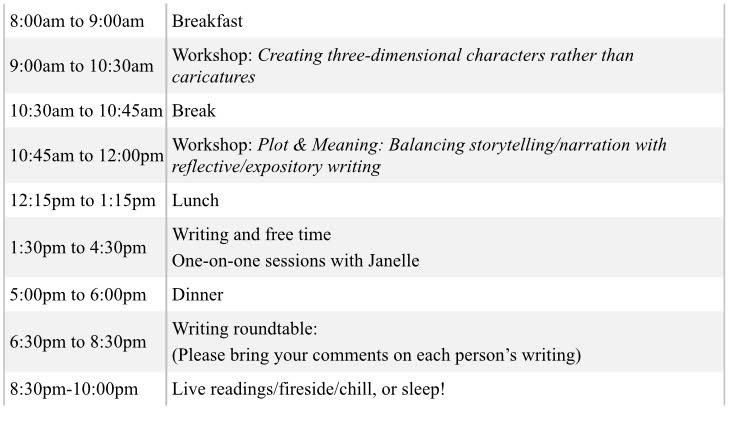 This workshop is for the writer looking to improve her craft and
get writing done

.

While we will talk about creative work generally, and focus some on fear and the thought processes that block us from writing, our main focus is on improving our skill in writing. That said, this is not a lecture/school course. This is a dynamic, fun, interactive time for you to hone your craft and learning how the doing often affects the thinking.

In other words, the act of writing often systematically deconstructs our fears about writing. I will explain this more, but for now, you'll have to trust me.

This is why I focus the retreat on craft.

Because if we focus on becoming the best writers we can become, a lot of the mental bullshit will fall away. Or, perhaps better said, it simply becomes irrelevant.

Goddess Ursula K. Le Guin said it best: "Craft enables art." 

And for the first time, taking into account feedback from participants, we will be have set writing time in addition to daily craft discussions. Rather than three hours of craft workshops, we will have one 1.5 hour craft workshop plus a two-hour writing time in the yurt where we will ALL (including me), actually fucking write. I know, revolutionary.

This way, you will leave with work done. You will have a chance to immediately put into practice what you're learning. You will rekindle your love (and deep, meandering loathing) for writing. You will leave this retreat with something to physically show for it.

You don't need a project. You can journal. You can take notes. You can revise old work. But we WILL get you writing by god. Ha.

It's fine. I'm not really that crazy. Or am I?
What's the venue? 
Oh my god. Let me tell you about this place. First of all, it is NOT fancy. If you want fancy, you gotta go somewhere else. It's rustic. It's funky. It's so full of creative beauty it makes me want to cry, right now, sitting in my damn office.
It's an old ranch house from the 1850s set outside the quaint coastal town of Pescadero, about 5 miles from the ocean. In the 60s, it became a nudist colony for artists, and since then, it has been a place for artists and other creative people.
Creativity is in the air.
Joan Baez had a reunion of her hippie colony here. You can still feel the music. She used to cook and sing with her friends here. You can still hear her voice.
There are redwood trees and a hot tub under the stars. There's a big old pool from the 60s. There's a huge stone fireplace and wood floors. There's a fire pit. There's a huge deck and incredible energy.
But I have to repeat: It is not fancy. It's clean and comfortable and rustic, but it's not flashy and it's not "new." It is run by a nonprofit devoted to keeping it open for artists, so it doesn't have a corporate investor backing it. This equals "not fancy," and some things could use updating.
But we're here for the energy, for the natural beauty, for the comfort of relaxed, warm, friendly environment. This, to me, is the "real" northern California. I've lived my whole life here. This place is the real deal.
 Sleeping Arrangements:
This retreat is open to 12 people. There are four large rooms that will each be shared by 3 writers. There is a very, very nice tent cabin available for an additional cost (it's really lovely and dreamy. kind of a private oasis/retreat). There are 2.5 bathrooms we will share.
As I say, rustic! Shared! Not fancy!
But look. This is the place.
I truly hope you join us. 
Details: 
Dates: April 10-14, 2019
Cost: $1,350*. Here's what you get:
Four-night accommodations in the world-famous (and I'm not kidding) coastal San Francisco area
All of your meals: Breakfast, lunch, dinner and snacks, all prepared by Sarah, a professional chef. Healthy, expansive, and largely organic and locally sourced.
1.5 hours of writing craft instruction each morning (Note: If you attended last year, don't worry, content will be NEW.)
1.5 hours of daily writing time, as a group, so you can't dodge it. hahaaaaa (evil laughter)
Two hours of evening writing workshopping, where you will receive feedback on your work if you'd like, and offer feedback to others. I will comment on all writing submitted.
Optional morning yoga.
Optional hikes in the redwoods, bike rides, and trips into the idyllic little town of Pescadero.
Evening bonfires built by my lovely, bearded husband, Mac. Maybe he'll play guitar for us. He and Sarah will definitely sing.
Well, that sold out in 24 hours. Please email me to discuss the waiting list (add yourself, and I can tell you what number you are). Thank you so much! Info@renegademothering.com
If you would like to help another writer get to Pescadero, please consider donating to the scholarship fund. This fund has made a HUGE difference in the lives of writers, and for many people, is the only way they can get there. The cost of this retreat is really high, and I keep the tuition relatively low (as well as enrollment),so I am unable to offer the scholarships I normally do (for my online workshops). We are very grateful for your generosity.
*REFUND POLICY: The $300 deposit is non-refundable. The full retreat amount will be due March 1, 2019. If for some reason you cannot attend the retreat, I cannot offer a refund on the remaining balance unless there is a waitlist and I am able to fill your spot. I'm sorry this is so strict. None of us make a killing on this and my family would be totally screwed if I had to cover missed spots at the end. And I once had THREE people drop out two weeks before the retreat. I blame Trump. Is this the longest refund policy ever, and the most ridiculous? I sure hope so.