I'M JUST HAPPY TO BE HERE
Order now, or keep reading for more information.
I'M JUST HAPPY TO BE HERE is the story of my descent into alcoholism and drug addiction after having children, my separation from them, and the (miraculous?) reuniting of my family. But more than that, it's an exploration of what for me has been the central paradox of motherhood: That we are tasked with the "most important job on earth," but we are only standard humans.
At 30 years old, I found myself rather dropped suddenly into motherhood – wide awake and sober as fuck – while working, going to grad school, and attempting to parent. I began searching for other mothers who felt like I did: Deeply grateful while also occasionally wanting to launch themselves into oncoming traffic. Deeply connected and devoted their children while also profoundly bored, and erased in the monotony and mind-numbing reality of kid-rearing.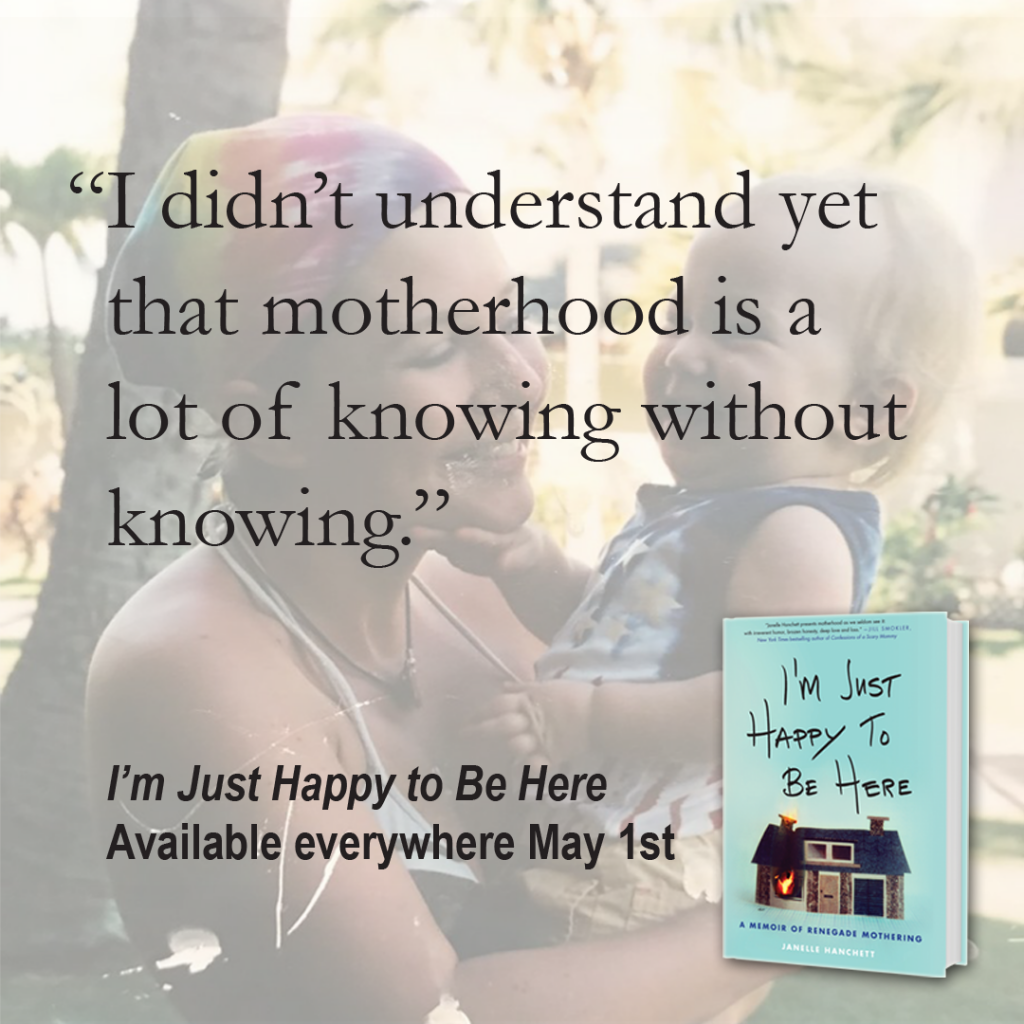 And so, in 2011, I began writing Renegade Mothering.
And now, on May 1, 2018, I am releasing a memoir that tells the story of my addiction and recovery, but beyond that, grapples with that central paradox and calls into question the legendary sanctity of motherhood as some magical spell that turns us into better versions of ourselves.
I wasn't sanitized and washed sacred the day I had my first child. No matter how much I love these children, the reality of my limitations is unwavering, and some of us are not interested in pretending they don't exist.
So, how do we find some peace there? Joy, even.
This book explores motherhood from that place of deep imperfection. In my case, it was alcoholism, but I hope the book will resonate with mothers interested in dropping the bullshit and looking at ourselves as humans, that sacred, and that broken.
You can read more about it, including an excerpt from Chapter 1, on my publisher's webpage for the book.
Here are some of the editorial reviews: 
"Janelle Hanchett presents motherhood as we seldom see it: with irreverent humor, brazen honesty,deep love and loss. Her story is about finding peace right in the mess of motherhood, and that's what makes it wonderful."―Jill Smokler, New York Times bestselling author of Confessions of a Scary Mommy
"Fiercely talented word-warrior Janelle Hanchett grabs your guts with her frank, brutally funny, and moving memoir of modern motherhood and addiction. You won't want to let go of this book."―Ann Imig, editor of Listen to Your Mother: What She Said Then, What We're Saying Now
"Whilst we are all fighting some sort of inner battle, few of us have the honesty, humor, and heart to describe our struggle like Janelle Hanchett. Her memoir, I'm Just Happy to Be Here, is not just for those touched by addiction, but for anyone who has ever felt like an outsider, which is everyone. I could not put this book down."―Firoozeh Dumas, New York Times bestselling author of Funny in Farsi and Laughing Without an Accent
"Far from your cookie-cutter story of addiction and recovery, I'm Just Happy to Be Here: A Memoir of Renegade Mothering describes Hanchett's journey to recovery and sobriety in imperfect and unconventional ways."―Bustle
"By turns painful and funny, [I'm Just Happy to Be Here] explores the pressures of modern motherhood while chronicling one woman's journey toward acceptance of her own limitations and imperfections. A searingly candid memoir."―Kirkus Reviews
"Hanchett offers a startling account of her struggles with alcohol and drug addiction in this raw and riveting memoir…. Readers will cheer Hanchett toward her triumphant recovery."―Publishers Weekly
"Witty, heartbreaking, and enlightening, Hanchett's memoir will resonate with parents and nonparents alike."―Booklist
"An inspiring message about recovery that resonates through its emphasis on the imperfect progress of life."―Library Journal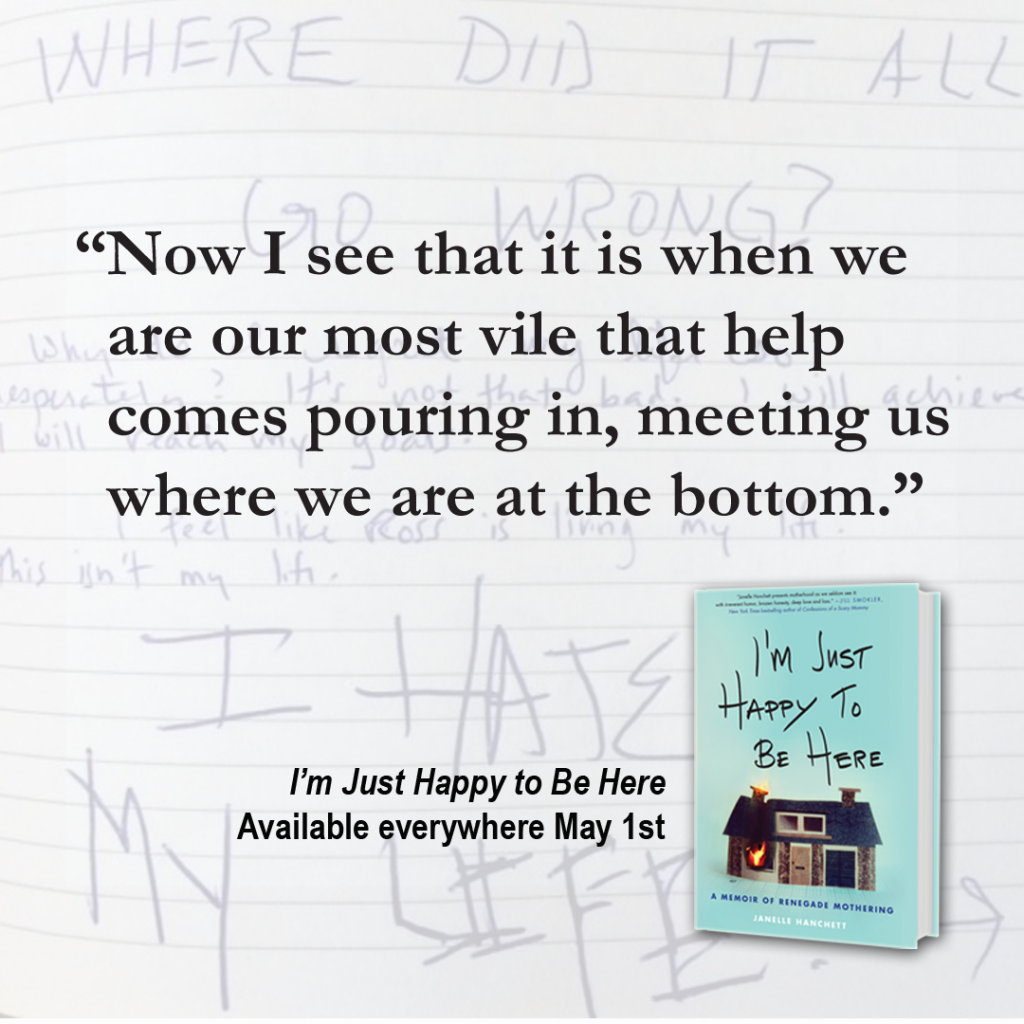 And finally, I WOULD LOVE TO MEET YOU. Click here for tour dates. 
Thank you so much, for everything. The title of my book says it all.
Once again, in case ya missed it. Ain't book sales SUBTLE? I love you. Thank you.