I mostly just post photos of my pets.
When did I become this person? Unclear.  Am I embarrassed of it? Probably.
I think back fondly to the time when I had stunning cultural analyses to share, every day, all day, endlessly, impressing at least myself with my witty responses to whatever I needed to be witty about. I'd share articles I had read that angered or enlightened me. I'd post them with a recap. I'd have things to say. I'd believe those things were worth saying. I'd wait for the world to respond.
Now it's kitten, puppy, dog, puppy, kitten, all the animals. Kitten in a ball. Puppy on the ground. Me, vaguely delighted. Unsure when I became that person.
Untrue. I know exactly when I became that person: I became that person when my mental health quite literally collapsed this summer.
I didn't wake up one day to Mental Collapse, as if it were on the agenda. It had been building for a few years, maybe a couple of decades if we're really gonna get technical, but around June I started writing things in my journal like "I feel really, really strange," and "I can't access my thoughts." "There is something terribly wrong with me."
Look, there was a time in the not too distant past when if you told me "My mental health doesn't allow me to engage beyond cat photos," I would have told you to grow the hell up. I would have tried to hide my eye roll and I would have failed. I would have asked myself what kind of delicate rose petal backs away from life because they truly cannot engage. As if that's a thing!
But my life has been a series of lessons on things I'm wrong about, and I was wrong about that. My deep belief that powering through is always an option could be in part why I find myself here now; not only the universe's way to level that which must be leveled, but because it shows how little I understood the power of the brain to remove one's capacity to function in the world.
It is possible to collapse. It is also possible, if you ignore your body's signs for long enough, that your brain can shut down. There will be no "powering through." There will be only a powering down.
They really should rename that book "The Body Keeps the Score, and it will Fucking Win."
You can only run for so long.
As an aside, this if the first time I've been able to write this many words in a very long time, so please celebrate with me.
Also, IN MY FUCKING DEFENSE, have you seen my animals? They are very cute. There are four now. It's a long story.
Whatever, I want to talk about the most boring, overused word ever. Stress.
"Stress" is one of those things I heard about for so long for so many years by doctors and wellness people (puke, stop) and People Who Know Shit that I categorically denied it as a thing that mattered. If you're having trouble following that logic, join the club. I'm simply reporting the facts here.
It's almost like it becomes white noise, the whir of a fan, the hum of a dryer. It's so constant you don't notice it anymore.
No but seriously: Stress kills, stress makes you sick, stress causes cancer, stress atrophies your hippocampus, stress hurts your back,
stress
stress
stress
stress
fuck you.
All life is stress, ya assholes. "Reduce stress." Like how? Get rid of my kids? Stop earning money? Live in a different country (this applies to both my time in the US on account of its shithole country status, and here in The Netherlands on account of it not being my shithole country).
But here's what happened, reader: I had a mental break in the form of my brain simply checking the fuck out. It went full dissociation on me. Yes, I have a mental health diagnosis that I'm not going to go into now that makes me more susceptible to dissociation from chronic stress and anxiety, but y'all—damn.
I spent a week at an inpatient mental health facility, and then my brain left my body. I developed dissociative anxiety disorders called depersonalization and derealization. Apparently the treatment was "too much for me." lol understatement.
It is very hard to explain but it essentially felt like I was outside of my body. When I would talk to people, it was like somebody else was talking from inside of me. I had no idea where the voice was coming from. I couldn't trace its source. I knew intellectually that I was standing on a street talking to Mac, but what it felt like was somebody else was inside of me talking to Mac. I realize this makes no sense. Try being the one feeling it.
And if you have no idea what I'm talking about, please consider yourself "blessed." Or something.
The world around me felt like a video game. Like there was this 100-foot wall between us. I could see through it; I knew I was in the world. But I would look at cars coming down the street and not understand how close they were to me. Would I get hit? I was unable to judge distances. Lights and sounds became sudden and disconnected. I got so afraid of how I felt, how foreign the world became, I didn't leave my house for two full weeks. As in, I did not step outside. That made it worse.
There were no decipherable thoughts in my brain. Or, perhaps better said, thoughts would pop up but I couldn't find the source of them, or follow them, or develop them. Friends it's so, so weird.
I could not work or write for more than an hour on my very best days. Hence the cat photos. And if you're my friend, the lack of communication.
My vision was blurry. Sometimes my head would fall backwards, and my eyes fall shut from the weight and dizziness of the heavy ass head and empty brain. When I say literally could not engage, I mean literally.
Before I had a name for what was happening to me, I began genuinely fearing that I was going insane and may hurt someone. I wondered if this is what it felt like before a psychotic break. I began panicking multiple times a day, thinking if I didn't get out of this, I couldn't stay alive. I began to understand why people sometimes end their own lives when they receive a diagnosis of early dementia or other degenerative brain diseases. I didn't want to die, but I would not live my life like that: No thoughts, no memory, no ability to think, no joy, no connection, no nothing.
I told Mac this as if it were a mere statement of fact. But honestly, the idea that I may STAY like that, and according to the internet forums on depersonalization and derealization, "almost everybody" stays like that. I DO NOT RECOMMEND INTERNET FORUMS. (Why don't we learn? Why do we always go back?)
But my therapist flatly told me, over and over: You will not stay like this. This is your brain thinking it's protecting you. If you reduce stress and anxiety, you will teach your brain that it's safe to "return," and you will come back. I had to trust her. And what she was saying made sense.
At least it made more sense than, "And one day, your brain left, and it never returned, and then you died."
This started in earnest in July. It is now November. I had my first mostly "normal" day four days ago. And now, I'm writing to you. By this evening, I may be gone again.
But I will come back. I will always keep coming back.
I'm not sure why exactly I'm writing to you. I guess I have a few things to say. One, I've missed you.
I've missed myself. I miss the me that had something to say to you, the person that wanted to chat and rant and engage and hang out.
I want to say that sometimes people really are struggling that much, and it doesn't mean they've just moved to Europe and found peace and now just post pictures of the cat's toe fluff.
It doesn't mean they don't care about social and political issues. It doesn't mean they aren't scraping the cell walls with everything they've got to claw their way back to you. I think we need to go easier on each other. I think we need to stop projecting our shit onto others as if our individual lives are universal.
Am I kinder? Am I a life coach now? Why is life always trying to make me nicer? WHOSE IDEAS WAS THIS.
I also understand now, all the way to my bones, that the internal life is all life is. There's nothing else. All this external shit, it's window dressing. Some sprinkles. Who I am, what I am, what makes this life a wild and vibrant thing, comes from within me. I am the one who jumps into a river in Spain and makes it mean something. I am the one who synthesizes and creates from the beauty and pain around me. It's possible to have it all washed into neutrality, to walk through it like a Marvel robot—and it's death.
In a way I feel a love and compassion for myself (puke) for the first time– feeling, after all, that I'd give just about anything to experience that asshole again. Why was I so hard on her?
To think and create and desire. To contemplate and grow confused and seek to understand. To follow a train of thought for hours, to write for more hours, to remember yesterday, last week, what I read this morning. To move through the world with a sense of self and personality and my feet on this fucked-up, broken ground.
I begged to return no matter how hard it was. I begged to move through the world again as the person I was quite awful to. Perhaps only those who've been through this will understand how I can talk about myself in third person. But if you've ever had your Self ripped from you, reduced to a zombie walking through the world through a thick fog of numb, empty distance, with no ability to access the part of you that lives and creates and feels, you will understand what I'm saying here.
We are, to put it bluntly, no matter how fucked up, better than nothing.
I've said it before and I'll say it again: I must believe it's all leading somewhere. Over the years a lot of you have been quite worried about me, probably able to see what I couldn't see myself. Slow down, settle down, calm down. I couldn't, though, you understand. Because when I did, I would find myself here.
Whatever I'm going through is the hardest thing I've ever experienced. It somehow makes getting sober look like a cakewalk. Perhaps what I'm living through now is getting to the bottom of why I ran straight to whiskey as my main life hack. Perhaps this is the scorecard finalized. I guess it all led me here. And I'll find myself on a new ground, made just for me, no longer running, and that much more alive.
Until then,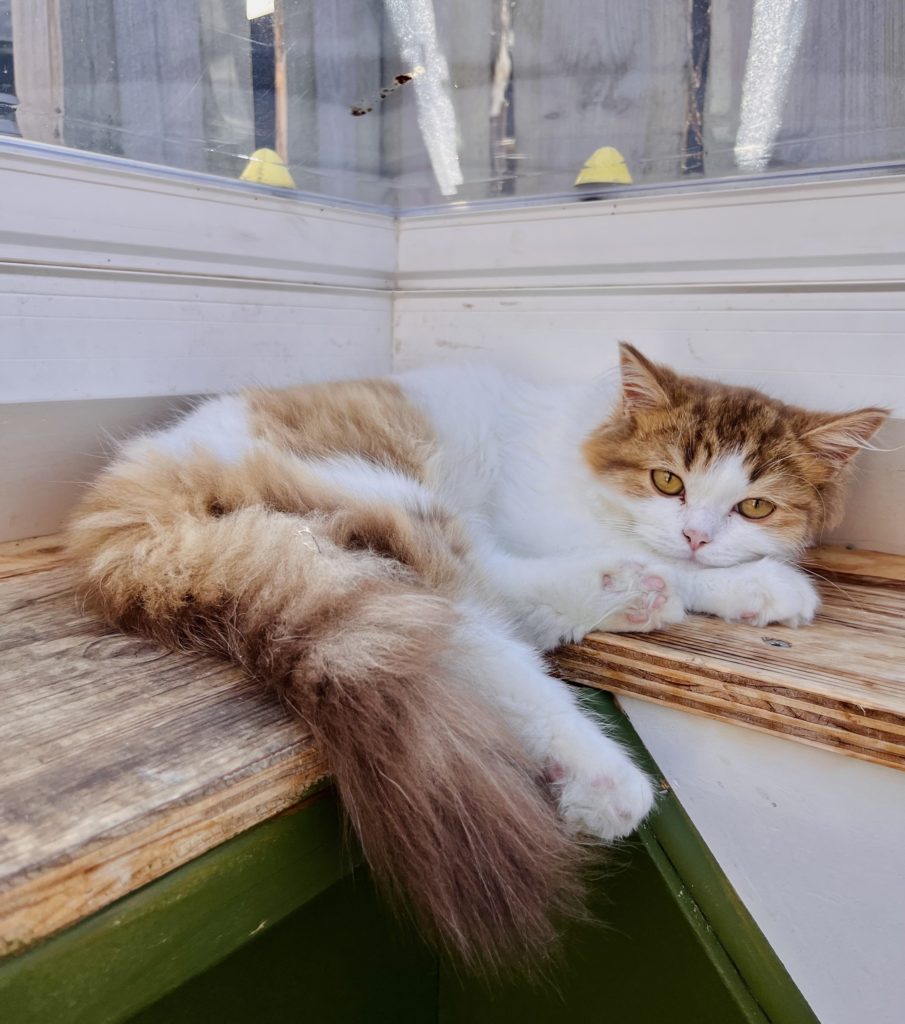 more stuff I shouldn't have said out loud: