2021 Retreat
We Are All Apprentices : 
A 6-day writing retreat with
Janelle Hanchett
***
October 6-12, 2021
L'Isle-En-Dodon, France
In 2015, I held my first writing retreat with eight women. They were all from the first writing workshop I had ever taught, and we had been working together for a year.
In a word, it was magic. And you know how I feel about words like "it was magic."
Only it was, in fact, magic.
The following year, I held my first retreat with 12 people who weren't in that writing group, and it was, again, don't make me say it.
We spent mornings on a sunny deck drinking coffee under the coastal redwoods, then headed off to the yurt with a roaring wood-stove to discuss various aspects of the craft of writing. We ate lunch together on a big wooden table, enjoying food prepared by my best friend, Sarah, who also happens to be a chef.
In the afternoons, we spread out around the retreat center and wrote or read or napped, sat in the hot tub or took a dip in the pool. In the evenings, we (well, they, since I don't drink) sipped wine on the deck and after dinner, gathered around the enormous fireplace in the main ranch house to workshop one another's writing.
We left as friends and better writers. And possibly crying.
These retreats have been transformative, and since we now live in the Netherlands, we figured we'd better take advantage of, well, Europe. So we're heading to southern France.
Join my husband Mac, Sarah (my best friend and our chef), and me June 2021 for a 6-night writing retreat in L'Isle-En-Dodon in France, 60 kilometers from Toulouse on the road to the Pyrenees. We will wake up, eat chocolate and butter croissants delivered straight from the local baker (and consume a lot of coffee and whatever Sarah makes), then we'll have 2.5 hours of craft workshops focused on getting more of you—your voice, insights, and style—onto the page, because, as Ursula K Le Guin says, "Craft enables art."
We will eat lunch, then have afternoons completely free for writing, sunbathing and swimming at the pool, or taking bike rides or walks or car trips into nearby villages for the outdoor market, or to see the 12th-century cathedral, or to sit in the square and watch the people go by (my actual favorite thing to do in Europe). In the evening we'll enjoy dinner prepared by Sarah with locally sourced ingredients. We'll reconvene in the evening to workshop writing.
We will have one day entirely free for an outing that we'll choose together in advance, but I'm leaning toward a trip into the Pyrenees.
My approach is this: I want us comfortable, content, friendly, mellow, and having A LOT of possibly raucous fun while also writing and seriously considering our relationship to writing.
Forgive the cliche but we work hard and play hard. I remind writers always that they are spending money on this shit—and so we shall write. I take my commitment to you very seriously and am honored you trust me as a teacher and mentor. I built my writing career from 40 blog readers while raising four kids. I published a book in 2018 and have a Master's degree in English. I see writing in realistic terms and work from a place of pragmatism and absolute honesty instead of airy declarations of the muse: I won't insist you find "your jewel within" (simply because I don't know what the fuck that means), but I will remind you how Toni Morrison wrote her first book on a yellow legal pad next to a toddler, who then vomited on it, and how she "wrote around the puke."
I'm a write-around-the-puke kinda writer. But the thing is, in my opinion, that is the jewel, and it's one I know well. It's the one that has in fact changed my life.
We think. We discuss. We get deep into the grit of it. And then we pull back and enjoy our surroundings, food, each other, and life.
I want you to leave with a feeling of experiential transformation. As in, the experience itself adding as much to your writing as the workshops.
Here's a sample daily schedule: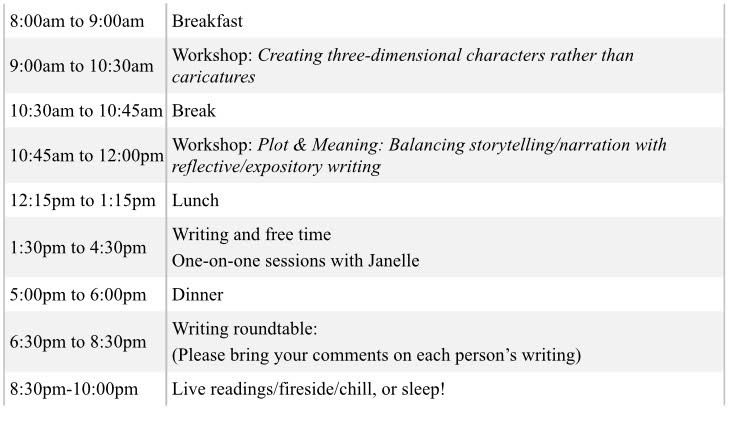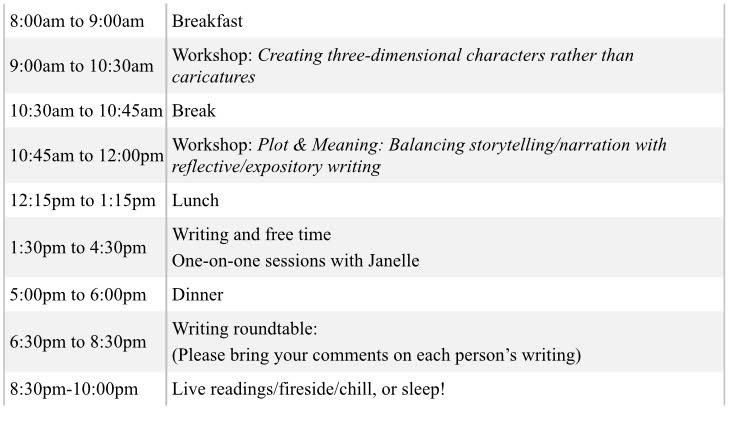 So, this retreat is for the writer looking to improve her craft,
get writing done, and explore one of the most beautiful and iconic places in the world. 
While we will talk about creative work generally, and focus some on fear and the thought processes that block us from writing, our main focus is on improving our skill in writing. That said, this is not a lecture/school course. This is a dynamic, fun, interactive time for you to hone your craft and learn how doing often affects thinking.
In other words, the act of writing often systematically deconstructs our fears about writing. I will explain this more, but for now, you'll have to trust me.
This is why I focus on craft. Because if we focus on becoming the best writers we can become, a lot of the mental bullshit will fall away. Or, perhaps better said, it simply becomes irrelevant.
You don't need a project. You can journal. You can take notes. You can revise old work. But we WILL get you writing by god.
It's fine. I'm not really that crazy. Or am I?
What's the venue? 
Well, this is: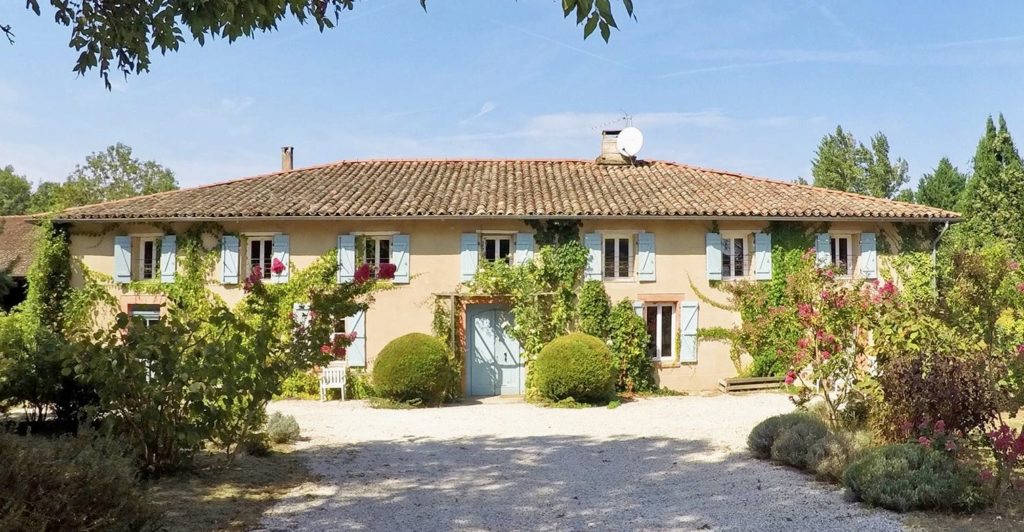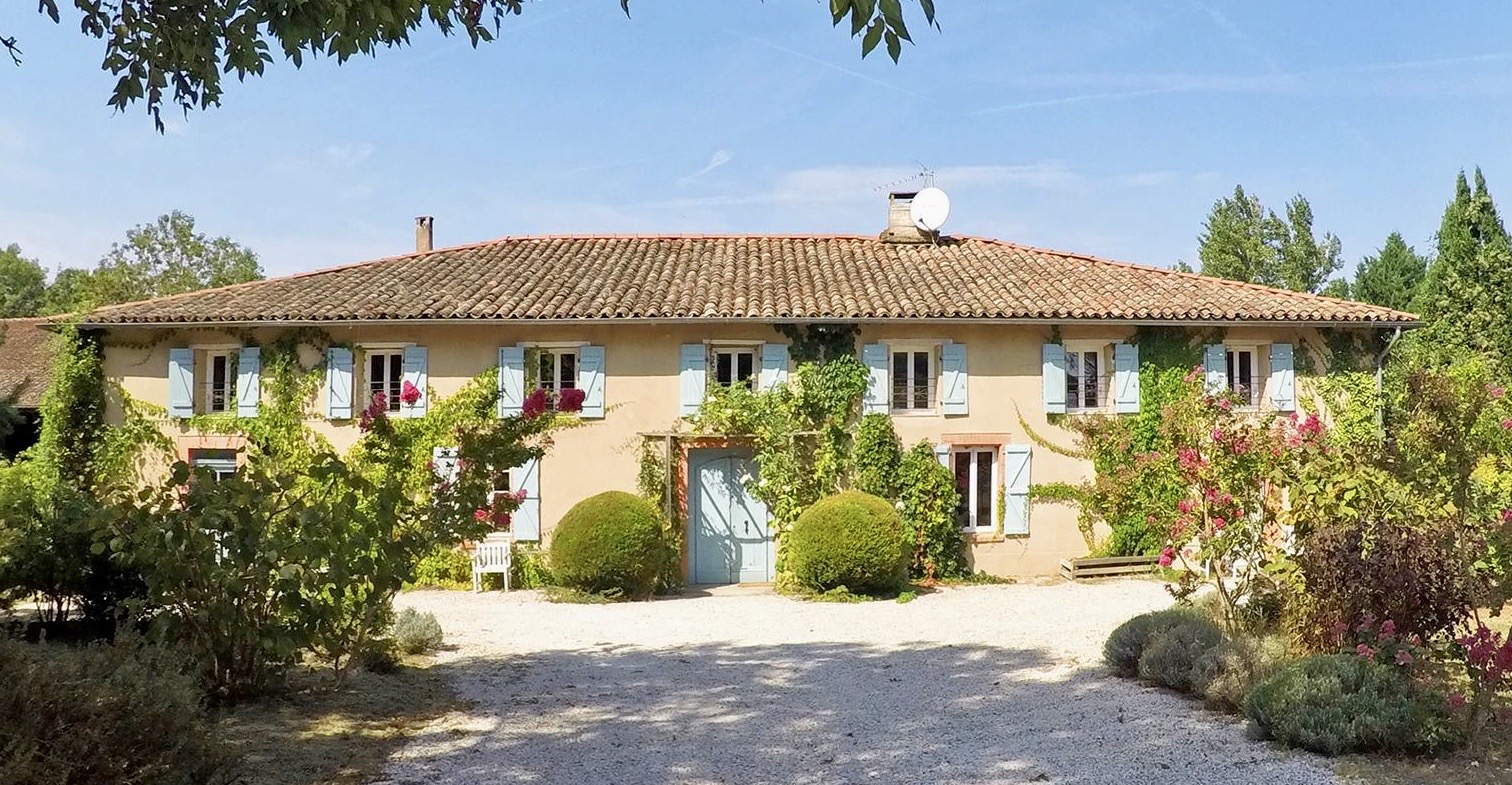 This is a family-owned French farmhouse surrounded by sunflower and wheat fields, and the rolling hills of the Gers. From the owner: "In the heart of sunny south-west France, entirely surrounded by the rolling countryside, with the Pyrenees shimmering in the distance, La Rivière is nestled in a one-acre park within walking distance of a sleepy picturesque market town."
And oh, we will definitely go to that market town.
I don't do fancy. I don't do stuffy or pretentious. I looked for this place for a full three days, scouring, searching, and when the owner told me that it was her family home and that her parents worked to make it warm, cozy, and comfortable, I knew it was correct. Also, her great-grandfather was a Welsh poet and her father a journalist. Obviously a sign from god.
Here are a few more photos of the house and the surrounding area and village within walking distance: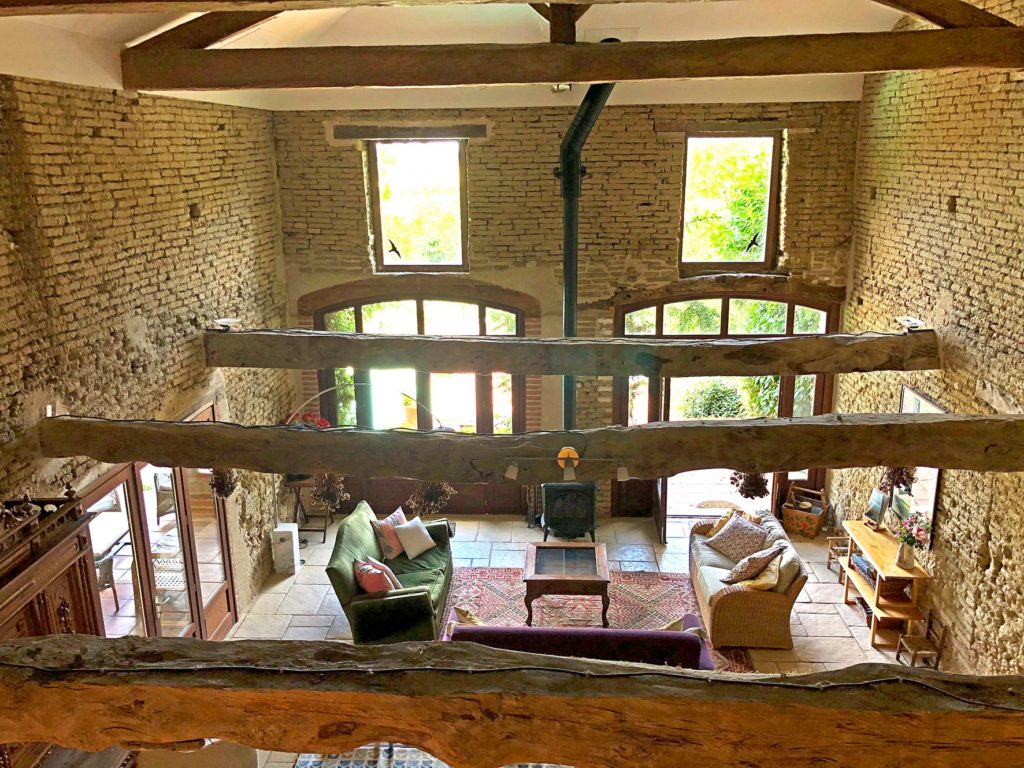 Tons of places for you to sneak away and write. A pool to lounge by. Bikes available for rides into the village. Friends available for an evening walk. There are rivers nearby, lakes, waterfalls, old ass churches, cobblestone squares. Oh, that sweet Europe stuff.
Sleeping Arrangements:
This retreat is open to 12 people and there are various sleeping accommodations available, ranging in price. There are two rooms available as solo rooms, one with its own bathroom. Next, there are rooms with two twin beds, and rooms with a double and two twins. Most accommodations are shared, but not with many, and the house is quite large with lots of places to get privacy.
Getting there:
The easiest way is to fly into Toulouse (an international airport) and rent a car from there. It's an hour's drive from Toulouse, but trust me, that area is STUNNING and you will have fun in that hour's drive. Usually, writers coordinate renting a car together and they carpool and pick up wine on the way and it's all very fun and chill.
We will have a Facebook group for attendees where all this will get sorted. You can also take a bus from Toulouse to the farmhouse. We will provide bus times and info in the FB group. For an additional cost, we can provide transportation to and from Toulouse.
It will most likely be significantly cheaper to fly into Paris. Also, this may be a good excuse to hang out in Paris if you're into that sort of thing. You can then fly from Paris to Toulouse (1-hour flight that's about 70 bucks), BUT you have to deal with the fucking big-ass Paris airport. You can take a train from Paris to Toulouse, but it's 7 hours. Good time to write, though, and see France. I love trains.
And, of course, you could rent a car in Paris, meet up with a couple of writers, hang out, and road trip to the retreat center. That, to me, turns this into an adventure and I'm into it.
Anyway, there are options and we can figure it out together. But, for a quick idea of flight costs, use Google Flights to plug in your closest airport to Toulouse.
October 6-12, 2021
L'Isle-En-Dodon, France
Pricing:
Cost: 1800-2400 euro* (depending on room type). Please note that if you live in the EU, I have to charge you 21% VAT. I'm sorry, but I know you're used to it.
Anyway, here's what you get:
Six-night accommodations
All of your meals: Breakfast, lunch, dinner, and snacks, all prepared by Sarah, a professional chef. Healthy, expansive and locally sourced.
2.5 hours of writing craft instruction each morning (Again, if you've attended my retreats/workshops before, don't worry, the content will be NEW.)
1.5 hours of an evening writing roundtable, where you will receive feedback on your work if you'd like, and offer feedback to others. I will comment on all writing submitted.
Optional morning yoga with Sarah, a certified yoga instructor.
Optional hikes, bike rides, and trips into nearby villages.
Evenings around free, but often we end up hanging out, drinking wine (well, I don't), listening to Mac and Sarah play guitar and sing. Somehow this seems to be everyone's favorite feature of these retreats. DON'T WORRY I'M NOT OFFENDED.
Double bed in a private room with en suite bathroom: €2400 (reserved)
Double bed in double-occupancy room w/ en suite bathroom: €2100 (1 available)
Single bed in double-occupancy room w/ en suite bathroom: €2000 (1 available)
Double bed in private room: €2200 (reserved)
Single bed in double-occupancy room: €1900 (2 available)
Double bed triple-occupancy room: €1900 (reserved)
Single bed in triple-occupancy room: €1800 (both reserved)
To secure your spot, please send a €300 deposit* (please read the refund and cancellation policy below) through the link below. You can then email me with your room preference and I'll reserve it for you on a first-come, first-served basis. If you'd like to just pay for the whole spot outright, let me know and I'll send an invoice.
I truly hope you join us. I am really, really excited to do this with you in France.
Updated June 11, 2021: The retreat is sold out (thank you so much). To be added to the waitlist, please email me at janellemac@gmail.com.
And let me know if you want to be notified early or upcoming retreats. We're going to Spain or Portugal in Spring 2022. It won't suck.
*REFUND POLICY: The €300 deposit is non-refundable. The full retreat amount will be due August 1, 2021. If for some reason you cannot attend the retreat, I cannot offer a refund on the remaining balance unless there is a waitlist and I am able to fill your spot (and there is usually a waitlist). I'm sorry this is so strict. None of us make a killing on this and my family would be totally screwed if I had to cover missed spots at the end. And I once had THREE people drop out two weeks before the retreat. I blame Trump. Is this the longest refund policy ever, and the most ridiculous? I sure hope so.