2022 Artists' & Writers' Residency & Retreat

When Artists Go To Work : 
A Residency & Retreat with
Kathryn Hohlwein, Laura Hohlwein, Daniel Schoorl, Patrick
Grizzell, Deborah Rhea, and Janelle Hanchett
***
July 3-9, 2022
Heretat de Guárdia, a 15th-century farmhouse in Cataluña
Lleida, Spain
This retreat is unlike any I've done before. It blends a traditional artists' residency with the discussion and learning environment of a more structured retreat. Our aim is to provide a compelling and vitally creative space for you to work on your own project while learning from other artists in myriad mediums.
The artists in residence–Kathryn Hohlwein, Laura Hohlwein, Daniel Schoorl, Patrick Grizzell, and Deborah Rhea–are my personal friends and mentors, and it feels quite sacred to unite them in an environment designed to center their art and knowledge of poetry, prose, songwriting, textile and visual arts, photography and sculpture. They are also longtime friends with one another. Please read their bios below. They do not need me to enhance their work and lives.
When I met them years ago I was struck not only by their sometimes rage-inducing skill and talent (that may be a response personal to me), but also by the way they navigate the artist's life–making art on their own terms, neither pandering to the mainstream and its relentless pull of commodified, soulless art, nor abandoning the creative effort altogether.
In a world that can feel antithetical to any activity without immediate financial return let alone a sustained commitment to creative work, these artists remind us why we do it, and what life can become if we keep on doing it.
For the past two years and continuing until today, I think often of Toni Morrison's words: "This is precisely the time when artists go to work. There is no time for despair, no place for self-pity, no need for silence, no room for fear. We speak, we write, we do language. That is how civilizations heal."
This is precisely the time when artists go to work.
So let's do that.
So What is This? 
This retreat offers artists and writers the opportunity to explore and contemplate art and the creative process, and work in privacy on their own projects. The workshops and discussions, led by the artists in residence, will focus on aspects of art-making that are applicable across mediums. Process, sources of inspiration, the theoretical underpinnings of what we do as artists.
While some craft will inevitably arise, we will focus largely on more holistic concerns, using different mediums as the foundation for larger conversations about creative work.
As in, we might discuss "What is poetry?" as opposed to "Here's how to write a poem." But this conversation is really talking about constraints, about form, about the role of structure and definition and genre. How do we play within constraints? How does "form follow function?" How far can we push boundaries before we blow up the genre entirely and it's not that anymore at all?
In this way we speak to everyone in the room, no matter what their main area of focus.
There is incredible intersection between the creative life of a painter, writer, and songwriter. How rarely we sit down to listen to one another, to learn from each other, to examine how the art-making habits of one can help inform another's.
We will stay six nights in a 15th-century Spanish farmhouse overlooking the hills of Lleida, Spain. You will enjoy solitude, many opportunities for hiking, swimming, and relaxing, as well as many opportunities to engage with other writers and artists.
We hope this will be a time for you to make real progress on your work, and enliven yourself as an artists after two years of possible aridity, and definitely isolation, brought on by the pandemic.
Let me introduce you:
Kathryn Joyce Jerrell Hohlwein was born in Salt Lake City, Utah. She graduated from the University of Utah in 1951 and received an M.A. degree from The Bread Loaf School of English of Middlebury College in Vermont in 1953.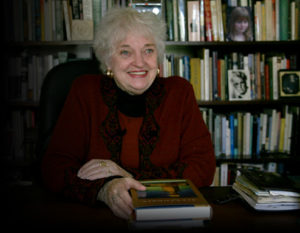 After this she traveled extensively in France, Germany, Lebanon and Scotland, married a German artist, and had three children.  She taught for nine years at universities in the Midwest and moved with her family to Sacramento, California in 1963 where she became a Professor in English and Humanities and is now Professor Emerita.
Since 1998 she has been President and Founder of The International Readers of Homer, a non-profit which presents audience-participation, all-night readings, all over the world. of either Homer's Odyssey or Iliad.   This work can be reviewed here.
She had always enjoyed collaboration and published Touchstones: Letters Between Two Women, l953-1964 with Harper and Row in New York, and Rowohlt Verlag in Hamburg.  For twelve years she was Poetry and Art Editor of a scholarly journal entitled Studia Mystica. She has published a collaborative book of poetry with her daughter, Laura, called What's Funny About Forever. She has a book of her collected poems called The Little Chapel in Donegal. She was recently included in a publication called Philhellenes, 14 Portraits, a collection of writings of lovers of Greek culture. Her letters and other writings are collected in The Arthur and Elizabeth Schlesinger Library of American Women at Harvard. At 91, she continues to travel, edit, and write.
 Laura Hohlwein was born in Columbus, Ohio in 1963 but grew up largely in Sacramento, California.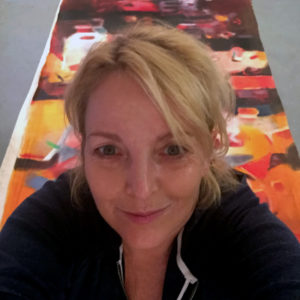 She studied at Oberlin College, McGill University and got a BA in English from California State University, Sacramento.  She holds an MFA in Creative Writing from Vermont College and an MFA in New Media Interdisciplinary Art from Transart Institute in Austria.  She was the recipient of two teaching grants from the California Arts Council for her work with prison inmates and from The Sacramento Metropolitan Arts Council for video poetry.
She has had poems published in Green Mountains Press, Poetry Miscellany, The Eleventh Muse, Tule Review and others and was nominated for the Pushcart Prize. A collection of her collaborative poetry with her mother, Kathryn Hohlwein, called What's Funny About Forever, was published in 2018 by Random Lane Press.
A dedicated painter, she has been exhibited in California, New York and in Europe and has won several fellowships and residency grants in support of her artistic practice. You can see her work here. Laura teaches Drawing, Painting, Digital Art, Art History, and Video Editing in the Los Rios Community College District. She loves big dogs, thunderstorms and walks on the beach.
(May I also direct you to this gorgeous artist's statement Laura wrote.)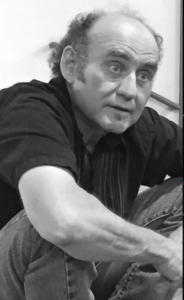 Patrick Grizzell is a poet, songwriter and visual artist. His books include Dark Music, Chicken Months (about which Robert Bly wrote, "… the poems have a sweet spontaneity and tenderness."), Minotaure Into Night (with sumi paintings by Jimi Suzuki), 13 Poems, It's Like That, and the relatively forthcoming The Vignettes.
He was a founding member and previous director of, as well as an editor for, the Sacramento Poetry Center. He founded or co-founder most the SPC publications, and has conducted many interviews with noted writers and artists, including, among others, Helene Pons, Fernando Alegria, Robert Bly, Linda McCartney, and

 

ruth weiss. He also occasionally writes reviews and essays about literature and art. He was editor-in-chief of On The Wing, an arts magazine, and has written for many other publications.
He has given lectures and led workshops at many writer's conferences and in literary series, and taught poetry as a guest lecturer at colleges and in several California prisons (Arts In Corrections).
He has performed poetry and music with Allen Ginsberg, Anne Waldman, Leon Redbone, Jim Ringer, Ed Sanders, Robert Creeley, Shizumi Shigeto Manale, and others.
He studied art and literature at CSUS with Dennis Schmitz, Kathryn Hohlwein, Leon Golub, Eugene Redmond, Maya Angelou, John Fitzgibbon, Jimi Suzuki and others.
His band, Proxy Moon, released its premiere CD in 2016. A second is in the works, or so the story goes.
John Lee Hooker once said he "sound pretty good" on the dobro.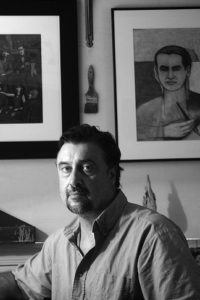 Daniel Schoorl was born in Montevideo, Uruguay in 1957. He studied oil painting and drawing at Sacramento State University and privately with Joan Ito. He has shown his art in California, Uruguay, Argentina and Portugal. Over the last 2 decades his work with chalk pastel and charcoal pencil has developed into a style uniquely his own with attention to technical detail and imagination.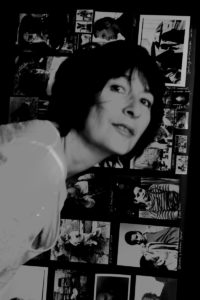 Deborah Rhea: "I am a Sacramento, California based photographer and include Spain and Uruguay as second homes. Using both film and digital images I focus on capturing the essence of a face or the light in a street. I like to mark time in street photography by including signs, cars and everyday activity. The abstraction of nature fascinates me, too, but portraiture is my favorite subject. I love working with people in that way. I'm not a technical photographer. For me, the equipment is secondary to the eye. I still use my first camera, a Nikon FE, and a pocket Yashika when using film. My digital camera is a new Canon 77D, which has a lot of bells and whistles but I am figuring it out. I have been taking pictures for 40 years. I have shown in several galleries in Sacramento over the last 15 years, with some shows including  collaborative pieces with my husband, Daniel Schoorl.
I will be documenting the retreat and will have images available."
Their bios need no embellishment, but I need to add a bit of commentary: These people are down-to-earth, friendly, and engaging humans with fucking excellent senses of humor. We will have fun.
****
A little about me
I have been running writing retreats twice a year since 2015. Last year we went to Southern France. It was our first European retreat and it was fabulous. You can learn more about that retreat here. I started this website, Renegade Mothering, in 2011, and my career as a professional writer grew organically from there. My first book, a memoir called I'm Just Happy to Be Here, came out with Hachette Books in 2018. I have a BA and Master's in English literature and have been teaching writing in universities and privately for a decade. (Am I old? When did I start speaking of "decades?") I grew up in northern California and spent 20 years (omg) in the Sacramento area, then moved to The Netherlands in 2019. I miss California. I miss my friends. I miss the sun and Pacific and Sierra Nevada. I do not miss guns, big-man trucks, or shit healthcare. Anyway, this is right for us, for now, and I am delighted to offer retreats around Europe. If you have any questions, I hope you'll email me.
My husband Mac takes care of lots of logistics, helps in the kitchen, drives, and does all sorts of things. I put it all together and teach writing workshops. Sarah, my best friend, is also a chef, and she'll take care of all your meals. She's a wonder, an artist like us, creating meals from locally sourced ingredients and giving us a table that is everything we need for comfort, friendship, and simply great food.
What will a day look like?
Our retreats are relaxed, friendly, and informal, but we are serious about the making of art. When we focus on creating, the environment is quiet and focused. When we laugh and carry on, we laugh and carry on loudly. There is no pretense or snobbery. We are real people making art and this retreat will demonstrate that realness. I believe art is made on the ground. I don't believe anyone has a silver bullet for success or brilliance. As what's his name said (Hemingway, it was that guy), "We are all apprentices in a craft where no one ever becomes a master."
Your days will be a blend of solitude and hours to wander the property, work, or stare at a wall trying to figure out what to write next (surely I am not alone in that)–and invitations to workshops and discussions.
Your meals are prepared and offered at a shared table three times a day, and you are invited to socialize and hang out as much or as little as you like. Again, I hope you contact me with any questions about the retreat.
What's the venue? 
Heretat de Guárdia is a 15th-century farmhouse located in the pre-Pyrenees in Lleida, Spain. Fully restored, it features 9 bedrooms, each with en suite bathrooms, a pool, spa area, and endless opportunities for hiking, walking, and exploring.
"Near the Rialb reservoir, Heretat de Guàrdia is located within a vast natural environment where forests alternate with grain fields. Remarkable is the immensity of the landscape and the calm and tranquillity that go with the area."
There is also a spa area with a view of the mountains featuring a sauna, spa, and biothermal shower.
Let's just look at some photos: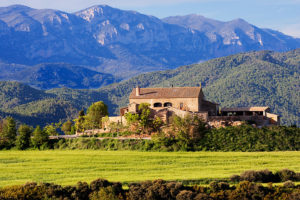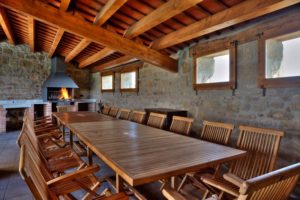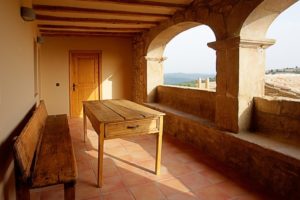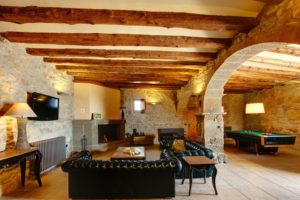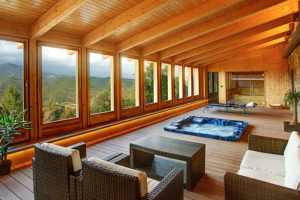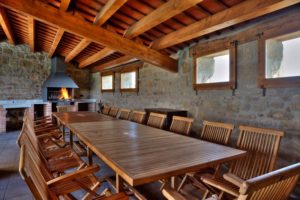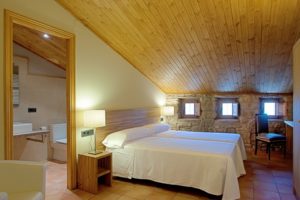 For more information on the surrounding area, check out this website.
There are tons of places for you to sneak away. A pool to lounge by. Friends available for an evening walk. There are rivers nearby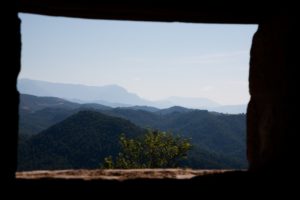 , lakes, waterfalls, old, old churches, cemeteries, cobblestone squares. Spain, Spain, Spain. You have our hearts. 
Sleeping Arrangements:
This retreat is open to only 8 people (but there will be 18 of us total). The sleeping accommodations: You'll share a room with one other person, and there will be a bathroom connected to your bedroom. There are no options for single occupancy. If you bring a friend or partner, I can put you in the same room, of course. Otherwise, I will assign based on gender preferences.
Getting there:
The easiest way is to fly into Barcelona (an international airport) and rent a car from there. It's a 1.5 hour drive, but trust me, that area is stunning and you will have fun on that drive. Usually, participants coordinate renting a car together and they carpool and pick up wine on the way and it's all very fun and chill. I will be here to help.
We will have a Facebook or Slack group (TBD) for attendees where all this will get sorted. There may be public transportation options as well. For an additional cost we can provide transportation to and from Barcelona.
July 3-9, 2022
Heretat de Guárdia
Lleida, Spain
Cost: €2599 — (Installment plans are available, and I have one partial scholarship spot. Please email me to discuss.)
(Deposit of €400 due upon sign up; the rest due May 15, 2022).
Here's what's included:
Six-night accommodations in a shared room (with one other person) and a private bathroom
All of your meals: Breakfast, lunch, dinner, and snacks, all prepared by Sarah, a professional chef. Healthy, expansive and locally sourced.
Writing workshops on craft, process, and theory
Art & drawing workshops & discussions
All art materials
Intimate Q&A discussion sessions with the artists in residence
Hikes and trips into nearby villages
Sign-ups for this retreat have closed, but you can sign up for my mailing list to receive updates on my upcoming retreats! 
I truly hope you join us.