Craft Intensive
"Craft Enables Art":
A writing workshop
with Janelle Hanchett
April 9 – May 28, 2020
Thursdays at 10am PST/1pm EST
Ursula K Le Guin said "craft enables art." In other words, knowing the tools at our disposal and using them wisely is how our writing enters the realm of the sublime. The art of it all. Isn't that good news? We don't have to be blessed by the eternal writing Gods with the talent of Morrison (although that would help, let's be real) to become great writers. We can learn the craft of writing, the actual mechanics of how good writing works, and we can create something that reads like, well, art.
As writers, this is in fact our one job: Get better at writing. We do this by writing a lot, for a long time, and focusing on our craft rather than the external (audience reaction) and internal (voices in our heads) factors that complicate the process.
I lied. We have other jobs, such as "tell the truth," "tell stories," "please clients," or in Ursula K Le Guin's words, "remember freedom." But we can't do anything with our writing if our words confuse people. I mean that. At its most simple, and possibly most profound, writing is an act of communication between humans.
Somehow we forget that. We forget that all the poetry and truth-telling in the world are useless if our readers are lost in the pretentiousness of our e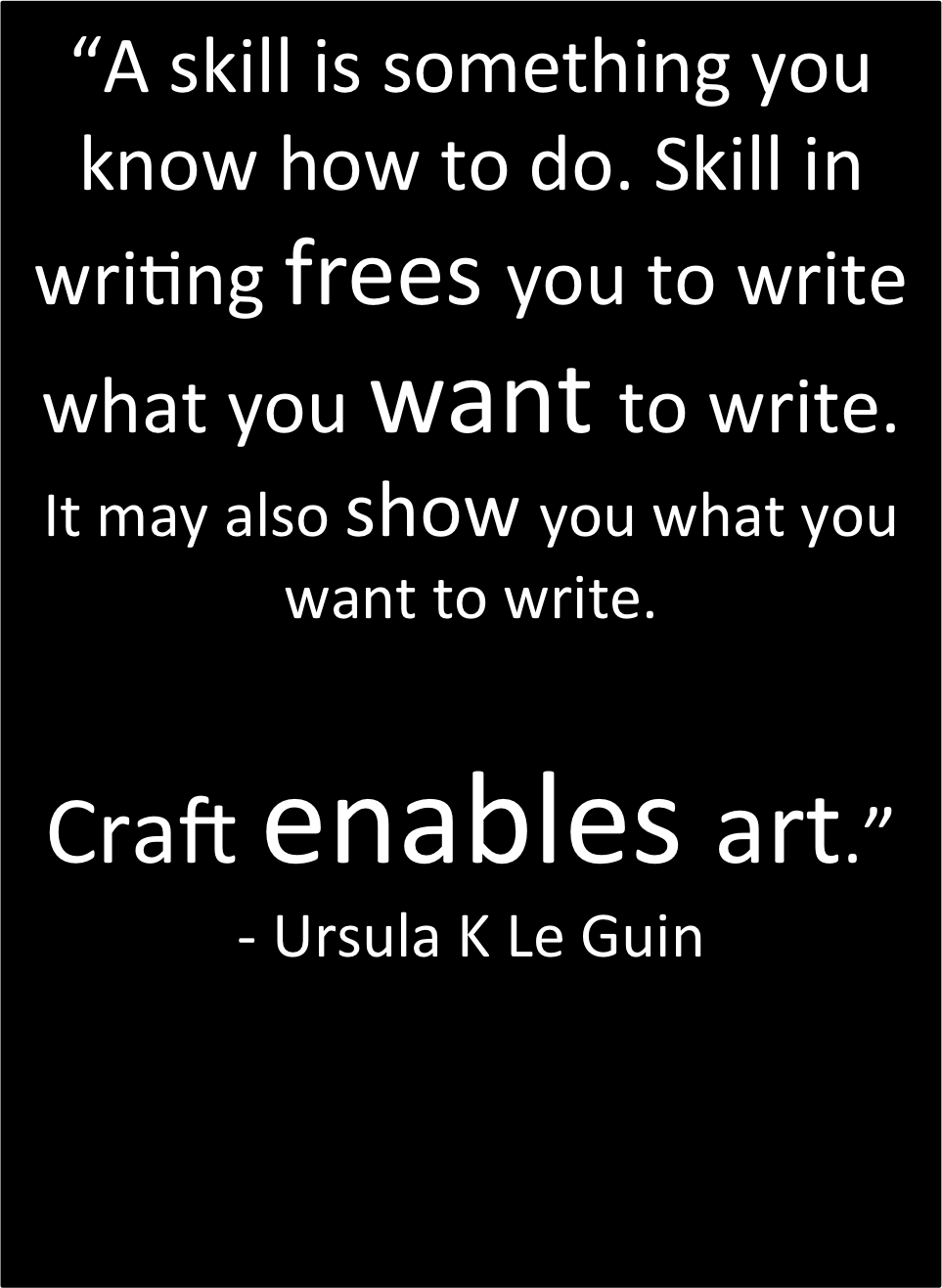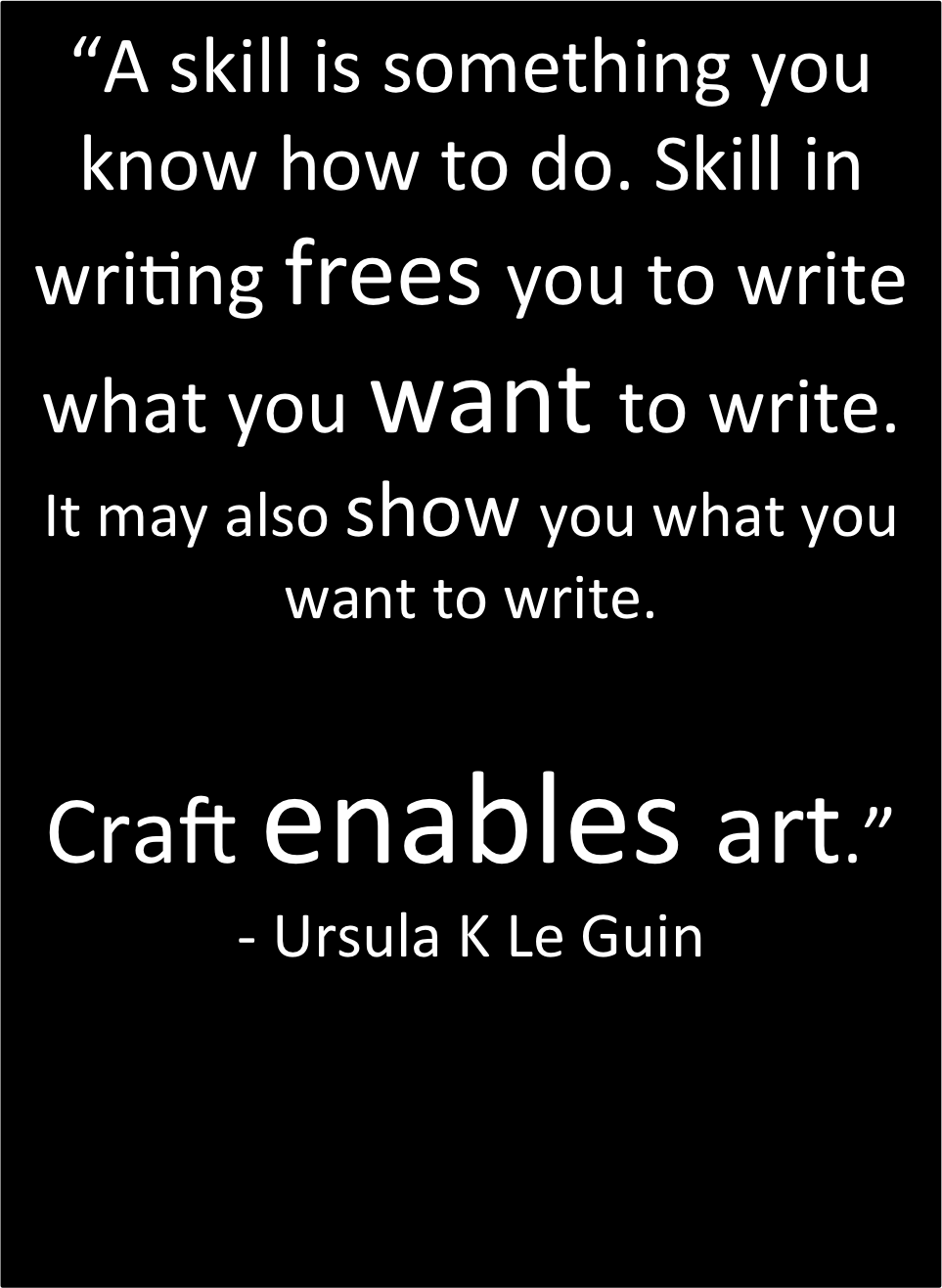 xposition, or don't trust us as storytellers to begin with.
We have to work on craft first. Then get all artsy.
There's also a lot of talk about talent: Do I have it? Do I need it? Do you have more?
You know what? Fuck talent. It's nice if you have it, and many of us do in varying degrees, but the fact is none of us are Faulkner. Morrison. Le Guin. Or maybe we are. It doesn't matter.
OUR JOB: BECOME A BETTER WRITER
Our job remains: Become a better writer. Write a lot for a long time. Read constantly. Watch things. Figure out what interests you and pisses you off. Write about that. Remember freedom. Write about that too. Get weird and lost. Want to jump off a bridge.
Get back to work. Get back to writing.
Repeat until your work nears your taste (thank you, Ira Glass).
Have some humility. Learn from disasters. Listen to valuable critique when it comes our way (spoiler alert: this pretty much never happens on Facebook).
This is our job as writers, and the purpose of this workshop.
OUR WORK TOGETHER
In the 8 weeks we work together, you will write a first draft of an essay or short story, receive direct feedback from me and two other workshop members on that draft, and then you will revise it.
By the end, you will have a final draft (if such a thing even exists). We will work together from conceptualization through finalization.
Parallel to your work on the draft, each week, we will meet in a video conference to discuss an aspect of craft. Tone. Voice. Perspective. Diction and syntax. Organization. The revision process. Sentence. Verbs. Adverbs.
How do we not sound affected?
What makes us sound "like writers" as opposed to compelling, funny, interesting people?
(Readers should forget there's a human behind those prose, tweaking and tinkering obsessively.)
How do we get there?
To the trust, the fluidity?
The power of that voice?
What loses readers?
What engages them?
Can we over-revise?
How do we know when to stop?
We will answer all this, and more. This group is limited to 6 people because each of you will receive my direct, honest, and KIND (I promise) feedback on your writing.
You will leave this workshop with the following:
Your three greatest strengths as a writer;
Your three most needed areas of improvement; and
Clear and tangible direction on how to move forward.
In other words, you will have actual takeaway from this workshop in the form of a near-final draft and self-knowledge and regular knowledge.
WHO THIS WORKSHOP IS FOR
This workshop is designed for the writer ready to improve their craft, who feels stuck or at a plateau and is ready to try new approaches, ideas, and styles. This is for the person who wants a challenge and an intimate crew of fellow writers. You will get better at writing not only through feedback on your work but by giving feedback to others.
We will focus entirely on elements of craft in writing and I will encourage you to implement each call's focus in your writing. Each week, we will delve into a particular aspect of writing and explore it at length. You will have time to ask questions. You will produce a piece of writing and receive thoughtful, honest, professional individual feedback from Janelle through email as well as a one-on-one consultation at the end of the workshop. As a group, we will also review one another's writing. This workshop is basically a writing intensive weekend stretched out into 8 weeks and online.
Get ready to work, write, discuss, and challenge yourself.
OKAY, Janelle, but how are you qualified to teach this?  
Damn good question.
I have an Master's Degree in English and have taught writing at universities, meaning I am a trained writing instructor through experience as well as education. I've studied composition theory extensively. But perhaps more importantly, five years ago I started writing creatively and self-publishing and I kept going even when nobody was listening and now I make a living through my writing. In addition to my blog, I write essays and opinion editorials on controversial topics such as race, gender, and alcoholism, and my work has been published in numerous publications. I am represented by 3Arts Entertainment and in the process of selling my first book. I am also under contract with an independent filmmaker to write a screenplay. I have successfully "quit my day job." I also have four kids, so I won't bullshit you about writing: It's hard. The pain is real. So is the magic. It can be done.
None of my success is due to talent. Well, maybe part of it is (and thank you if you think so), but ultimately I built my career through hard work and a devotion to getting better, and not stopping, and thinking long and hard (wow, sexy) about what I write and how I write it.
Sure, I rant and rave with wild abandon on occasion, but all my writing choices have been that: CHOICES. Even the rants.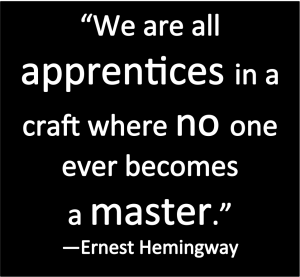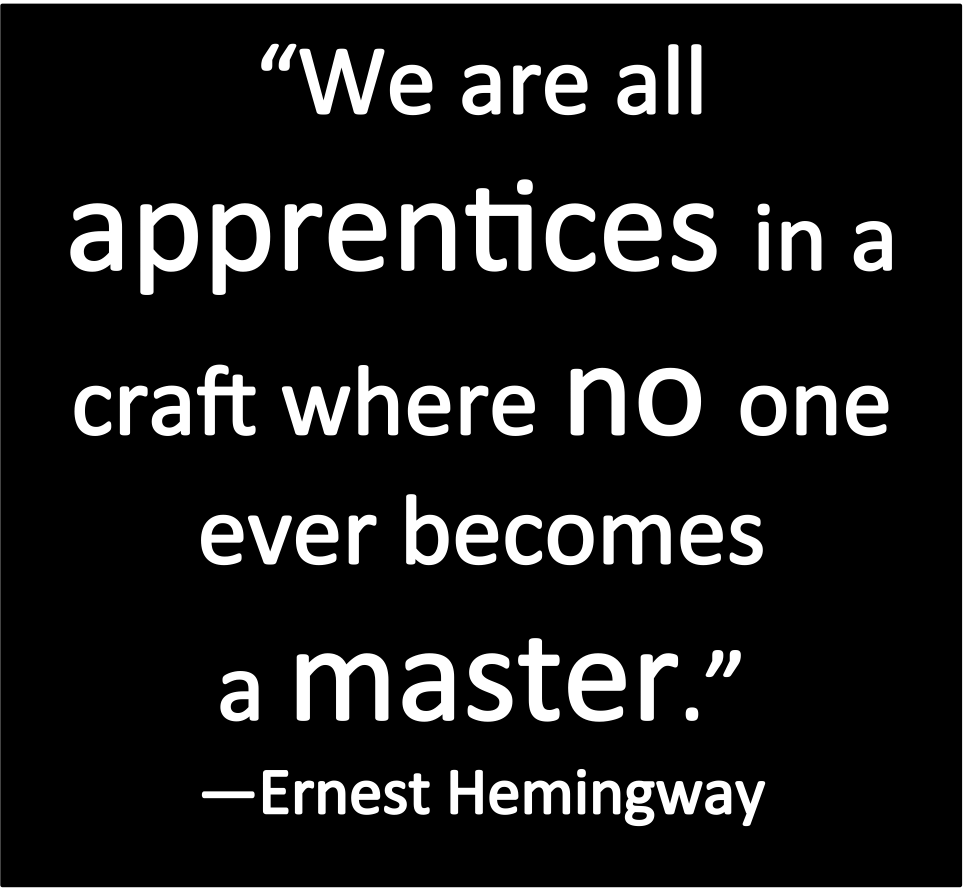 I'll teach you everything I know about how to write well. And of course, this is entirely subjective. If you don't like my writing, you won't like my suggestions for how to write well. But if it's your jam, let's jam.
By the way, that jam thing? That was bad writing. That was very bad writing. Don't ever do that.
Also ignore all hard-and-fast rules about writing.
WHAT'S INCLUDED IN THE WORKSHOP
Mmmkay, here's an outline of what we'll cover:
Two-three weeks before the workshop, you and I will work together to create a 5-15 page project. This can be an essay, short story, or (short) book chapter.


Week 1: The writing process, planning, audience awareness and how to mentally approach writing in your genre.
This week we will discuss each of our projects, set goals, and clarify what we hope to accomplish with our writing. We will share how our processes work and address mentalities that will block us from doing our best work, and share ideas for getting through each stage of the writing process.
Begin work on first draft
Week 2: Voice. Or, how to disappear as the writer.
Arguably the most important part of writing, voice is what keeps our reader wanting more. Have you ever noticed how some writers can write about a trip to the grocery store and it's somehow fascinating? How do we do this? How do  we keep our voice even while creating characters and tone?
Week 3: Balancing narration and exposition
How much action is the "right" amount? How do we balance storytelling/narration with reflective/inner monologue writing? How do we not bore the hell out of our readers but also provide insight and depth?
Week 4: Rhythm and sound: The fucking beauty of it all.
This week we'll explode humor as rhythm and talk about sentences. Lengths, styles. Complete or incomplete. How do we find a rhythm and keep it? Why is some writing so beautiful to the ear? What do we even mean by "rhythm?" 
 Send draft to Janelle
Review two group-members' writing
Week 5: Grammar and Diction: Adjectives, adverbs, and other deadly sins (and why we should never, ever adhere to formulaic writing rules)
This week we will discuss actual language. What bogs down meaning? What creates drudgery rather than easy flowing writing? How do we SHOW rather than TELL (everyone says that, but what does it mean)? Can we break grammar rules?
Comments back from Janelle/begin revisions
Provide feedback to group-members
Week 6: Structural revision: How the hell do we organize?
What do you do with a first draft? How do you know if it's "good" or not? How do you see it as a bigger picture? This week will break down the revision process, suggesting types of revision, methods for doing so, and how to avoid "over-revision."
Revise your piece/incorporate feedback
Week 7: Writing roundtable: Discussion and analysis of group's writing (we will go over specific passages from the group's writing and make suggestions)
Send revised draft to Janelle
Personal phone consultations with Janelle
Week 8: Writing roundtable continued, and 30-minute Q&A (ask me anything about writing)
Personal phone consultations with Janelle
April 9 – May 28, 2020
Thursdays at 10am PST/1pm EST
(All calls will be recorded but it's strongly recommended that you attend most calls)
8 weeks
8 people
$649*
*Please see refund policy below.
Also, tuition can be paid in 3 or 4 installments, but I have to charge $10 more for this because fucking Paypal charges me to offer installment plans. Please email me to set up an installment plan.
JOIN US.
>REFUND POLICY: I can offer a full refund up to and including February 2, 2020. Between February 3 and February 15, 2020 I can offer 50%. After February 15, 2020, I cannot offer refunds. Thank you!