Spain 2022 Writers' Retreat
 :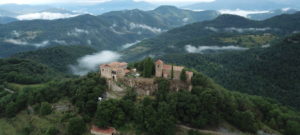 Craft Enables Art: 
A 6-day writing retreat with
Janelle Hanchett
***
July 13-19, 2022
El Castell de Llaés, Ripollès region, province of Girona, Spain
In 2015, I held my first writing retreat with eight women. They were all from the first writing workshop I had ever taught, and we had been working together for a year.
In a word, it was magic. And you know how I feel about words like "it was magic."
Only it was, in fact, magic.
The following year, I held my first retreat with 12 people who weren't in that writing group, and it was, again, don't make me say it.
We spent mornings on a sunny deck drinking coffee under the coastal redwoods, then headed off to the yurt with a roaring wood stove to discuss various aspects of the craft of writing. We ate lunch together at a massive, ancient wooden table, enjoying food prepared by my best friend, Sarah, who also happens to be a chef.
In the afternoons, we spread out around the retreat center and wrote or read or napped, sat in the hot tub or took a dip in the pool. In the evenings, we (well, they, since I don't drink) sipped wine on the deck and after dinner, gathered around the enormous fireplace in the main ranch house to workshop one another's writing.
We left as friends and better writers. And possibly crying.
These retreats have been transformative, and since we now live in the Netherlands, we figured we'd better take advantage of, well, Europe. So in 2021, we headed to southern France.
This year we're going to Spain. To a 10th century castle. I don't know what to tell you. It's real.
Join my husband Mac, Sarah, and me July 13-19, 2022 for a 6-night writing retreat at El Castell de Llaés in the province of Girona, 100 kilometers from Barcelona. We will wake up, eat a lovely breakfast (and consume a lot of coffee and tea), then we'll have 2.5 hours of craft workshops focused on getting more of you—your voice, insights, and style—onto the page, because, as Ursula K Le Guin says, "Craft enables art."
We will eat lunch, then have afternoons free for writing, exploring the area, sleeping, chatting. Staring off into the mountains and imagining all that happened in that castle.
In the evenings we'll enjoy dinner prepared by Sarah with locally sourced ingredients. We will reconvene in the evening for discussions and/or workshop writing.
My approach is this: I want us comfortable, content, friendly, mellow, and having A LOT of possibly raucous fun while also writing and seriously considering our relationship to writing.
Forgive the cliche but we work hard and play hard. I remind writers always that they are spending money on this shit—and so we shall write. I take my commitment to you very seriously and am honored you trust me as a teacher and mentor. I built my writing career from 40 blog readers while raising three, then four kids. I published a book in 2018 and have a Master's degree in English. I see writing in realistic terms and work from a place of pragmatism and honesty instead of airy declarations of the muse: I won't insist you find "your jewel within" (simply because I don't know what the fuck that means), but I will remind you how Toni Morrison wrote her first book on a yellow legal pad next to a toddler, who then vomited on it, and how she "wrote around the puke."
I'm a write-around-the-puke kinda writer. But the thing is, in my opinion, that is the jewel, and it's one I know well. It's the one that has in fact changed my life.
We think. We discuss. We get deep into the grit of it. And then we pull back and enjoy our surroundings, food, each other, and life.
I want you to leave with a feeling of experiential transformation. As in, the experience itself adding as much to your writing as the workshops.
Here's a sample daily schedule: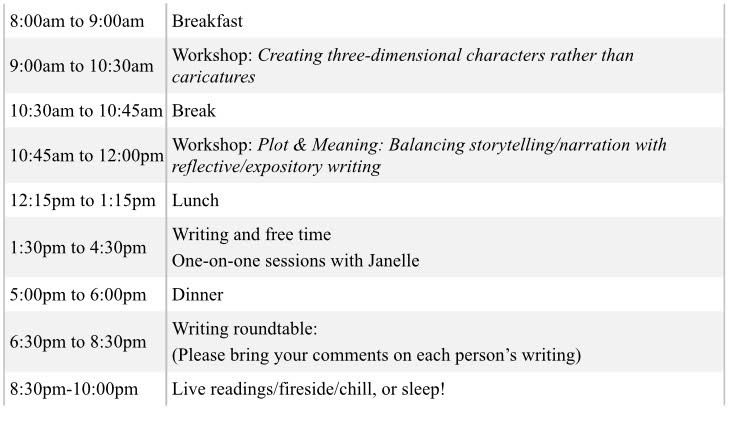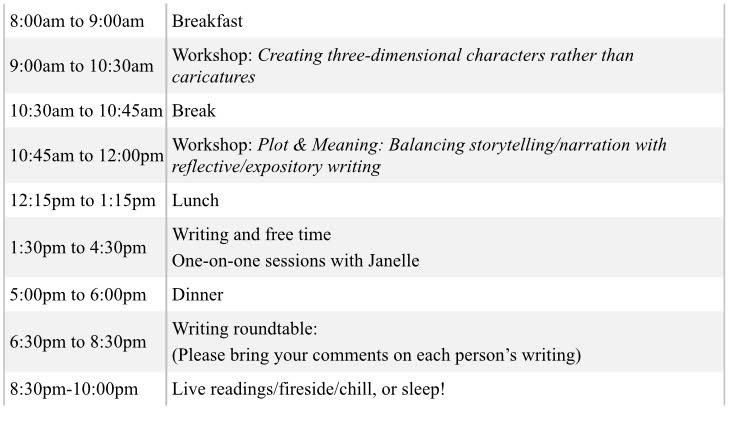 So, this retreat is for the writer looking to improve their craft, get writing done, and hang out in an ancient castle surrounded by incredible landscape.
While we will talk about creative work generally, and focus some on fear and the thought processes that block us from writing, our main focus is on improving our skill in writing. That said, this is not a lecture/school course. This is a dynamic, fun, interactive time for you to hone your craft and learn how doing often affects thinking.
In other words, the act of writing often systematically deconstructs our fears about writing. I will explain this more, but for now, you'll have to trust me.
This is why I focus mostly on craft. Because if we focus on becoming the best writers we can become, a lot of the mental bullshit will fall away. Or, perhaps better said, it simply becomes irrelevant.
You don't need a project. You can journal. You can take notes. You can revise old work. But we WILL get you writing by god.
It's fine. I'm not really that crazy. Or am I?
What's the venue? 
Well, this is:
"Castell de Llaés is a 10th-century castle, a Cultural Good of National Interest and a Protected Historical Heritage. It is classified as Spanish "Rural House," a project of constant reform and improvement.
"Currently, the fortress preserves the appearance of the castle, the tribute tower, the courtyard of arms, and the religious center with a landscaped area, the small cemetery, and the Sant Bartomeu church, with a Romanesque style."
*IMPORTANT NOTE: Access to the castle is not prepared for people with reduced mobility since the last 50m are on an ascending ramp and only accessible on foot. I am sorry about this. All of my retreats thus far, and those in the future, have been (and will be) accessible to those in wheelchairs and with limited mobility. 
Let's just look at some photos: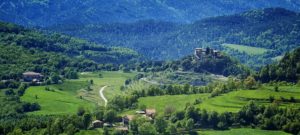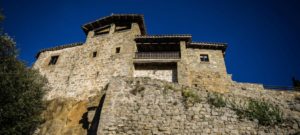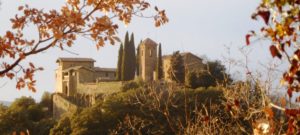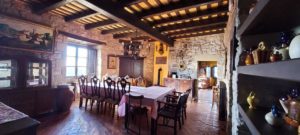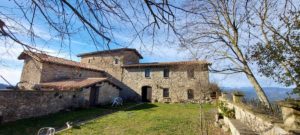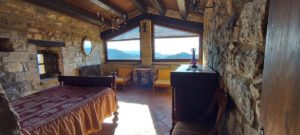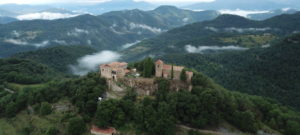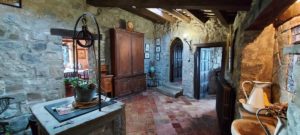 Yes, you read that correctly. From the 10th century, as in, the 900s. What does that even mean?
Imagine 6 days to hang out here and study writing, think, walk, write. Tons of places for you to sneak away and write. Friends available for hikes or an evening walk. There are rivers nearby, lakes, waterfalls, old ass churches, cobblestone squares. Oh, that sweet Europe stuff.
Sleeping Arrangements:
This retreat is open to 12 people. All rooms are for two people, some with double beds and some with twins (slight price difference indicated below).
Getting there:
The easiest way is to fly into Barcelona (an international airport) and rent a car from there. It's about an hour's drive from there, but trust me, the area is STUNNING and you will have fun in that hour's drive. Writers often coordinate renting a car together and carpool and pick up wine on the way and it's all very fun and chill.
We will have a Facebook or Slack (TBD) group for attendees where all this will get sorted. For an additional cost, we can provide transportation to and from Barcelona.
My recommendation is to fly into Barcelona, meet up with a couple of writers, hang out, and drive to the castle together. A little pre party.
Anyway, there are options and we can figure it out together. But, for a quick idea of flight costs, use Google Flights to plug in your closest airport to Barcelona.
I truly hope you join us.
Craft Enables Art: 
A Writing Retreat in Spain with Janelle Hanchett
July 13-19, 2022
(May 12, 2022 Update: Due to last-minute cancellations, I have one spot available in this retreat. My writing residency and retreat has 2 spots left. Thanks!)
Cost: €2100-€2200  (can be paid in installments; please email me to discuss)
Anyway, here's what that cost includes:
Six-night accommodations
All of your meals: Breakfast, lunch, dinner, and snacks, all prepared by Sarah, a professional chef. Healthy, expansive and locally sourced.
2.5 hours of writing craft instruction each morning (Again, if you've attended my retreats/workshops before, don't worry, the content will be NEW.)
1 hour of evening time together, either in a writing roundtable (where we receive feedback on work submitted), or have a discussion on writing process
Optional hikes, (possibly) bike rides, and trips into nearby villages.
Evenings around free, but often we end up hanging out, drinking wine (well, I don't), listening to Mac and Sarah play guitar and sing. Somehow this seems to be everyone's favorite feature of these retreats. DON'T WORRY I'M NOT OFFENDED.
Double bed in a double-occupancy room: €2200 (1 available)
Single bed in double-occupancy room: €2100 
To secure your spot, please send a €300 deposit* through the link below (please read the refund and cancellation policy first). You can then email me with your room preference and I'll reserve it for you on a first-come, first-served basis. If you'd like to just pay for the whole spot outright, let me know and I'll send an invoice.
Writing Retreat in Spain: July 2022
I truly hope you join us. I am really, really excited to see you in Spain.
*REFUND POLICY: The €300 deposit is non-refundable unless I can fill your spot w/ someone on the waitlist. The full retreat amount will be due June 1, 2022. If you cannot attend the retreat after you've paid the remaining balance, and don't let me know before June 1, 2022, I cannot offer a refund. If you cancel after June 1, 2022, the remaining balance is still due. I'm sorry this is so strict. None of us make a killing on this and my family would be totally screwed if I had to cover missed spots at the end. And I once had THREE people drop out two weeks before the retreat. Awful. Is this the longest refund policy ever, and the most ridiculous? I sure hope so. Anyway, by paying the deposit you agree to this policy. Thank you!