I love summertime. I love camping and music festivals and warm nights.
Sometimes the hue of joy is slightly tainted by the sound of bickering children and my soul being sucked from my body as I look around the endless laundry pile and CONSTANT FUCKING MESS-MAKING, but the truth is we also have a pretty good time these couple months, and I have photographic evidence. Thankfully the photos are done in Instagram, where all the things look cooler, and the bickering disappears into filtered perfection.
Still, we've been up to some fun.
There was a camping trip to the Yuba River in the Sierras (that was the vomit trip) and one this past weekend, up north to one of the most sacred places in the world (to me, at least): Mendocino.
The best thing to happen on the trip to Mendocino was that my Ava, eleven years old, turned back into an eight-year-old for a day. She played in the creek by the campsite, built a complex fairy house for hours, proudly showing me the couch and table and walls. She spent a good nine hours over the weekend rigging up a chipmunk trap, and waiting for the damn thing to come. A couple times, it did come, but the trap didn't work quite right. She kept trying.
I watched her like she was the best movie in the world, but one that only plays once. So remember every scene.
I have the best friends in the world.
I have friends who tell me the truth.
I have friends without kids ("childless?") who guide me with mine, laugh and fill me up and keep my family moving along.
I have friends with kids that I love like my nieces and nephews, who I want to watch grow over years and years so we can remember trips like this one, when they were just toddlers.
I'm so grateful for my people. It isn't lost on me what it means to have love and friendship in your life like we've somehow found…
And there was our favorite bluegrass festival on Father's Day, at the Nevada County fairgrounds in the Sierra foothills. There were banjos and fiddles and dobros among the soaring pines and sunshine, and my little Georgia ran around in tie-dyed pants, barefoot, shirtless, dirty, in heaven.
She danced like there was no tomorrow. Ms. Joplin would have been proud.
My boy got his daddy a harmonica for Father's Day and then the daddy said "give me a kiss" and I caught it in a photo and felt my heart explode.
Then I felt really guilty for flipping out at that daddy for forgetting a blanket. Damn, I am an insane person sometimes, you know, blowing it at precisely the wrong time, when family moments are supposed to be good and wholesome and pure…or have the potential at least…
But then there's me, the imperfect mama who loses it for no reason, irrationally, maybe just one too many nights of not-enough-sleep, or one too many thoughts on the mind, not taking care of herself.
I realized that day that if I don't take care of my own basic needs (health, nourishment, sleep, stress reduction) I have nothing to give my family. I guess I never understood that not taking care of myself is a really SELFISH act: I don't feel like doing it and therefore you must suffer. You, my family. I'm impatient and irritable and you get to deal with it.
That's selfish.
I'm going to try to turn that around this summer, when the camping trips and festivals are poppin', and the living's easy. Or it would be, if I'd just lighten the hell up a little more often.
We're going to Lake Tahoe later this week, and then there's the 4th of July, then camping again. This is good shit, people.
And I'm trying, you know, to hold all this as it is, to see through the clouds of my own exhaustion the beauty of these days, or the outline of them at least, cause that alone is sufficient to take my breath away,
particularly when there's bluegrass involved…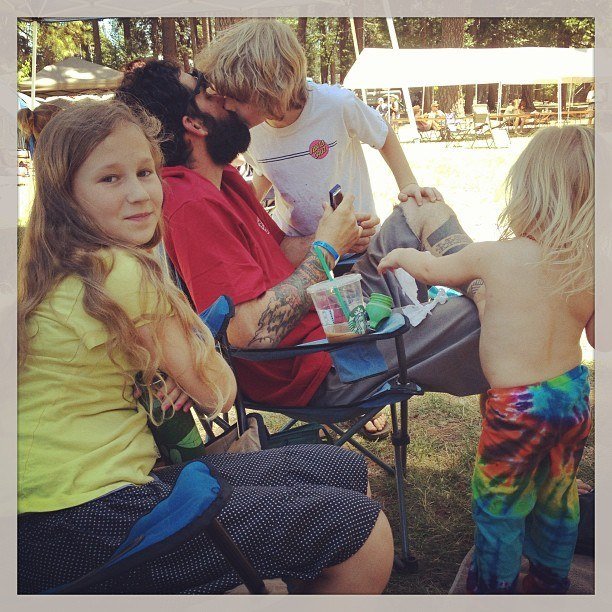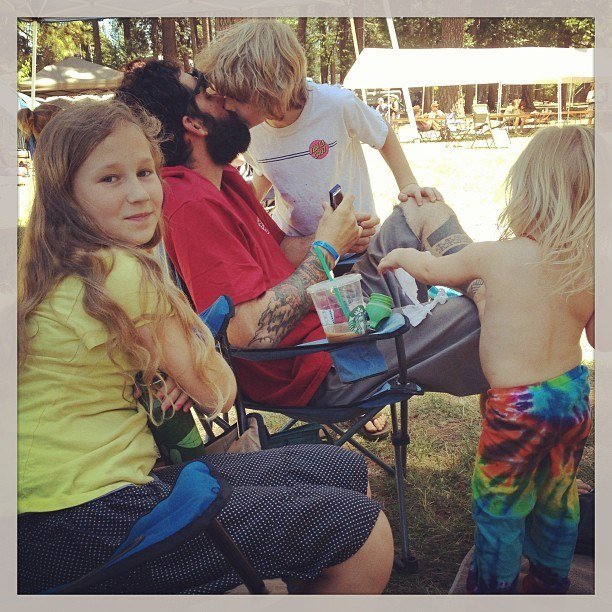 Summertime…
let's make it easy.