The other day, I looked in the mirror as I was getting in the shower and I saw myself, 39 weeks pregnant, huge and round.
I saw breasts nearly resting on an enormous belly.
I saw the stripes racing down its curve.
I saw the layer of fat beneath the belly, the hips. I saw enormous thighs.
And for the first time in my life, I saw something beautiful.
No, I saw something absolutely fucking gorgeous.
And I'm not talking about some mind candy bullshit self-talk. I'm talking about reality, a sudden, unexpected shift in what I saw.
My own eyes.
For some reason, I saw beauty. Real beauty.
I saw the belly I've been ashamed of and the untamable breasts and the thighs that are too thick, and I thought to myself "Gorgeous." A smile moved across my face. So unexpected, to see that after all these years of shrouded disgust. I saw something else, it was as if my eyes saw the same but my brain and heart saw something new, so foreign.
The round was lovely, its curve so powerful and determined and soft.
The deep lines of stretched skin that came when I was 22 and pregnant with my first baby, reinforced and redrawn and recreated a second, third and fourth time. The pain and transformation and power of each stripe, I saw.
The round that holds my heart and life and new life. My own line to my own mom once, now wrapped around the unknown. Soon to be known, or sort of known, dear unborn child. My last child.
It was the most beautiful thing I'd ever seen, so I'll show you, too.
The belly.
But really, the face. There's a look of pride on that face, on the face of a woman who gained 60 pounds instead of the "proper" 25-35 (25 for a woman of my weight!), who has been ashamed of herself and her body, thinking her husband was just so full of shit when he looked at her and smiled with joy and adoration, maybe a quick tear, "You're just so cute."
I usually want to punch him in the face. Because his adoration mocked my self disdain. Maybe not anymore. Maybe I see what he sees. Not "cute," I don't see cute and probably never will, but I see beauty that almost never ends, that touched me days before the belly will end, the curve, its roundness, only the stripes to remain and remember.
I don't know why it took this long to see, but I've seen it now, and I'll never doubt again.
It may not be truth for anybody else, and it certainly isn't for society, but I'll be damned if it isn't the truth for me, now.
And I caught it, just in the nick of time.
This is where I am, 39 weeks. gorgeous, miserable, ready.
P.S. Dear baby, if you're listening, I would just like to clarify that just because I suddenly and inexplicably find my huge belly "beautiful," I'd also be TOTALLY INTO IT if you, like, exited that belly. As much as I enjoy your head sitting so low in my pelvis I can barely walk or sit, and the uterine contractions that keep me up all night (but don't produce an actual baby) and peeing 1500 times a day, and all the other joys of this glorious period of my life, I'd enjoy smelling your breath a whole lot more and we're all really, really fucking excited to meet you. (Did I just swear at my unborn baby?)
Speaking of talking to unborn babies, my midwives told me to "talk to my baby" to help coax him or her out. So a few hours later, I was inspired. I looked down at my belly and said "Hey there little one. FYI, only assholes stay in past their due dates." Not totally sure that's exactly what they had in mind, but shit. It's all I had at the moment.
Due date is June 3.
Don't be an asshole.
***********
Hey, we have a new sponsor, and she's a badass. She's an artist, actor, screenwriter, filmmaker and short story writer. Yes, you read that correctly. And she writes a blog but it's basically cooler than mine (and possibly yours) because there's pictures and shit. Not stupid clip art (not that I've ever used stupid clip art) but actual DRAWINGS, as in, by her. And they're real and raw and gritty, the blend of dark sarcasm and humanity that makes my heart sing. And resonates on that level. You know, the human one. Look at her portfolio. Read her blog. And then buy something from her Etsy shop. But first, meet Lindsey from Tense and Urgent, in her own words:
Hello, I'm Lindsey Connell
I live in Toronto with my husband and two kids, 4 1/2 and 2. They're bananas and of course I'm wild about them. I am an actor, screenwriter, filmmaker and short story writer. All fun activities to do at home in a room by yourself with your cats, a mirror, and cigarettes by your side. A year ago I started Tense and Urgent because my cats/cigarettes had been replaced by children (not all at once) and because of the ensuing sleep deprivation, my ability to think of any story longer than a paragraph was seriously taxed. But one-liners or captions for drawings, I could do. And painting and drawing while listening to "This American life" became kind of the perfect way to spend my time.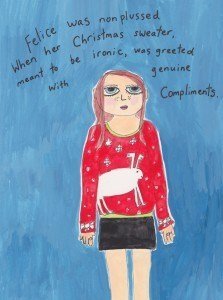 My work deals mostly with relationship stuff, parenting, existential dread… life stuff. And the tiny moments in a person's life when something clicks or shifts- when a realization comes or something is professed. Often the people in my work are staring straight into the middle distance, caught in an epiphany. But there's humour there, too. And lightness. It'd be a big drag if my cards made people feel lonelier, sadder, and dumpier than they did before they saw them, but they are called "Tense and Urgent" so that was fair warning, I think.
This website and blog are still evolving. I hope to start adding different elements to this website eventually. Short films, small animated pieces, postcard fictions. Stay tuned.
more stuff I shouldn't have said out loud: