There's something wrong with me. I've suspected it before but now I know, fully.
I'm okay with it. I think. I mean there's not much I can do, really, is there?
My husband, right now, as we speak, is getting a vasectomy. I cleared it with him before announcing this on the internet.
If you're new here, we have 4 kids. Ava, 12. Rocket (Charles), 9. Georgia, 4 and Arlo, 5 months.
We quite clearly don't need any more children.
We aren't like rollin in the dinero wondering which private school we should send our kids to (because none of them quite live up to our expectations).
There is a 5 x 4 foot pile of laundry in the "laundry room" (garage). I haven't seen the floor of our car in approximately 4 months. It smells vaguely of apples and mold.
But most importantly, every day, at least once, I throw my hands up toward the heavens and cry out "MY GOD WHY ARE THERE SO MANY OF THEM?"
More often, I whisper under my breath "God damnit I'm never having any more kids." And I mean it, man. I MEAN IT.
Occasionally this sentiment takes new and exciting forms such as "What the fuck were we thinking?" or "Is this really as good as it gets?"
My 4-year-old actually literally frightens me. All of us, really. She comes barreling at us from across the room with this wild look in her eye and every single time I'm sure she's going to headbutt my groin. I sort of bend over and cover the area and hope for the best. Sometimes, on the way to school, when she sees the donut shop, she demands a donut and when I say "no," she whines for 10 solid minutes. Then she gets mad and takes the toy from the baby in the carseat as a form of displaced retaliation, so now the baby who was finally not crying is now doing that hold-the-breath-then-squeal thing. Chances are he won't stop. While he cries and she whines about motherfucking pastries, my 9-year-old makes strange popping sounds and asks about something I can't follow while my 12-year-old wants to tell me about the new project in history class, which I totally want to hear about, but can't, because I haven't slept more than 4 hours/night in the past week and I just realized I forgot Rocket's IEP paperwork AGAINNNNNNNNNN and the noise the noise the NOISE.
In other words, I have my fucking hands full.
That's clear, folks. Logically, there should never ever be another baby added to this mix and every single fucking day I am reminded of this fact in seemingly endless forms.
And yet, right now, my husband is getting a vasectomy and all I can think is "Wait. It's over?"
It can't be over. I'm not ready for it to be over. I'm 35! I have 5 more years in me! WHAT IF I WANT FIVE????
"Janelle, we barely want 4."
Mac is right.
On every cognitive level of my brain I know 100% that we are done. But the problem is I just can't seem to GET DONE. To FEEL DONE. To really deeply in my bones BE DONE.
I realize there are people out there who "just know" when a baby is their last and others who say "one and done" and they're all stable and secure and confident in that decision, or at least they pretend to be. They seem so grown-up and decided, you know, like "This is right and I am unwavering and there is no gray area for me."
There is always, always, a gray area for me. I am never sure of any damn thing. It all feels a little right and a little wrong. I kind of do things and see what happens. Not because I'm trying to live on the edge. Rather, I can't seem to do it differently. I make decisions because they seem vaguely better than the other ones.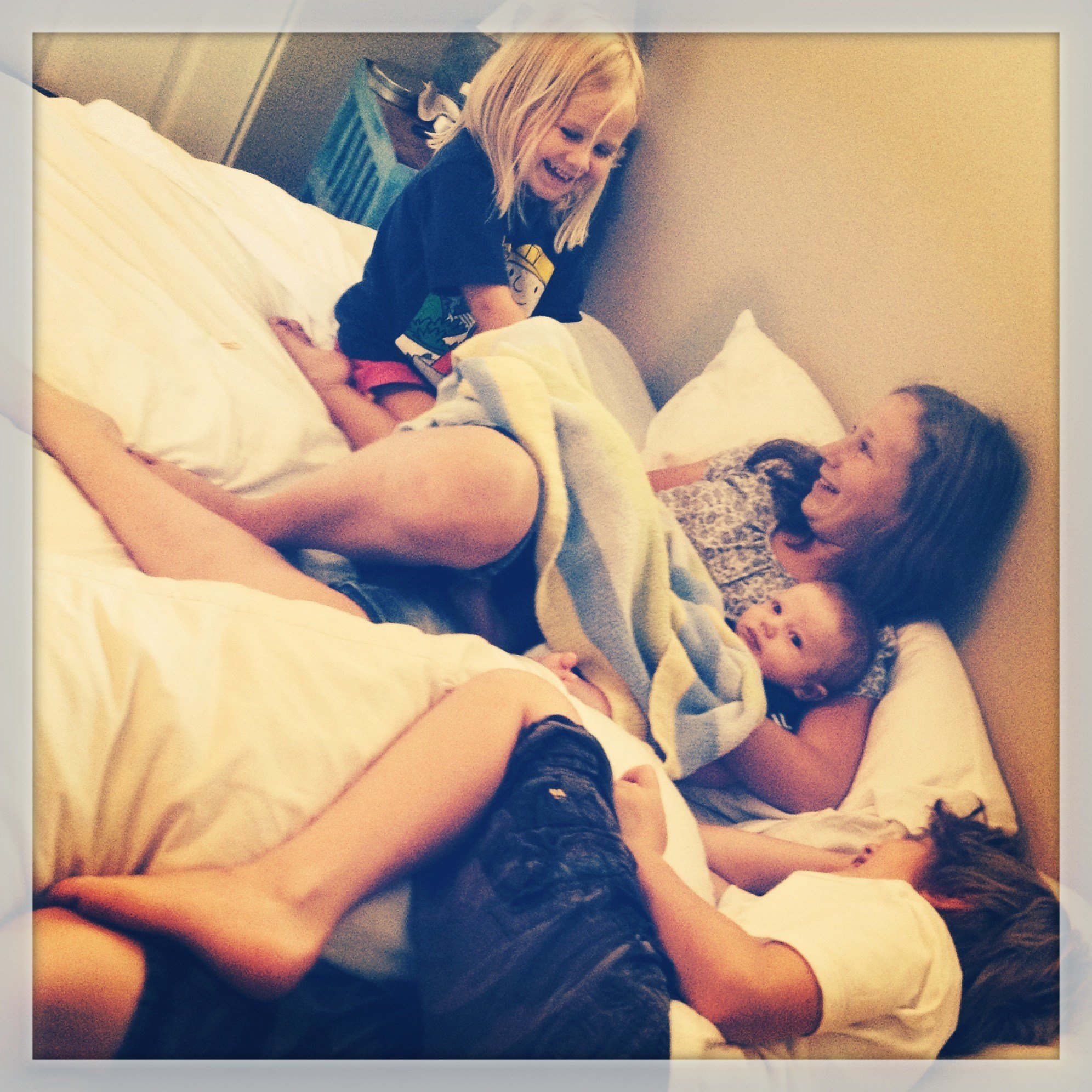 Look, I'm not recommending this as a life philosophy. I'm merely telling you what's up.
I don't want any more children. I can't stand the thought of not having any more children.
I told you. Something's wrong with me.
Please don't give me family planning advice. I think we can all agree (based on my past experience) that I won't use it. I just want to talk about the side of me that will never, ever be done. The side that will never be done with the moment your baby is placed in your arms and you feel that warm body and lock eyes with this tiny being you've known forever but just met. The smell, the tiny suits and sleeping gowns and tufts of hair. The anticipation. The moment of birth.
And then, a little bigger,  the fists.
The smiles and coos and laughter.
I will never be done with that.
I still have it with Arlo. I won't have it for long.
I know this because I watched it leave me in the dust with three other children.
The Last Baby.
The end of him as a newborn is the end of me with newborns. He's through that now. He rolls onto his belly, pulls his legs up, pushes up with his arms. Soon he'll crawl. I don't need to go through this list, you know it already.
And I'll never be "okay" with it. I'll never be done.
It's the end. But I'll never be done having kids.
I don't need to convince myself otherwise. It's alright I guess to hover in this nonsense, wanting it to end but never, ever wanting it to end, dying for the day I get my "life back" and wondering if I may die the day I get my life back, encouraging the little fella to do whatever new thing he's trying, then turning around and feeling a sting that he succeeded.
I'll never be done with you, kids. You'll go, and I'll let go, but I'll never be done. These are the days I wish would end but beg never to end. The clock is ticking through my series of "lasts." It doesn't make sense. It doesn't need to.
He sat up the other day on his own, as they do.
It felt to me like he did it too soon, but I cheered him on anyway and laughed with the other kids, feeling the firsts and the lasts roll on beneath me, carrying us relentlessly right on through, toward the only end that will never quite come, the finish that will never find me.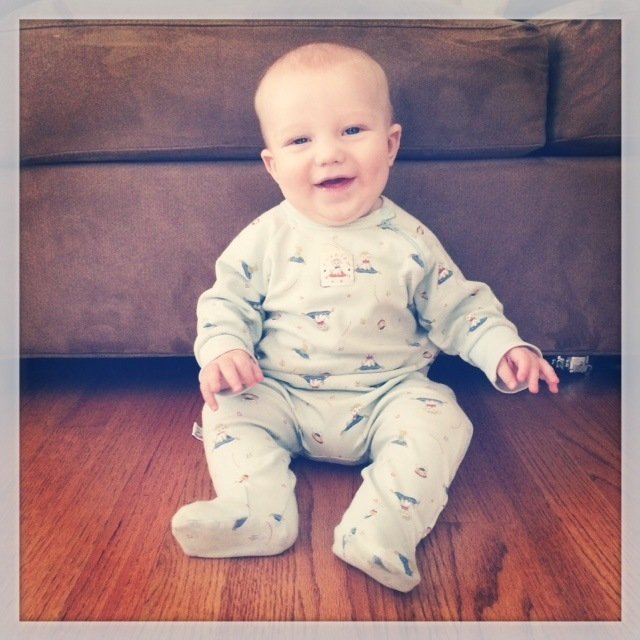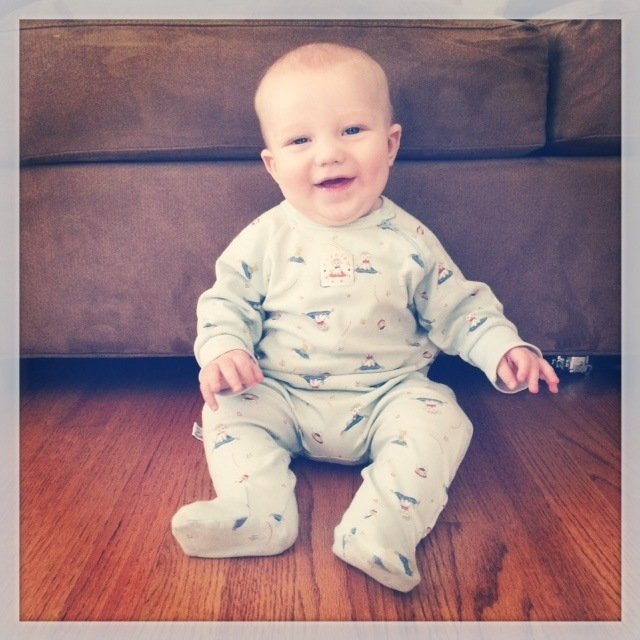 more stuff I shouldn't have said out loud: