Three days before my grandmother was killed by her mentally ill grandson, we stood together in Costco, perusing books.
"Tell me if we're in a hurry, because I'm just hanging out," she said.
"We are in no hurry, grandma. No hurry at all."
No hurry at all.
If I could do it again, I would stand alongside her rather than two aisles away, and I would watch her 86-year-old hands touch each book, opening and closing covers. I would watch the way her fingers moved over the letters and I would hold her purse. I would ask what she was looking for.
"Does Mac like books about World War II?"
"I don't think so. He's more into those weird adult fantasy books." I answered honestly. It made her laugh.
"But maybe," I added. I didn't want her to feel bad.
As we drove to my house, I offered to drive her to my mom's around the corner, where she was staying, but when we pulled into my driveway, Georgia and Arlo came running out yelling "Grandma!" and she said, "I think I'll stay."
I think I'll stay.
So she sat at my kitchen table with a glass of water, which I looked for the day after she died but could not find, with Arlo on her lap, and the two of them talked. When they didn't talk, he sat with her, looking out from her lap, watching me make dinner. Ava and Rocket argued about whose turn it was to feed the dog. George was tired, and possibly yelled. Mac and I got annoyed at the kids.
If I could do it again, I would do it exactly like that, with her simply there, with us, a part of the raucous family.
When my mom came to get her, I am sure I said goodbye. I am sure I said goodbye and hugged her even though I do not quite remember, because that is what we always do, and I'm sure I said, "Have fun in Utah," because the next morning she was going to visit another grandchild, and then she was going to come back to us.
She was going to come back to us.
That was her plan now that grandpa has passed: She was going to visit each grandchild and spend time with each of her 45 great-grandchildren and "really get to know them." She told us all about it as she sat at my table, with Arlo on her lap. Mac leaned over and said, "Arlo REALLY loves her."
I smiled. It was true. I thought of all the things we would do together. I thought I would take her to the B Street Theater, to the Nutcracker, to movies and the Mondavi Center and to San Francisco. Now that grandpa was gone, we could fill her time with a million things. My grandfather had been gone 5 weeks.
Three days after I am sure I said goodbye, at 7:30pm on Wednesday, November 9, my cousin came downstairs with a knife and stabbed her, and she died in the arms of her daughter.
Did you know grief moves through you like a freight train? Did you know it tears through you like a thousand shards of glass on rails and forces your chest to release a sound you never knew you could make? Did you know air moving in feels like fire? Air moving out feels like drowning.
I did not know this.
I did not know my body could make that sound. I did not know my knees would buckle and I did not know my mother would crumble against a wall, her legs too weak to support the truth.
I did not know pain like this existed. Too much for the body to contain. It rumbles and shakes in your blood, racing and slamming the walls of your body, your skin and bones, to get out and run, but it cannot, and only releases in broken wails and sad, wild rage.
I hear her now. My mother's screaming. I will not forget the sound.
That night, I slept with her, as I did when I was a little girl, and when I looked over, she had tucked the blankets up over her face and under her chin and I thought I would give anything to remove even one sliver of her pain and make it mine.
I could not. She lost her mother. Killed. My nightmare as a child, my mama is living.
I touched her hair and tucked it behind her ears and prayed to god for morning.
I suppose I should say something helpful about mental illness, and how we need to support sick people better, and educate their families, and not be ashamed or minimize it or turn away, and I suppose some day I will say those things, but today, two days before we bury my grandmother, I sit with my mom at the ocean, because it's where we've always gone when things are hard, to watch the wild beautiful rage of the water as it sings its roar against the rocks of my heart, and we wait to be filled again.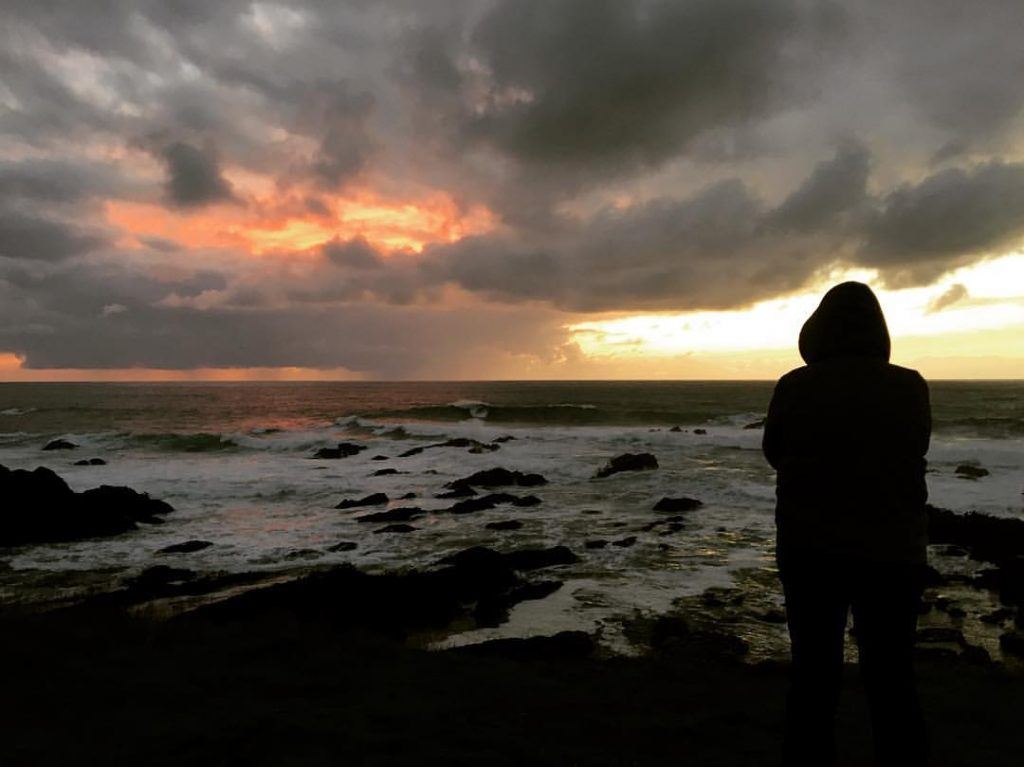 more stuff I shouldn't have said out loud: