I think I've forgotten how to be in the world. I am not special. I did not experience some uniquely bad pandemic experience, but I suppose the conditions are a bit unique in that I moved to a new country 6 months before it started. 
I was just coming out of the complete and total numb-fog of wandering around a strange place and wondering how the fuck to buy baking powder  when the pandemic began. I was just beginning to feel a little ground beneath my feet when we were all sent home to our bread making and toilet-paper hoarding, and, somehow, Tiger King. 
I had no friends. I have no family here. I was living in a house in a more suburban area (read: boring to the depths of my soul). And it was cold, as usual. And my eldest child was in America. 
I put on my pajamas and caved into myself. 
For two years I've existed in this country that feels like a snow globe: Beautiful to look at, wholly removed from my reality. Something I can look at, hold in my hands, appreciate for what it is, but remains eternally closed off from me. I sure as shit can't join it.
I hear a lot of expats and immigrants talk about this in The Netherlands. How they never feel a part of the country, whether or not they Speak Dutch, whether or not their spouse is Dutch, whether or not they have a job here. 
I could speculate for 9 hours on why that may be but I don't see the point. It is what it is. I am not alone in feeling this. But goddamn it makes it worse, I think, to have moved just before or in the middle of the pandemic. I say this not to have difficulty Olympics—I decidedly LOSE—but rather as a point of hope. As in, perhaps it will get better. Maybe I will one day walk out of my house and sit in a favorite spot that feels like mine. 
And yet I wonder if we can all to some extent relate to the feeling of having been reset in an irrevocable way. Like it all blew the fuck up and you can take away the masks and social distancing and mandatory testing but you can't bring back the way it was. Do we even want it back?
I am not one of the people who feels afraid to "return to normal" and I am definitely not a person who wants to wear an N95 for the rest of my life. No, I do not believe it is an invasion of my deep personal liberty. No, I do not want to wear them forever. Yes, I like human life better without masks, social distancing, QR codes and 750 pages of forms to travel one country to my right.
But what's fucking with me isn't any of that. It's this feeling that I can't access whatever it was I had before. Like I've gone so far inward at this point, pulled so deeply into a life of moving from my bedroom to the kitchen to the office to the couch to the kitchen to the bedroom just to do it all again the next day that I—like it? 
No. 
Or maybe I do. 
I get lonely. Really fucking lonely. And bored. I want a life and friends and places to go and favorite cafes and theater and music. I want to get excited about something. It isn't just the depression I was fighting. 
It's some sense that I've lost touch entirely with the life I had built and decided was meaningful. The routines and ways of being that brought purpose to my daily life. I've been stripped down to me and not much else and I can't seem to find a path back to you. 
To the world. To community. 
It's a dark place in my mind sometimes. Every time I walk into the light of this world—the weird, vibrant life around me—a bit of that darkness is illuminated. I don't feel particularly healthy. I feel contracted and suffocating. 
But I don't want to take a step out of this house either. It lost its appeal somehow. 
I survived the loneliness by moving straight into the solitude. That wasn't my idea. My best friend told me to do that. I've read more books than I have in years. Written more words (although not on the blog). But I've also played more stupid games on my phone than ever before, stared at too many walls, concentrated in ten minute intervals. Life has demanded I learn to look inward for what I need. When I do, I'm not sure I like what I find. 
Are they going to tell us how to reenter? Are they going to instruct us how to get back out there the way they told us how to survive "covid brain" at home? Will there be helpful guides for what the fuck to do as we watch our kids race into the world without a thought, and we miss them a little, feel a little left behind, as the mother on the couch again. Or the office. Or some place we've never been at all? 
They took it all away after telling us for generations what life was about, what it all meant. Those of us who survived got a glimpse of those lies, the fragility of that house of cards. 
Moving from a pandemic straight into war.
What is the point, truly, of reentry. Is there even anything out there I need? Why build it all back up again? 
I don't have anything particularly helpful to say. Sometimes it's better not to try. If anything, I'm grateful that our delusions were smashed, that maybe we see what they offered was a thin invention that offered distraction, a lot of money for billionaires, and something to do until there's nothing to do. 
Yesterday my kids and the neighborhood kids spent all afternoon preparing a funeral for a dead bird they found in the little community playground. They dug a grave and placed stones around it. Made a cross from sticks. Gathered flowers for the grave. Invited all the parents out. They sang some songs, offered eulogies, the tweens too dramatic and silly. One boy played his guitar. At the end, one of the dads said, "cake and coffee!", which is an after-funeral Dutch tradition, I guess. 
He was joking but I had just made a cake. I went inside to get it. We passed it around and ate around the grave of the buried bird. I thought about Ukraine, these children, their children, the little bird in the ground. 
I'm glad it got what it deserved, a tiny world around it, caring that it died. Honoring a life we wouldn't have noticed at all if we hadn't stopped for a second, looked around, thought about the way it flew.
---
Writers & Artists: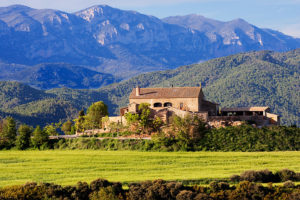 I am leading two incredible writing retreats in July.
I realize this is a strange thing to write after the post you just read. And yet, something I know more than anything else: We keep living as long as we can, and, in the words of Toni Morrison, "This is precisely the time when artists go to work. There is no time for despair, no place for self-pity, no need for silence, no room for fear. We speak, we write, we do language."
And of course, you don't have to come to a writing retreat in Spain to do that. But, if you can, well.
"When Artists Get to Work" is July 3-9, 2022 and blends a traditional artist residency with the workshops and discussion of a retreat. There will be five incredible artists & writers in residence there and it's open to writers and artists of any genre (and of course, those who do both!). It will take place in a 15th-century farmhouse in Lleida, Spain. (4 of 8 spots left)
"Craft Enables Art" is July 13-19, 2022 and is designed for writers. We're going to a 10th-century castle in the Girona region of Spain. This is my more traditional annual retreat focusing on craft, process, and the creation of a sustainable writing practice. (4 of 12 spots left)
Tomorrow, March 15, and 10:30am PST/ 1:30pm EST, I'm holding a Zoom chat/ informational meeting about the retreats. If you're interested in learning more, concerned about passports, travel, refunds in the case of disaster, or just what we do there all day and the vibe of these events, join us. Here's a Facebook event link.
Or email me for Zoom info.