The other day Mac and I did this thing where we flirt and tease all day, temporarily deluding ourselves into thinking we're hot and have an active sex life.
Dad, please stop reading this post.
Anyhoo, you know, we taunt and whisper things and grab inappropriately. Et cetera.
As you can imagine, this is rather fun, and by the end of the day, both of us are ready for, um, the end of the day.
So a couple days ago we were doing the aforementioned let's-pretend-we-just-met thing all day long. That evening I went out with a friend and didn't get home until 11:30pm. The whole drive home I was imagining how I would wake him, a-hem – and what would probably follow. I went in the house ready to assault him.
But when I walked in the door I was assaulted. By the condition of my house. The front room looked like Toys R Us spun around in circles vomiting on the floor. The living room and kitchen were barely recognizable. The real clincher, however, was the animals. They were all pacing around like the walking dead, moaning and mewing and looking at me like "Please. Do something."
I checked the cat's bowls. Empty. I checked the dog's. Empty. I checked the fucking rodents'. EMPTY.
Suddenly, I was not in the mood. What the fuck, husband. It's 11:30pm and I want to ravage you but instead I have to walk around and feed the furry beasts. Even though you were here all night, and they were supposed to be fed HOURS ago…and I've been asking you for like 6 months to please help feed the animals on a regular basis…you still couldn't do it and now, once again, at the end of my day, I have to do what was YOUR JOB.
Not hot, husband.
Not hot at all.
And as I finished feeding the last small mammal and felt the last spark of sex drive fizzle out through my toes, and my desire to do my husband turned into a desire to do in my husband, I realized how drastically my idea of "hot" has changed since I was like, oh I don't know, 20.
Of course it's a little hard to tell what I considered "hot" when I was 20, since my man of choice was whoever showed up after I'd had enough beers to make men start appearing hot (which may explain how pretty much NONE of them fit the "hot" bill the next morning….but I digress).
Despite this difficulty, I'm 99% sure "Hey baby, I fed the guinea pigs" would not have struck my former self as a turn-on.
But now? Oh yeah. Bring it.
What? You picked your stinky ass socks off the bathroom floor and put them in the actual laundry basket?

Come here baby. I got something for ya.
What's that you say? You cleaned out the car and changed the sheets?
Take me I'm yours.
To illustrate, I made you a few graphics, which embody my current idea of the hottest shit in the world.
Yes, I realize this makes me pathetic and old and uninteresting.
Also, tired. Very tired. And with a thrashed house. So tired am I, in fact, and so thrashed is this house, that the thought of a man doing the chores they somehow can't manage to figure out how to do on their own EVER. (I'm serious. What is wrong with them?!)..is like a giant hit off the love pipe. Like roses and dirty talk and sweat and red wine. Like oceans and whispers and bare muscular chests.
Like yes, please.
[by the way, if I'm the only one of you who finds men-doing-chores sexy, I will in fact off myself.]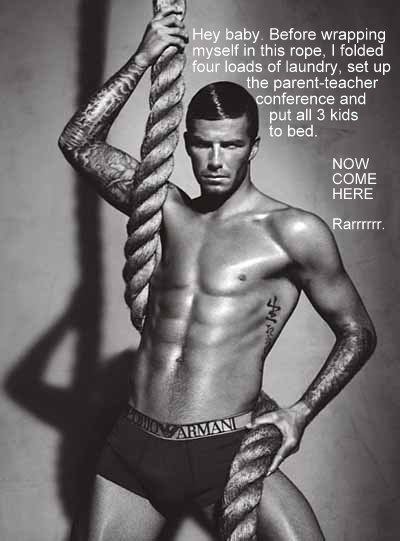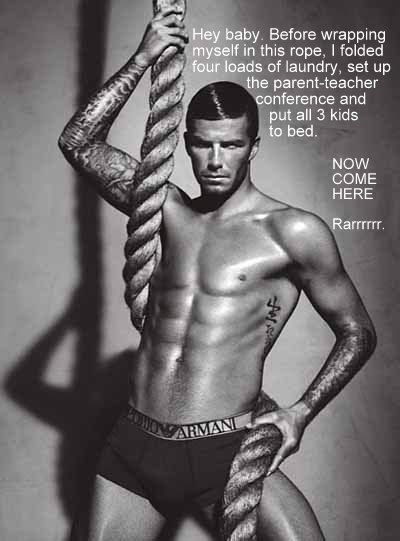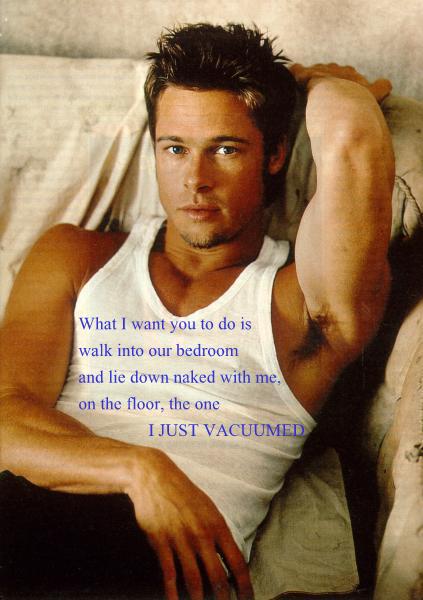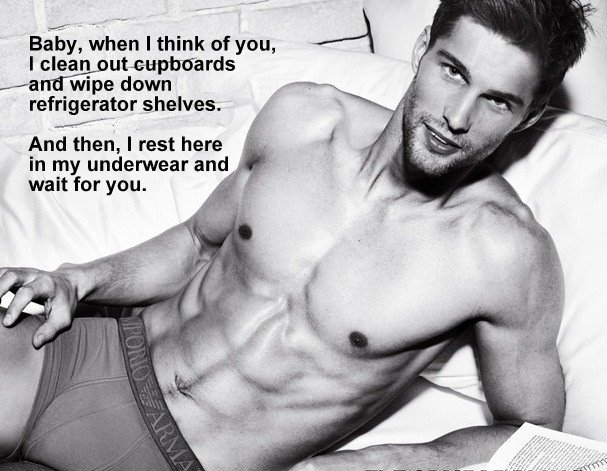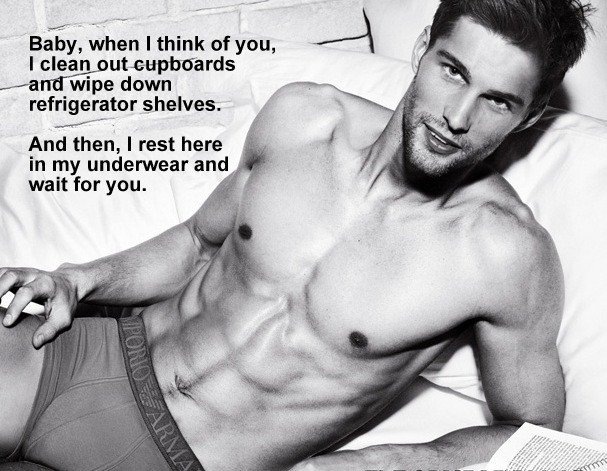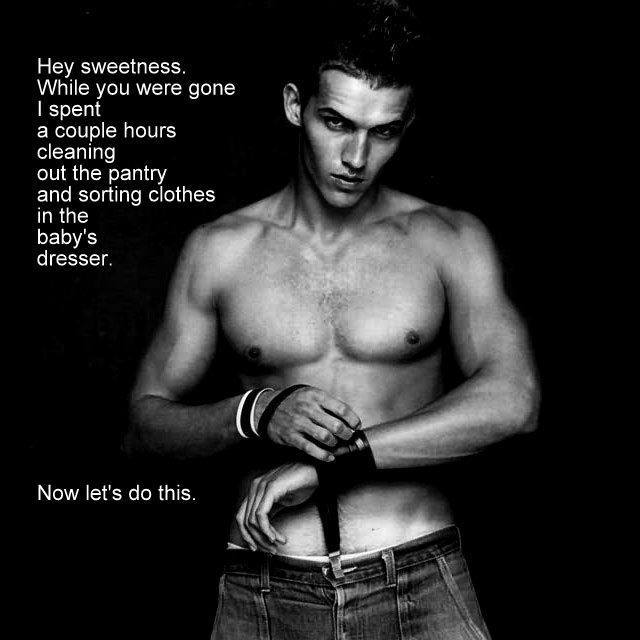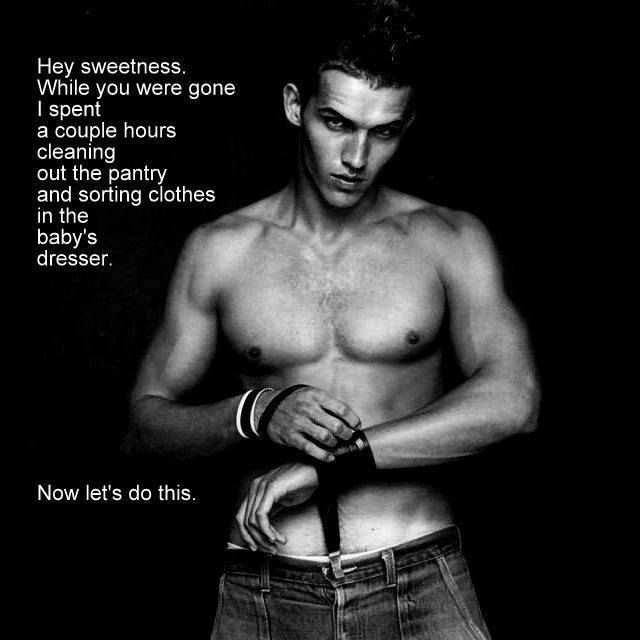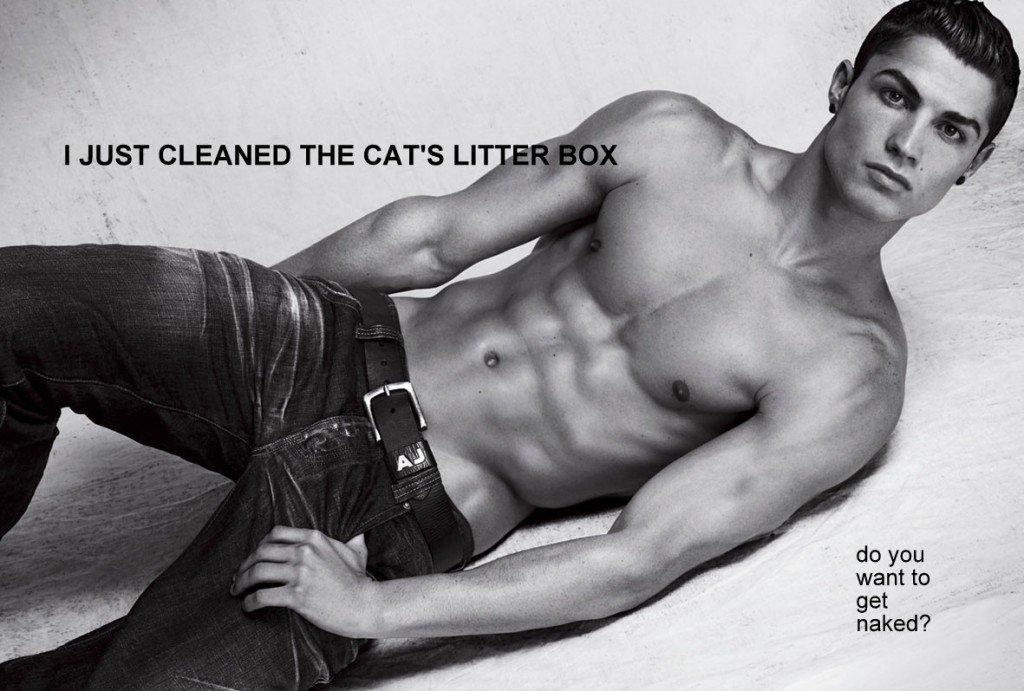 Why yes.
Yes I do.
more stuff I shouldn't have said out loud: