So you know how the kids keep writing those "awkward moment" cards, and you see them on Pinterest all the time – they seem to materialize out of nowhere and yet, there they are. Repeatedly. Yeah, well, I had an awkward moment recently and I'd like to share it with you.
To do so, I made an "awkward moment" ecard because I'm hip and cool (stop laughing) and all the cool kids are doing it. No really. Stop fucking laughing.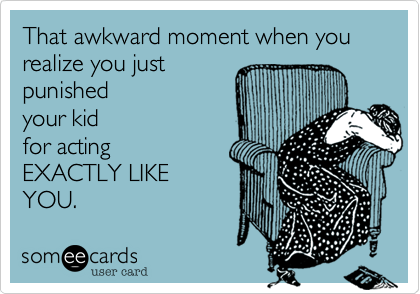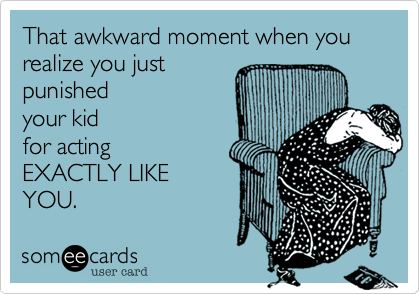 Yes, indeed. That is an awkward moment, and it happened to me recently.
My daughter, Ava, is 10, and she's an amazing kid (right. as if I would have said something different) – very, very bright, witty, driven, sensitive and thoughtful – but she has a temper. Oh holy shit it's a big one. Sometimes, when the stars are aligned just perfectly (or something), she loses her shit at her brother. She gets in his face and screams. She's terribly mean, fuming with all kinds of rage in her voice "WHAT'S WRONG WITH YOU?!!"
And I get upset when she does it. She alarms me. The look in her eye is shocking, the rage in her voice disturbing. The other day she did it. I watched her tower in fury and her brother shrink into himself and I opened my mouth to stop her, but as the words were coming out…"Ava, why are you talking to your brother that way? Why are you acting like that?"…a blinking neon banner ran across my mind, the answer to my very own question: Because you, you fucktard, YOU act like that. She learned that from YOU.
And I realized I was punishing my child for acting exactly like me.
It was not a pretty moment.
You know there are things I do as a mother that fall into the "haha I'm a bad mother let's all laugh" category. Like feeding them toast for breakfast 3 days in a row because I can't get my act together to make real food. You know, no big deal kind of things.
But then there are bad mother moments that I'd rather not talk about it. The real shit. The seedy dark underbelly. MY OWN PERSONAL, SERIOUS FLAW AS A MOTHER AND HUMAN. (again with the all caps. why can't I stop?)
And for me, it's losing my temper.
Sometimes I raise my voice. Yeah whatever who doesn't. But sometimes, oh sometimes, I lose it. I simply explode. I get in their faces and yell. And you know what I've said?
"What's wrong with you?!!!!!"
I see their faces and I want to die. The fear in their eyes. The sadness in their shoulders. And I cave into myself as I'm doing it, trying to make it their fault, screaming while simultaneously totally aware that I am acting horribly but I can't stop. Because I'm seeing red. I've crossed the line.
And when it's over, I can't stand the idea of myself.
Because I know I am the problem. It is not them. And it never has been. In those moments I use my power as a mother to bully them, because I'm bigger and stronger and louder and I think I have some right to dominate – to GET MY WAY – and I don't mean to lose my shit…I do not believe this is an effective parenting method – this is not the person I want to be – but sometimes people I'm just so tired. And I repeatedly fail to take care of myself. I find myself tired and hungry and running late and headaches and noise and it all builds, builds, builds until. Something. Clicks.
Boom.
And it isn't funny at all.
 I walk away and breathe and I know I've blown it. I really fucked up.
I want to crawl in a hole. I cry. Invariably. I want to take them in my arms and beg them to forgive me.
But I don't beg. I gather myself and I walk back and apologize for my poor behavior just like I would any person who I've wronged. I own my shit. I tell them I'm human. I tell them I lose my temper too, and I'm learning patience, just like them. And maybe we can work together on this stuff, both of us, all of us, trying to be better.
But I am the adult and should know better. And you are a wonderful child and this isn't your fault and if I could figure out how to never do that shit again, my God I would so, so please, please hang with me little one, as I navigate this strange world of motherhood — where the stakes are so high and the guidance so scarce.
And I wonder what the hell is wrong with me.
Two days later I open Facebook and read a post from Peggy O'Mara of Mothering magazine that reads "The way we talk to our children becomes their inner voice" and it becomes clear to me that mothers don't do what I do. Mothers read things like that and they are filled with inspiration – they take that information and transform it into the elusive ability to only speak to their children in hushed soothing tones…good, wholesome words of support, to become a solid inner voice.
Me? I read things like this and think are you fucking kidding me? If this is true my kids are finished. Don't put this crap on me. Don't tell me I BECOME THE VOICE IN MY CHILD'S HEAD. I can't be all there is! I can't!
But if she's right, if my poorest moments are the loudest voices in their head, if they sit in school and wonder "what's wrong with me" because their mother said it a few times…if that's true, well I'm going to give them the rest of the story, the other half: Your mother is a human being who is doing the best she can and loves you with every fiber of her imperfect being and so that voice, that voice that yells, it is only ONE voice. There is another. There will always be another. There is the world and god and there are grandmothers and teachers and friends and there is that mother who would lay down her life for you.
[Maybe while yelling, but still.]
The other day I called Ava after treating her poorly. At the end of our conversation I said "Ava, you are a great kid" and I said it with tears in my eyes and a cracked voice and heart.
She responded with words so full of love it took my breath away. Without hesitation, without affectation, she said confidently "And you are a great mother."
I can only go forward. Each day, one foot in front of the other.
Moving toward becoming the person my kids already think I am.
more stuff I shouldn't have said out loud: