Motherhood is continually urging me to give a shit about things I couldn't care less about. Actually wait. No. Not motherhood. The hype surrounding motherhood. Websites, magazines, television, my damn Facebook feed.
It expects me to care about things like Elf on the Shelf, for example. Nope. Don't care. I think it's weird and a lot of work. "Hey kid, this creepy ass elf is gonna sit here and watch you and if you're bad you get nothing because you're bad bad BAD."
Generally speaking, I'm the worst behaved person in this house, so why the fuck would I turn it into some Santa-big-brother-watchdog panopticon? Plus, they have the rest of their lives to feel like they're being watched by the establishment. (Oh yeah, I read Foucault too, bitches.)
But here's the thing: I also could not possibly care less if you use Elf on the Shelf. No really. I can think of fewer things less relevant to my life than whether or not humans make a flour snow angel with a plastic doll on their kitchen floors.
So when I read some article expounding on the pros and cons of Elf on the Shelf, all I think is WHAT THE HELL WHO CARES? And then all these parents growing irate, yelling and screaming and name-calling. Get a fucking hobby.
But the worst is when somebody comes up with a "new issue" that must be addressed. A new one. A new concern. Something serious. Something The Super Conscientious Mother discovered and is now writing about to inform the unenlightened masses, the implication being, of course, that if you're a conscientious mother, you too will be concerned with this issue and change your behavior accordingly.
Behold, I give you, "Why we should leave the smaller gifts to Santa."
Yes. That's right. We all have different incomes, and since Santa isn't real (sorry to bust that one to you if it's news), rich parents may have Santa brings lots of stuff and poor parents may have Santa bring not much stuff and then the kids go to school and talk about what they got from Santa and the poor kid says "OMG mom Johnny got lots and I got nothing and now I'm sad."
And so, obviously, we should all make sure Santa brings socks. Because Santa's a dick. Damn it. You see? This is my problem. I care so little about this nonsense I can't even be serious about it.
Here's the Facebook status update about which the aforementioned article was written: "Not all parents have a ton of cash to spend on making their kids [sic] Christmas special, so it doesn't make sense to have Santa give your kid a PlayStation4 [sic], a bike, and an iPad, while his best friend at school gets a new hat and mittens from Santa."
Look, if some kid got a Playstation, a bike and an iPad from Santa, they're a fucking Kardashian and our kids aren't going to school with them. And "big" is relative, right? I mean I grew up with a single mom and every year we had one "big gift" and one year it was a fish tank and I thought that was about the coolest thing I ever received in all my damn life because I was kind of used to small.
And parents buy kids the big gift that makes sense in their family, right? I mean you don't really have to spend that much money to get a kid a gift that rocks their world. And seriously when does that conversation even happen? Kids go back to school 2 weeks after Christmas and this happens:
Kid one: "What did you get for Christmas?"
Kid 2: "Tons of shit nobody needs. What did you get?"
Kid 1: "Tons more shit nobody needs."
I'm paraphrasing, but isn't that pretty much how it goes? For real if your kid is old enough to decipher between parent gifts and Santa gifts, inquire and assess how it goes down at his homie's house, then come home and pontificate about the inequalities of Christmas morn, your kid is old enough to find out that Santa lives "in the heart."
George believes in Santa wholeheartedly. She also claims she has a "weiner shooter" and was relieved to finally become an ironworker officially (see photo to the right), so she can "help daddy with his work."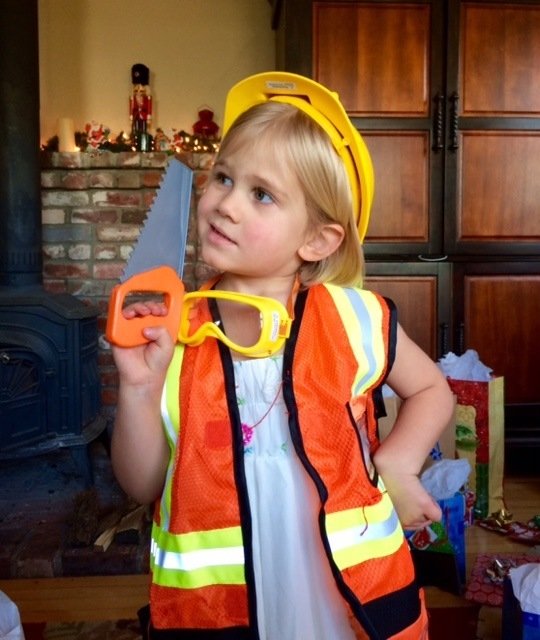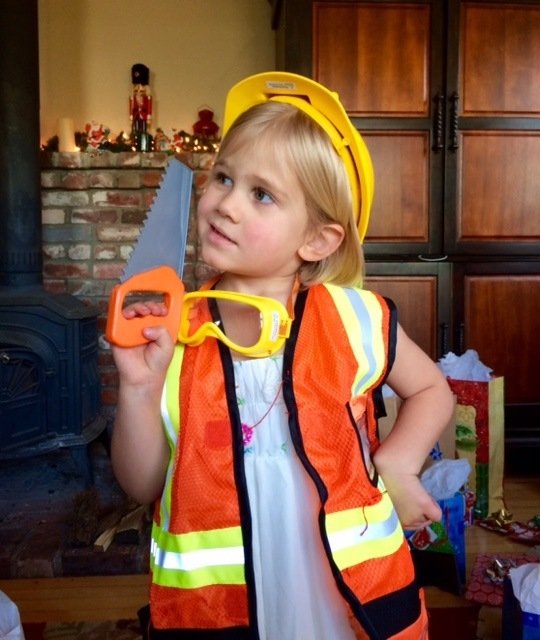 Her next favorite gift was a $5.00 bubble blowing machine I picked up on Groupon.
And yeah, maybe there's some jealousy and maybe there's some sad with the older kids. I see how the Santa fantasy potentially result in a kid's hurt feelings, but I gotta level with you here, the only response I have to something like this is "Oh give me a fucking break."
Maybe I'm a horrible person. Maybe I'm a self-centered ass with no concern for the pure hearts of innocent children. But I have no interest in bulldozing the path in front of my children to attempt to save them from the pain of reality. Some people are rich. Some aren't. We aren't. And if that requires a conversation about The Fat Man and why he brought Phil a WiiU and Rocket a $90 robot, well then I guess that conversation happens. And better yet, what if the Bastard Red-Suited Unequal Distributor of Resources triggered a conversation about being grateful for what you have? For being happy for others? For truth, perspective and empathy?
Maybe we talk to our kids about jealousy, about the ego's attempt to control and take and get more. Maybe we talk about the way we think Stuff will bring happiness, the never-ending process of "As soon as I get this one thing I'll be happy." And how it never works. Let's talk about capitalism and consumerism and materialism and waste (which I fully support during Christmas, FYI)! Really, the possibilities are endless.
Or maybe we just say "Yeah, I don't know kid, I don't know why that happened, maybe Santa's something of an asshole."
But seriously. All this bullshit hovering and helicoptering and clearing and bulldozing and setting up and protecting and making just right, how does that even make sense? At what point will somebody make the maintenance of my kid's happy feelings their life's work? They won't.
How long will my kid live on earth before he feels jealousy? Before she realizes some people are better off than her? And what good am I doing them by running around like a bored squirrel on meth making sure nothing ever hurts them?
None. I'm doing them no good. How the hell do you prepare a kid for life by protecting them from life?
I want to protect my kids from danger, from real, permanent pain. That's my job. That's my work and I fight like hell to make that happen.
But a stab of jealousy? A realization of the difference of incomes? A momentary feeling of I'M NOT GETTING WHAT'S MINE? Yeah, sorry kid. That's life, and it sucks sometimes.
Sometimes Santa's a dick.
Now let's go see how this robot works.
******
Do you want to get back into writing? Maybe you write shit in your head all the time but never "put pen to paper?" If so you should probably join me for my first 2016 Writing Workshop.
One spot left in January morning session. February evening session is the only evening session I'll offer of this workshop in 2016 (too many batshit kids in the evenings).
Email me with questions: info@renegademothering.com.
Or just sign up.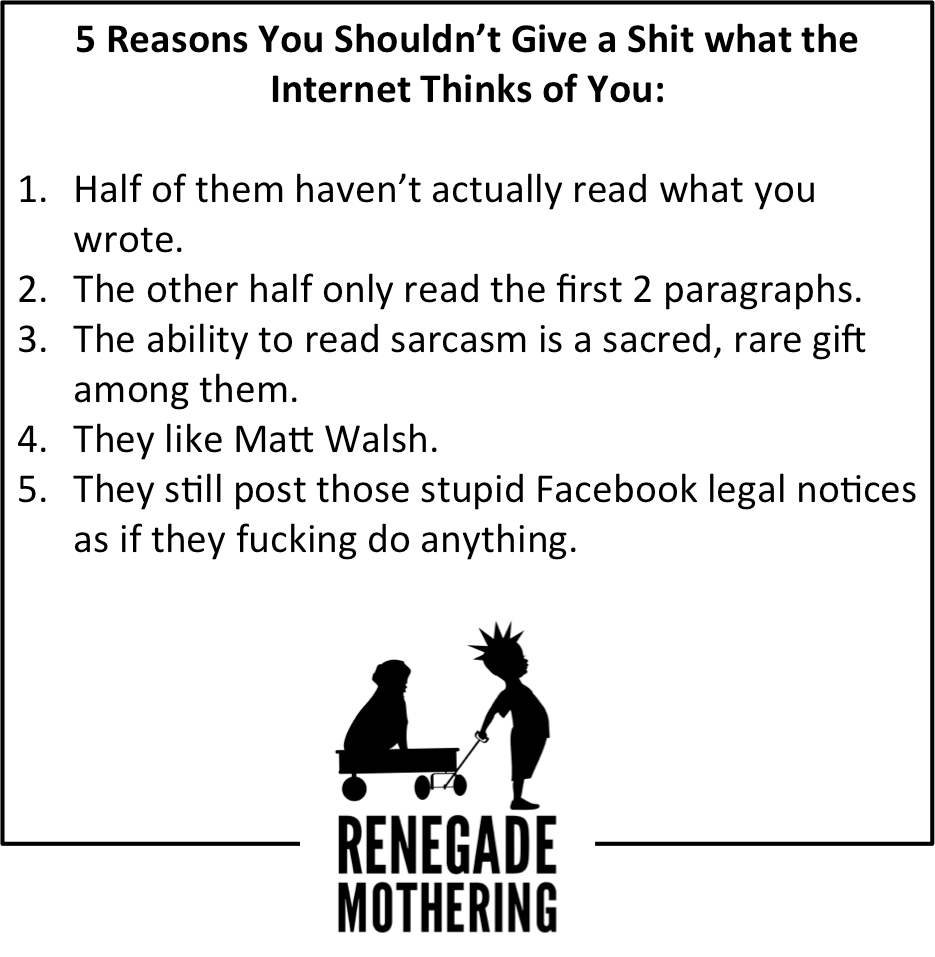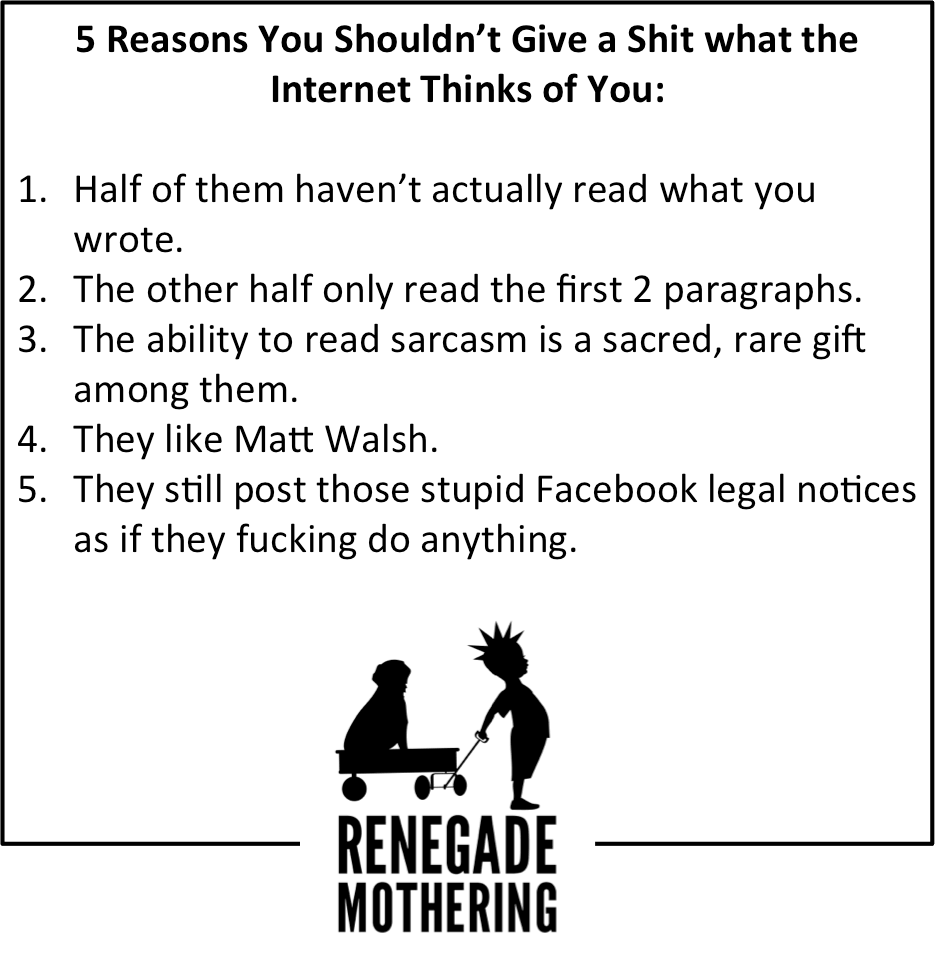 more stuff I shouldn't have said out loud: