No.
Damn.
I can't make it.
You tell us about it, teacher, how it's a blast. How we should come. How we'll love it. I need no convincing. I love pumpkin patches. I love the fall. Before the words have fully left your mouth I check…nope. Working that day.
I can't not show up to work. Maybe I can get a sub. No, not really. I teach college. You can't really just get a sub, or "call in sick."
You're still talking about how wonderful it is. The picture you paint makes my gut hurt and face smile. I see my kindergartener on the train ride, scaling the haystack, picking out the perfect pumpkin. I tell myself "We'll go as a family. We always do."
I tell myself it will be just as good. My heart sinks just the same.
I see her there with other parents. I see them with their phones, taking pictures. Maybe my kid will be in the frame, in the background. Along the sidelines of the frame, near yours who sits front and center.
I wonder if she'll wish her mom were there. Let's be honest, there's no way she'll even notice. She'll be having a great time, as she should.
I know that, yet I kinda wan to quit anyway.
In the 4th grade classroom they're going to the Maidu museum. Oh, it's amazing! The other moms coo.
Damn! Wednesday. I teach that day too. He's almost 10. He wouldn't let me hug him the other day before school. He's getting so big. Oh, lord I want to go. To not miss out. I think of the twinkle in his eye if I could tell him "Hey! I'm going with you on the field trip!"
He's not too big for that.
I was never the kid who's mom worked in the classroom, drove the kids on field trips, manned the carpool. My mom was busy making a living to keep us alive. I didn't feel deprived. I didn't feel resentful. I was elated to see her at the end of the day. Period.
And she was always there. Our dinners were heaven around the little table. I'd crawl into her bed when I needed it. She never said "no."
On the weekends she took us on impromptu camping trips and to the beach and made us hot dogs in the fog while the ocean roared behind us and I knew it was right in the world because she was there.
She was always there.
No, not always. Not at school.
But everywhere else she circled me like sunlight.
And I knew it. I felt it, no matter where I was.
I tell myself it's the same with my kids. I know in my heart it's true. I don't remember a single incident of sitting at school wondering "WHERE'S MY MOM?" I was just glad we were on the damn field trip I the first place.
The mom who can't come. The mom who isn't on the trip. The mom who works.
Sometimes I can come now. I have a little more flexibility.
Some don't.
Some can't come at all, ever.
I see you.
I hear you.
I know what it feels like to be the mom showing up in work clothes 20 minutes late to Back-to-School night, scanning the list of meetings and events and assemblies and this and that and "You should come" and "Volunteer please" and every one at 9am 10am 3pm and the sinking reality of you aren't going.
You talk to your child, pick the most important. You can make it to one, I'm sure. The boss will give you the time off. Maybe you'll just lie. The pumpkin patch is not a business priority. Odd.
I don't want to go to all. Screw that. I'll leave that to the helicopters. But I'd like to make it to a few, and volunteer a few times. I'd like that, you know?
I know what it feels like to sit torn in two. I HATE THE PTA I SHOULD JOIN THE PTA I WANT TO WORK I HATE WORKING I NEED TO WORK MAYBE I CAN CUT EXPENSES I LOVE HATE MY CAREER DO I EVEN HAVE A CAREER I NEED SOME INCOME WHY IS CHILDCARE SO EXPENSIVE WHERE DO I FIT IN THIS MOTHERFUCKING PICTURE?
A million questions theories scenarios reasons feelings but fuck all that.
I just want to talk about the 45 seconds when you realize you can't make it to the pumpkin patch field trip and wonder for a second what the hell you're doing and what she'll think or won't think and how your mom was there or not and how it was and is and will be okay, even when it's kind of not.
You and me. We can't make it together.
You and me. We'll make it together.
And so will they.
*******
Join me for my last writing workshop of 2015.
There are only 5 spots left. We'll have a hell of a time getting to know each other.
Let's do this.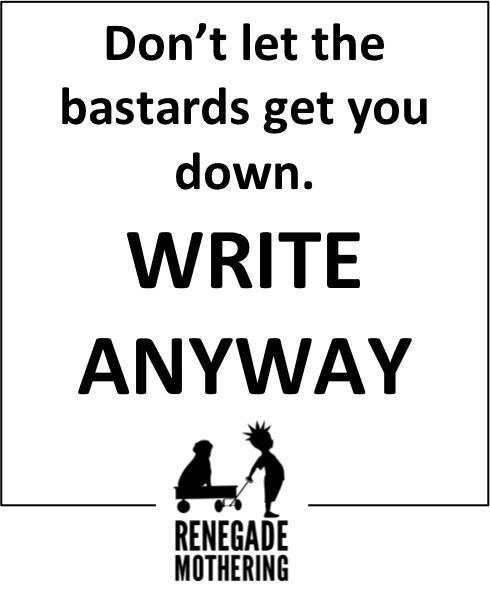 more stuff I shouldn't have said out loud: