Perhaps you've noticed I swear, sometimes a lot, in this blog. Over the years I've received lots of helpful suggestions, admonitions, and earnest warnings regarding my immoral and classless approach to life.
They're all the same, these "arguments against swearing."
Condescending, illogical, holier-than-thou bullshit founded on nothing beyond an unverified sense of superiority.
I wish they'd come up with something new, these righteous-diction types. But they don't.
And since they're always the same, my responses are always the same. That's logical, right?
I love logic. Fucking great stuff. The internet should try it sometime.
Anyway, I think it's time I address these claims, once and for all, so I can just link people here when they send me their heartfelt and irate diatribes.
"Swearing is a sign of a limited vocabulary."
Lies. It could be a sign of a limited vocabulary, or it could reflect choices the writer has made based on her purpose, audience and context.
I have a master's degree in English. I can write academic analyses about Foucault and Fanon AND say "fucking douchecanoe."
Why?
Because context, motherfucker.
If you're so smart and linguistically accelerated how come you never consider the context of writing? Why are you applying the norms of FORMAL ENGLISH to INFORMAL ENGLISH and calling ME the fool?
Hmmmmmmm?
To clarify: Sometimes we write academically, in which case we probably won't say fuck. Sometimes we write for our jobs – probably won't say it there either (unless you're the Coen brothers). Sometimes we write conversationally, in which case we MAY use the word "fuck," if that's how conversation looks for us.
Not you, us.
You don't have to say it. You can say "fudge" or "frick" or "darn it all" when you stub your toe. I grew up with Mormons. I know there are lots of ways to cuss-without-cussing.
Nobody cares.
No, wait. You care. You care lots and lots. You write me emails about it and craft essays wherein you pontificate on misguided judgment of other people's speech patterns.
"Swearing is trashy."
According to whom? You? Well you've already lost credibility since you don't know the difference between formal and informal English so who gives a fuck what you think?
Okay fine. Let's talk about this. What do you mean by "trashy?" Poor? Uneducated? Beneath you?
So, basically what you're saying is you're a dick.
And by "uneducated," you must be referring to people who lack knowledge…is that kind of like people who don't know that the "appropriateness" of language is contextual?
See, now I'm a dick. I'm making fun of you for calling yourself educated when you never learned a basic tenet of verbal communication. Not that cool, is it?
Let's both stop. Let's hold hands and be friends. Let's skip under rainbows saying "fuck" and "frick," respectively.
No? You're still going. Okay.
"Swearing is immoral."
Nope. You don't get to lay down arbitrary morality rules for the rest of us because you have a religion or cult or deeply held personal belief regarding God and vulgarity.
Also, FYI, GOD FUCKING LOVES THE VULGAR.
Haven't you read the bible? It talks all about sacrificing children, trading daughters for goats, drowning everybody in floods, and all kinds of other vulgar stuff. I hear you, though, he did not say "fuck" even ONCE in that entire narrative.
Good thing. Otherwise it would be super offensive.
"You're just trying to be edgy to get popular."
But but but the people I'm writing to talk like this too so they don't think it's edgy. Dude DUH.
"You're isolating readers with your swearing!"
Wait WHICH ONE IS IT? Am I going to get popular or am I isolating people? You have to pick one you are so weird WHAT IS EVEN HAPPENING HERE?
Oh right. It's both. Because all writing has specific audiences and you are decidedly not mine, yet strangely you feel the need to "fix me" even though I, as the writer, am not writing to you at all ever even on Sundays.
See? You don't like me. I don't really like you.
Let's just move on. Call it a day. Click on the cat video and chill.
No, you're still on it. Fine.
"But you can get your point across without swearing which would appeal to the most people."
Yes. Absolutely. And when I write something in which I want to appeal to the most people possible, I don't swear.
You see how fancy this whole "considering audience and context" thing is? You should give it a shot, particularly right before you comment on my blog.
"You're not acting ladylike."
Lick my balls.
(Ooooooooops)
"You're setting a bad example for your kids. "
Not really. My kids are smart enough to understand context. Ahem.
"But I don't like swearing."
Yeah well I don't like fruit-flavored soda but I don't go around demanding that others drink what I do because it's obviously right since my taste is my favorite (ever heard of cyclical logic?). I realize that some people like that crap even though I find it foul and wrong on multiple levels and cringe at the mere scent of it.
In other words, my friend, all you have is a bunch of opinions about swearing that are just that: personal choices regarding how to talk. That's it. Full stop.
I've made different choices. Neither of us is better than the other.
Kumby-fucking-ya.
The problem is that you go out of your way to belittle and diminish people because they see the world differently, come from a different place, write to a different audience, hold different opinions on morality and depth, even though they are not harming you in any way whatsoever SINCE NOBODY IS GLUING YOUR MOTHERFUCKING EYEBALLS TO THE PAGE.
You call us unintelligent.
And yet you provide not one logical or reasonable argument to prove your point. Your whole platform consists of: "I know how you should behave because I like myself a lot."
This is not a convincing argument, even to my immoral unfeminine trashy-ass intellect.
YOU HAVE TO COME UP WITH SOMETHING BETTER.
Go ahead. I'm fricking waiting.
You see that? Feel better?
Me either. We can't be friends.
Bye.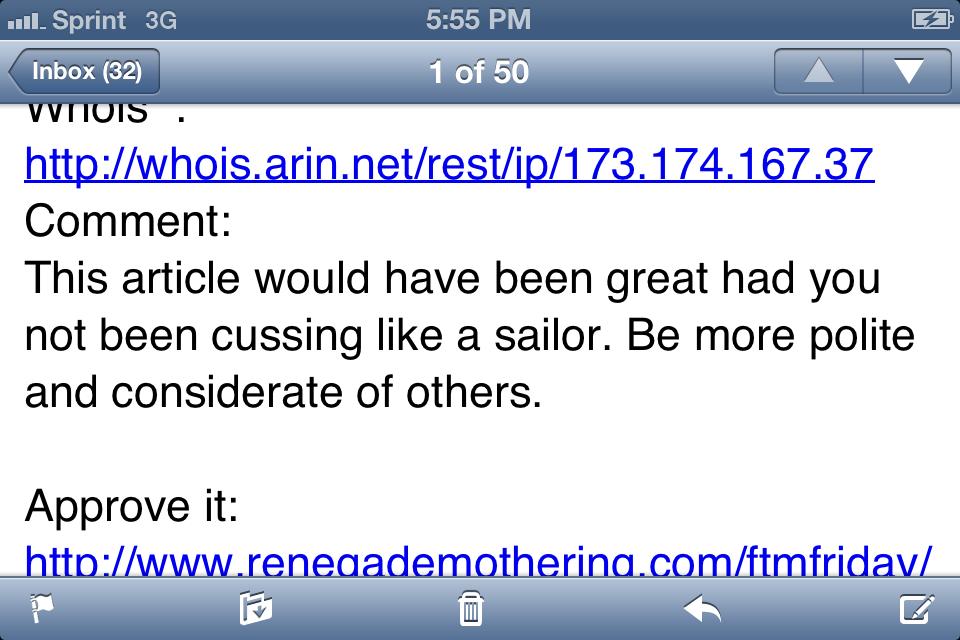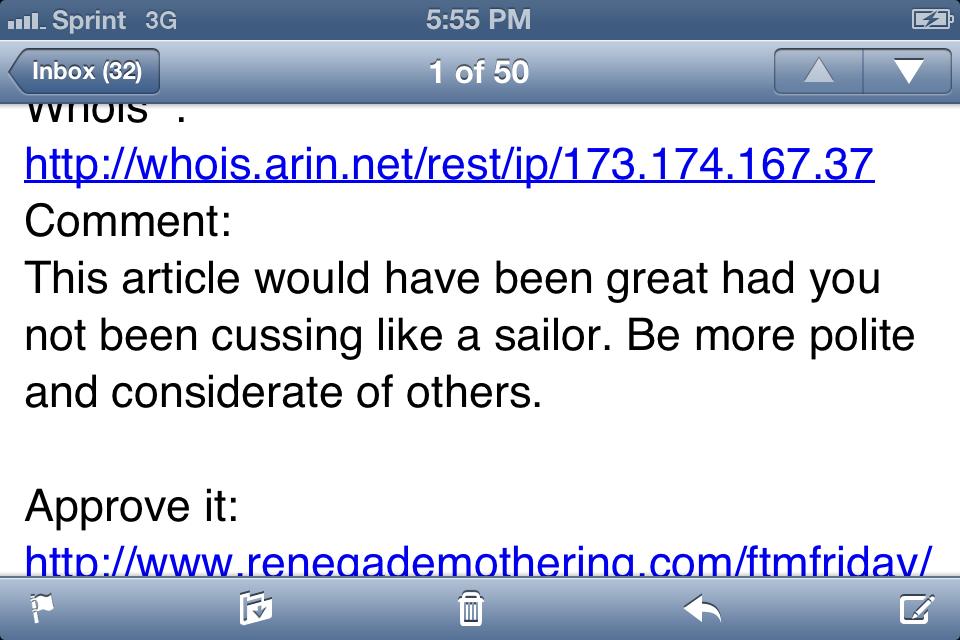 more stuff I shouldn't have said out loud: