I do not play imagination games with my children. You know, the "I'll be the mom and you be the baby" games? Yeah, those.
Fuck those.
For me, not kids. They're amazing for kids. Children should do it all day long. But I don't want to. It's not fun and it's not interesting and if I did it with my offspring, the best I could muster would be thinly veiled disdain. And who the hell wants to play with a bored skeptic?
I used to feel guilty about this. I used to think there was something wrong with me as a mother because I didn't hop into action once daily to join my child in her truck-bunny-on-the-moon play.
But then I asked myself: Where the hell did I even get the idea that this is my job anyway?
Who's idea was this, and DID THAT PERSON THINK IT THROUGH?
I don't think so.
First, please understand something: I was the queen of imaginative play when I was a kid. No joke I lived in fantasy more than reality. I used to make up whole lies when I met people because it was more interesting than the truth, and I sustained that behavior into adolescence. I'd wear a sling for a week to school. I invented whole alter lives and boyfriends and parents and countries of origin. Basically I was a compulsive liar.
I spent a good portion of my teenage years imagining my own funeral and what each person I knew would say about me. I would even cry. I am no stranger to imagination folks.
Potentially pathological issues aside, as a kid, I remember playing "school" every single day after actual school. I'd eat a snack, go back to my bedroom, shut the door, and "teach" my dolls, for hours. I also liked playing "restaurant." And "store."
Pretty sure I went into junior high still playing with dolls. I was extremely popular.
But at no point did it occur to me to ask my mother to join the fun back there in my room with my Cabbage Patch dolls all lined up learning about "The Miracle of Life." That was my favorite book to teach. There were vaginas involved. It felt both educational and dirty.
And yet, here I am, 30 years later, thinking that if I don't get on the floor and "be Ken" my kids are going to suffer some great harm.
No, no they are not. They are going to be fine.
Why? Because it's not my job to entertain my effing kids. Who came up with that shit anyway? Hey parents, you need to provide for, nurture, clothe, feed, house and educate your kids and you need to MAKE THEM HAVE FUN WHILE YOU DO IT!
I do not owe it to my children to be somebody's version of "good mother." It is not my job to FAKE SHIT so I can fulfill society's definition of "engaged parent."
I get to be me. And "me" doesn't like extended pretend play. And that's okay. There are lots of ways to engage with children.
Besides, I have actual real issues to work on if I want to improve as a parent; for example, my yelling. But that's another blog post.
You know what I like to do with my kids? Make jokes. Go outside. Go camping. Take trips. Hang out at the park. Bake. Cook. Read stories. Act goofy as hell. Indoctrinate them with my super progressive political ideas. Sing non-kid music. Play non-kid music loud while instructing them to please not repeat the swear words.
That's me. That's the family my little ones were born into, and that's okay. My kids do not have a mother who enjoys crawling on the floor and meowing to complement their "kitty game."
You're cute. I like you. Please leave me out of this.
Meow.
Our kids are not stupid. They know when we're bullshitting them, when we're blowing them off, when we're doing things half-assed. I do enough things half-assed each day – driving carpools, making dinner, waking up – so why the fuck would I add "play with you" to the list?
When I play with my kids I want it to be real and organic and spontaneous because we are both genuinely enjoying ourselves, not because one of us read some death article on Babycenter declaring that "imaginative play with children is critical to soul growth."
Lies. They'll be fine.
You know what I remember most about my childhood? All the weird and wonderful shit my mother did. I remember our spontaneous road trips and duct-taped van windows. I remember the impromptu trips to the beach where we'd barbeque hot dogs and play in the sand. I remember that one time our car broke down in Vegas and she played nickel slot machines to buy us daily buffets. I remember her singing Grace Slick in the car and pulling over to take a "power nap" while my brother and I died of boredom. I remember catching crawdads along the coast of Washington while she made us food under a tarp in the pouring rain. I remember the feel of her arms around me and that she never once told me I couldn't come into her bed after a bad dream.
I remember my mom for being HER. I love my mom for being the woman she is – the creative, weird, lovely human being that sets her apart from all other human beings.
She is my mother. She is enough, and always has been.
So fuck all that noise telling us we need to be different humans to raise our children with love and compassion and depth and wholeness.
My midwife says, "You birth the perfect children for your family."
I think of that often, and let it be okay that I'm not all "they" say I should be. This is it. This is us.
Come in close. I'll give you everything I got.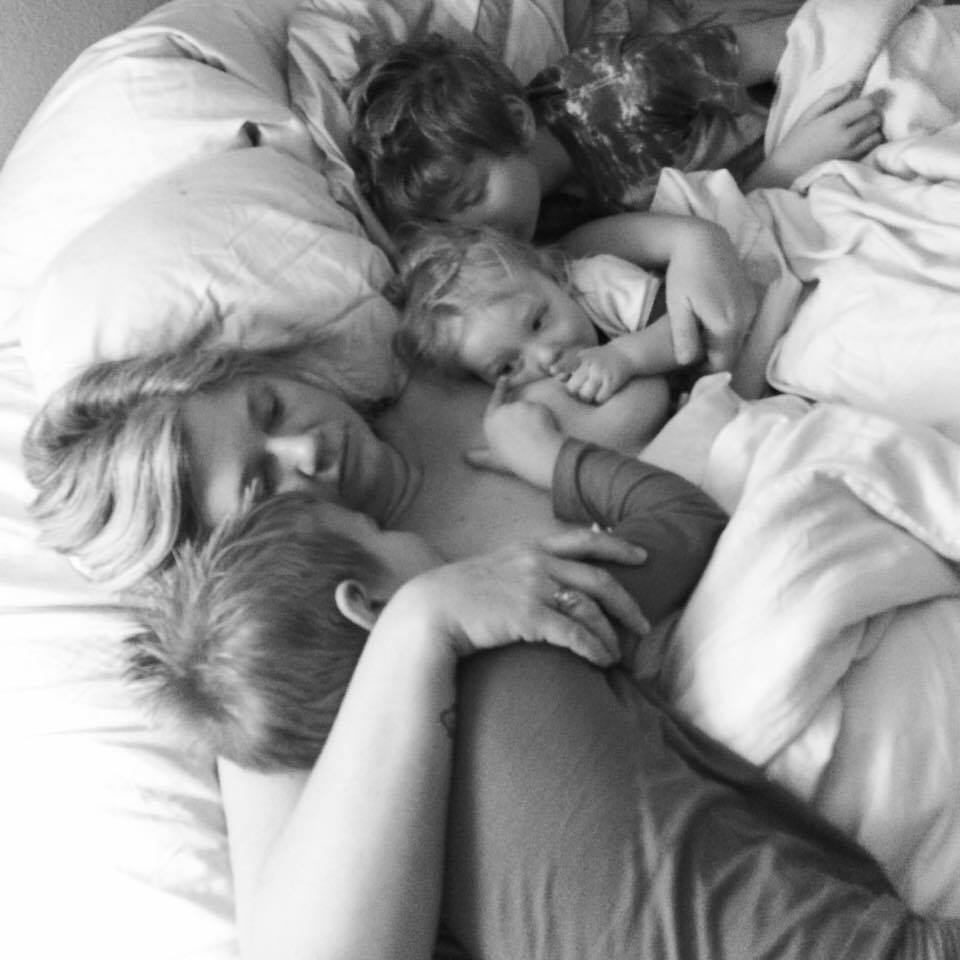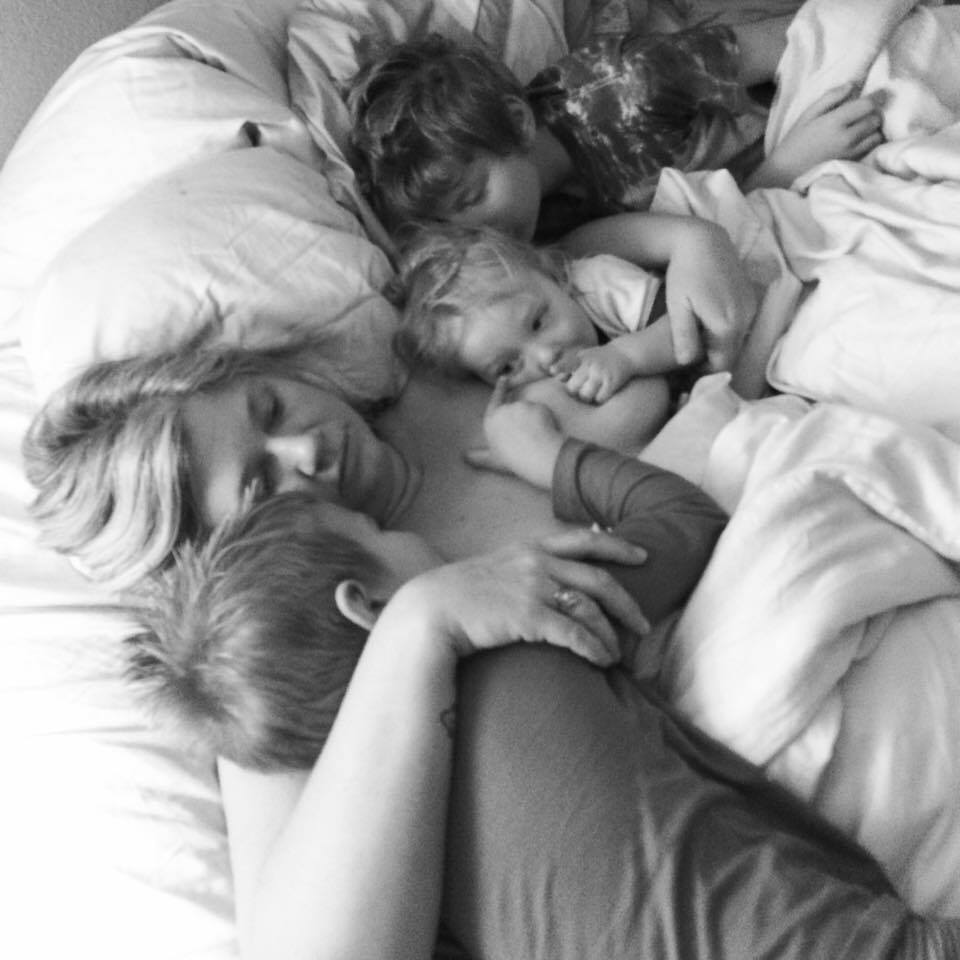 ****
 You know what else I do? WRITE.
And though it now helps my family, it used to be for just me.
Give it a shot, if you're interested.
We'd love to have you.