Last week, my 11-year-old son Rocket hopped into the car after school and handed me a piece of paper as he said, "I want to be in the school play."
"Oh yeah," I said, "cool!" But then I looked at the paper. It was a permission slip for auditions. My eyes widened.
"What do you have to do to audition?" I asked, scanning the paper, suppressing mild panic, then realizing: "Dude you have to sing a song!"
"I know," he said, all casual.
"Wait. Do have to do it on a stage in front of PEOPLE?"
"Yeah, mom."
"Well, awesome!" I said, and started driving to mask my vague horror at the prospect. (Motherhood protective reactions are not uniformly rational. I have realized this over the past 15 years.)
I thought of him standing on a stage, singing. I thought of that time in kindergarten he brought a stuffed white seal to class and the kids "didn't even think it was cute" and how he cried after his bath about it. Okay, he was FIVE. Whatever.
I thought of how he would feel if he didn't make it, or was given some 3-second "overflow" part without words, and I thought about how I, as his mother, need to keep my fucking mouth shut about my desire to shelter him from pain, failure, and humiliation.
I don't know much, but I know for a fact my job is to at least TRY not to pass my fucked-up life techniques on to my kids.
If I were in fifth grade, had no singing or acting experience, and was informed of an opportunity to sing some ditty on a stage – to be judged by parents and a few thousand cruel children (which is how I would see it) – I would for sure throw the paper away with a shudder, immediately, just to get the idea the hell out of my head. Possibly I would burn it, and sanitize my fingers just to be safe.
But what Rocket doing this is even more unthinkable than me trying it in fifth grade. You see, he has severe dyslexia, part of which is a rapid naming "disorder," which means his brain often takes a really long time – and I mean a lonnggggggggg time – to retrieve the words he needs. Under the most relaxed of circumstances, he gets tongue-tied, and then when he sees you waiting, he feels anxiety, and puts his head down and closes his eyes to really think, and the longer it takes, the more stressed he becomes, which makes his brain freeze even more, and often this continues until he grows frustrated and/or cries, or walks away saying, "Never mind."
Occasionally, he thinks of the word. We try to help him. But it's so hard for him, and so hard to watch.
So the idea of this boy standing on a stage and attempting to belt out a song under anxiety-producing conditions took my breath away. My brain screamed, "YOU CAN'T DO THAT SON! FIGHT THE URGE! KNOCK IT OFF! BE SAFE HIDE DO NOT TRY WEIRD SHIT!"
But I kept that inside and instead went with, "Wow, Rocket, I'm so proud of you! You are amazing. I don't think I could do it."
And he said, "Well, I'm not afraid. I'm lucky that way."
I've been thinking a lot lately about how little power we have to keep our children safe. As I watch what's happening with our government, as I watch it fill with big bank big oil climate-change denying anti-human rights white supremacists, I feel a sense of powerlessness and dystopian wonder as if we are caught in a sci-fi flick. (It's a terrible movie, by the way. It ends in nuclear war. Everybody dies.)
Meanwhile, our leaders on both sides are eerily quiet. People say "Let's wait and see." What, pray tell, are we waiting for? Are we not there? Are we simply expected to go silently into that good night?
We wake up, send them to school anyway.
Aleppo. Hate crimes. Autocracy. Oligarchy. A president-elect who prefers Twitter over intelligence briefings.
We come home, make dinner.
I wonder what kind of world my kids will face. Can a reality TV star destroy the world in four years? Does that "checks and balances" thing really work?
My grandmother is killed. People ask my children and me for details of the crime. I want to explain this is not a True Crime drama. This is our life. I rage, consider railing at them, but I'm silent, because I don't have the fucking energy. Not today.
My son gets in the car, says he wants to try out for the school play.
I wonder if he will grow tongue-tied. I wonder if he will crumble on the stage. I wonder if a snowball of anxiety will build until he rushes off the stage and folds into himself in the hallway, like when he was five, or, as I would.
I tell him, "Let's practice the song." Let's practice it over and over. Let's get as strong as we can. Let's do it, son.
We play the song from YouTube. We print it out in a font that's easier for him to read. He practices as 6am with headphones on. On the day of the auditions, I bring him his favorite drink from Starbucks – a green tea latte – and some lemon cake and I tell him, "I am so proud of you. I can't even tell you."
But I don't stay, because I fear he will see the worry in my face, and I know my energy will bring him anxiety. I wonder if I'm a horrid mother for not staying. I go out to my car and cry, because I'm afraid, and proud, and tired.
My mom watches him.
He has to restart three times. It's a full two minutes of false starts. The teacher says, "You're doing great." His head falls and my mom thinks he's going to cry.
But he lifts his head higher and says, "I'll try again."
On this fourth and final attempt, he gets through the song. By the end, his voice raises and he's got "enthusiasm." His body rocks to the beat of the song.
When he gets home, we all cheer.
I'm not afraid. I'm lucky that way.
They teach us to go on. They teach us to do what cannot be done. They teach us to look at the beauty, to see where we are lucky. They teach us to keep trying even if the world feels against you, and you can't see a way out, and the numbness and desire to hide is creeping so close you can almost touch it.
They teach us to be human, and remind us how beautiful "human" can be. They teach us to be unafraid. Or try, terrified.
I'll try again, he said. And sang the motherfucker. 
You and me both, kid.
2017, Love, Humans. Let's do this.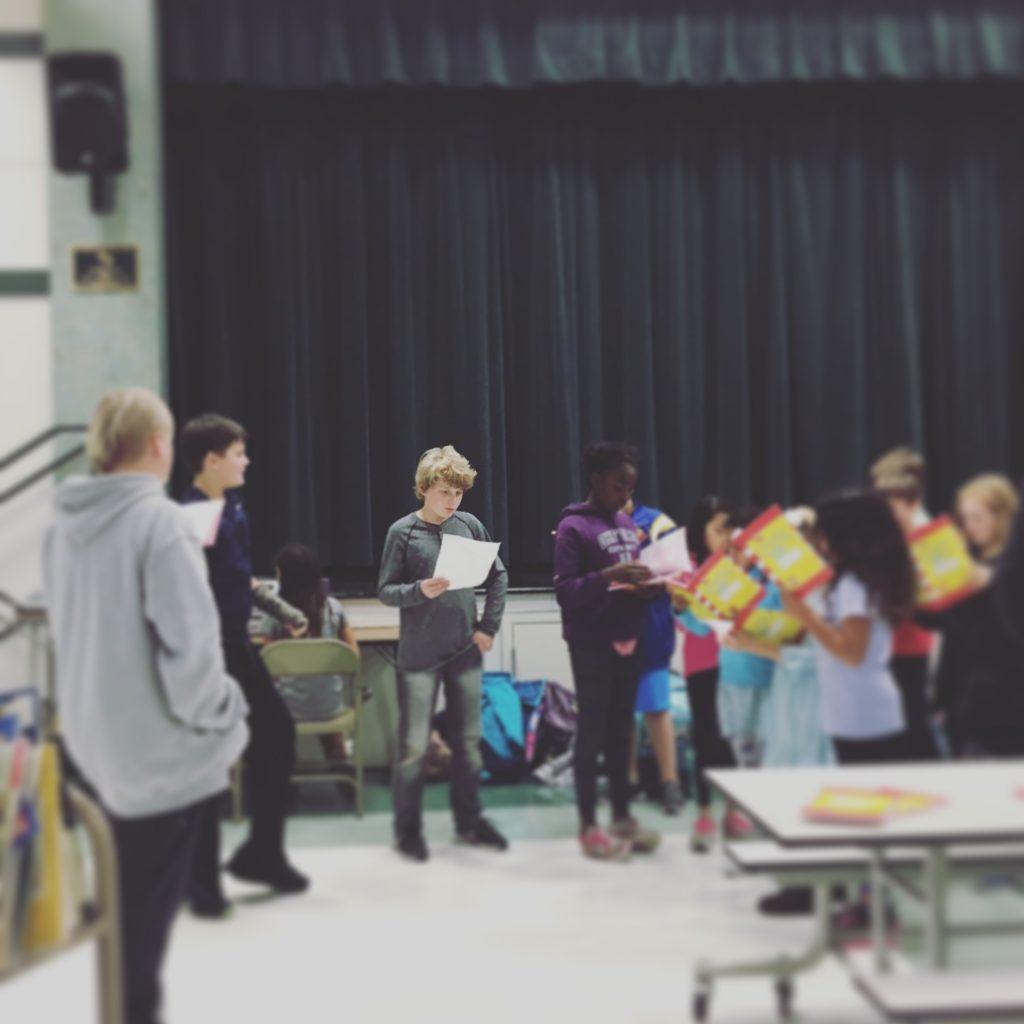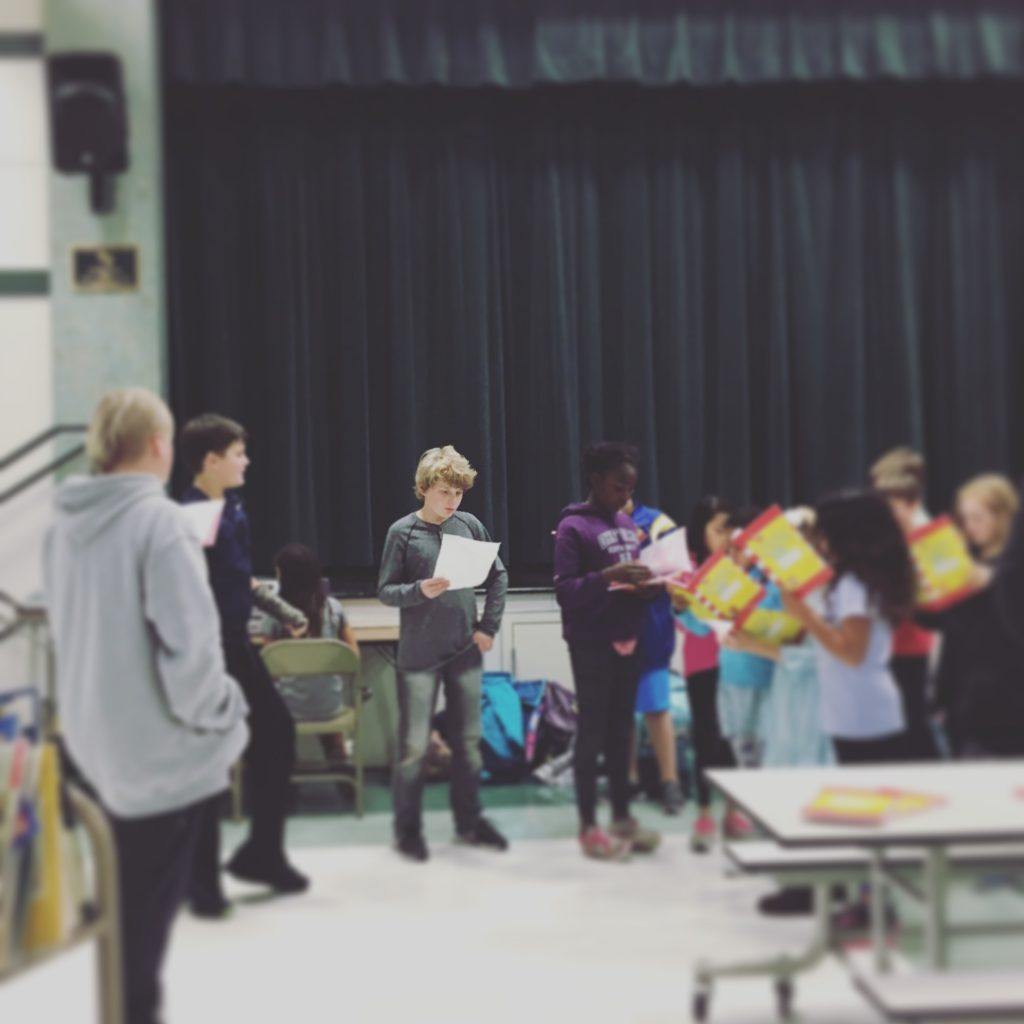 P.S. He got a speaking part! Thanks, world!
more stuff I shouldn't have said out loud: