So, we need to talk about that viral video with the dude whose kids barged in while he was being interviewed. You remember. The yellow-shirted child who walked in owning the place, and then the baby in the walker who charged in after? Yeah, them.
I found it cute. Of course, the Super Concerned Citizens Brigade had some concerns about the way he gently pushed his kid away. Of course they did. Because one should always be excited about having their children around. They are precious gifts from god, even while working. Obviously.
(Nope.)
And of course the people wondering why we are "congratulating a man for doing what women do all the time."
Hmmm. Okay.
I thought it was an amusing glimpse into the shared experience of trying to work from home with children who don't give a fuck that you're trying to work from home.
And then there was a parody video: "How a woman would have handled it." And it was a woman picking up the toddler and giving her a bottle instead of trying to get rid of her, and then roasting chicken and ironing and putting out a bomb and helping her husband find a sock, etc. It was funny.
I mean, sort of, until I realized the video wasn't really critiquing the process, and in fact, the woman joyfully states at the end: "Alright let's find this sock then!"
The point of course was to highlight women as master multi-taskers who would have DONE IT ALL while being interviewed about international politics, and I fear I may be the only person on the planet who thinks this is utter bullshit.
Look, I love humor. And I'm only uptight on Sundays. I'm the funniest person I know (this is not true). But I felt a wave of repulsion when I saw that video.
I know the point was to "revere" women and point out our incredible ability to take care of all the things all the time and hold down careers. I get that. And yay us.
But truly, fuck that shit.
I want to be the man in that video.
No, I AM the man in that video. When I work, I don't want my kids around. I don't want them barging in. I don't want to feed them a bottle while I do my job. And frankly, fuck you for expecting me to do so.
I don't want to be the one grilling shrimp and changing a diaper while writing a book. Yes, I 100% EXPECT MY HUSBAND TO GET THE FUCKING TODDLER OUT OF MY FUCKING ROOM SO I CAN WORK.
Sorry for yelling, but come on.
Roasting chicken, doing taxes, buying coconut oil, and planning parent-teacher conferences while working is to some extent the reality of my life, but mostly I accomplish "motherhood and career balance" by failing in rotating areas and lowering my motherfucking standards. I put out fires and focus on that which must be done right now.
Glorification of this "do it all" mode of being makes my stomach turn. I do a lot of things in a lot of areas, but I sure as hell don't do them perfectly, joyfully, or with an attitude of "no problem. I got this honey."
Why is it that women have accepted "juggle all the things" as our job? Why and how and when did we get it through our heads that we are even CAPABLE of such a thing (::whispers:: it's the patriarchy)? We all know it's impossible, and yet we celebrate it.
It has become a mark of accomplishment for "women," an intrinsic aspect of our identities, a badge we wear with apparent honor.
I'm a writer. I have a major deadline coming up in five weeks. For the past three weeks, one of my children or I have been sick in rotating cycles of hell that have reduced my already scant 20-hours a week of office time to 4-5 hours a week. To make up for it, I have worked evenings and entire weekends, which means I leave my family for two days at a time, missing activities and evening events and their faces. I have all but ceased grocery shopping and cooking. I missed a parent-teacher conference because I had the date wrong. I may or may not be returning phone calls.
Ultimately, I have to REMOVE myself from my family to pursue my career. It's hard, and it stings. But is it worth it? Yes. That's why I do it.
You know who picks up the slack? My husband.
Because that is what we do for each other because we are not superheroes we are humans. 
So please stop implying that my family can literally or figuratively join me in my workspace, or that if I were a better woman, I would bring the kid onto my lap rather than kick her the hell out of my office.
And the truly unfortunate thing here is that I have the "ideal" career for "balancing" motherhood and work. I work for myself, so I have "flexibility." My husband works two hours away as an ironworker. He is not available during the days. If he doesn't show up for work, he doesn't get paid. I am grateful I can be here.
But even though I enjoy "ideal" conditions, this shit is still impossible. I cannot do it all. Ever. And I'm growing mighty tired of the idea that I can.
I know people will read this and say, "Hey genius if you wanted a career, why'd you have so many kids?"
And to you I say: That is an excellent question.
And I will answer it as soon as we start regularly asking men the same question: "Hey man, why did you have so many kids if you wanted a career?"
Most of us are working – men and women – BECAUSE WE NEED TO EAT. But only one of the genders is being asked why the fuck they aren't getting the ironing done.
I'm kidding. Obviously nobody actually irons.
When I excel in one area, it is at the cost of another.
When I focus on one area, I have less focus to offer other areas.
This is logic. Excellent stuff.
I cannot do it all. I cannot balance it all. I cannot perform at stellar levels in every damn area of existence. And that's cool.
I will pass on the incessant multi-tasking, thanks.
So yeah, get the fuck out of my room while I work, kids.
Mama loves you.
Bye.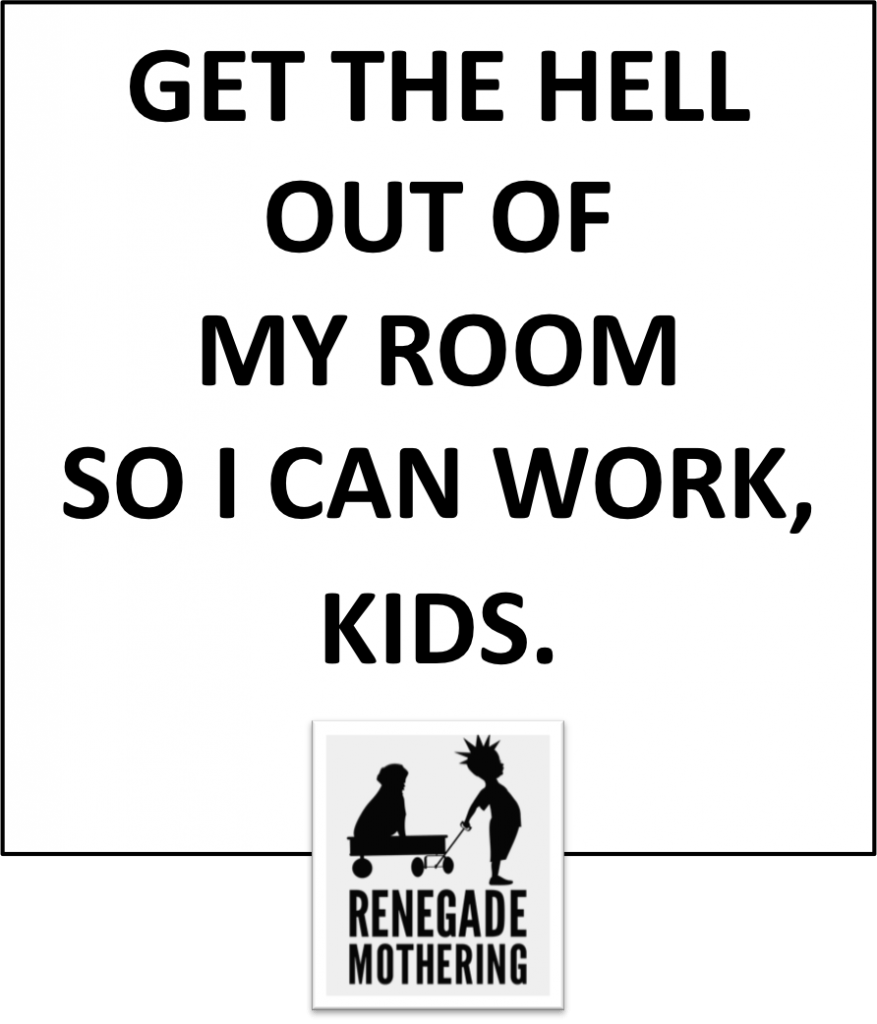 more stuff I shouldn't have said out loud: