A few months ago, my fifteen-year-old daughter Ava was introduced to a mountain biking team. It's a high school team.
She was gifted a bike, and started riding.
If you could see my face right now, you'd see there are already some goddamn tears in my eyes.
I wish I knew why this particular topic makes me so fucking emotional. I hate feelings.
Alright. Fine. I do not hate feelings. I am super well-adjusted and in tune with my emotions.
I merely prefer they refrain from attacking me at random.
She was afraid at first. She was nervous and rode slowly. She teetered and stopped often and "hated it." Mac went with her. He went with her on every ride.
She remained unsure.
But Mac loaded the bikes on the back of the van and took her on rides anyway, week after week.
She rode with the team and Mac went along with them.
She was absolutely unsure.
A day came when Mac wasn't available to ride with her and the team. She sat at the kitchen table and told me she didn't want to go. She told me, "I have never done it without daddy."
She rode anyway.
On the night before her first race, she was irritable and angry and frustrated and scared and pissed the fuck off that her family "made" her participate. We suggested she not do it. She hated that idea even more than she hated us in that moment.
She rode anyway.
She came in second to last, elated to finish.
We raved and cheered at her success.
A finish. An actual finish.
A week later she rode 8 miles to school on country roads. I didn't want to let her go. I was sure she'd get creamed by a drunk farmer.
She rode anyway.
Now she rides every day and you can't stop her from it. She rides without even thinking, and talks about how good her little brother will be since he's going to "grow up riding." She talks about turns and hills and falling and how it's "no big deal" and she doesn't talk about riding alone, or not wanting to race.
Six months later, she's finished four races, and with the last one, she placed five spots higher than the races before.
But who cares?
No. I mean really. Who the hell cares.
She had me at the fear. She had me at the falls. She had me at the mud on her face and the blood running down her knees. She had me at her tears when a dog jumped at her on the street and she fell and ripped her clothes and had to ride home humiliated and angry. She had me at still racing. At still riding.
She had me at the beginning.
I suppose it makes me cry because this is what I've always wanted for my kids. I suppose what I've always wanted really, at the end, is that when life offers a chance to do some cool and difficult shit, that they give it a shot and see what happens and bloody their knees because it's better than accepting what the world tells you you are.
I've always been so afraid to do "physical" things. There were athletic kids and then there was me. I've always believed myself to be "the intellectual but not athletic one." The funny thing is, we said the same about her. She was kind of the two-left-feet kid, you know?
But her dad didn't believe it, I guess, and neither did her uncle who gave her the bike, and neither do her teammates or coach, or little siblings who watch her ride, and the finish line? That fucking finish line didn't believe it either, I guess, because it just sat there while she crossed it.
But mostly, it was her.
It was Ava who didn't care. It was Ava who decided to define herself.
I wish I could tell her what her muddied, bloodied knees mean to me, how fucking gorgeous they are to my eyes, eyes that perhaps never believed that would be her life, or mine, or that such things were even open to us. To try even though you have no evidence you can do it. To try even though you've got no history of it, no vague inclination, nothing at all rooting you on except a person you care about who's right there next to you.
To try, and keep riding, even when the glory is simply a "finish."
Even when the glory is simply getting to the end. 
I held her as a newborn. I held her until she crawled, walked, and I now, I guess, rides. Right beyond the horizon of my dreams, to a place she'll find.
I'm happy to hang behind. It's never been mine to own, and the gift is getting left in the dust.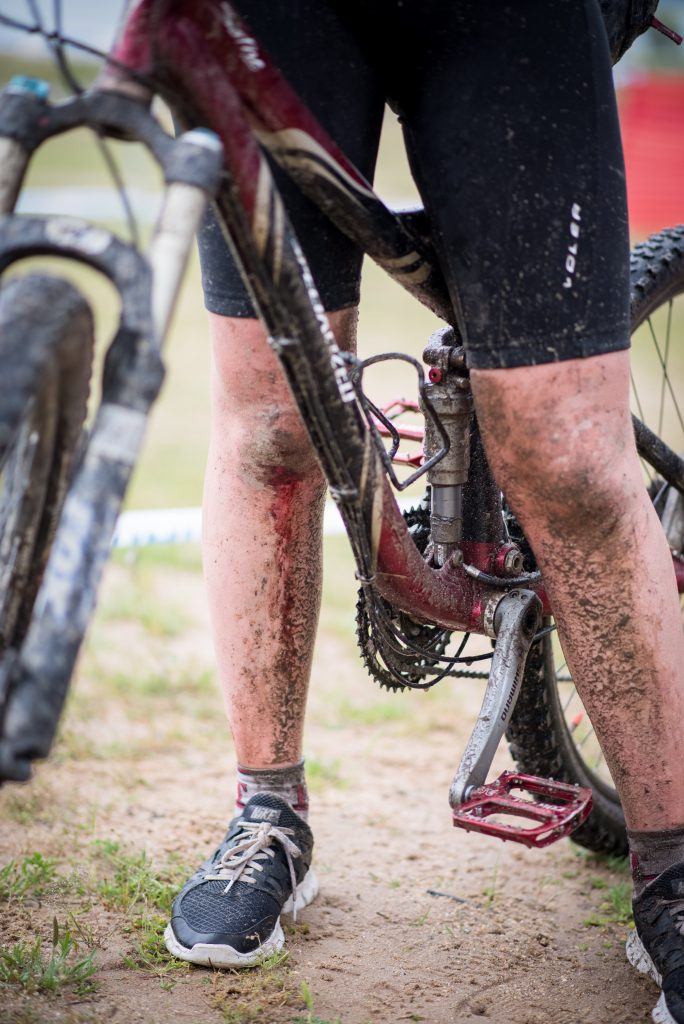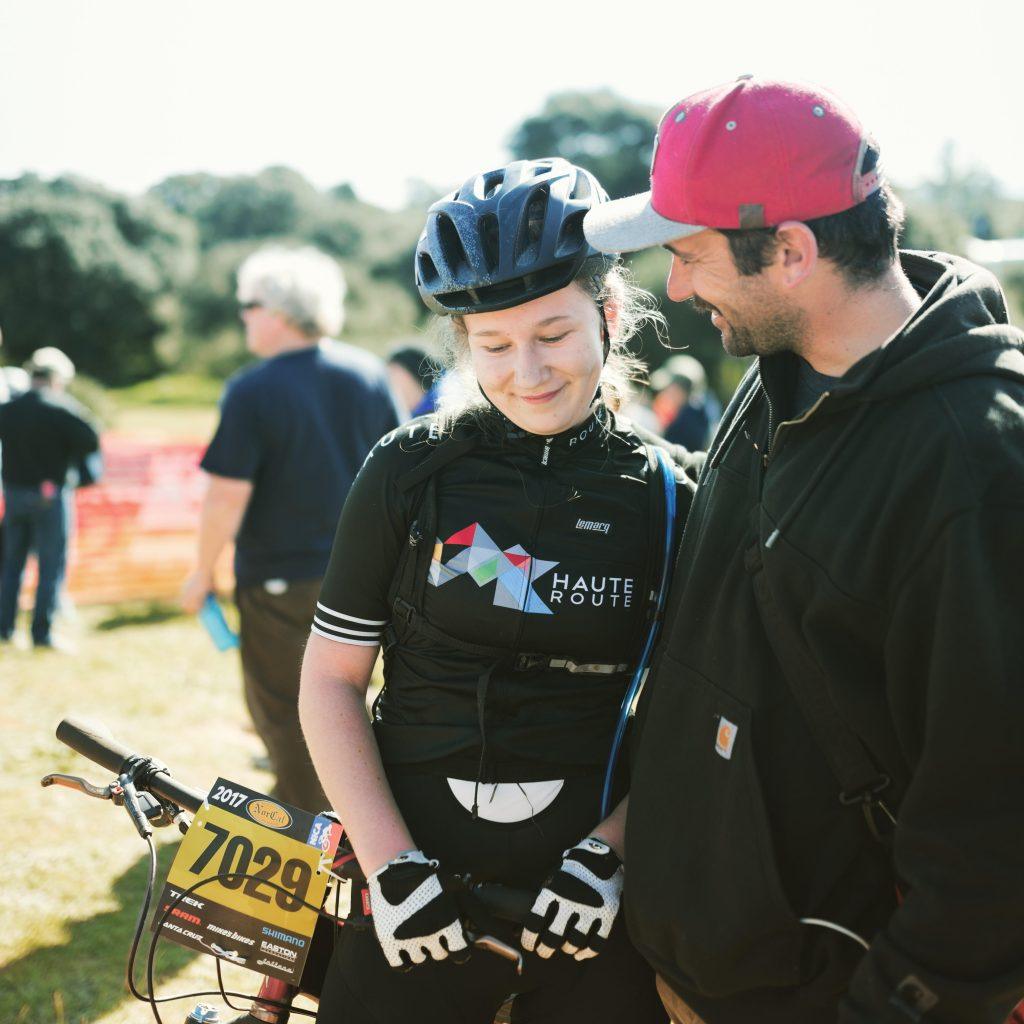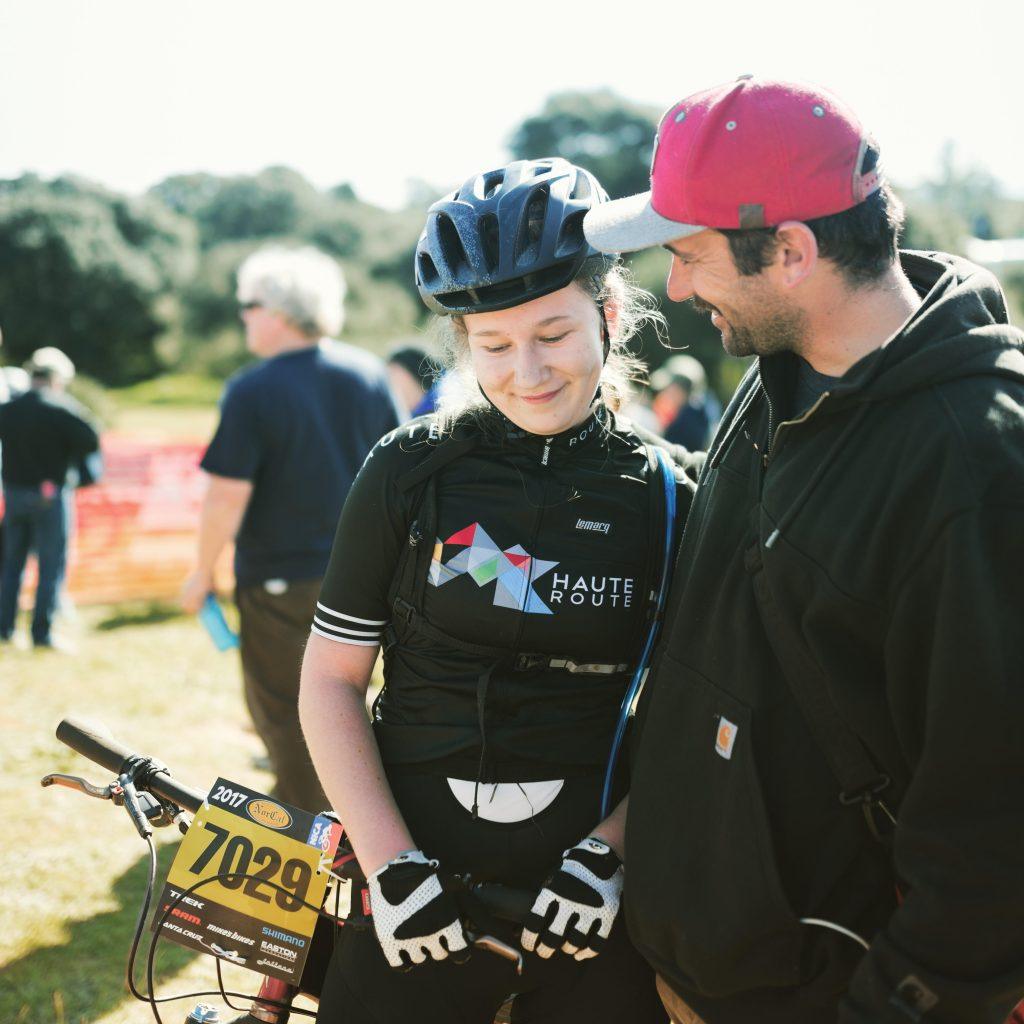 more stuff I shouldn't have said out loud: