The other day I happened upon a post in my town's "community" Facebook group. It was a photo of an apple and sandwich next to a light post, and above it was the comment "I guess if it doesn't buy drugs, the homeless in our town don't want it." And then it was like a rage face emoji.
Apparently this woman had given food to a homeless person the day before, then happened upon it the next day, in the same location, clearly abandoned by the recipient.
Because I hate myself, I clicked on the comments. The first 90 thousand were iterations of the same concept: Homeless people who take $1 to buy whiskey are losers and don't deserve our money.

Here's a summary of the rest of what I read:
Homeless people who buy meth are even worse.
Refusing food makes them ungrateful trash people.
They are trash people because of bad decisions.
They are there because they are bottom-feeding addicts.
Local businesses shouldn't allow homeless near their dumpsters or bathrooms because "it encourages them." 
If they're mentally ill, they should go to the doctor and GET SOME MEDS! "I know all kinds of mentally ill people who hold down jobs!" (<<<<That was a direct quote.<<<)
One genius pointed out that "homeless people don't need to look so awful. They can wake up each morning and go to the Wayfarer center and get clean and tidy."
To that woman, I simply say: "I hope you get hit by a large free-falling boulder, you fucking asshole."
But to the rest, I'd like to chat. I'd like to have a quick convo about this whole "deserving homeless" situation, because I have to say, I really wonder when it was exactly that we lost our humanity.
When was it that we started looking at human beings living on the streets for whatever reason and our response is: "Could you please make yourself more presentable? You are unfortunate on my eyes."
And when did we convince ourselves that we are some sort of Mother Teresa because we hand somebody a dollar. IT IS A DOLLAR. If you care so much about what the recipient does with the dollar, perhaps you shouldn't be giving it away.
Clearly that dollar means way too much to you.
And you know these people drip in self-congratulatory declarations of their own "altruism." You know what altruism is? Giving with no expectation of return.
And yes, expecting that the recipient graciously accept, appreciate, or spend the money on what you deem HOLY and RIGHT and GOOD is in fact demanding a return.
So here's you: "I believe myself to be a deep and generous person and to confirm that, I will offer you something, but we need to be clear: I'm not doing this for YOU. I'm doing this for ME. If I were doing it for YOU, I wouldn't give a fuck what you do with my dollar."
Oh, I know. I know. Enabling! We are enabling the homeless by offering a dollar so they can buy a pint. Maybe.
But maybe they are going to buy tampons. Or French fries. Or maybe they needed that pint to kill the alcoholic withdrawal that would have killed them. MAYBE YOU SAVED THEIR LIVES WITH THAT PINT.
Okay, I'm being hyperbolic. But my point is real: We can't control the outcome of our attempts to help others, and most attempts to do so are simply a way to feed our egos.
In other words, I'm going to give you this $1 so I can feel good about myself. The moment the recipient doesn't participate in feeding our egos, we fucking hate them.
OMG SO CHRISTLIKE!
Seriously. Get off that Good Samaritan pedestal.
Here's what I want to know, pedestal people: If you want to give a dollar, why don't you do it simply because they are quite obviously not doing as well as you are?
If we have it, why don't we give it because it's nice to have an extra dollar?
Who the hell cares why they're standing on a corner mumbling to themselves and asking for change? Bad decisions, drug addiction, alcoholism…does it matter? I mean, does it really matter? Is the central point of the situation altered in any way whatsoever?
No. No it is not. Because the central point of "giving" is that when you have a little extra, you share it. The central point is that no matter how you cut it, the person standing on the corner in dirty clothes, begging, is, generally speaking, a bit down on their luck and even IF they simply made 12,000 bad decisions beginning at the Monterey Pop Festival in 1985 and ending here, can't we all appreciate a human who isn't doing so hot?
Look, I know. I know you have never been that pathetically human before. How do I know? Because you've obviously lost touch with what it means to be human.
If you see a person filthy and sunburned and cracked in heart and face, sucking on a cigarette in piss-stained clothes, holding a sign asking for change, and all you think is: "Well that person is clearly a drunk."
My god. You know what? Save your change. You're gonna need it in hell. Maybe you can throw some green at Satan and get your fucking soul back.
Damn it. I promised myself I'd stay chill about this. But I'm telling you, it rips my heart out. How did we become these people?
It's not a bleeding heart thing. It's not some "liberal" thing. Look. I hate liberals almost as much as I hate conservatives. This is a goddamn HUMAN thing. When did we lose touch with some basic love? Basic concern? Basic goodness toward the people around us?
And I don't give money to everyone asking for it. When I see a group of 20-year-olds chilling with their pit-bulls and skate boards, bright-eyed and scrollin' their iPhones, asking me for money because they did too much blow at Coachella, I'm like, nah.
Why? Because I am not Jesus, and they irritate me.
I TOLD YOU I AM NOT JESUS.
But we don't have to be Jesus. We just have to be decent.
Give or don't give. Do what you do. But don't give for "altruism" then blame the recipient for not catering to YOU.
At one point I had to stop reading the comments. These people were talking about the homeless, mentally ill, and drug-addicted in our community as the "filth" of our world, as if they were not even humans at all, as if cycles of addiction and poverty do not exist, as if they could get out of the whole homeless predicament if they were just better people.
Oh, you mean like you?
Like the commenter who said she was disgusted at a fast food restaurant for giving a filthy homeless man a cup of water and letting him sit at a table? She wrote, "that's more than I want to share with a homeless person."
(The filth rubs off, I guess.)
Space. That's more than she wants to share.
That's more than she wants to share with our brothers and sisters who are sick, cold, tired, and hungry. And that hunger isn't always for food. Some of us are dying from a hunger in the soul, so sick we don't even remember apples nourish the body.
I guess as a recovering addict I see myself in those watery eyes. But I think if we looked hard enough, we'd all see ourselves in those eyes.
When I hand a drunk a dollar, I want to say, "Hey man, buy the whiskey. I hope you get what you need."
I know what we need isn't in the bottle, but I can't tell him that.
I know it's in our shared humanity, and I can show him that. For a second, at least.
Or not. It's just a fucking dollar.
It's nice to have one to give.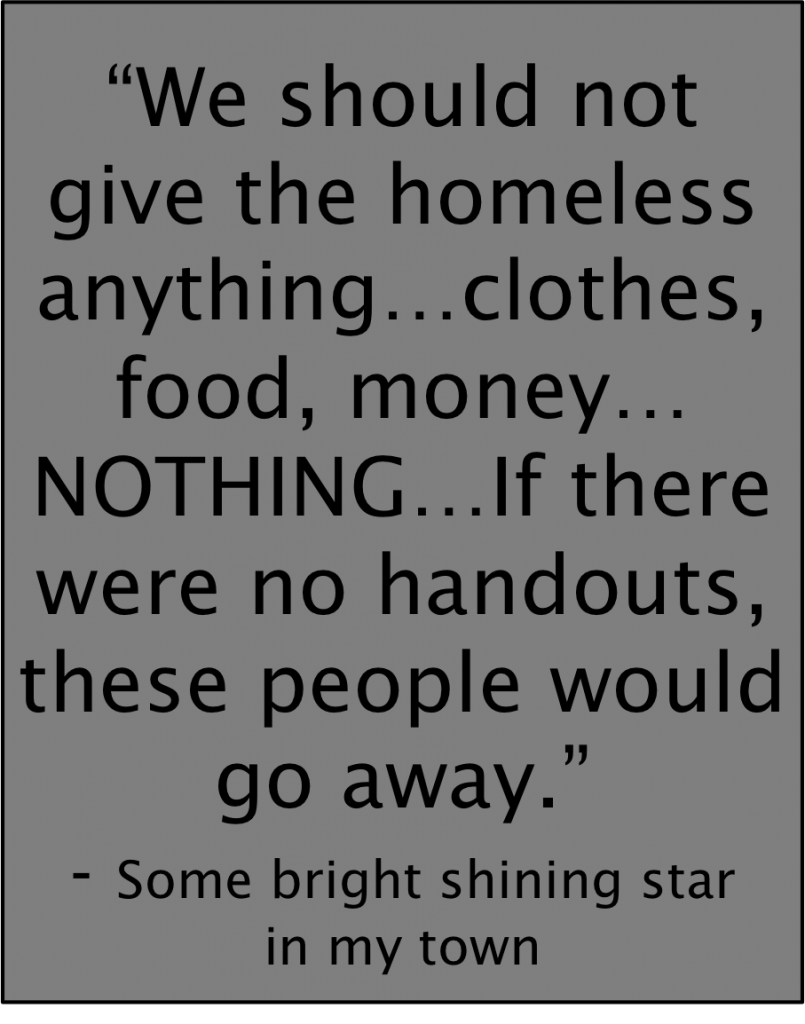 ***
Join me in June for the last "Write Anyway" workshop of 2017!
(The rest of my year is slammed and I can't do another.)
There are 8 spots left. Snag one!