Let me get this straight. God created everything. He (we'll assume God has a gender and it's male, because I'm guessing you'll like that better) made the sun and moon and clouds and oceans. He made every animal, every fish, bacteria, plant, and bug.
He made volcanoes that erupt molten rock and oceans pulled by the moon and gravity and seasons and delicate ecosystems that live and die and recreate and live again. He created the earth in all its ornate mind-boggling complexity to allow for the inhabitation of human beings. He made our cells hold together just so and our brains so complex we can't even begin to understand them entirely and we are the ones who have them.
He created bodies that birth and heal and function daily with a beating heart and flowing blood and he did all this in addition to, um, creating the motherfucking universe.
An ever-expanding universe. Galaxies of billions of stars. Ever-expanding galaxies rushing into an infinite void.
And this dude, this God, this white dude you evidently worship, this omniscient being who created everything from our ever-expanding universe to the micro-bacteria that keep us alive, also gives a shit if you serve a bakery cake to a gay dude.  
That's right. NO PASTRIES FOR THE GAYS.
He's also super involved in bathroom issues and making sure transgender folks don't have access to Civil Rights. This is extremely important to the creator of the universe.
He also wants to make sure brown people don't make it into America with their wily, brown-people ways. Especially if they don't speak American. You gotta look American and speak American to be in America. That's God's will.
God loves America. That is why he created national borders. Wait. Did God create national borders? Are you arguing God created national fucking borders?
ARE YOU REALLY FUCKING ARGUING THAT GOD FUCKING ALMIGHTY CREATED RANDOM ARBITRARY LINES WE CAN ALL FIGHT OVER AND KILL PEOPLE FOR SO WE CAN EARN MORE GREEN PAPER WITH NO ACTUAL VALUE WHICH WE WILL ALL LOSE ANYWAY WHEN WE DIE?
It's cool. I'm fine.
How am I doing so far, oh far-right fanatical "Christian?" Am I holding strong so far?
God is okay with endorsing child predators as long as it will beat Democrats.
God really, really hates Democrats.
God hates Democrats almost as much as he hates gay people.
So what if a grown man preys on children? They're just girls. God doesn't like girls as much as boys. That's why the violation and objectification of their bodies is of minimal importance in light of political gain, particularly in the service of the obscenely wealthy.
God gets really angry when the richest 1% of America aren't served more and more money bags. That's why the Bible says: "Sell your possessions, and give to the needy. Provide yourselves with money bags that do not grow old, with a treasure in the heavens that does not fail…"
Wait. It doesn't say God wants billionaires to rake in more wealth on the backs of the needy.
Whatever. Let's move on. Maybe your God doesn't come from the Bible? Huh. Weird.
Anyway, God obviously hates poor people. If he loved them, he would have made them rich.
Like a blessing.
Let's not forget how God is not worried about human influence on the delicate balance he created and in fact believes climate change is fake news.
FAKE NEWS!
He does, however, occasionally punish Californians with earthquakes and wildfires for being queer antifa pieces of shit.
God also hates Starbucks cups that aren't sufficiently Jesus-y.
After creating gravity, The Almighty articulated paper-cup printing standards.
I've noticed your God doesn't care about a lot of things I would think he'd care about, but I guess He's a complicated guy. Some may say "hypocritical" and "nonsensical" but one thing your God hates, I've observed, is critical thinking.
Critical thinking must be of the devil.
Let's get back to sexual assault of young girls. Apparently, because Mary was underage when she was impregnated by God, raping teenagers is A-okay.
Sure. That seems real.
He also doesn't care about men who brag about the physical assault of women because it's just "locker room talk."
Also, that Moore guy is definitely innocent because he's Republican and women are liars and he's not a Democrat.
Like guns, sexual assault and racism are God-given American rights.
ALL HAIL TRUMP JESUS, sent from the Almighty.
Praise.
You know what?
Fuck your small, sad God. Fuck him all the way to hell. You've deployed the concept of religion to oppress, beat, rape, kill, and harass. I'm tired of your pathetic dreamland spirituality. Your ever-shifting imaginary ego God. Your evil, slight, simple-minded, nonsensical Creator.
Nazis in the streets? The ones chanting Third Reich slogans? They call themselves worshippers of your God, plus Hitler. (Hitler? Remember him? The one who burned babies in ovens?)
The money-and-power-worshipping men in D.C. creating laws to strip the most vulnerable among us of their health and money? They call themselves worshippers of your God.
The Westboro Baptist Church? The ones who rejoice in the deaths of gay people, harass their family members while they mourn? They call themselves worshippers of your God.
You know what Jesus did?
He washed the feet of his disciples. He ate with sinners and whores.
Your story is a lie.
You are some grade-A fake news.
And if there is a hell, you're first in line. No worries though, I'll pray for your damned soul. That's a lie. I probably won't. (I ain't that holy.)
It's time we bury your small, sad God.
Maybe next to Nietzsche, though surely his atheist ass did less harm.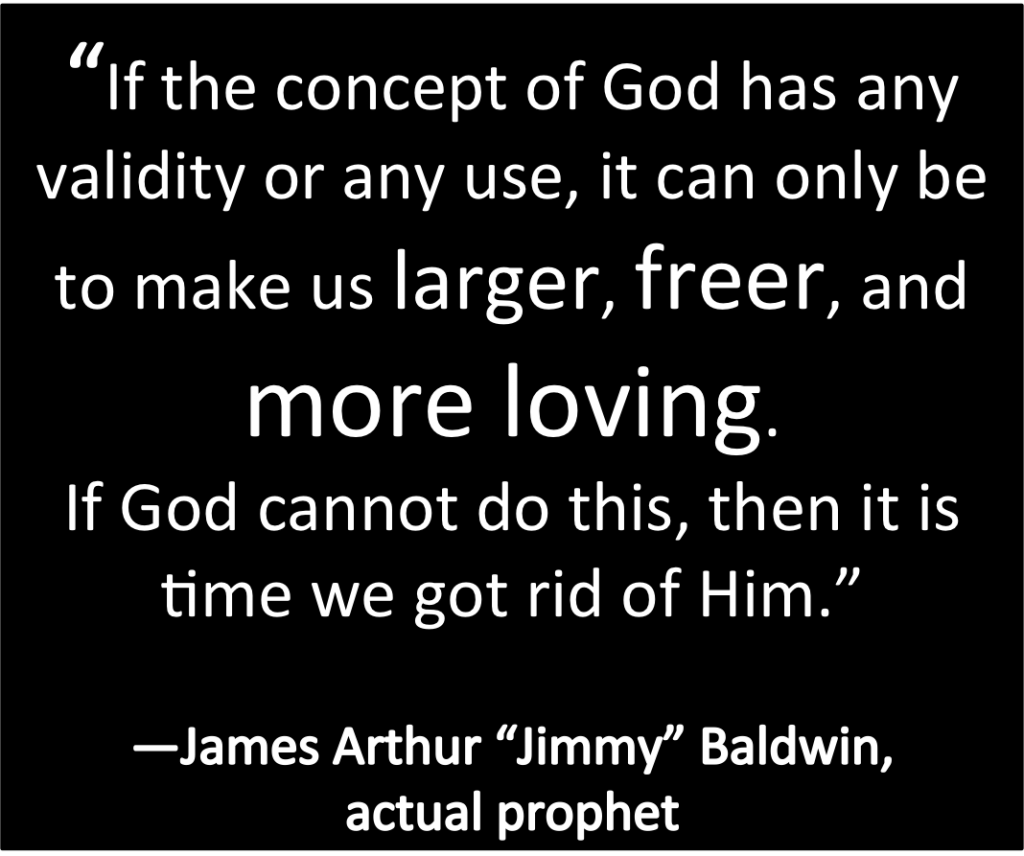 more stuff I shouldn't have said out loud: