So let's talk about Maria Kang, the "What's your excuse" flat-abs lady.
You've probably seen the image that's firing up the interwebs. If not, it's this one.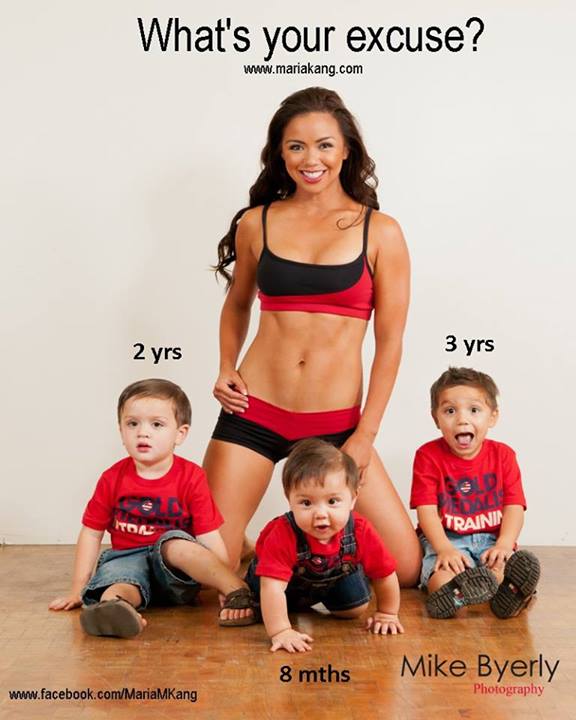 Most of the critics are like "She's shaming fat people!"
Or "I'm overweight because I have an illness!"
Or "She looks like that because of her genetics!"
And let's get one thing clear: This broad and I would NEVER be friends. Just the sight of her kinda makes me want to break shit and run. She's the mom I see from afar at the playground and I'm like "Oh God where ARE MY PEOPLE? WHERE?"
Then I look around furiously hoping there are other "mommy" options.
Judgmental and horrible? Yep.
That's me. Just keepin' it real.
So she calls herself a "fitness blogger and director of a fitness non-profit organization." She also, incidentally, was born with such healthy pheromones she doesn't smell when she sweats. She also has good skin and no leg hair.
Don't believe anybody would say something like this publicly? Here's the direct quote and source: "Honestly, I have no leg hair, I don't smell when I sweat and I was born with good skin and healthy pharemones. (I think this has something to do with how I take care of my body!) Now everyone knows!! And NO, I am not going to post pictures!"
Um, yeah. I couldn't be friends with somebody like this. I probably couldn't even get through lunch with somebody like this. The pretentiousness, the self-appreciation. The "I'm doing it so why the hell aren't YOU" mentality, the no-really-I'm-better-than-you attitude. Not my people.
Everything about that photo: The message, tone, perfect make-up. All of it. It just screams "MY GOD I'M SO GOOD and I just can't for the LIFE of me figure out why you aren't as good as me!"
No really why aren't you?
The woman has made a life out of fitness. She has placed fitness above other endeavors, even making it her career. She says so: "I just made it a priority." Well, yeah. Clearly. And her message is kind of like "Why haven't you made the excellent choices I have?" Yuck.
And since she was doing "crunches" before school in fifth grade, she obviously has an innate interest in such things.
You know what I was doing in fifth grade? Inventing reasons to get out of running the mile. Also reading John Steinbeck and writing my ass off.
But I want to talk about this whole thing about her being "offensive" with the "What's your excuse" message. I want to talk about the people claiming this woman is "bunching all fat people together by assuming they're all making excuses."
Newsflash, Einstein: MOST OF US ARE MAKING EXCUSES.
Yes, lots of fat people have medical conditions that prohibit them from eating well and exercising.
Wait. What? No, not really. That's not really that common.
Okay, SOME people have medical conditions, genetic dispositions or other unavoidable ailments that cause them to be overweight.
BUT, the vast majority of fat people are fat because they eat too much and don't fucking move their bodies enough. And if we want to get brutally honest, we could start asking ourselves how many of us use our illnesses as an excuse to not eat well and exercise.
Oh, snap. Ouch.
I held on to the fact that I was on crazy pills that made me gain 70 pounds in 3 months as an excuse for my weight THREE YEARS after I quit the damn medication.
Winning!
I'm so sick of this shit. Why can't we be honest with ourselves? You know you've got excuses. We've ALL got excuses.
I am currently 40 pounds overweight. Why? Because I use food for emotional comfort. Because I'm lazy. Because I put other things before my health.
Because I have insomnia (which gets better when I swim laps but I don't do that because I'm lazy and busy – EXCUSES), and for some reason when I wake up after having slept 4 hours for the 3rd night in a row, I somehow determine that a scone and pumpkin spice latte is going to fix my life.
It never fixes my life. You know what fixes my life? Exercise.
But lately, I choose the scone anyway.
Yeah, I could reframe all the above-mentioned excuses into more convincing "reasons" for my poor health, but the fact remains: "I am 40 pounds overweight because of the choices I make and it will only change when I'm willing to FACE THE CHOICES I MAKE rather than try to convince myself my choices are happening TO me rather than FROM me."
We were burglarized. We're moving. We can barely pay our bills. I need every free moment to WORK. I'm a recovering alcoholic – I'm sensitive with an emotional nature (at least I'm not drinking!). My kids take all my time. My kids won't eat healthy food.
Blah blah fucking blah.
Bullshit. All of it.
One day I stopped making excuses. I lost 60 pounds.
Then something changed and I'm back on the scone wagon.
Give me a minute. I'm sure I can come up with a few thousand reasons why I stopped losing weight.
But here's what I really want to say: If you have a viable, accurate and real excuse for not eating well and exercising (and "I don't really give a shit about fitness" totally works), then why are you all bent out of shape by her "What's your excuse" question?
If you have an excuse you're buying, that you truly believe, why the hell are you offended?
Why wouldn't you just look at that poster and go "Well, I have ______" and move on with your life?
Because that's not the way offense works. Things offend us when they hit a nerve we don't like, when there's a bit too much truth in the offender's words.
I imagine most of the people all "offended" by miss perfect's question have been holding on to the same tired-ass excuses for years and years and years and simply refuse to face it. It's like being called out in a very direct way and they're like "No! I have a REAL excuse and I need it validated by you because I really don't believe it myself, so when you nod your head in agreement I can more easily overlook the fact that I'm selling myself tired lies."
It's hard to look at the shit we sell ourselves. It's hard to look at the stories we believe.
We want our egos fed, our stories validated, our bullshit cosigned.
I want somebody to say "Oh Janelle, you've had ___ and ____ and this year's been so tough for you, so don't worry about losing that weight."
But when I lie down at night and nobody's around or I look at myself naked in the mirror or I feel the ache in my back or I get winded walking up stairs, I know it's bullshit. I know for a moment I'm full of it, and I haven't an excuse in the world. Of course I have time. If I made it a priority. Deep down, I know the truth about myself.
And I'm willing to bet I'm not the only one.
I don't like that woman because she's done what I'm not doing. I don't like that woman because I'm tired of feeling like shit and I'm tired of my own excuses but here I am still doing the same old shit and she's bringing it ALL to the forefront.
Yeah she's obnoxious and I hate her.
Yeah if I saw her coming at me I'd climb a tree like a scared cat being chased by a pitbull.
But she's right.
Yes, we have different lives. No, I will never look like her. And yes, her refusal to recognize the myriad factors that have contributed to her body/look is myopic and silly, but her question remains valid, and applicable to every single one of us in some area of our lives.
I may hate the delivery, but the message is real: "No really Janelle. What's your fucking excuse?"
The day I'm willing to answer that completely is the day my life has a chance to start changing.
more stuff I shouldn't have said out loud: