We've talked about baby sprinkles and push presents. And you know, I thought I might actually die from the cuteness of a baby sprinkle, and on many levels the push present makes me want to jab myself in the eyes with rusty nails. Wow, sorry, that was more graphic than I anticipated. But at least, people, the baby sprinkle and push present make sense on some level.
It's a fucked-up level, but still, it's a level.
I mean it never makes real sense to call something a "sprinkle" instead of a "shower." That shit's just wrong. And I maintain that the best "push present" around is the human that actually exits the vagina post-pushing, however, the "gender reveal party" is some next-level shit.
First of all, if you can't call it what it is, you shouldn't be having it. It's a SEX REVEAL PARTY. Gender is a social construction. In other words, the "gender" of your child won't be determined until your kid decides if he/she is a girl or a boy or both or neither. But "sex reveal" party sounds weird. And we all know people who unleash a box of pink or blue balloons to signal the genitalia of their little miracle are totally not into weirdness.
Reason number 1 it's the stupidest shit ever.
But I should back up. Readers of this blog may not know what the hell I'm talking about (which is, incidentally, why we're lovers). Anyway, it's this thing where parents reveal the sex of their kid to family and friends in a party. A PARTY. Like they invite a bunch of people over and exclaim (via some totally cute method found on Pinterest): Boy! Girl!.  And then everybody pretends to care.
I've heard parents will like cut into a cake and the filling is either pink or blue.
Ohmygod how cute. Hold me while I attempt to recover from the cuteness.
But now, things are changing! According to our trusty pal BabyCenter, "Cutting into a cake with pink or blue filling is so two years ago. A "gender reveal" extravaganza, on the other hand – complete with games, favors, and a Pinterest board? Now you're talking!"
Oh god help us. Games. Yes, please. Let's play games relating to the sex of your unborn baby.  Fascinating!
They continue: "The gender reveal party trend has exploded in the last year…Why the boom? The economic hard times may have something to do with it. 'People are looking for reasons to celebrate.'" (more BabyCenter)
NO. No no no no no.
This is not it. This is not the reason people are throwing gender reveal parties. The reason people are throwing these parties is because they have become so materialistic and self-involved they fail to recognize the single fatal flaw with an event like this:
NOBODY CARES AS MUCH AS YOU DO about whether your kid has a penis or vag.
Maybe your mom.
Nope. Nevermind. Nobody. Not even your mom. Even you mom doesn't care as much as you do.
Those are some shitty odds, dude. And yet, it's a fact. Truth. Written in stone. To illustrate, I made a graph.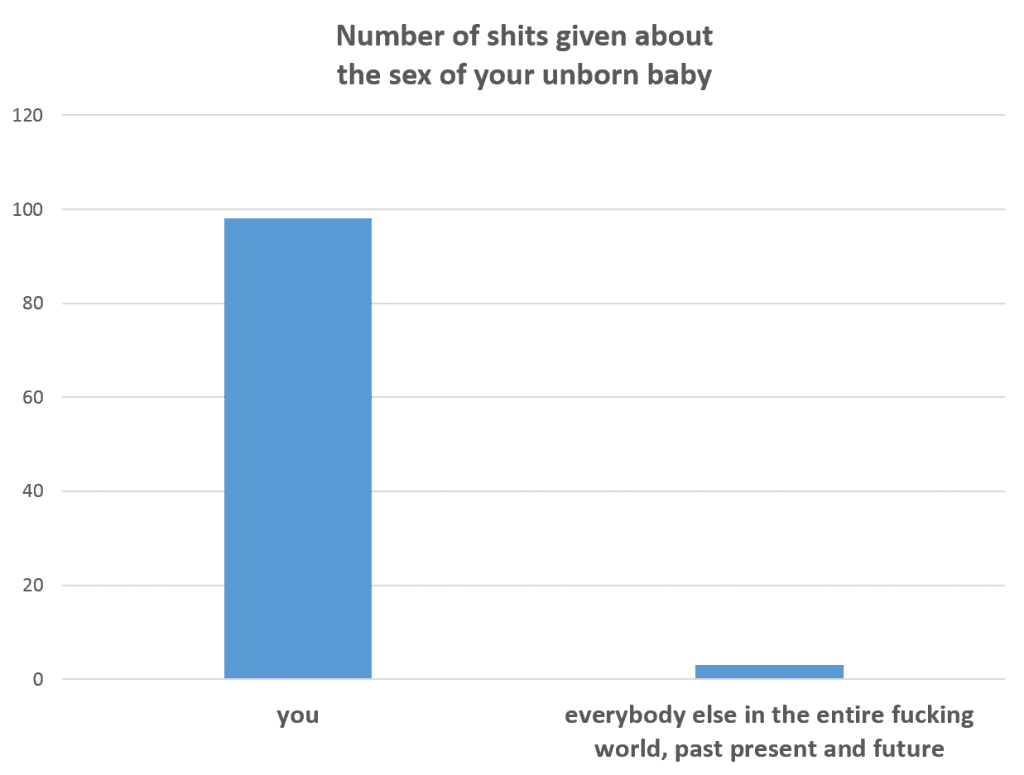 This means you are asking a bunch of people to come over and celebrate a detail with absolutely no bearing on their lives. In the lives of other people, the sex of your kid deserves an "oh, cool," a passing nod, a mention to their husband or wife "So and so's having a boy! She's totes bummed cause it's her 4th boy, but whatevs."
Yeah. Not sure what happened there but I felt it necessary.
You aren't even celebrating the CHILD. You aren't really even celebrating the sex of the child. Rather, you are celebrating YOURSELF. You're like "Hey everybody! Come watch me learn something I care about even though you don't!" Or, if the parents already know the sex (though the "hottest trend" is to have the doctor write the sex on a piece of paper and then it's revealed at the party to the parents too! OMG HOW ADORABLE!"), then you're asking people to take time out of their lives to celebrate a piece of information without any personal connection or meaning, and it's even less interesting because they don't even get to WATCH YOU give a shit.
"I command you to come to my house and celebrate nothing, because it means something to me!"
Yay! Fun! Balloons!
I see it as an excuse to buy shit and do adorable things with paper and cupcakes and mason jars. And that's cool. I do it for my kids' birthdays. But that's kind of semi-logical because celebrating people's LIVES makes sense. But celebrating their GENITALIA?
Nope.
It's another commercialized invention just cute enough people buy into it.
"Need some ideas for your gender reveal party?" (Oh yes, please, all-consuming mindless materialistic America, give me some ideas!)
You can use a "fun theme!" like "pregnancy cravings (think pickles, ice cream, and potato chips) or ducks (hang up a "waddle it be" banner)."
PLEASE FUCKING SHOOT ME.
You should for sure "Make those teams commit!…Ask everyone to wear either pink or blue, or provide gender-specific accessories, such as pink and blue bead necklaces, pins, leis, or temporary tattoos. One inspired couple gave out cardboard mustaches and lips on sticks."
Make it stop. Please.
"My friend is going to make cake pops, but only one will have the colored center," says one BabyCenter mom. A particularly creative idea comes from Tiffany: "We had a huge Easter egg hunt, and one egg had a slip of paper inside that said, 'It's a boy!'"
I just can't.
Baby showers celebrate new life. People can relate to that. Mother blessings celebrate the transition to motherhood. People get that. Bridal showers, bachelor parties, birthday parties…these are ritual events signaling movement in life, new birth new growth new chapters. These events resonate with something in me, something that's facing new moments too. Maybe I've been there. Maybe I'm waiting for it.
This nonsense? It's celebrating nothing. It's like the vacation party in the 1970s were Sue and Rick invite their 30 friends over to watch a slide show of their trip to the Grand Canyon, only in this scenario, all the guests act SUPER INTERESTED because duh! It's baby stuff! Whee!
Also, do you have a shower too? If so, do you demand people to come over to your house TWICE to celebrate your offspring? I read about a woman who had a gender reveal party for her fourth child. Oh good lord.
Can you imagine how little interest there was in that event? Not only are you making me get excited about your FOURTH kid, you want me to celebrate its SEX?
Let's examine a graph of people's interest in your pregnancy based on the number of offspring, just to get a little perspective.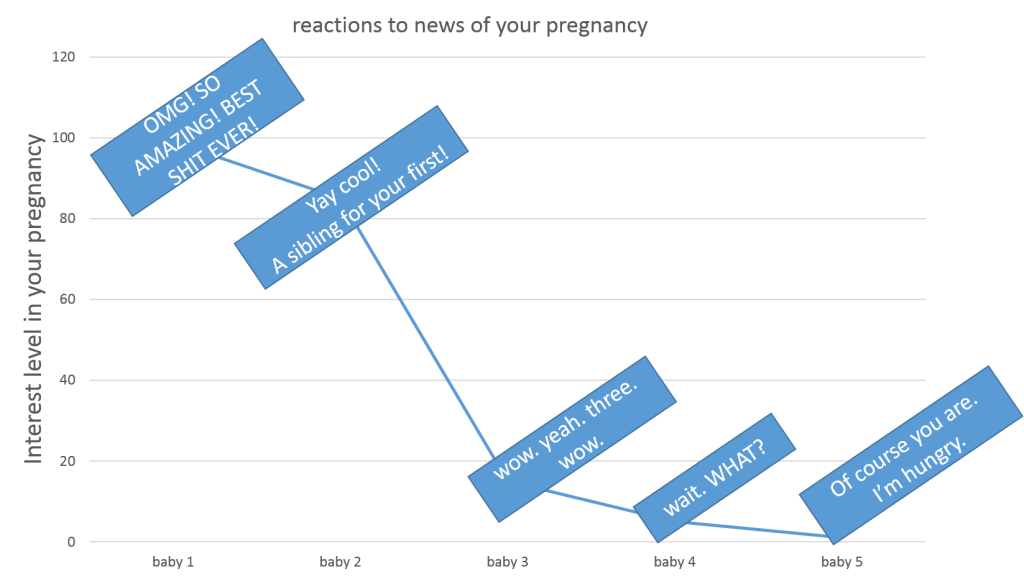 Are humans really so out-of-touch they haven't realized that everybody else is busy thinking about themselves and their lives, and if you're gonna be like "Hey let's celebrate me!" it better be for a decent reason?
I mean if you're gonna drag my ass to your house and force me to wear a damn pink pumpkin (cause it's October!), it better be a major life event (not a miniscule detail skirting a major life event).
Wait.
OMG. Are there people that enjoy this shit?
There are people that enjoy this shit.
There are. Aren't there?
There are people that are like "Yay! Katie's having her reveal this weekend! I'm so excited!"
I'll never fit. I hate the world.
Now I know what some of you are like: "Oh come on, it's just fun! Who cares? It's a reason to celebrate! It's one more reason to have fun and celebrate our babies! There's no problem!"
Yeah, there is a problem. The problem is that it's fucking stupid.
Why isn't that enough?
Why isn't the fact that it's self-absorbed and inane sufficient reason to outlaw it all together?
Right. Because it's just so cute. It's just so cute and crafty and we all dig crafty cute shit! We're women! We craft! We're crafters! We like wearing summer dresses and giggling and celebrating our existence!
I'll tell you what, harbingers of Satan wherever you are inventing crap like this, I'll think of a few "creative" things you can do with that pink-filled cake pop, and then we'll talk about my gender reveal party.
Mmmkay?
Cool.