---
Last week a super handy chart took its 10,000 laps around the internet and I once again realized either: a.) The whole fucking parenting world is batshit; or b.) I am worse at this than formerly thought.
You see, the chart in question outlines the times a kid should go to bed based on age and what time he or she wakes up in the morning. For example, a 6-year-old waking up at 6:30am should go to bed at 7:30pm.
Seven. Fucking. Thirty.
Mmmkay. This sounds amazing. This sounds amazing because if my little kids went to bed at 7:30 and my big kids at 8pm, my husband and I would have like two hours of KID FREE GLORY to ignore each other together on the couch while watching Netflix but actually just playing with our phones.
Truly, do we have no soul left? What is wrong with us?
I hate myself.
Anyway, my kids never go to bed at 7:30pm even if one of them has strep. Lies. They go to bed at 7:30pm when they have strep.
Why are we talking about this? I hate this conversation. Getting my kids to bed "on time" each night is somehow the hardest goddamn thing I do each day. I realize that probably means I have pretty nice days.
I try people I TRY. And every day I feel the sun kissing my face with the promise of a new day, a new chance to get my kids to bed before 9pm. Or 9:30pm.
GET OFF HERE IF YOU'RE JUST GOING TO TELL ME HOW I'M RUINING MY KIDS WITH MY LACK OF CONSISTENT BEDTIME.
Nobody likes you.
We eat together at least 75% of the time though, so there. Leave me alone.
It's hard, you know. And seriously, 9:30pm is late even for us, but SEVEN FUCKING THIRTY? Come on.
Usually my evenings go like this:
Do shit
Do shit
Do shit
Do shit
Do shit
Relax…
REALIZE IT'S 9:15PM HOLY FUCK HOW DID THAT HAPPEN EVERYBODY TO BED NOOWWWWWWW
There are just so many things standing between me and reasonable bedtimes. For example:
Absolutely nobody under the age of 30 is as interested in reasonable bedtimes as I am. I made an infographic to convey the complexity of the situation: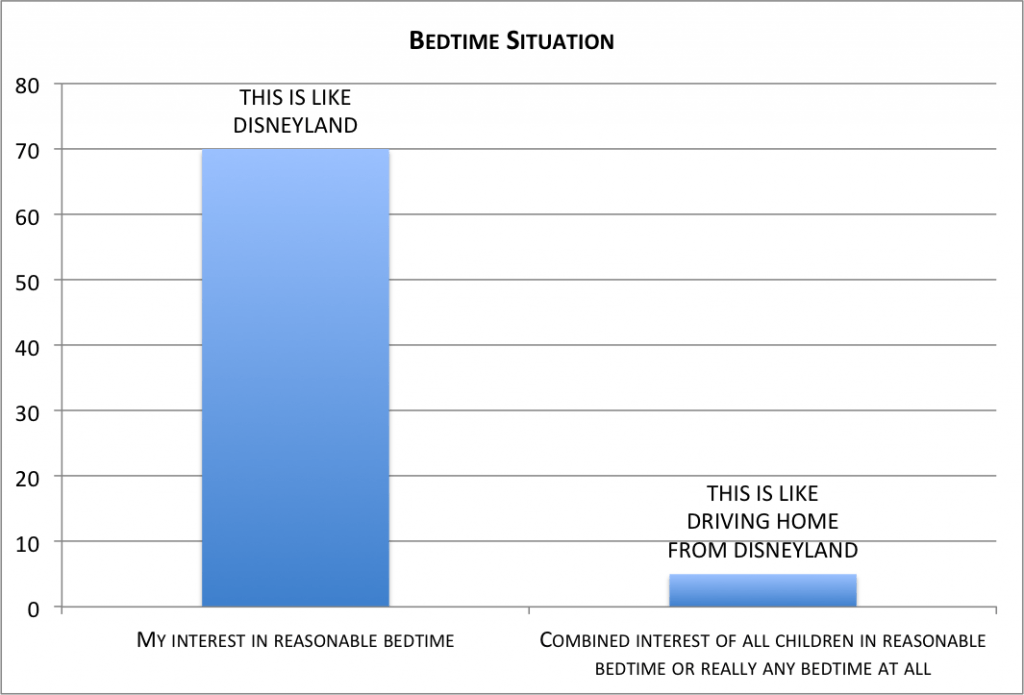 And yet, they are the ones whose bodies need to move to their beds. And sometimes, I just don't feel like dealing with them. Here's a pie chart of things I'd rather do than deal with four bodies who aren't interested in bed: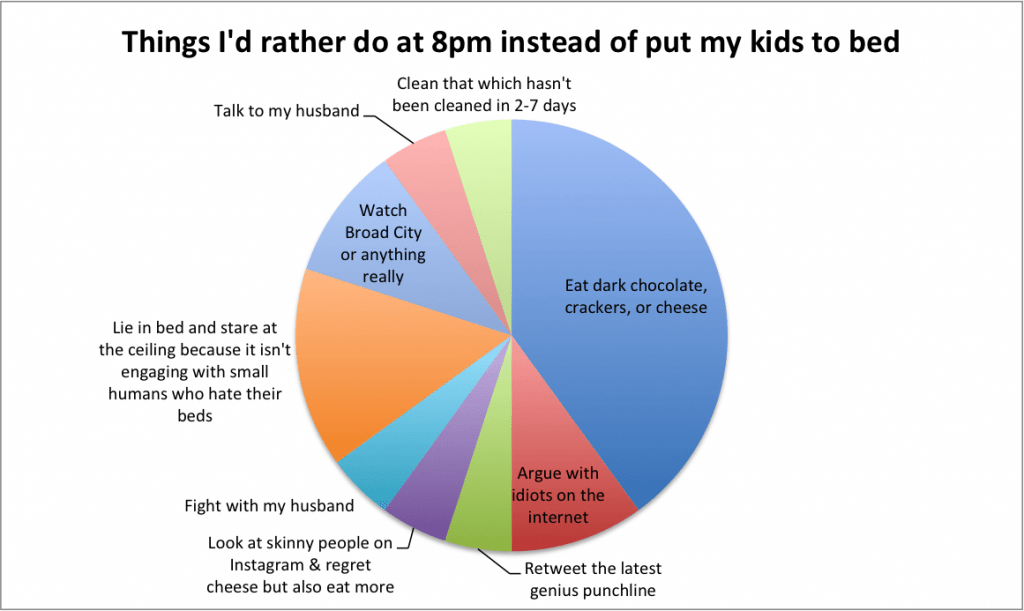 Also, we're supposed to eat dinner before bedtime.
And I am supposed to make that dinner.
Or my husband is supposed to make dinner and he sucks at it as much as I do.
Also sometimes I realize we have no food and it's 6pm so instead I sit on the couch in denial about dinner.
Or I "run to the store" but once I get there, start enjoying the alone time, so I spend an hour gazing at earth-friendly toilet cleansers, which gets me home at 7pm, and ruins everything again.
After-school "enrichment" activities including but not limited to Boy Scouts, swimming, dance classes, random teen "fun" events. HOW THE HELL DO YOU GET KIDS TO BED AT 7:30pm IF OTHER KIDS NEED TO BE SOMEWHERE UNTIL 8PM?
All the kids are sitting quietly somewhere and I'm enjoying the silence so much I can't bring myself to disturb them by demanding they get up and go to bed.
Fights with my husband. Look, you never know when a good clean fight needs to happen. I can't control nature people.
On the other hand there is a small possibility I can control when I fight with my husband.
Forgotten homework at 7:45pm. The fucking worst.
Forgotten project at 8pm. Never mind this is the worst.
Trips to urgent care because I'm sure he's got swine flu this time. I AM SURE OF IT.
Baths, because there is only so long you can push it. You know?
Random total parental failure.
Temporary lapse in judgment.
We're at my mom's house and I like it there because it's clean.
We're at the farmer's market eating lamb shawarma. Have you ever had it? One does not simply leave lamb shawarma. I don't give a fuck who needs to go to bed.
My child needs her 75th glass of water and a new sleeping arrangement or that one stuffed animal or possibly a new life entirely, but definitely the glass of water. 
WE ARE ENJOYING EACH OTHER AND HANGING OUT FOR ONCE AND FRANKLY I DON'T WANT TO FUCK WITH THAT.
I get it. Sleep matters. All this parenting stuff matters. But seriously, fuck these charts.
I COUNTER YOUR CHARTS WITH RIDICULOUS INFOGRAPHICS.
You know, sometimes evenings are really the only time we all get to BE together. Just hang out. It's the end of the day. There's nothing to do. We can chill as people who like each other. We can sit around. We can calm down.
It can't be all business all the time. Right?
Plus, it's 7:30 somewhere.
It's a reasonable bedtime somewhere. And that'll have to do for now.