I have long believed that the problem with motherhood is that you can't check out for a bit, go on vacation, take a motherfucking "mental health" leave, "recharge" over the weekends. Look forward to Friday.
Or, you know, two weeks in Mexico. (Do people actually do that?)
There is no built-in relief valve and very little potential for "a relaxing evening." And yet, sometimes you really aren't into it, and you have to keep going. For like, years.
You can't "leave it at the office" at the end of the day. There is no end of the day. THERE IS NO END OF THE DAY.
It feels relentless sometimes. It feels unforgiving. It feels forever.
(Hey there HI, look, quick note: I know it's not actually forever, so we can just go ahead and not write the "Someday you'll be very sad they're gone, Janelle" comment because thanks I know and yes it hurts my soul and I'm super fucking tired anyway.)
But I realized something recently, from my friend, Lynn. I told her I couldn't write or get anything done beyond the most critical components of each day. Like I just couldn't fucking do it. No motivation. I just want to lie around in my bed and eat simple carbs and drink tea, for health, but also flavor. Mostly flavor.
I told her I couldn't muster the willingness to do more and didn't know what was wrong with me. I told her I want to watch movies all day.
She told me, "That's cool. You should do that." And I was like "What?" And she was like, "Just fucking DO THAT. Why do you think you shouldn't? You'll get done what you have to. We always do."
I couldn't answer. I guess because I feel like I "should" be doing this and that and the other damn thing, and disengaging, doing things that are frivolous and "not helpful to others" is somehow wrong or ungrateful or a waste of time but mostly what I felt was shame.
Shame? Really? We're there, Janelle? We're at "shame?"
You know what?
FUCK SHAME.
Where the hell did it come from anyway?
When did I start believing that "me time" is some scheduled-in healthy activity to recharge my soul and feel capable and mature again? Did I ever feel capable and mature? When was that, exactly?
Like a bath or spa trip or pedicure or "night out with friends" is enough to soften the fact that I was awakened at 5am and puked on by 5:30am, while lying in a bed with sheets I had put on the night before.
Sometimes, I'm just over this shit, and what I need to do to "nourish myself" is perform the absolute bare minimum, possibly for days at a time, until something changes.
Yes, that is my deep conclusion. You're welcome.
I lose motivation and I think something is wrong with me. I think "You should be progressing, Janelle, moving forward on projects at work and at home, feeling inspired and healthy and shit!" I lose the ability to be all the things all the time and suddenly I'm deeply flawed and need help?
Fuck that. I'm human. I'm being human. I'm tired.
Then I feel guilty for feeling guilty about my limitations because clearly I have internalized gendered work expectations and I should be okay with who and what I am without thinking I need to be "fixed" and improved somehow by "positive self talk" and yoga, so I'm ashamed about dropping into bare minimum and I'm ashamed for feeling ashamed for dropping into bare minimum?
WHAT THE FUCK HAVE WE DONE TO WOMEN?
Or maybe I'm just crazy. Whatever.
I unsubscribe.
I'm going with Lynn's theory.
This weekend, I did approximately 12 minutes of housework and stayed in my pajamas 85% of each day. Big activities were: Trip to store (alone) and trip to movies (with kids). That's it. Full stop. Have a nice day.
Today, after dropping my toddler off at day care, and driving to my office, I turned around and drove the 15 minutes back home. Even though I had a hundred things to do, emails to send, people to contact, words to write, I felt a heaviness in my eyes and across my face and remembered that I had changed the sheets again, on account of the vomit, so my bed had crisp white sheets on it, and the house would be silent and empty, and I could let the cats in and we could get in that bed, and sleep.
So I went home, and silenced my phone, and took my jeans off and went to sleep, with my hair still wet from my shower, and when I woke up after an hour, I realized I wasn't done yet, so I went back to bed, and I slept for 2.5 hours straight.
Then I got up and wrote to you.
Because you know, here's the thing:
We already do, at the bare minimum, a ridiculous amount of work. We get up at ungodly hours and get puked on and deal with kids with nightmares and kids in wet pajamas and breakfast, lunch, and dinner. Getting dressed, getting to school and work, getting home, groceries, activities (they pop up even when you avoid the bastards). We're driving carpools and packing diaper bags and getting dressed for work. We're feeding and cooking and "leaning in" and washing and texting and planning and getting degrees and getting sick and well again and helping other humans do all these things. It's a beautiful shit show.
And somehow, on top of all that, we think we need to be fit, happy, and organic. We think we need to be sleeping well and using soft voices and engaging in age-appropriate play and we need the weeds pulled and the dust bunnies gone and the garage organized. The entryway cutely designed.
I don't even believe these things. And yet somewhere, deep in my gut, there's a voice telling me, "No Janelle. You can't sleep for 3.5 hours when you're supposed to be working, even though you're nearly out of your mind with exhaustion."
And I look at my garage and think "Does anyone else live this way? Seriously?" And I wonder if there's something wrong with me, secretly.
And when my kids are being assholes, I think, "I probably made them this way with my yelling." And I feel ashamed, and afraid.
And sometimes I realize it's 5pm and I picked up my baby at 4pm and I'm already tired of taking care of him. I ask myself "Janelle! What are you doing? He's already almost two! He will be gone soon! How are you not enjoying every moment? How are you not savoring this time?!" And my heart drops again into a flash of deep shame.
You know what?
Fuck shame.
This is what I've got. This is it. It's either enough or it's not.
Sometimes it's full of power and creation. Other times it's asleep during working hours with a pillow over its head. But it's always here, and it's always ready to grab a tiny hand, examine the fat little knuckles and wonder how anything so beautiful could possibly exist, and why, why the fuck are we up at 5am?
I guess what I'm saying is we're enough.
But you don't need me to tell you that.
We can look around, and see for ourselves…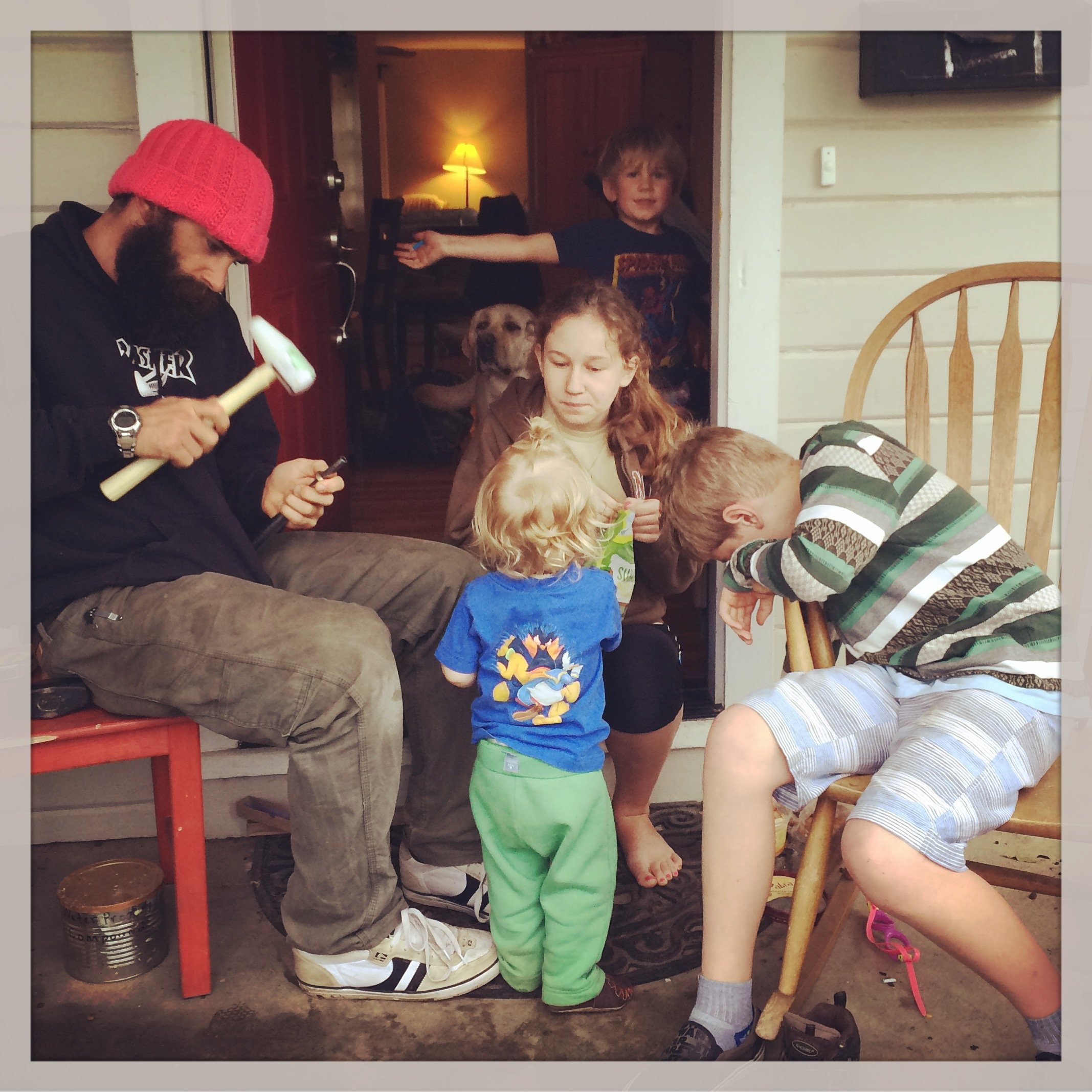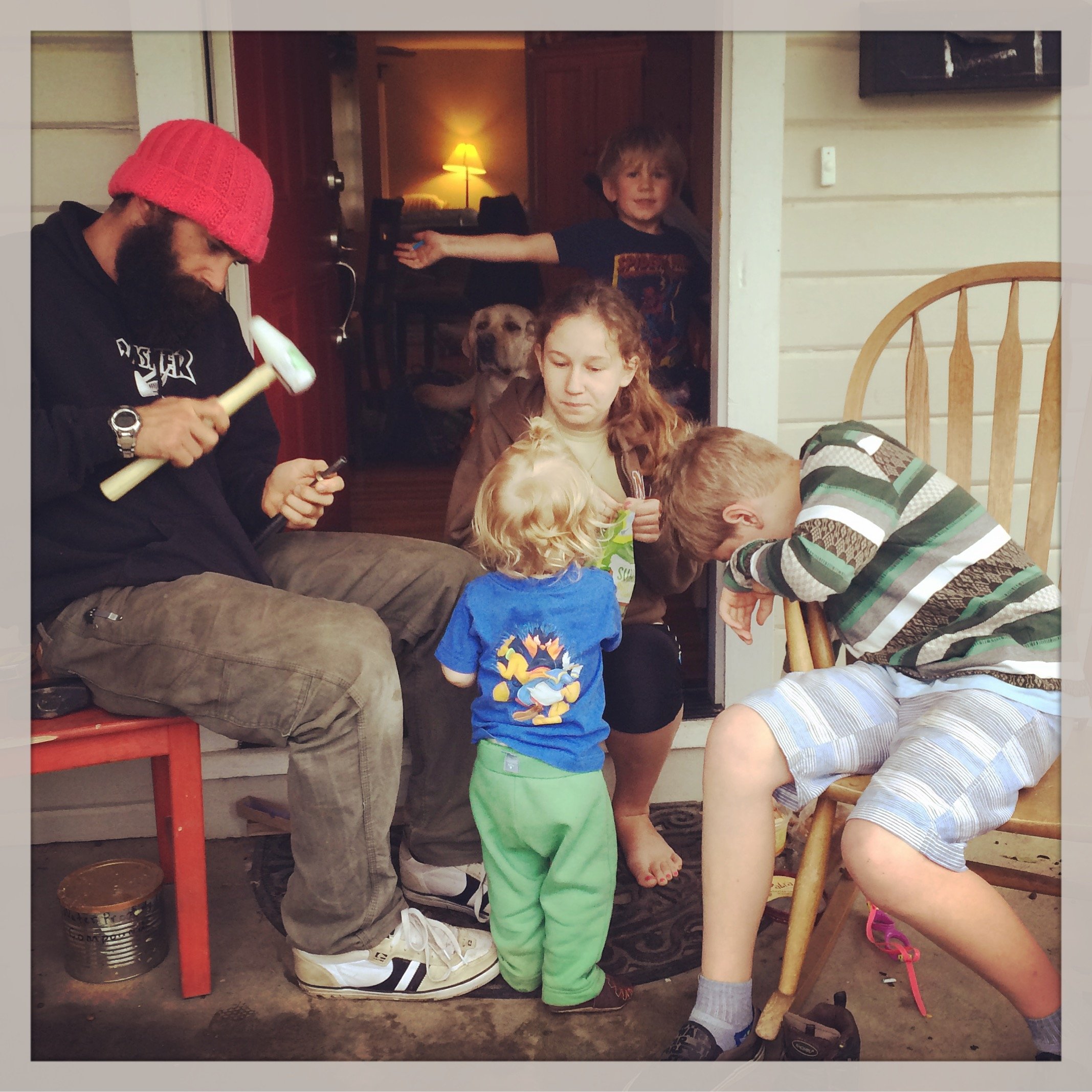 Though sometimes it's nice to hear.
******
Hey. Fuck housework and write with me. 
We'll have fun.