I'm 36 weeks pregnant. Today.
I have a few thoughts.
But first, did I mention they threw me a "baby sprinkle?" Yes, yes. Proof. (MacDonald is my married name):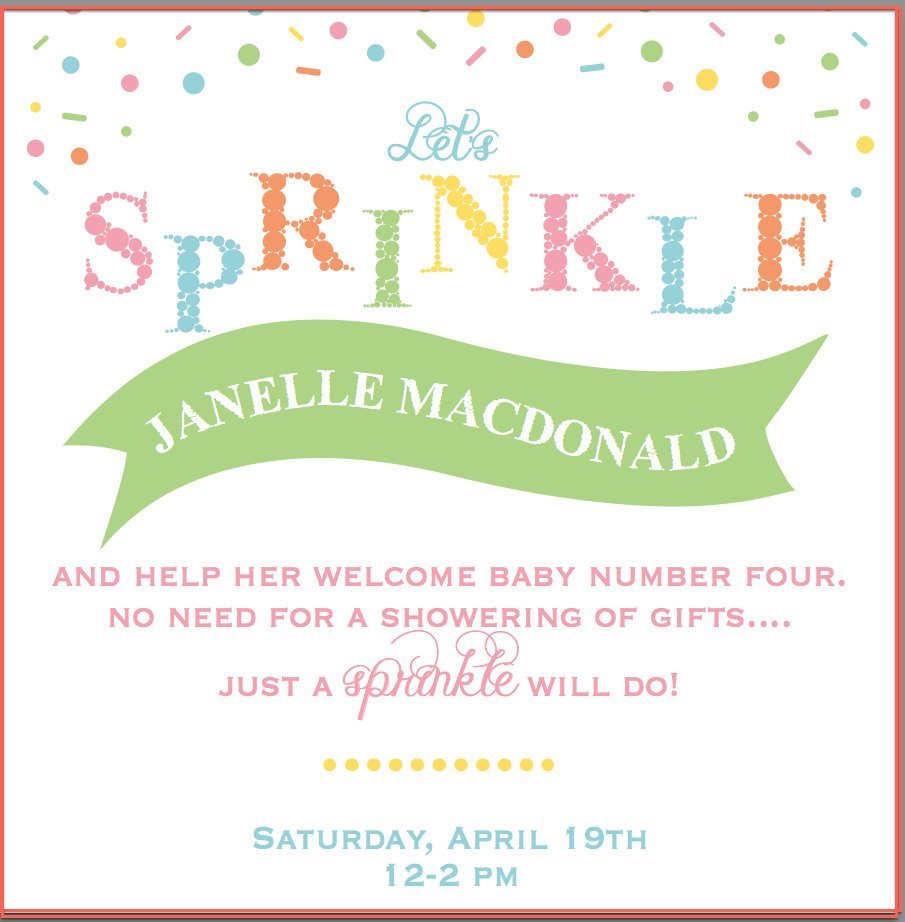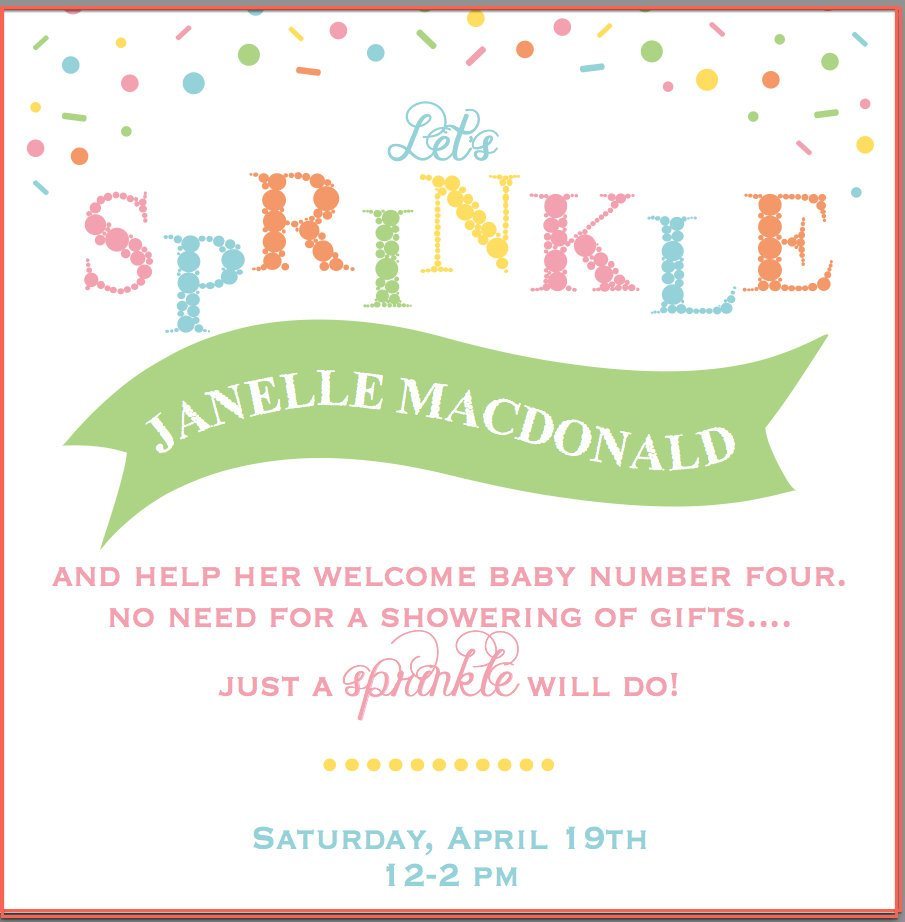 You see, this is what you get when you talk mad shit about baby sprinkles on your blog then get pregnant. It was supposed to be a "gender reveal" combined with a sprinkle but fortunately I'm "team green" so that was impossible.
If I live the rest of my life never uttering a sentence like that again, I will have succeeded.
Good lord.
I brought this on myself. I freak out online, talk endless shit, act like a smartass and have ridiculously, um, clear opinions. Even I would relish the opportunity to make fun of me.
Honestly, though, people know I'm just having fun. Despite what my hate mail indicates, I'm not a heartless bag against all cute shit, humanity and goodness. I like cute stuff too. Like puppies. And babies. Babies are cute. Usually.
Although, I must admit it was rather painful to repeatedly eek out the words "Are you coming to my sprinkle?" I even created a clever work-around by referring to it as a "non-shower shower" with the parenthetical: "no gifts." Way more up my alley. But alas, I found myself saying "baby sprinkle" on a somewhat regular basis.
And people, there were sprinkles involved. There were lots of sprinkles involved. There were sprinkles on the invites and jars of sprinkles and sprinkles on the cupcakes and cookies dipped in, yes, sprinkles.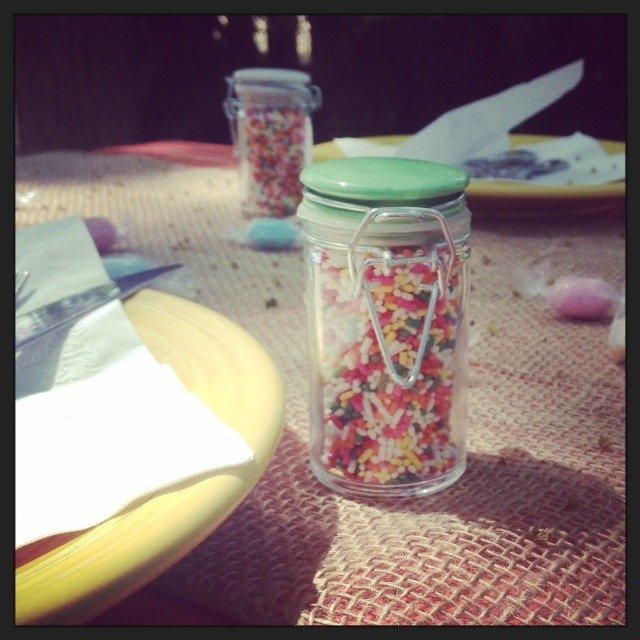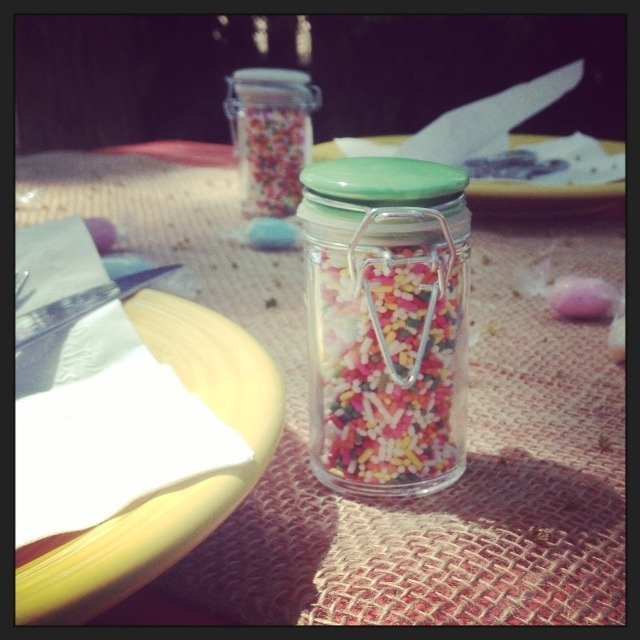 Here are the women involved with my demise: my sister-in-law Sara and my soul-sister, Cara Lyn. Here's Sara, with a cookie, looking very smug and gorgeous, enjoying the excess of sprinkles:
And Cara Lyn, the lovely.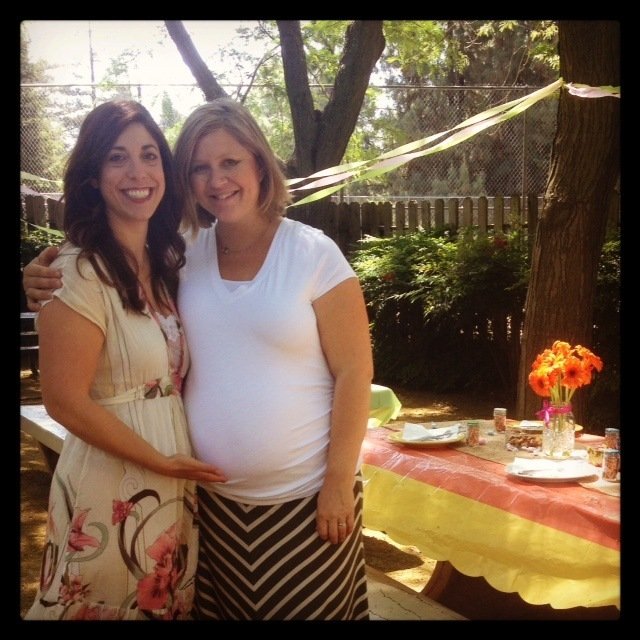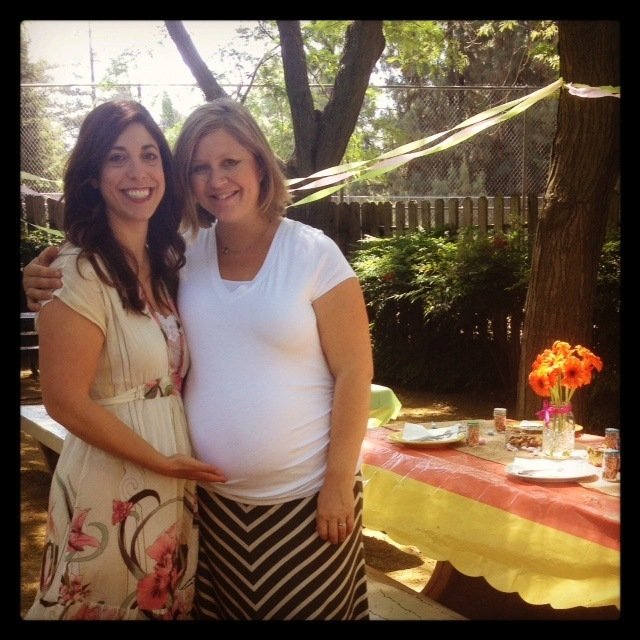 But she wouldn't stop touching my belly, which pissed me off, so I flipped off the camera. Unknowingly, she did the same thing. SOUL SISTERS.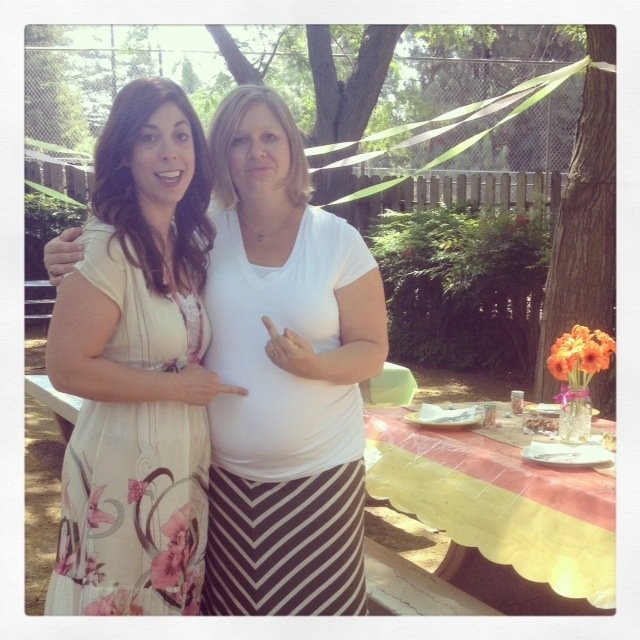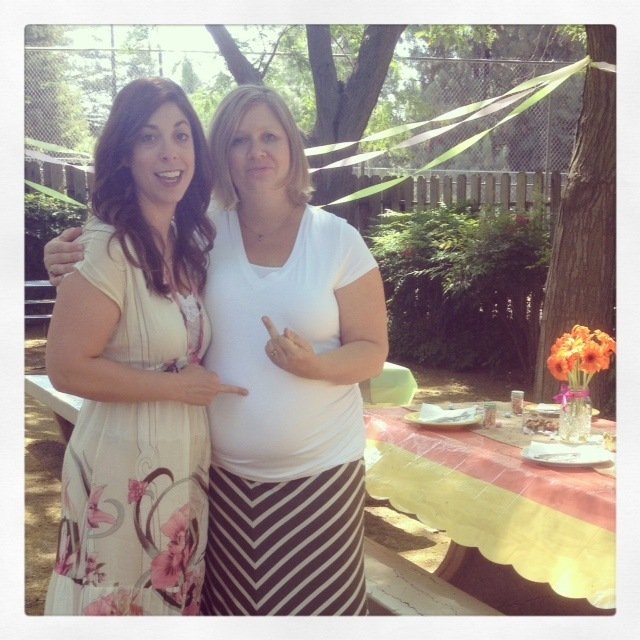 And of course, my mama, but I didn't have any pictures of us together. Damn.
But she's always there. For my whole life, those words are true.
It was one of the nicest parties anybody has ever thrown for me.  Seriously I was blown away. It was all Pinterest-cute and matching and stuff. There was even BURLAP. And MASON JARS and big, bright daisies. There was so much thought and love and time and generosity – lots of people showed up, old friends and new ones and family. I was not sprinkled. I was showered.
(Would somebody please shoot me if I continue using these words?)
Not with gifts – with things that actually matter. For example, my husband in a cupcake apron.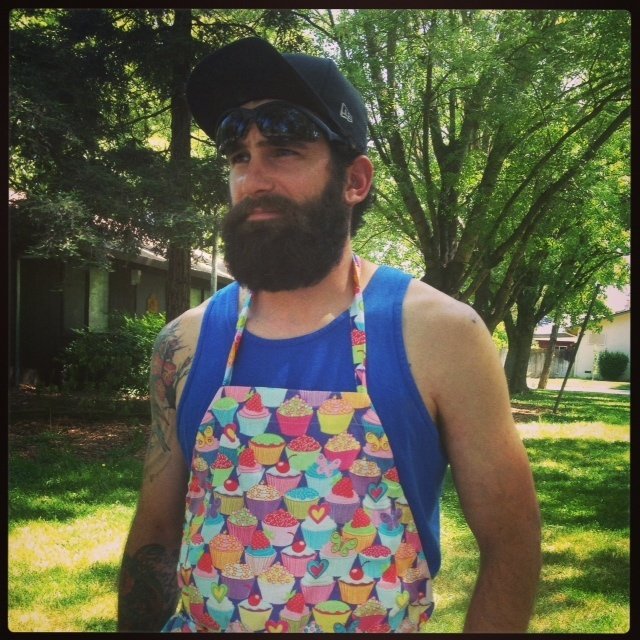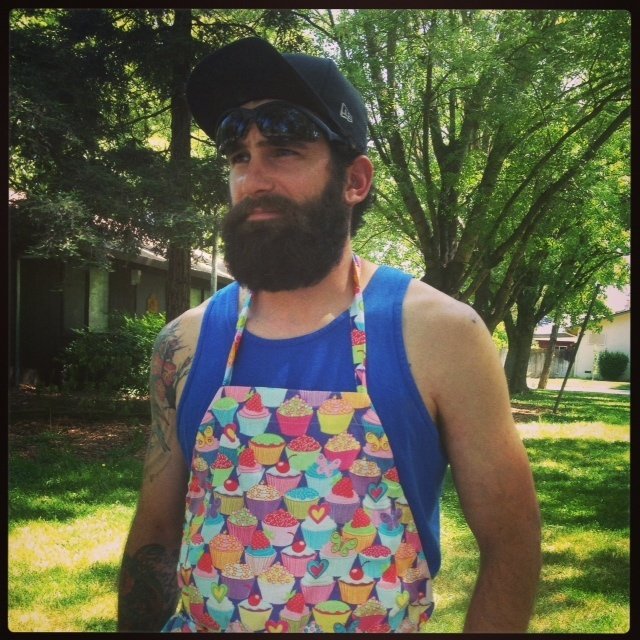 It was a freaking wonderful day. My own personal ironic baby sprinkle.
And now, let's talk about 36 weeks…
I'm at the point where turning over in bed is like a 5-minute ordeal.
To get out of bed, I have to sort of throw my legs over the edge with great force to create the momentum to lift my upper body. I know this because I do it 458 times a night.
There is nothing quite like the feeling of a head literally turning on your bladder.
The other day I read a post on Babycenter (Yes, I'm still a sadist lurking on "my birth board" for entertainment and a vague sense of impending doom) that said "34 weeks and I only gained 5 pounds!" It took all my power to write back: "I have an idea. How about you die?"
I didn't mean that.
I totally fucking meant that.
I've gained 50 pounds. It's at least 20 pounds baby and fluid. AT LEAST. I'm sure the other 30 will come off via breastfeeding.
Ha.ha.ha.
I am insane. I cry a lot. I yell a lot. I dreamed the other night about dragons, red-wine tasting and being chased by short, angry men.
I don't sleep. Sleep is for fucking losers. I like to lie awake at 2am and think about things that I can't change. Either that, or I hang out in this weird half-sleep place where I'm sort of still in my dream but sort of awake. If all that fails, I stay awake thinking how I'm generally failing my children – OMG my first is going to be 13 which means I only have FIVE EFFING YEARS LEFT WITH HER and that makes me want to die and I'm so short-tempered and distant lately and working and stuff but it's going to get even worse because 4th baby and what the fuck were we even thinking as I sacrifice the good of my older kids for another baby and how do women do this why and for what? I'm ruining everything.
I do this for a couple hours until I realize I'm hungry. Then I fling my legs over the edge, pee, and eat some motherfucking almond butter. It's super relaxing.
I love the 9th month of pregnancy.
I'm anemic. Very anemic, apparently. Eating lots of steak and spinach.
In other news, iron pills sure have pleasant side effects!
My stomach is approximately ¼ of an inch in diameter and 2 inches from my throat. I like it like that. Hope it stays there.
I enjoy approximately 75,000 Braxton Hicks contractions a day. They don't hurt, but damn they're weird. Consulting with a student: "Pardon me, but the largest organ in my body is currently tightening, shoving a baby head further down onto my bladder than it was before, reminding me that I should not be here talking to you, but rather nesting or some shit, preparing somehow for that head to leave my body. Anywho, your thesis statement is not an argument."
I miss the ability to see my vagina. Not that I ever spent quality time gazing at her, but it was rather comforting to know that I had the option to at least SEE HER, you know, in a pinch.
We bought a carseat. Therefore, we are prepared for baby.
Also, don't worry. The nursery is done. Here's a photo. Do you like our theme?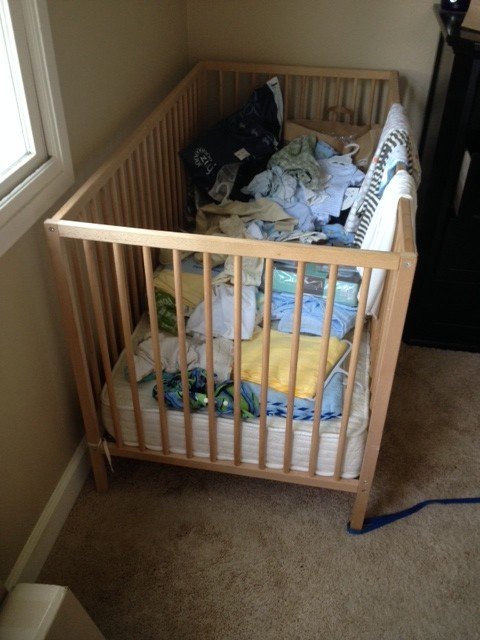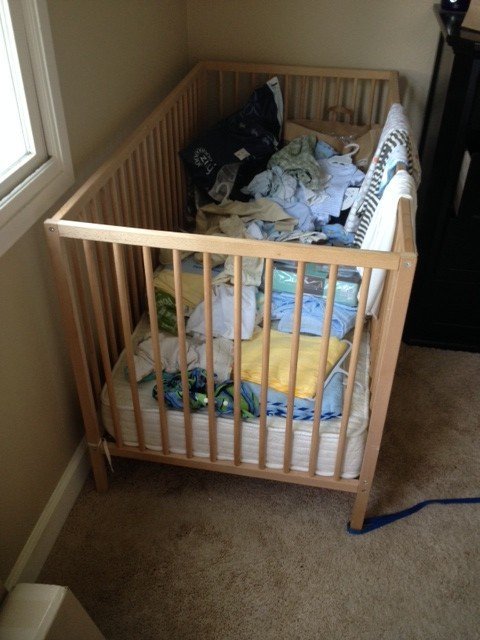 I really want to get my house clean before the baby comes, but I'm way too pregnant to clean the house before the baby comes, so basically, the task I'm trying to accomplish before an event will only become possible after the event, which leaves me in a super ridiculous quandary.
I should probably stop thinking about it and go eat some molasses cookies. Molasses has iron.
Four more weeks, bitches.
***********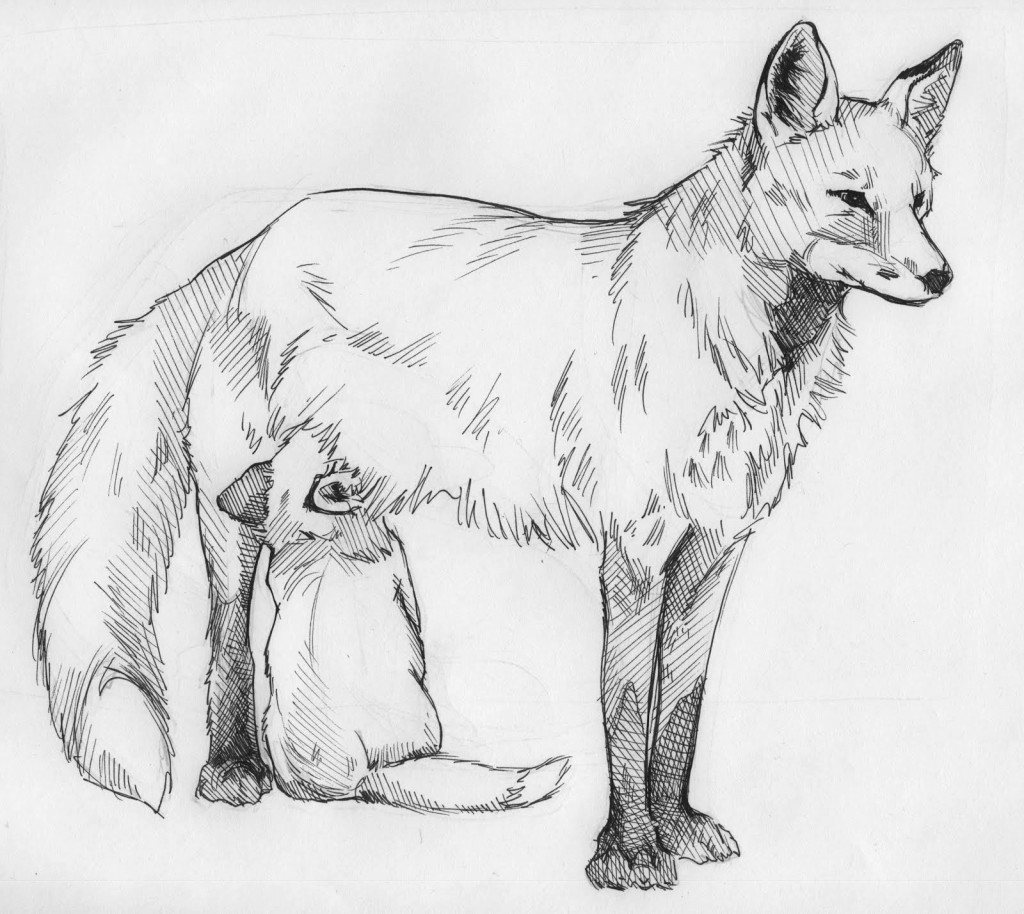 And hey, friends & peeps in the Portland area, I have a new sponsor for you.
Meet Jocelyn Brown of Borealis, licensed midwife and doula. Jocelyn provides at-home midwifery care and
in-hospital support (as a doula).
Normally I write a paragraph about sponsors, but I'm going to let Jocelyn speak for herself on this one:
"My take on birth in Portland is that we have so many great choices for birthing here, and what people need help with is making a plan they can be at peace with.  I *love* home birth, and believe that it is safe, but no matter what, every woman should give birth where she believes *she* is safest and will have the best experience.  And if that's in the hospital or on even on the operating table, that's where I'm going to support her."
HOW FREAKING BADASS IS THAT?
"I also believe that the out-of-hospital care providers and the in-hospital care providers need to start supporting each other and not persecuting each other – delaying a needed home birth transport because a midwife is afraid of facing the hospital staff is incredibly stupid and dangerous, and just feeds back into the perception that home birth midwives don't practice safely.  Fortunately, there are a lot of people working on this process in Portland, both in and out of hospital. I'm constantly trying to educate clients about this."
And just as good, when you're in labor and call your husband a fucking douchecanoe, you KNOW Jocelyn won't judge. Why? Because she reads this blog. BOOM.
Call her. Get supported. Birth.