I love Christmas. I love all of it. I love the gifts and the candles and the lights. I love the horrible music. I love the movies and eggnog and excitement and decorations. I'm slightly pathetic about the whole thing, actually. But it doesn't matter how much I love it.
I'll probably ruin it anyway.  Chances are good, at least. The more important the day, the more likely I am to fuck it up with my questionable behavior.
I made an infographic to visually summarize this phenomenon.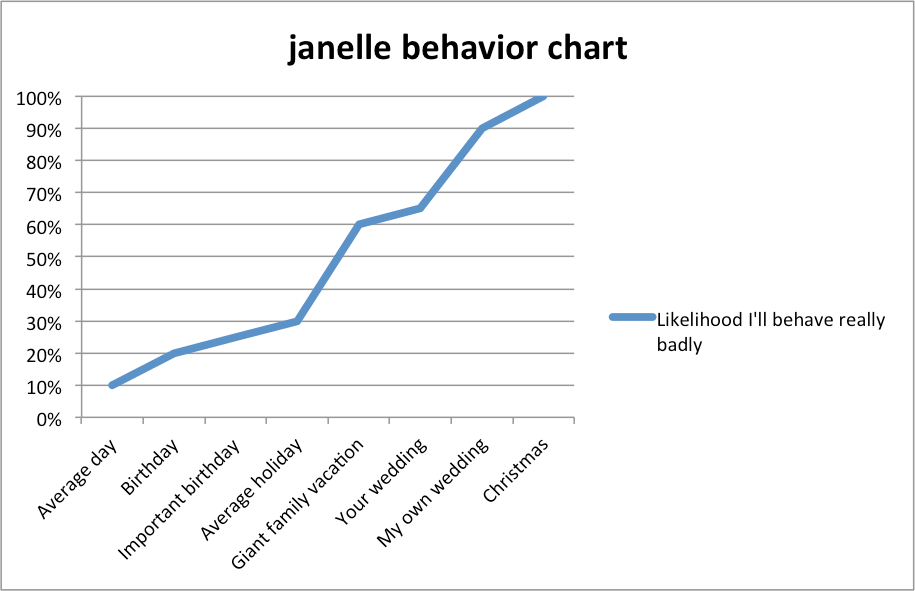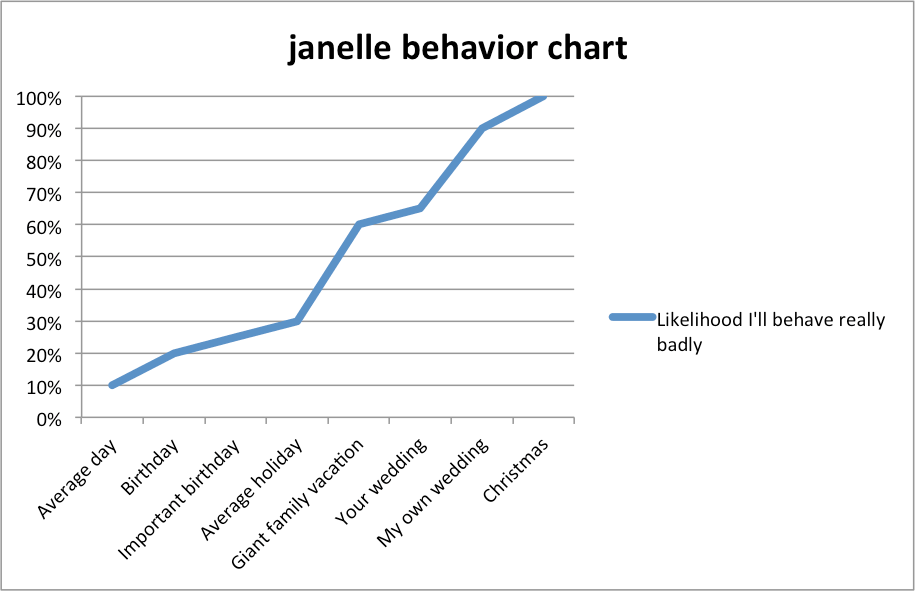 But this year I thought I'd give my family a nice, clear, fair warning about how I'll probably ruin Christmas. I'm thinking this might help.
So here we go.
I'll probably stay up too late the night before wrapping the fourteen thousand seven hundred and fifty three gifts I bought for the kids because when I was a kid we were pretty broke, and my mom every year said "This Christmas is going to be small, kids," and I smiled and felt a little pang but didn't show it, but then on Christmas my big brother and I woke my mom up and trotted into the living room and the gifts were tumbling over themselves in a massive insane heap and it didn't feel small at all. So now I do the same, and it's shallow and materialistic and unenlightened but I couldn't possibly give fewer shits about that. I freaking love it.
But because I stayed up too late I'll be irritable and you'll be bouncing off the walls so I'll probably snap at one of you. I'll snap at you as I watch you in your Christmas pajamas and think about the next gift I have for you, that one you're not expecting, because I know you're just going to love it and it's the little ones like that make my stomach flutter and Christmas becomes the same as when I was you. I'll snap and feel immediately terrible and apologize and think "You can't do that! It's CHRISTMAS!"
I will for sure say something stupid though. Once I opened a gift and said the first thing that came to my mind and it was the wrong thing to say and it made my mom's face fall and I knew I ruined Christmas then.
I'll probably say "tits" at the Christmas table and regret that immediately too. On the way home I'll ask Mac why I always have to sit by the classy people in the family and he'll say "Right. That's the problem. The seating arrangement." And then he'll tell me it's not a big deal, Janelle, and I'll be vaguely grateful it wasn't an F-bomb.
My mouth ruins a lot of Christmases.
I'll probably overbook the day because rather than learn from mistakes I like to keep doing them over and over again a few hundred billionty times because you never know it may work this time and then when we're all wrestling ourselves off the couch and into nice clothes I'll probably ruin Christmas by being angry and frustrated and kicking myself because I want to stay home and swore last year I wouldn't do this again. I'll wonder what the fuck is wrong with me.
No. We're staying home this year. I WON'T RUIN CHRISTMAS THAT WAY, KIDS.
I used to ruin Christmas by drinking too much. Once I ruined it by not even showing up at all. There was one when I found myself alone for a moment in the bathroom after all the gifts had been opened and as I was getting up from the toilet after peeing I thought for the first time that my kids would be better off without me and it was my first and perhaps only real thought of suicide and it was shocking in its anticlimactic nature and the smoothness with which it passed through my brain. I thought about it like I might think about an item we needed from the grocery store. It was matter of fact and plain and clear. In that it terrified me. I went outside and watched my son who's now 9 ride around on his new Hot Wheels in his footed Christmas pajamas. I poured some whiskey in my coffee and didn't die.
I'll never ruin Christmas by not being there again.
I'll eat too much and practically bust out of my clothing though and that won't ruin Christmas but I'll feel like a cow.
I'll get mad at you for not looking at the camera.
I'll forget your tights. I always forget the tights. Damn tights.
I'll yell, probably, because really JUST LOOK AT THE FUCKING CAMERA FOR 12 FUCKING SECONDS KID. And then I'll bribe you with See's Candy and win at parenting.
At the end of the day I'll probably go out on the patio with your dad and I might start blaming him for the ways Christmas was ruined because that's easier than realizing I ruined Christmas by being overtired and cranky and the stakes are just too high. And I'll want to stop but I won't because there was his pain and my mom and brother and I and my dad, and my grandmother who's gone now, and the way I used to wrap presents for her every year, and the ache in my gut and brain and eyes to see her again and the wrinkles in her hands and tell her goodbye, mostly, or even thank you. And there are those thousand Christmases of them and me and you and those to come and I'll feel it all right then. Through the lights strung on the porch that you hung badly. I got a little mad when it happened (because the neighbor's are perfect) but laughed when I realized poorly hung Christmas lights are a fucking family tradition at this point. It's our Griswold moment.
And I'll ruin Christmas when I lie down at night and think of you the oldest kid in your bed and you and you and look down at the baby, 6 months old, and watch him nurse and know he will be you, the first, 13 years old, so close to gone. And I'll shut my eyes with the memory of snapping at you as we sat around the tree. And I'll wish I could go back there. This year's gone already. Next will be later still. Further still.
I'll ruin Christmas because it's never enough. I'm never enough, for you. For this. How could I be? How could I be the light to make a day perfection? The mother bustling about the tree. The one with the gingerbread and sugar cookies. Oh these stakes are just too high.
Damn you, Christmas. The perfect, ruined day, every year. You just keep getting better. In my mind, my heart, you get that much better every year. And you, kids.
I can't wait to see your faces.