When I was a kid, I used to say I was going to wait until I was 30 to get married. Then, a couple years later, I was going to have a kid or two, when I was all mature and stable and shit.
As you know, like most of my plans, that didn't go well. I had a kid at 21 with a dude I had known for 3 months. Score!
So I realize my perspective may skew my understanding of the idea of "planning for a child," or "waiting until you're ready," but I have to say, I find the whole process of "waiting until you're ready" to be one of the most ridiculous endeavors ever invented, mostly because it's an impossible task, and creates the horribly misguided idea that one can actually "prepare" for parenthood, or "become ready" for something that inherently negates any possibility of preparation because it involves a real live human baby.
It's absolutely ridiculous. When was the last time you met a predictable human?
(Your mother DOES NOT COUNT.)
I'm not saying every 16-year-old should have a kid, or people without jobs or homes should be reproducing at random and hoping for the best. UM DUH. That's way too much work. For them and for us.
What I'm saying is this: If you want a baby for real but you're not doing it because you think a better time will come, let me be the first to tell you: THE TIME WILL NEVER COME.
You will never have enough money.
You will never have a stable enough marriage.
You will never feel grown-up enough to serve as the guiding light of hope and direction to a small innocent child who's insane enough to think the sun rises and sets over your pert little ass.
Speaking of pert little asses, you will never be ready for pregnancy.
That's a LIE! You're ready now! Your weeping uterus is probably all "I must have baby," which is precisely why you're in this predicament in the first place.
But you won't be ready to piss on yourself and do that throw-your-legs-over-the-edge-of-the-bed thing when you're 8 months pregnant and need to get up for the 12th time that night, to pee, and your partner's next to you snoring, undisturbed, and you're like "Maybe if I smothered him nobody would notice?"
You won't be ready to not see your toes for a couple months, or the look in your partner's eyes as your boobs expand like porn balloons. Do those exist? Whatever.
You won't be ready for the day you can't buckle your own goddamn sandals anymore.
And friends, you won't be ready for the body contortions and noises that resonate from the depths of earth and your soul as you push a baby out of a barely participating vagina.
You will never feel "good enough."
When you meet that baby, you will no longer suspect you aren't good enough. You will KNOW IT, because how could anything be good enough for the first perfect creature ever born? (Incidentally, that whole "perfect creature" thing will totally disintegrate by age 2, but I digress.)
Your ducks may be all lined up now, honey, but they'll fly like feathers in a tornado the day that baby enters your world. Try. Give it a shot. Try to wedge that newborn into YOUR schedule and parenthood into YOUR vision of "the way it should be" or "the way I intended it to pan out." Try to mold your kid into just what you had in mind and your partner into the perfect other parent, and you, chip away at yourself until you carve yourself into The Perfect Mama.
And then find yourself some whiskey, benzodiazepines, and a good shrink, cause you're GONNA NEED THEM.
Do I sound negative?
Good. I am.
I feel like there's a lot of misconception about child-rearing, much of it arising from bullshit societal notions that:
a.)    Having kids is fulfilling. It's not. Becoming a whole person and being true to yourself is fulfilling. Kids only serve as a substitute for self-fulfillment for people who haven't figured that out yet. There's a line in a Margaret Atwood book (The Handmaid's Tale?) where this girl says to her mother: "I am not justification for your existence." BOOM.
b.)    Having kids is noble. Nope. Not noble. Just reproductive. Saving kids from a burning building? That's fucking noble.
c.)     Everybody wants kids, or should want kids, and if they don't want kids they're a self-centered asshole. The only people who "should" have kids are the people who WANT THEM. How is that complicated? Personally, some of the people I know who have chosen not to have children have done so because they are TOO SELFLESS to bring a kid into what they believed was not the best situation. Self-centered? Nooooo. You know what's self-centered? Bringing a kid or 12 into the world and then acting like you did THEM a favor by birthing them, like you're some sort of martyr for a choice you made. Though I feel sorry for myself on occasion just like the best of 'em, my kids don't owe me shit and neither does the rest of the world. I'm not special and neither are childless people. Wait, hold on…gimme a minute….okay here we go…
"You are not special. You're not a beautiful and unique snowflake. You're the same decaying organic matter as everything else. We're all part of the same compost heap. We're all singing, all dancing crap of the world."
d.)    People without kids are missing out on a life with depth and meaning. Well, I guess that depends on how you define "depth and meaning," but as far as I can tell, a life of depth and meaning is that which a person defines as "deep" and "meaningful." And parenthood, of all the fucking endeavors of the world, is not inherently "deep" and "meaningful." In fact, it appears some parents are actually detracting from the good of the world by reproducing. It's as if they've gone out of their way to REMOVE depth and meaning from parenthood. Wait. Sorry. Was that my outside voice? MY BAD.
e.)    A kid is this thing you add to your existing life. Now this one's gonna get me in trouble, but check it out: You don't ADD a kid to your life like some sort of really expensive accessory. A kid transforms your life into an entirely new life, whether or not you are participating in this transition. [If you're confused as to why this will get me in trouble, I'll tell ya: People, guided by companies making A LOT OF MONEY off the idea, have convinced themselves parenthood is something that can be predicted, controlled and navigated in pleasant ways if you only buy, read, and do the right things. What are the "right things?" The idea that parenthood is a giant shit-storm of ever-shifting ground (LIKE THE REST OF LIFE) terrifies people, so they get really mad when you say things that threaten their fragile construction of security.]
And so, here it is, my dear friends waiting for the day…talking talking talking about kids, and waiting for that glorious moment when all the stars align perfectly and there's just not a single thing left undone: All the places have been visited, all youth expired, the pinnacle of marital felicity reached along with a near-Yogi state of self-awareness, calm, patience. You're in the best health of your life. Your 401k has hit $200,000 and your house is half paid off. Your car has an oil change and your diet is totally organic.
Here's the thing…you can keep waiting, or you can realize the kid you have will be the perfect kid for the mess of your life. The perfect little crazy being to fit like a glove over the glaring deficiencies you were sure would ruin you. Not to fix you. But to hang out with you, just as you are, if you let him in and drop the fucking act. Just BE who you are and see you had everything you needed already, and maybe you were always "ready," or as ready as you'll ever be, for this kid, the perfect one for your family.
When I was pregnant, my midwife used to tell me I was the perfect mother for this baby. I believe that to be true, though please don't ask me to ever raise somebody else's baby. My kids have grown accustomed to my insanity, THANKYOUVERYMUCH.
Like the missing piece you never knew was missing, your kid will just lock in and lock on and turn you into the human you had no idea you could become. And yet you'll remain exactly the same, cause you are only you, after all, and your job is to love and support and teach until the day you let go again.
And no, you won't be ready for that either. I sure as hell am not.
But if you want it, the universe is telling you: You're already perfect for the kid you're waiting for.
You're a disaster. You will remain a disaster after your kid comes.
Together you will be disasters, together.
But you'll be in love, and it'll be alright, and maybe one day you'll wonder what all the fuss was about.
I mean it is, after all, just a real live human being.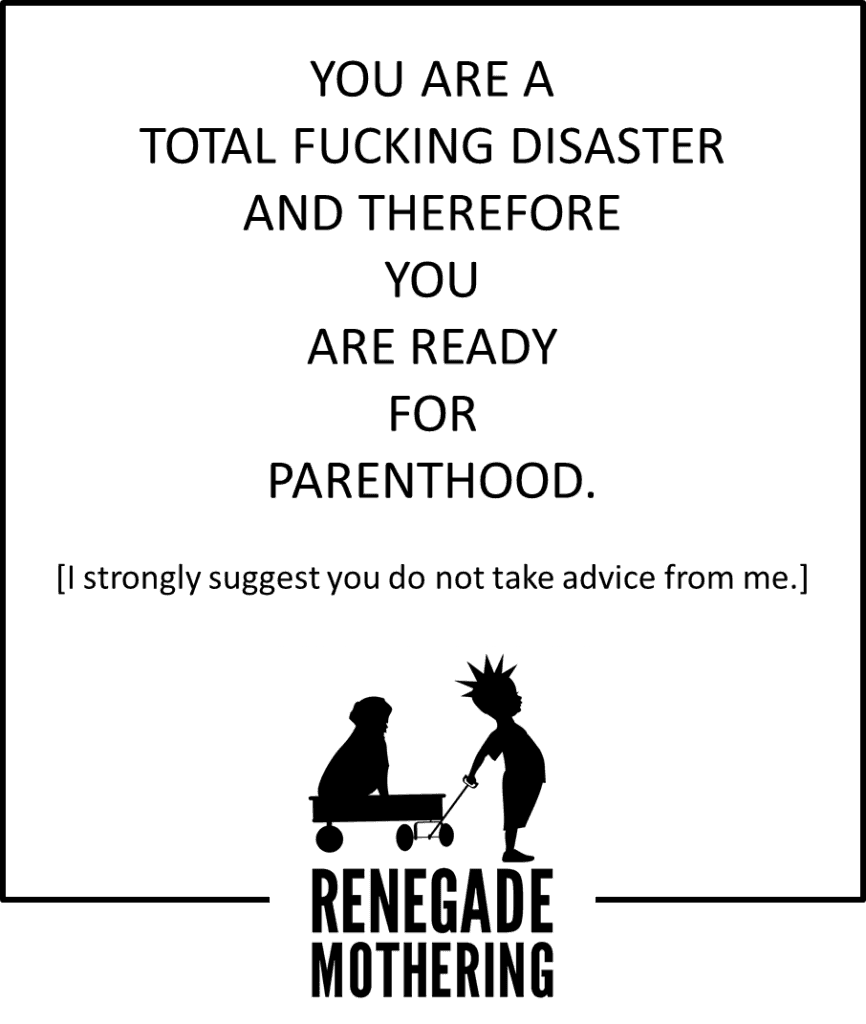 more stuff I shouldn't have said out loud: