So it happened the other day.
My daughter, she's eleven. She'll be twelve in November.
She grew up the other day.
We were going to a town in the wine country, to hear a rock-n-roll band. We were going to have dinner first. It was a lovely evening.
She put on a dress, gloves, boots, a hat – and five years.
She wore them like a loose veil across cheek bones I never noticed, on the poise of squared shoulders, soft over eyes that knew something, something more than me, something adults know, or almost know, if they could remember.
She nearly stopped my heart when I saw her in that get-up, so beautiful she snatched my words away. I looked at her and kept on, harder and harder to see it clearly.
a woman?
The second I saw it it vanished, and there stood again my little one, my first one, who played in the sand and still does.
My Ava.
"Mama, I hate you!"
She yelled and ran off.
I stirred the meat in the pan and heated like the cast iron before me. I thought how dare she speak to me that way. I AM THE MOTHER. I thought about storming down the hall and demanding better treatment. HOW DARE YOU. Who do you think you are?
Well I'm a girl, growing up a little, and it fucking sucks sometimes.
A victim of biology.
Fuck biology.
Fuck hormones. And nature.
For taking my baby from me, even if it's only in moments still, so young. A victim of a uterus and ovaries a decade or two before she even needs them.
I have no idea how to stand near this child. I have no idea what to say and where to reach as I watch her slip away, only in moments still, of beauty or rage.
So goddamn young.
But always moving away, or so it seems, until she tells me that she wants to hear my voice to feel better, and I want to cling to today for dear life. I want to hold it like a drowning man clings to a raft. I want to weave her back into my skin and hold her there like it was and it's always been.
except that it isn't. not anymore.
and I cannot.
"I HATE YOU!" the words sting my core because they're true, for a moment, and maybe I hate her too. because how can I do anything different with this pain taunting me, dangling in my face. i know it's coming. it's right there.
losing her.
No, I don't hate her, not really, even for a second.
They say she'll come back, after the teenage years. That she'll just seem gone.
They say it's so wonderful again, after those years.
They say supportive things.
But what I see is that my daughter is growing up, and it's all exactly as it should be, except that this is not a change a human can stomach. how can I take it? how can i accept it?
TELL ME YOU FUCKING WORLD, how can I let go? When all I want is one more day and one more after that of our little family and the oldest child still a child and she's going.
She's going anyway.
I can only let go, and yet I cannot.
Once again, here I am. A mother. The Mother.
With nothing.
I stir the meat a little longer and remember eleven and twelve and sixteen and how I couldn't see myself in myself sometimes, and I didn't know either. "Who do you think you are?"
I have no fucking clue, mom.
so I walk down the hall and open her door. she's weeping into her pillow. I sit by her and say nothing, look at the trinkets and the papers and stuffed animals. I look at the jewelry and the books and treasures. I touch her arm. I see the clutter, the mess, the thousands of things on the walls. the notes from friends and things from second, third, fourth grade.
the little girl beneath a towering world.
her little haven in an untouchable world begging her to join it.
her place in my home, her home, all I can offer beyond what I am in all my broken form:  a mother, her mother, a new mother I guess, to a new form of child.
I see again it's all just a series of being reborn. It's all just a series of recreation, of being tweaked and carved into something new, as I kick and scream and weep for the old.
Just when I was sure it would never end.
Just when I thought I knew what tomorrow will hold.
I looked away for a moment and lost my baby.
In her room, I think I'll join her.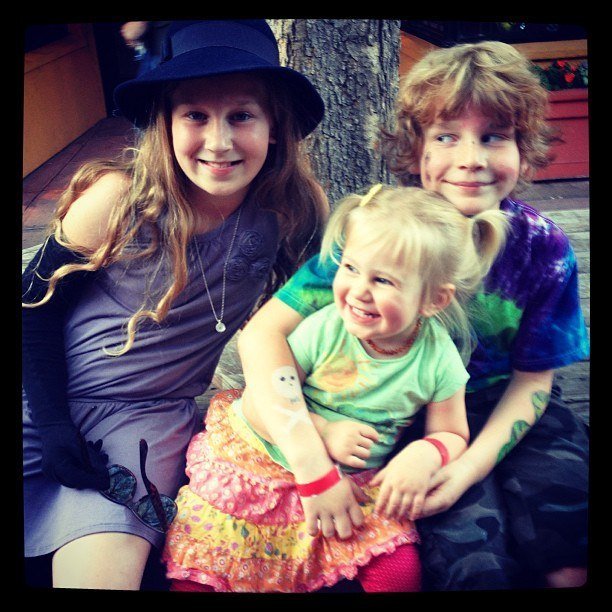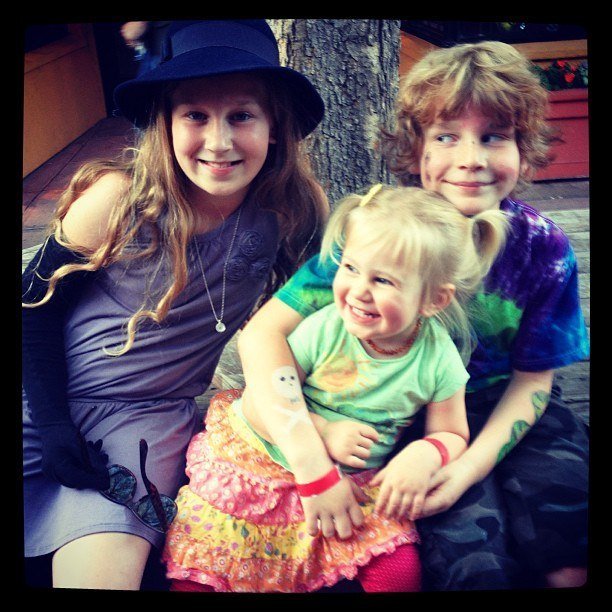 more stuff I shouldn't have said out loud: