Before the baby came, I was sure I would be okay in making sure you stayed feeling special and important, and I was sure you would be okay, because you've always been okay. You're just kind of an "okay" type of kid. Independent. Doin' alright.
When you were 3 months old it became clear to me that you didn't want to be touched while you slept. I bought a cosleeper for the first time, and then a crib, just when I was sure I would never need a crib with any kid of mine (since the first two were used as toy holders). You stretched your arms out and settled in and seemed to breathe a sigh of relief. I like to sleep without being touched, too, kid. I get it.
And then Arlo came and you were almost 4. You seemed okay. You seemed to like him alright, though occasionally you bopped him on the head or gave him a healthy nibble, like any toddler questioning the newcomer. When people asked how you were doing with the baby we said you "loved him aggressively." Ava said "She hugs with great fervor." That kid's funny.
I knew it would pass. It always does. But it didn't, and things got weird.
When he was 3 and 4 or 5 months old I realized I could barely handle your presence anymore. Everything I said, "No!" Everything, defiance. Everything, rage. Everything, tears, tantrums.
"Get dressed, Georgia, for school."
No.
I had to ask once, twice, three times. I try all the tactics in the books. You simply do not move. You ignore my voice completely. When you finally go, you're dragging your feet, literally. You're walking sideways. You're walking backwards and glaring at me, as slowly as you can possibly move. I realize Arlo is going to grow up to become a 4-year-old and I consider sailing myself off the Golden Gate.
I'm trying to shower, nurse the baby, get ready for the day. Make lunches. I'm so tired. I need you to just get dressed. When I get into your room 10 minutes later you are not dressed. You're playing with your toys. 15 minutes of nonsense and you are STILL NOT DRESSED. 30 minutes. 45. One hour.
Endless. Relentless. Every thing I say to you, you argue. You fight. You refuse.
I don't want to talk to you. I don't want to be near you. Sometimes I yell at you and then I wonder what kind of fucking parent yells at a 4-year-old. I tell people you are so difficult. I tell people I don't know what's gotten into you.
I'm not an idiot. I know you've been displaced, but I cuddle you when I can and work at your school and I try, kid, I try. I'm so tired. I have nothing else. And Jesus fucking Christ you make yourself so difficult.
My ego butts up against yours. I'm in a power struggle with a damn toddler. I want to win. When did I become this pathetic? I feel like a zombie. I get up and do it again.
I look at you one day and realize I haven't felt much affection for you in at least a week. You have become a chore. You have become a kid that bothers me, makes my life difficult. The feeling repulses me.
And I miss you terribly. I see your face and hear your little voice and I miss my little pal. I realize it's me. I realize you miss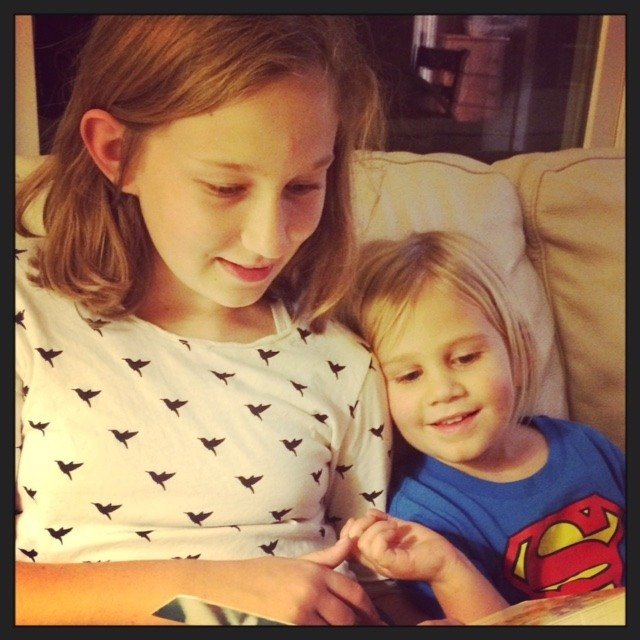 me. I realize you are my little toddling friend and every time we're together there's a baby now, and one day when Ava came home from school you asked "Will you play with me, Ava?" and she said "Yes" and you were overjoyed and I heard you playing and being happy and central to your big sister's life. But then I put the baby in there with you two so I could get some things done, and I heard Ava immediately ignoring you to play with the baby, dote on the baby.
I saw. I saw it all. I felt your pain right then. I felt your little crushed eyes and heart as each celebrated coo fell out of his mouth. And every word of attention and praise to him, from the sister who used to pour it onto you.
I saw, and I knew. I decided you would be the center of it for me, now, for as long as it took. The baby gets what he needs. He's in damn near constant physical contact. Plus we have 2am.
I looked at you one day and for some reason called you "Cricket." I called you Cricket and it was my special name for you. You laughed and laughed. You said "Am I your cricket?"
You're my cricket.
I call you to me now 5, 6 8 times a day. Fuck the laundry, the dishes. I pass off the baby to others to hold you. "Come here, Cricket. Give me cuddles. Sit on my lap." We play games we've always played. I hold your head against my chest. I stroke your face and kiss your forehead over and over. I tell you stories from when you were a baby, a toddler. We talk and laugh and I say "I love you so big." Because that's what you used to say. "You are my best." You said that too.
As soon as the affection pours I can't stop. I want to inhale you the way I inhale my baby. It feels good to find you again. I don't care if this "works," I only want you to know, know what you are to me.
I read you a pile or two of books. I never miss our "morning snuggles." For the first couple months I did it for a minute out of obligation, because I felt guilty, because the exhaustion pounded my head and face and eyes and I just could not. Well I thought I could not. It turns out that the only thing I "can not" is lose you. I will not cut it short. I hold you there as long as you want to stay.
I hold you here as long as you want to stay.
I wanted to blame you. I wanted to blame you for being just wild or "bad" and I played that for awhile but when it didn't work (at all) I had to look elsewhere. I had to look within. I was tired and miserable and saw you as just one more thing to do, to deal with, and you knew it, because kids know these things. I didn't want it to be on me. I didn't want to see that I was fucking up.
They say it isn't your mistakes that will kill you. It's justifying them.
I failed you for a minute there. A couple months. I imagine I'll do it again. I look for ways to stop failing my kids. Get up, fail again. Get up.
I won't apologize. Fuck apologies. Change.
Get up. Morning snuggles. First.
Fail again.
Change.
Yesterday I realized you're usually pretty happy now to do the things I ask. You drew a picture of me, presented it proudly. You said "It's not done," and went back to the table. You added Arlo. Neither of us had necks.
"This is you and Arlo!" You said it with a grin. A big red human-like figure with a small red one.
You say "please" again rather than demands things at random. You don't throw tantrums after making insane requests nobody can fill ("I want a DONUT FOR BREAKFAST!!!"). You listen again, mostly. You do what needs to be done, pretty much. You want to help. You're still pretty crazy, but you're Georgie, and you're 4. But you aren't out of control and we aren't lost anymore.
You said "Arlo can be your cricket too."
I said no way. You said yes. Insisted. I said I'd think about it.
It wasn't what you said. It wasn't the way you rested your head against my chest. It was the way you ran away, looked back, and grinned. It was the way you knew I was there. It was the way you were unconcerned. Your lack of worry. The abandon and joy in your eyes.
It was the way you ran away that I knew you were back.
I yelled "I love you Georgia!" Just in case.
You told me to call you cricket.
I said okay, and smiled down at the nursing baby.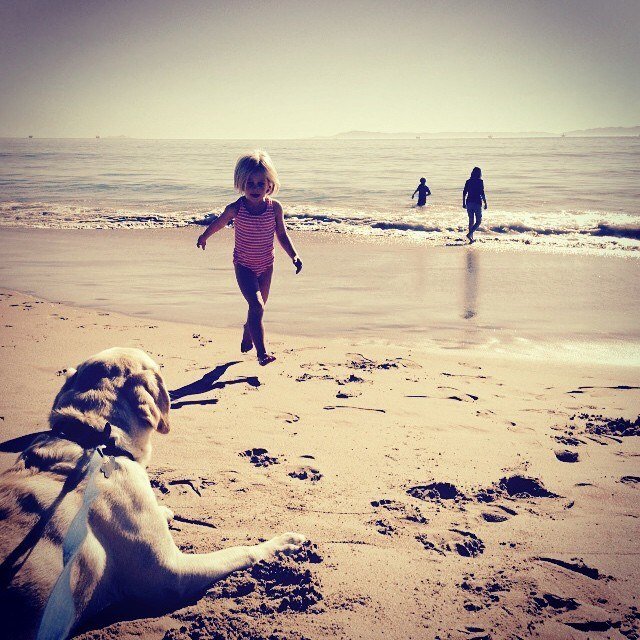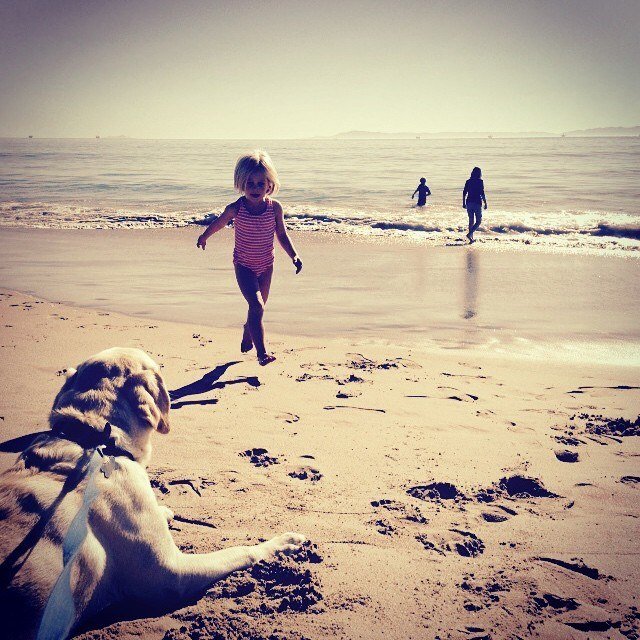 ************
New Sponsor: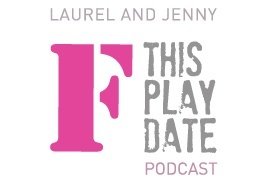 If I had a dime for every time I said "F this Playdate." I'm kidding. I don't have playdates with people I don't like. I learned my lesson. I'm bright like that.
You know what else I don't do? Listen to podcasts that suck.
Thankfully, some don't. Like Laurel and Jenny's "F this Playdate," which is based on their love of humor and wit and wicked smart banter on topics like "sex, frustrations with being married so young and not sleeping around, existential dread and euphoria, post-partum depression, deep crazy love for children, menstruation cycle ups and downs, post birth vaginas, domestic boredom, being defined by your man, the drudgery of child rearing, the work of marriage, the coziness of marriage, not doing what we don't wanna do, and any damn thing we want to talk about."
No sanctimonious bullshit here. Laurel and Jenny "play with the boundaries and expectations of females in a world of polite playdate chit chat and smiling pretty for the camera." But they also aren't afraid to talk about the deep shit, and the insane love we feel for the little bastards, errr I meant "kids." Surely I meant "kids."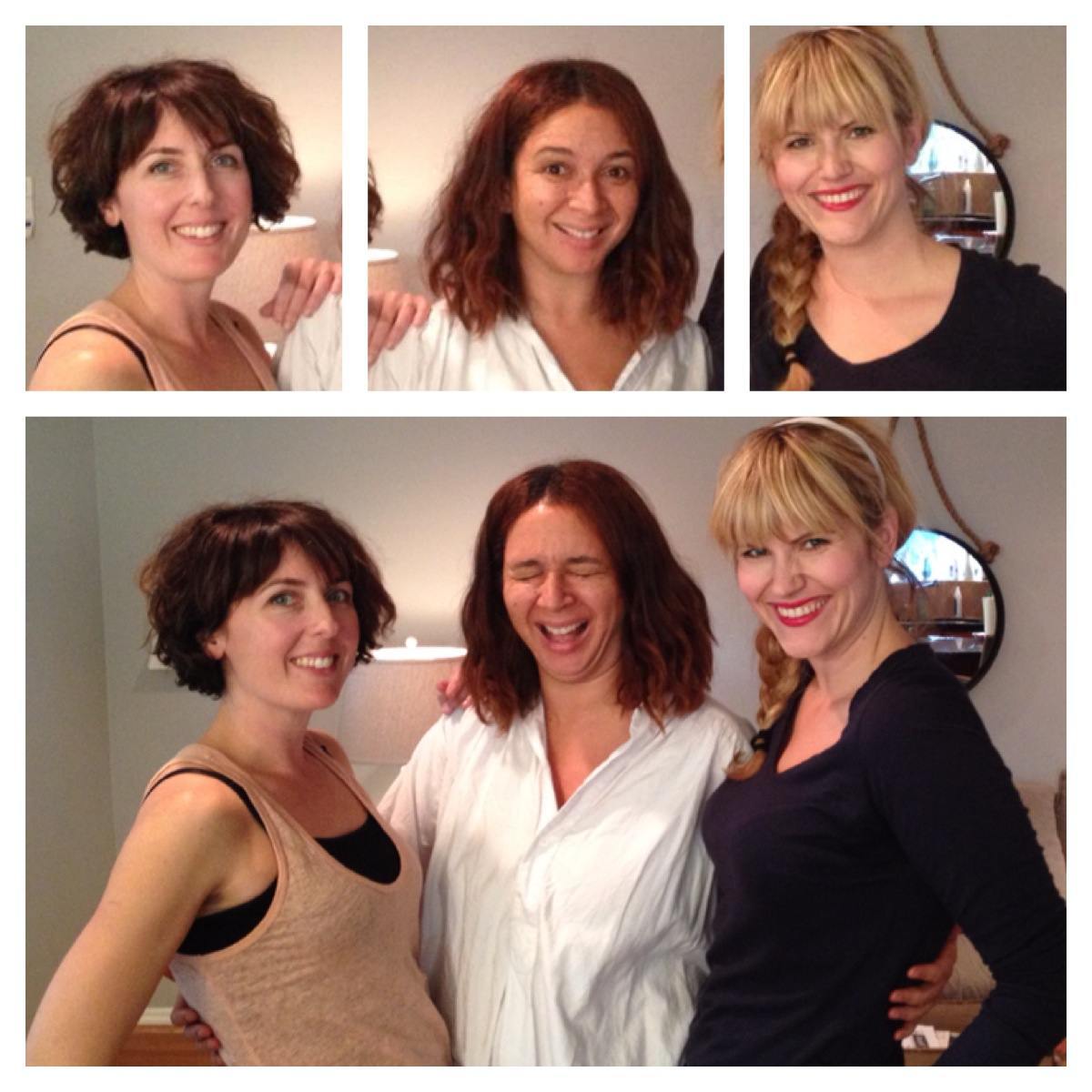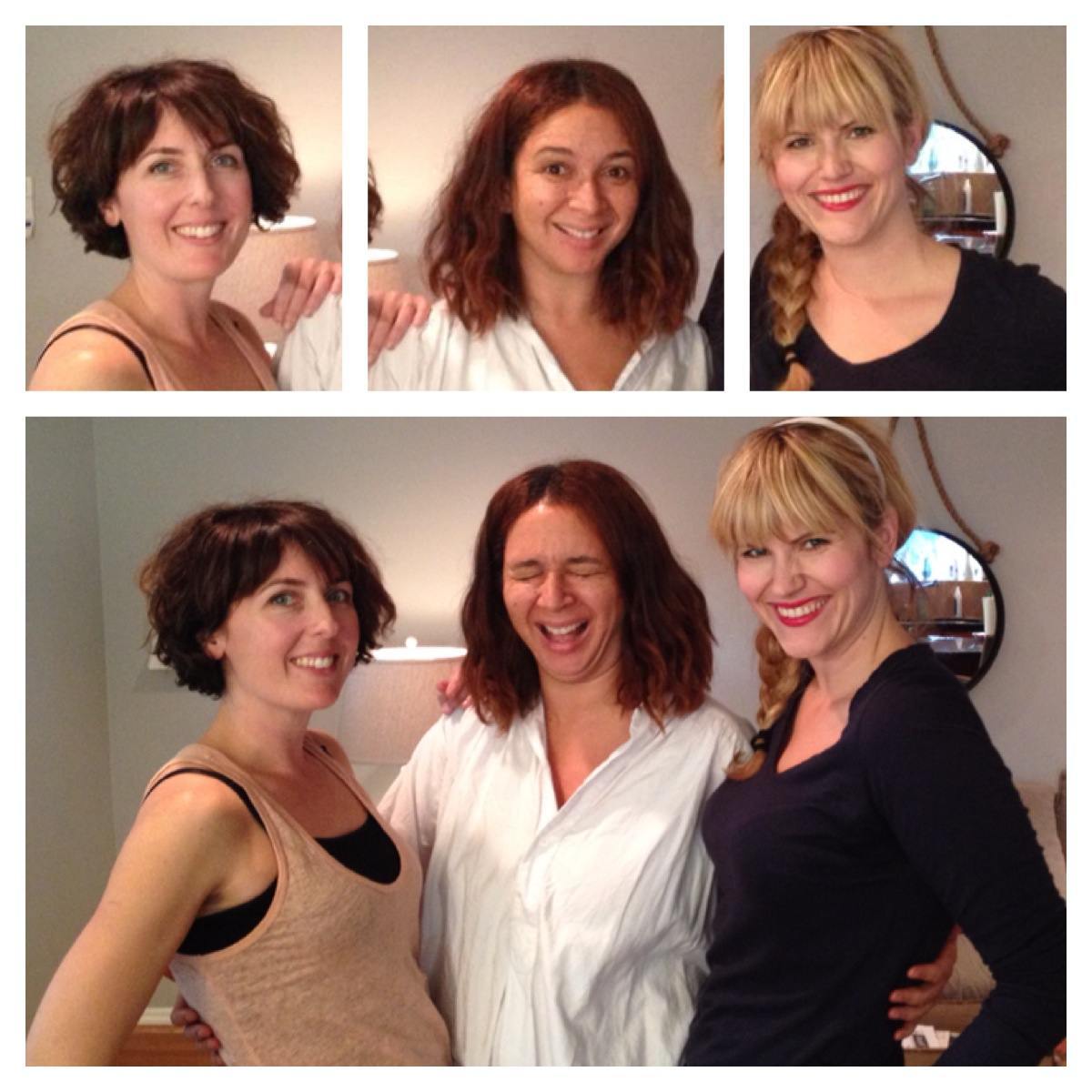 Um okay but here's the thing: Most recently they had actress Maya Rudolph (yes the one in Bridesmaids) on their show, and she's fucking brilliant and hilarious. Maya Rudolph. She's like my famous-person spirit animal. I mean, other than Bill Murray, obvs. If it weren't highly illegal and if I weren't too busy, I'd stalk the shit outta that woman.
more stuff I shouldn't have said out loud: