So I'm doing the National Novel Writing Month thing, only I'm not writing a novel. I'm writing creative non-fiction, what I would call sort of a fusion between Ann Lamott and David Sedaris, only less good than that sounds. Since November 1 I've written 27,887 words, which is about 110 pages. And I have written a few blog posts. Basically I've been a writin' fool. Emphasis on the fool.
On October 1 and 6 months ago and last year I would have told you there was no way I could possibly write 1,700 words a day on a book. There was simply not time. There was absolutely not one single spare moment in my day. And that was true.
I have 4 kids from tween to 5 months. My husband works 7 days a week these days. I already maintain a blog. I'm trying to build an online writing/blogging class (for you guys. what? Yes.).
No time. No sleep. No fucking way.
But then I read a quote by somebody that basically said that the writer will write when the fear of doing nothing outweighs the fear of writing complete crap. And suddenly, on October 30, I realized I was there. Fueled in part by the reality that teaching community college next semester would require me to work really freaking hard for below minimum wage (when you factor in childcare costs), and we can't go on like this, with my husband working 7 days a week, I suddenly saw through my own bullshit.
It's not that I didn't have enough hours in the day to write. It's that I chose to use my time in ways that negated the possibility of writing a book.
All I had to do is lower my fucking standards, A LOT. Like to the ground. I basically had to just chop them off at the knees and move on.
No biggee.
So for those of you "creative" moms who have a hobby or talent you're just not using because there's no time, I've created a list of Twelve Easy Steps to Doing Creative Work while Parenting. (I've written it about writing but I imagine it applies to most art.)
Yeah, you know that nap time that lasts 1.5 hours (maximum), during wthich time you're expected to accomplish Every Fucking Thing Since the Beginnning of Man? Yeah, you just get to write now during that time. That's all. Just write.
Forget the laundry. The hallway. The toys in the living room and the piles on the couch. Forget it all. Step over it. Step on it. Sit on it, near it, in it to get to your computer to write. Neglect everything and do the thing.
Put the toddler in front of TV. Feel guily. Feel super fucking guilty but do it anyway becaue only the tenacity of A RABID IRRATIONAL BULLDOG WILL GET YOU THROUGH THIS.
Learn to write absolute drivel. Silence the voices telling you it's absolute drivel by writing anyway. Always write anyway. Do not read what you've written already because you'll realize not only should you stop writing because you suck and shouldn't bother, you might want to just off yourself too, because you're that bad. LEARN TO LOVE THE DRIVEL. Do not off yourself.
Cry on days when the toddler is in preschool for 2.5 hours and the baby decides not to take his only reliable morning nap that day because you realize you'll probably have to do your writing at 10pm after everybody's asleep, turning you into a miserable zombie yet another day.
On that happy note, learn to write even though your eyes keep getting blurry. Learn to write when you're so tired your cheekbones hurt (yeah, it's a thing apparently. Who knew?).
Fuck homecooked meals.
Consider bathing optional.
Accept help always.
Drink so much coffee you wonder how your blood hasn't bubbled out of your veins. Crash around 2pm but go pick up your kids anyway because you can't just leave them there.
Get okay with not brushing your toddlers hair and letting her wear pajamas all day, in and out of the house. While eating mac & cheese. And yogurt, for the 2nd meal in a row. (I said lower your motherfucking standards and I MEAN IT.)
Write anyway write instead write because of write when you can't write. Write when you have nothing to say when you can't form a sentence when it's pretty much all adjectives and adverbs and shit.
Write the shit, because it's better than writing nothing, and if nothing else, you'll learn that you can do it. You just have to make it insansely important and get crazy and not complain about it because you're the one who chose to have the kids, dumbass. Now deal with it.
Or don't deal with it, but write paint sew garden sing compose sculpt anyway.
We may not have a room of our own, but we've got a tiny spot on the motherfucking couch, and it's calling our name.
*******
The amazing Brene Brown says about Marianne Elliott:
"…She's one of the best teachers I've ever experienced. If you want to do something extraordinary for yourself, I can't think of a better teacher!"
Now THAT is a freaking endorsement.
Marianne Elliott is offering "Zen Peacekeepers Guide to the Holidays," 30 Daily Lessons to help you keep peace with yourself and your loved ones. In her words:
You want to enjoy your families over the holidays, but you end up feeling 'not quite at home' with the people who you are supposed to be closest to.
You want to lay the table beautifully, buy the fancy wine, give your children ethical, sustainable gifts, and do it all with your hair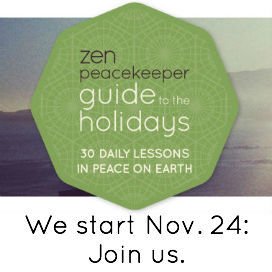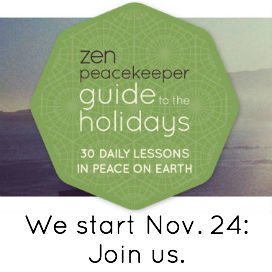 brushed and your lipstick on straight. But you end up giving into pleas for the new Barbie, don't even know which is the fancy wine, and never seem to leave enough time to brush your hair before the guests arrive.
You want to feel generous, maybe even a little bit indulgent, but you end up feeling financially squeezed, maybe even a little bit scared.
This mix of high expectations, financial pressure and family tension puts even the easiest of our relationships under strain. We start wishing the holidays would just be over and done with. And they haven't even begun yet.
We don't do much for ourselves sometimes, particularly during times when we really, really should.
Like now. When we're trying to get through the damn holidays, and maybe even enjoy ourselves. Make memories that hopefully aren't just all "What the hell is all this so stressful and why are my kids so annoying and why can't I relax and when is Uncle Bobby going to stop drinking?"
Let Marianne help. She knows what she's doing (somebody better!). Begin next week.


more stuff I shouldn't have said out loud: