I consider myself a rational person. Generally, in arguments, I'm the one constructing bullet-proof logical defenses of my ego. Err I mean "point." If the person I'm with is crying or engaging in some other sort of extreme emotional reaction I usually look at them rather alarmed and wish they'd stop so we could get back to the logical portion of the evening, where I'm more comfortable.
Or I'm yelling and flailing wildly, which is how I do sadness.
Alright, fine. I am irrational, but pretty much only with family. Family has the ability to bring the crazy RIGHT UP TO THE MOTHERFUCKING SURFACE with me, but it's because I love them more than the rest of you (sorry) and since they've got my heart all wrapped up in their chest hairs (just leave me alone with my metaphors), they affect me on a level others cannot. I think this is normal.
"Normal." Whatever.
My point is I'm a somewhat rational, thoughtful, reasonable human who only loses her shit around her kids, mother and husband. Winning, in other words.
In public, I don't look for fights and I'm not confrontational and usually I just want to eat the triple-cream brie in peace.
You know, at parties. I want to eat the brie in peace, not argue with you about guns. We should stop shooting each other. That's my opinion. There. Pass the salami.
I don't waltz out of rooms or scream and yell or demand that you get the fuck out of my house because your opinions and insights make me want to fold up in a corner and weep for humanity. I realize you don't really affect me, and I can always lambaste you later on my blog, so I focus on appreciating you for something good (like maybe your kids are cute, or you have nice boots, or love to sing. I love singing too!).
In other words, I don't freak the fuck out when people annoy me.
Unless I'm on Facebook.
But only sometimes. Sometimes I'm okay. Sometimes Facebook removes my brain upon log-in. But I never know which it's going to be which seems totally unfair because if you're going to act irrationally there should at least be some warning for it.
Oh wait. That MAY not make sense. Whatever.
The question is: Why do I repeatedly act in irrational ways on Facebook that never end well? For funnies? Okay. Except it's not fun.
It's never fun. It's never once been fun ever.
"Hey Janelle, let's try that again because maybe THIS TIME it will be fun."
For example:
The Rage Unfriend: We've been friends for a few months. I don't know you very well, but you seem fine. You like cats and roses. But then yesterday you shared Matt fucking Walsh's "essay" about how Planned Parenthood murders children and none of their other services matter and that is such a fucking stupid thing to say because HOW DOES WOMEN'S REPRODUCTIVE HEALTH NOT MATTER YOU FUCKING OMG and I have to unfriend you. Immediately. I want to block your ass. I want to unfriend you, lecture you for 9 hours, and call your mother. Wait. No. I do not want to call your mother.
Now, this all makes sense in the moment. I don't want Matt Walsh in my newsfeed. I don't even want to come face-to-face with the reality that people READ the man let alone use him as the embodiment of their perspectives. And if you're interested in blotting out Planned Parenthood we clearly don't have much in common, and you're not my cousin sister aunt grandma so WHY ARE WE FRIENDS? Let's not be friends.
But then again (a day later), I realize: Really, Janelle, this person was just sharing her opinions. There was no threat to you. Not real or imagined. There was nothing. Absolutely nothing. Why unfriend because your politics don't align? Know thy enemies, asshole.
You could have just unfollowed her and gotten the same result.
BUT it's so damn satisfying in the moment.
Actually, you know what? Fuck it. One cannot be expected to thrive emotionally in the face of "none of Planned Parenthood's services matter."
Okay, but this one. This one is real:
The Distant Family Member Unfriend. The evolution of our "friendship" inside my head:
Day 1: Oh "so and so" I saw at that family party wants to be friends. Okay. Accept request.
Day 14: Wow, she writes some really unfortunate shit.
Day 30: Wait. Trump? Nope. Unfollow.
Day 45: Please stop commenting on how I can improve my parenting.
Day 45.5: You have been banished to "acquaintance" setting.
Year 365: Damn, why do I ever publish anything publicly? There she is again.
Year 2: Did you just? No you didn't. You did not do that. You did that. Unfriend.
47 seconds later: OH FUCK WHAT AM I GOING TO DO AT THE FAMILY BBQ NEXT WEEK?
Damn you Janelle. A way better option would have been to NOT BE A FUCKING LOON and just let the distant-family-member flow across your FB feed a few times a year and pretend it isn't happening or repeat a peaceful mantra or stack rocks or something.
But I can't because I need that moment of satisfaction. I NEED IT.
There are more:
The Rage Block. I'm not afraid of you but I hate you so thoroughly I must block you because unfriending is insufficient to express my rage. Somehow, I feel like I'm DOING something by blocking you. Like I'm really letting you have it. I find satisfaction in the idea of you trying to find me and being like "I can't find her!" And then realizing…wait. Right. Oh yeah. Nobody cares.
The Heartfelt Discussion with Total Strangers. I feel strongly on this topic so I'm going to share my deep feelings and well-thought-out perspectives, to which Facebook responds: "I'd like to beat you with my barren uterus you fucking cunt." (That's a direct quote.) Thanks for getting me. I feel good about this.
The Logical Argument with People's Logical Fallacies:
You: If people would behave the cops wouldn't have to shoot them.
Me: That doesn't make sense. One doesn't prove the other.
You: Yes it does. Cops only shoot people who are misbehaving so if people don't misbehave they won't get shot.
Me: But you can't explain a problem with the problem. It is possible that cops shoot people even if they aren't misbehaving.
You: No.
Me: What do you mean, "no?"
You: You're a cop-hater. My dad was a cop. I KNOW COPS.
Me: Okay but the presence of helpful, law-abiding police officers doesn't negate the possibility of cops who shoot people unnecessarily.
You: You liberals hate everybody. Why don't you go back to the country you came from?
Me: Wait. What. Okay.
Why do I waste my time? Why? Why? Why do I torture myself with mental acrobats leading only to existential wasteland (okay so maybe I'm a tiny bit dramatic) and why click on the story about the baby being put in a microwave so I cry about it off and on for two days straight and question everything I've ever known to be true and real?
Why click on the lost-kid story or the killed-tiger story or the latest from Donald IMAFUCKINGFASCIST Trump or anything from the "#AllLivesMatter" crew (seriously just go home with that crap)? The Wendy Williams boobs are for sex only intellectual shit-show? ONE MORE MEME TELLING ME TO GET SOME ME TIME BECAUSE I'M WORTH IT. Gahhhhhhh why am I here get me outta here.
Why? Does Facebook remove my brain? Do I like pain? Maybe I like pain.
I should get off. I can't get off.
Because cat videos, newborns, and you.
Oh, so it's your fault. Good. I feel better.
Now excuse me while I hop on over to my hate-follows on Instagram.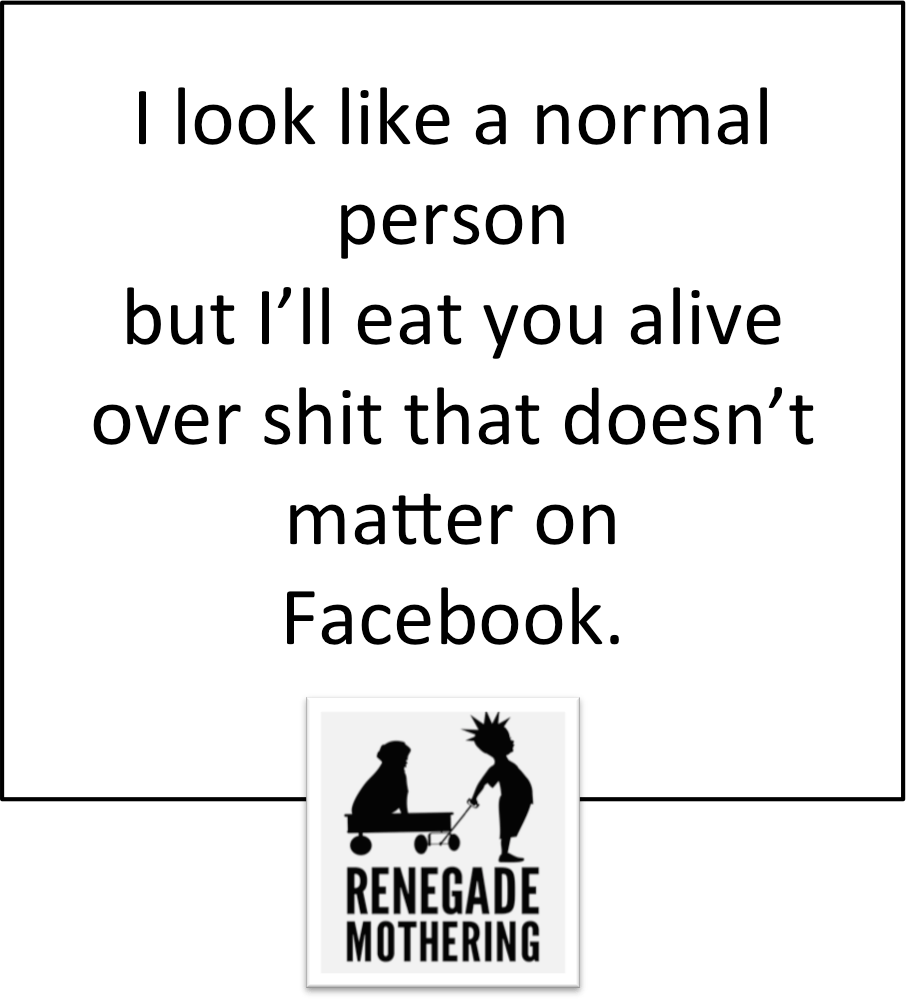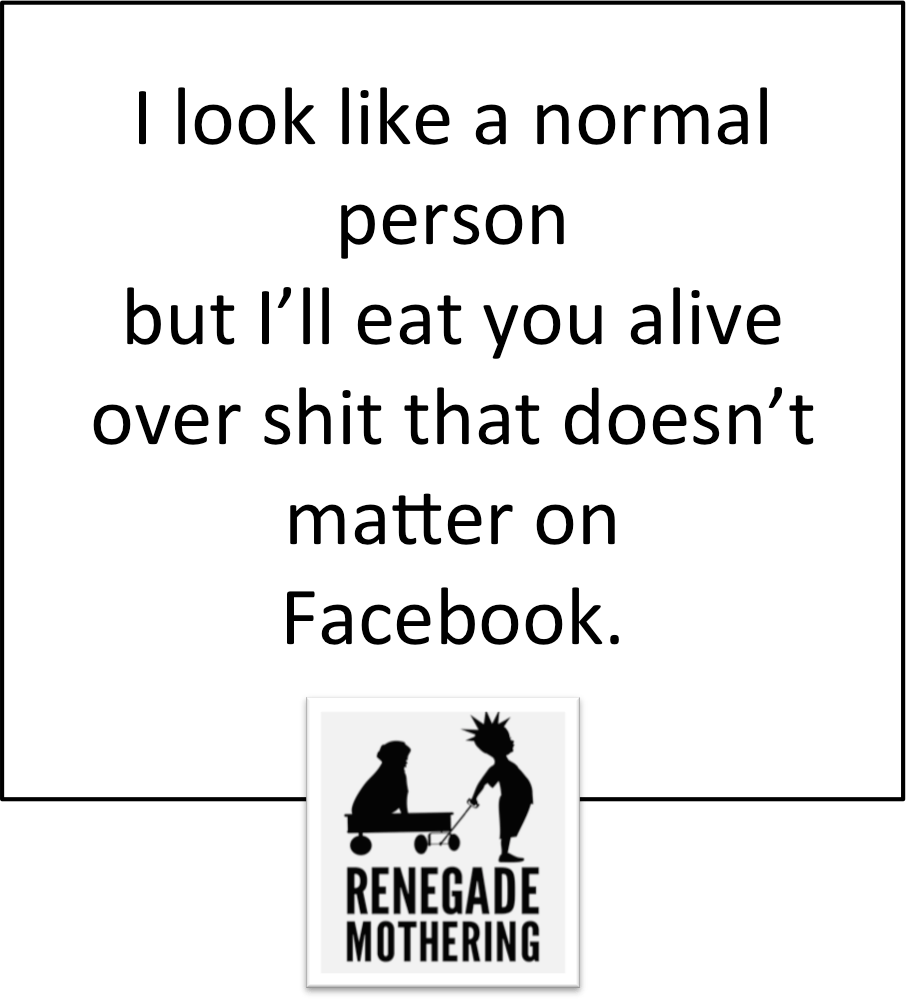 ********
I teach better than I manage my emotions on Facebook.
Join me for my February writing workshop.
And btw, there are only 5 spots left and this is the only evening version I'll be teaching of this in 2016.