I agree with this dude who said parents need to calm the fuck down.
I would like to add that people need to grow the fuck up. From this point forward, we shall use the acronym GTFU. Sometimes, that's the simple answer. Calm the fuck down, GTFU.
Personally, I'm pretty tired of people walking around as if they're grown up, only to commit some fatal juvenile act outta the damn blue, signaling a formerly unknown, totally unmanageable well of immaturity. It's actually rather disturbing. You're hanging out with somebody all chill and shit thinking "Yeah, look at us, two adults." And then boom! It happens and you're all "Oh, wow. I was wrong. You're my tween." Possibly my toddler.
I mean come ON, I'm immature. But even I have figured out a few things during my years, and my bar is low I assure you. Some things just aren't right, and whether we want to or not, at some point, in some areas, we simply must GTFU.
So in the interest of helpfulness (not really, I actually have no interest in being helpful at all), I have compiled a list of behaviors that really signal a need to GTFU.
This list is not comprehensive.
15 SIGNS YOU NEED TO GTFU
1. Finding yourself disturbed for more than 12 seconds by something you read on The Twitter. Check this out: There's real life and there's social media.Twitter falls into the category of "social media." Social media is known to be the gathering ground of all idiots of the world, because not only are they idiots, they are INVISIBLE IDIOTS, which empowers the shit outta them. So, since it surpasses standard dumb exponentially via the blessing of anonymity, social media weirdness needn't compel serious introspection or offense, but rather one thought and one thought only: What the hell is wrong with these people? And then you get back into real life.
2. Getting unfriended on Facebook results in days of thought and emotional turmoil. If you're pissing people off, you're doing it right. Well, usually. Unless you're Rush Limbaugh or a proponent of this website, which promotes the equal treatment of white people (because that's obviously always been a problem). There's no way anybody on that website is doing it right.
3. Involving yourself in every corner of your kids' lives, telling yourself it's "for their good." Look, the rest of the world knows you need to GTFU, because really, it's all about you. You have not realized your childhood is over. Ship fully sailed. Please stop controlling your kids to bolster the value and meaning of your own existence. We are now in grown-up mode, where we reflect on past mistakes with a mix of nostalgia and horror as opposed to attempt to FIX them through innocent children. Get with the program!
4. You are offended/disturbed/made to feel funny by women breastfeeding in public without a cover. Masturbate, watch porn, move to Denmark. DO WHAT IT TAKES TO FIX YOURSELF.
5. You are in your 30s and think it's acceptable to smoke weed and play video games all day while your partner goes to work.
6. You are the partner of number 5 and defend him(her?) to your parents by saying things like "But we're in love."
7. U write all correspondence like ur texting.
8. You play Candy Crush. Dude I'm totally joking. Just got addicted to that shit last week. However, if you play Candy Crush and send repeated requests for it, you may need to GTFU, realizing that most people with brains do not play stupid candy games on their iPhones. And if they do, they deny the shit out of it. So deny your shit like the rest of us! (for real though, lately, my house is so messy I choose to sit on the couch and wait for more Candy Crush lives as a new form of denial.)
9. When you're angry at a friend, you prefer The Passive-Aggressive Unfollow rather than an actual conversation. Look. Good old face-to-face conversations tend to be more effective than a silent click and seething disdain. While I can get behind the "unfriend" as joyfully as the next guy, if you are going to remain a fixture in my life for reasons beyond my control, can we just talk about our issues directly rather than dance around "follow" lists?
10. Wearing sweatpants with words on the rear.
No wait. Actually I'm not done with the Passive-Aggressive Unfollow thing. You see here's what makes your move childish and infuriating: YOU KNOW THE UNFOLLOW WILL IGNITE A CONVERSATION so it isn't that you don't want to talk, it's that you want to poke me and prod me until I say "Okay, FINE, what is it. Why are you mad? How can I make this better?"
Newsflash: That's what kids do. GTFU.
11. Yelling at check-out people instead of managers. Everybody knows it's not their fault. We're all watching you yell at the pimply faced 18-year-old Target check-out-guy nursing a hangover and general malaise are thinking one thing: "What sort of asshat thinks it's this kid's fault the headphones were marked on clearance and now they're not?" GTFU.
12. You have a beard like this guy.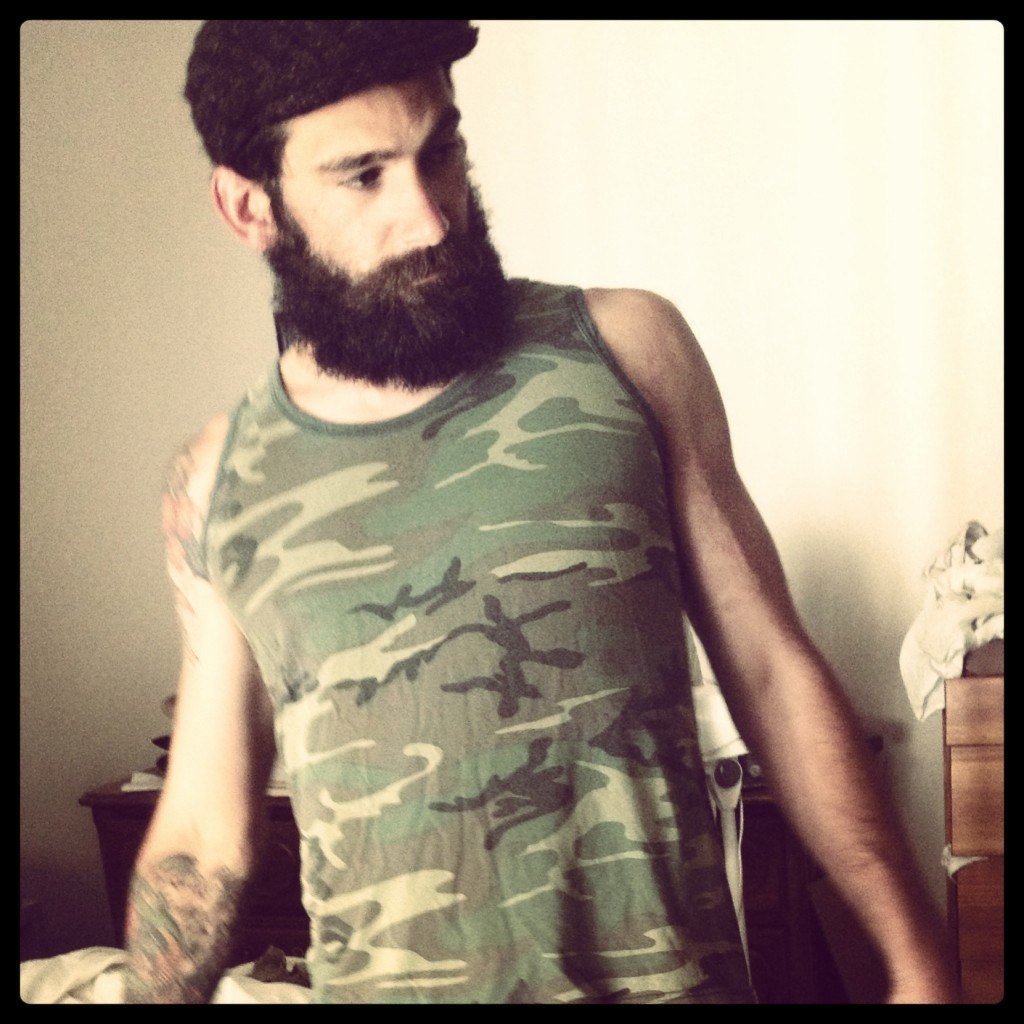 I'm kidding. If you have a beard like this guy, you have reached the pinnacle of manhood. You have no further to go. Stop now while you're ahead. YOU WILL NEVER GET MORE GROWN UP.
13. Judging people's maturity by their facial hair. OH FUCK YOU. It's a reliable maturity indicator.
14. Making duck face in photographs, seriously. 
15. Dismissing entire pieces of writing on account of one typo. Grown-ups have been the asshole, probably on more than one occasion, who suddenly for absolutely no apparent reason emails "there" coworkers and gets a reply from them, reads it, notices the typo in shock and horror, requesting immediately that those same coworkers hold her head in a full toilet bowl until she stops squirming.
Life is no longer worth living.
Okay if you think grammatical errors or looking like a douchebag signals the end of the world, you should probably GTFU, because actual grown-ups have realized we're all douchebags who do the wrong thing, piss people off, and people piss us off.
And rather than pout and freak out and unfollow each other, we can just talk about it, like big people.
Or we can write about it on our blogs, sure the offenders won't see anyway, CAUSE THEY'VE ALL UNFOLLOWED YOU.
OMG
I need to GTFU.
Leave me alone. I'm need to go play Candy Crush in my sweatpants with words on them while I unfollow people who were mean to me on Twitter.
And then I'm going to try to follow my own advice, which would be way easier if I didn't hate advice like a fucking 16-year old.
No but really. The passive-aggressive unfollow thing is super uncool. I stand by that one with every shred of my immature heart.