Occasionally I get a comment or email from some "well-meaning" human explaining to me that I really should stop saying such horrible things about my kids and being a mother because my kids "will read it someday" and it will "hurt their feelings" or "make them sad" to find out their mom felt that way.
And I see this attitude throughout the internet, in comments and articles critiquing those "shit-talking" mamas.
Yesterday I received a comment that encapsulates this perspective so well I have to share the whole thing: "Janelle you are trying so hard. I do wonder though, after reading some posts ( which do make me laugh!) how your children will feel reading them in the future: for example the one about your ' insane toddler' or the one where you admit you hate playing with them. Lots of mum's think this but no one actually says it. You think it's just a vent and no harm done but you can never truly erase things from the Internet. For your children to one day know how you really felt about their childhood is so sad. Please write some more content your kids can be proud of. I say this with love so that one day you don't have a poor relationship with your grown children. They deserve better than that and so do you. Think what you are sacrificing for others' cheap laughs. I hope one day family life will bring you the joy it truly can be. All the best."
Now, I have no interest in criticizing this commenter in particular. We could attack her for being condescending and oddly interested in the life of a stranger (which is all totally true, of course), but what I want to look at is the attitude behind this comment. It's everywhere. She is mouthing a viewpoint deeply ingrained in our society.
And I want to tear this shit down because it's nonsense, and it's ruining futures.
To me, the most terrifying part of this comment is this: "Lots of mums think this but no one actually says it."
Oh, lord.
This ain't good. So what you're saying is: Though many mothers experience the struggles you talk about, think and feel the same way, they have internalized the societal expectation that they SILENCE themselves for the good of their children.
They have learned to SHUT THE FUCK UP because they have uteri and have "made the choice" to join the sacred tribe of motherhood and therefore, they uphold the sacred values of that calling while simultaneously erasing themselves on its behalf.
Erased.
We don't let our kids know "how we really felt about their childhood" because we do not matter.
But check this out, my friend: How is dishonesty and lying and the perpetuation of mysogynistic expectations GOOD for my kids?
How am I doing my daughters and sons any favor whatsoever by pretending reality is something other than it is? Hey kids, join me in this falsely constructed world, because society says it's the way we're supposed to act. Even though it's not true, and WE ALL KNOW IT'S NOT TRUE, we do it anyway…just because!
Haven't you blissed-out mamas ever heard of Sylvia Plath? Haven't you people thought about WHY it is that so many women suffer from post-partum depression, kill their kids, lose their minds, SNAP one day over a batch of gluten-free cupcakes?
And all the family is dead.
Do you ever think your blissed-out bullshit attitude contributes to women hiding themselves in shame as they pretend and pretend and pretend it's all good and right and fun and rewarding…until they can't pretend anymore….and Boom. Done.
They're dying inside. But they can't say a word.
Because they're mothers.
And motherhood is sacred, you know. And they might hurt their kids someday. And they love those kids so desperately they wouldn't take that chance. So they hold on, in silence, with bowed heads and contrite hearts but a fire in their gut that won't stop burning, a red, raging, insane mass — because maybe they've been lied to, or maybe they're the only defective mother in the world – the one who isn't infinitely fulfilled and hates playing Monopoly with her kids and thinks PTA meetings are pits of despair and can't seem to get the house clean and organized when everybody else can..right? She walks around the schoolyard with a smile and a gagged mouth and freshly washed capris, but she pinched her baby that morning. The truth sits like bacteria eating her soul, a little more each day.
But she can't say a word, because it might hurt her kids.
She tells herself she's sacrificing for her children. She holds on with all her might to society's promise that this is what's best for them and they'll thank her someday and they'll be good people in a good world she's made.
But one day they're gone, moved on with their lives and yeah, they love her but now she's 45 or 50 years old and her truth has never been spoken and her life's half over and all those kids don't even know.  They're in a new place but she's just there, STILL. Wondering why, and how it is she was erased just as she was starting to live.
She probably wonders if she could have told the truth after all, and been a little freer, lived a little stronger, maybe helped her daughter who seems to be struggling with the same shit now, but she can't say anything because it's too late now. It's just too late now.
So they both go on, alone, thinking things but not saying them…
You know what? This is HER LIFE TOO and she is a PERSON not a SHELL. She is a PERSON who acts as MOTHER. She is a mother though not ONLY MOTHER.
You've tried to make her "only mother." You've tried to eliminate her.
And you'd sooner see her die than speak her truth.
Well let me tell you something, you fucking rainbow ribbon mamas walking around with butterflies of love flying out your asses: You're killing people.
Not only that, you're delusional. You'd rather live in a fucking fantasy world than face the truth, which officially makes you a damn nutcase.
Put this in your pipe and smoke it: I'm doing my kids a FAVOR by telling them the truth. That way, when my girl has her first baby and feels that death of self, maybe she won't suffer quite like I did. Maybe she'll know she can call her mom and talk to her about the real, the grit, the nasty, raw ugly truth.
And maybe I can help her with the truth of my own life.
Maybe my son will give me a call in 15 years and say "Mom, I think my wife is going through what you did. She won't get out of bed and it's scaring me. She says she doesn't want the baby. Mom, what should I do? How did you get through this? I want to help her."
And he'll have the power and courage and knowledge to face the nasty, raw, ugly, life-saving gorgeous truth. That's what I want to give.
Why?
BECAUSE IT'S REAL, moron. And therefore it is right. It may be harder, but it's right. And it's the only way to become free. Why waste our time devoted to a fantasy? Why waste our lives perpetuating lies, even though we have daily evidence of reality, of the truth? Why do we justify a constant disconnect between what we're experiencing and what we portray to the world?
Is there a faster track to insanity?
Maybe you don't find motherhood difficult. Maybe you love it through and through and it works for you 100%. If that's the case for you, rock the fuck on!
But don't tell me I should adopt your experience even though it isn't mine, that I should lie and cover up my truth because it might "hurt" my kids someday, as if you have some monopoly on motherhood because you happen to be living an American-approved Hallmark movie.
Sometimes I hate motherhood. Other times I don't. How is that hurtful? And even if it is hurtful, who gives a shit?
It's true.
I don't care if honesty is the "best" way to parent. I don't care if telling the truth results in the "best" outcomes. All I know is this: THIS IS WHO I AM.
And I love my kids with every fiber of my being. My love for them pulses like blood through my veins, like the very blood that sustains my life.
And if that's true, which it is, why would I ever doubt the validity of my occasional loathing for them? That's true too, and it's happening in me, and I'm an alright human who loves her kids.
It isn't wrong because I'm not wrong. I am a human being with a good heart and strong mind, trying my best in a world I barely understand and I'll tell you right now I would give my life for my kids. Since that's true, I have nothing to prove.
So why would I shirk from the REST of the truth? Why would I admit the loving part but deny the rest?
Because I'm scared? Because I think it's wrong? Because it would break my grown children's hearts and souls to know their mama loved them desperately AND occasionally considered launching herself into oncoming traffic to escape the sound of their bickering?
No, that can't be it, because, hmmm…
OH YEAH THAT'S RIGHT.
It's exactly how they feel about their fucking children.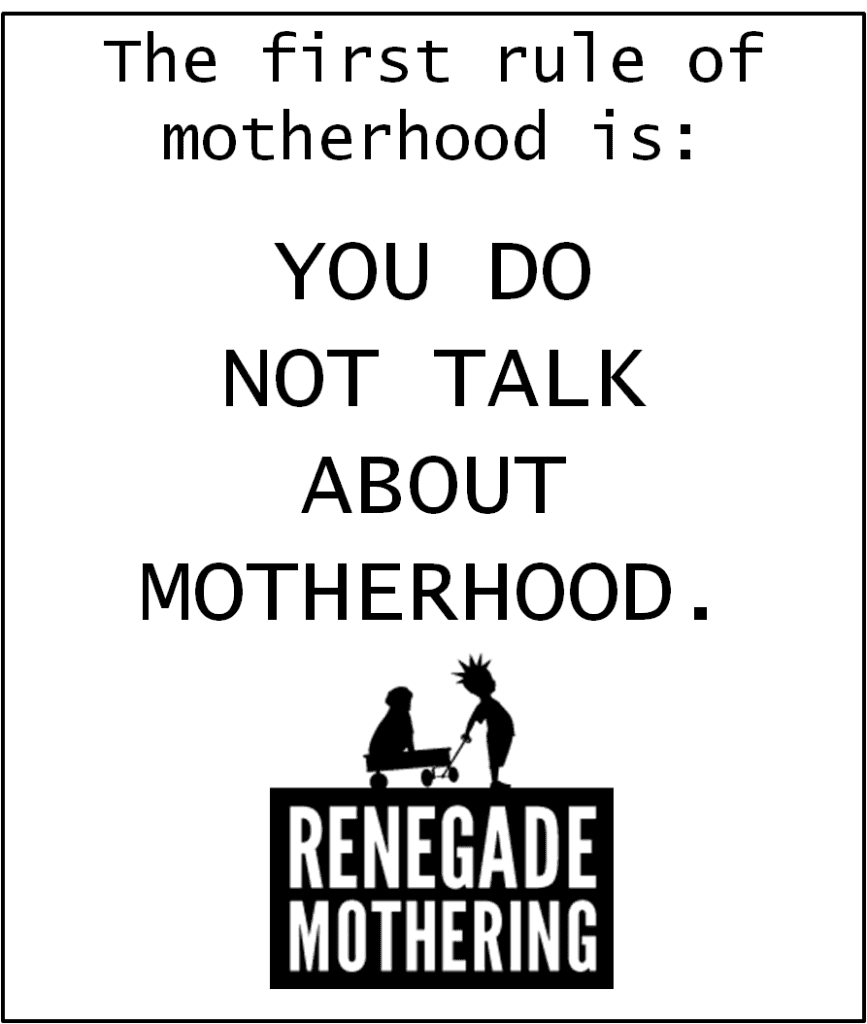 more stuff I shouldn't have said out loud: