Alright. I'm gonna let something outta the bag. I hate homeschooling. No, rephrase: I hate homeschooling at this particular moment of my life with the particular arrangement I'm facing.
Allow me to paint a picture for you.
It's 8am. I have just dropped older kid off for school. We are now home. I have managed to feed the kids, get them dressed, have a cup of coffee and we are ready to start homeschooling. I excitedly tell Rocket "Okay, it's school time!" There's so much enthusiasm in my voice I make myself nauseous. But I want him to feel excited. He looks at me with disdain and BEGS me not to make him. He whines. I tell him "We're gonna have fun!" His body contorts into a position that speaks his mind "I'd rather die than do homeschool with you, woman."
"ROCKET. NOW."
He reluctanctly rises. We go into the homeschool room. He's dragging his toys. I make him leave his toys. He puts them down and kicks them. They knock something over. I get annoyed. Georgia is stomping with her standard frightening determination.
Georgia goes straight to the work table, climbs up the only chair Rocket will use and begins chucking things off the table. I move her, try to entertain her with one of the SEVENTY-FIVE FUCKING THOUSAND other toys in the room. She has no interest in them. That's because she's 20 months old. She must be with us. Near us. ON US. I know today is going to be like every other homeschool day – HELL.
We sit down. He rolls his eyes. We get the books out. We work on our letters. Every step, every activity, every moment feels like dragging a loaded wheelbarrow through knee-deep mud in the pouring rain. He resists everything. The only thing he wants to do is science projects. We can only work in 5-minute intervals because he can't focus longer than that on shit he doesn't care about (if one of you tells me he has ADD I will in fact HUNT YOU DOWN).
And while he's resisting, while he's ignoring and flailing and daydreaming and fidgeting and selectively listening and zoning out…Georgia is going batshit crazy. She's climbing up my lap and tearing things off the table. She's scaling his chair. She's biting his knee. She's pulling the trash can on her head. She's drawing on the dollhouse with permanent marker. And if I divert her? She's screaming.
So I have this kid who would rather stab himself in the eye than do schoolwork and this toddler who would rather stab him in the eye too, and neither of them are budging and the moments are crawling and we're making no progress and my patience is waning and I'm trying to keep a 6-year old engaged and a toddler away from him and not dead and I am failing on every front and putting out fires as they come. and BOOM! One minute I blow. I can't fucking take it.
I walk out to breathe. I walk out to gather myself lest I run full-speed out of this damn house FOREVER and quite possibly, into oncoming traffic. But we've only got two hours because in two hours I have to leave for class or work and I've got papers to write and classes to prepare for or maybe a conference call and oh yeah, a shower to take. OMG it never ends. I have to do this. I don't have time to do this. I don't have TIME TO DO THIS.
And yet, I must do this. I committed to do this.
I think I made a mistake.
I'm not cut out for this homeschool thing. I think that's the truth. I think I could do it if I weren't in grad school and working, if I could do it in the afternoons when Georgia naps – if homeschool/home-making is all I did.
I feel like I failed my son. Like I made him a promise and broke it. Like I thought I could serve him well as his teacher but I just could not. And now I've wasted his time and mine and my heart is breaking, as usual, with that feeling of remorse for letting time pass and not quite cuttin' it.
It's breaking because I already miss it. And yet my GOD I won't. We only have a couple months left. He'll be going to regular school in the Fall. And I KNOW that as I drop him off each morning I will miss him, miss him hanging out, missing him by my side. Miss him.
But there is this thing I try to live by called "honesty" and sometimes it requires facing some facts about yourself. What I'm facing now is that I'm not a good homeschool mother.
In the interest of honesty, though, I gotta admit, there is one area I haven't failed in. And that area is fun. We've gone to 10 plays together. We get discounted tickets through his charter school, and we haven't missed one.
And so we've gone together, just he and I. And he sits on my lap through the whole thing and we watch theater and we laugh and I kiss his head and ruffle his unruly curls.
And I love the time I've had with my son. And I'll never regret it. And someday I'll accept that old saying, that old truth that feels like a copout until it fully sinks in, the honesty of it, the truth of it…that I did the best I could.
And maybe, inside, deep in his little soul, he knows it.
And he'll remember moments like these…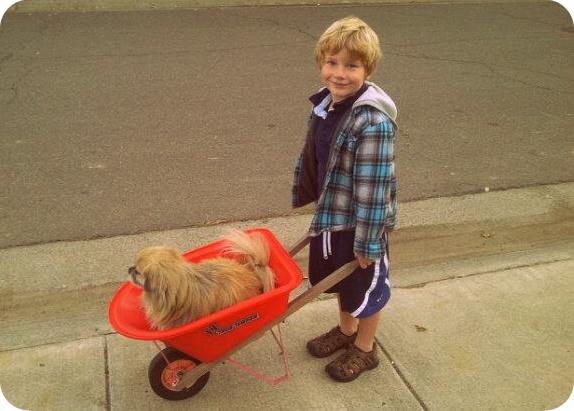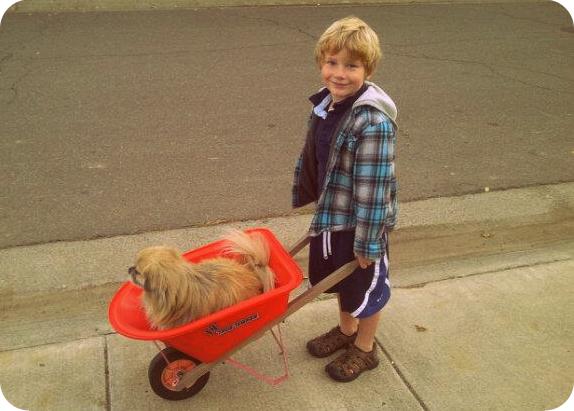 xo
more stuff I shouldn't have said out loud: