I'm a real blogger now.
Know why?
Because Courtney at JudithShakes Designs created for me a real blog and a real logo (and, therefore, a real identity). Thanks, Courtney, for that.
Not only does the woman [obviously] create badass websites, but she has a brilliant wry sense of humor, an approachable, totally not annoying communication style, and I'm sure if she didn't live in whatever god-forsaken humidity-ridden state she's currently residing in we'd totally be BFFs. Or some bizarre derivative thereof.
And not only that. I also have a Facebook page – you can also get there in the LOGO – how rad is that? (And I'd really really like it if you'd like me. Please like me. I need you to like me. I'll die if you don't like me. I'll camp on your front lawn and weep until you like me. (I'm practicing my codependent routine. How was it?)).
Okay but seriously I only have 29 "likes" – kinda pathetic, especially considering I KNOW I have AT LEAST 33 readers.
Ha.
And you can follow me on The Twitter – (oh hells yeah I have a custom one). I go on The Twitter occasionally to say really profound shit in 140 characters or less. Actually it's more like 136, since 4 are automatically taken up with the F word.
Or you can subscribe. Since I'm a real blogger now you probably feel compelled to subscribe or follow. No worries. Just go with that.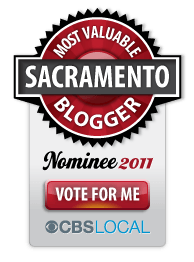 Also, since apparently when cool things happen they happen all at once…my new best friend nominated me for CBS Sacramento's Most Valuable Blog Award…please vote for me by clicking the badge on the left or THIS LINK. I'll owe you my life. Apparently you can vote every day. That would be totally fine with me.
And… I'm done with the shameless self-promotion. You'll never ever see it again.
I lie.
But seriously, what do you think of the new digs?
P.S. If you hate it, I'll tell you it's fine and that I appreciate the feedback while simultaneously planning ways to quietly destroy you. (That's my passive aggressive codependent impersonation. You like?)
more stuff I shouldn't have said out loud: