I sat on my porch last night with my husband, Mac, and we talked about the twenty-seven people murdered during church yesterday.
"Did you hear that the pastor's 14-year-old daughter died? Her name was Annabelle," I said.
"No. Fuck."
"And the dad wasn't there. He wasn't there to protect his child," I said, and Mac looked away. "He wasn't there to throw himself over his baby to take that bullet."
His eyes brimmed with tears. I looked up at the moon with a couple fucking tears in my own eyes. Seeing him cry does me in. I suppose we were thinking of our girl about that age, fifteen, or any of our babies, really, or the eight-year-old boy who took four bullets in that church.
And being denied the chance to even try to save them.
The moon over our porch was ridiculous. An irrational brightness with barely a sliver gone, illuminating the back of a broken sheet of clouds, its face hidden in gray then bursting out between puffs of white.
Look at me, it seemed to scream. I'm the brightest shit around. 
"If you look at that moon long enough," I said, "You can almost forget we live in a country where twenty-seven people are murdered while praying to God at church."
You can almost forget that it happens so often we perhaps barely care anymore, that people believe the solution is to arm more people.
More guns.
Arm the grandmothers in the chapel. Arm the schoolteachers. Arm the fathers and mothers and teenagers. Get 'em all guns.
You can almost forget the insanity of that prospect, how humans insist on methods of mass destruction even though each of us is here for 80 or 90 or 100 years at the most, if we're lucky, and then we're gone into the ground for the rest of the time the moon keeps shining, and still we can't agree to try our best to let everyone live those years.
We make guns that rapid-fire so we can kill more humans. And we make shit to add to the gun to kill even more humans.
More. More. More humans.
You can almost forget that we've made nuclear weapons that could destroy every country on earth five or ten times over or whatever that statistic is (does it matter past once?), and this is in defense of arbitrary borders over stolen lands, stolen through the blood of people. Blood that could have run 80, 90, 100 years.
I guess we've always been like this.
I get it. I'm not a fucking pacifist. Maybe I'm a fucking pacifist. We need protection from the Hitlers and Mussolinis and manifest destinies. We need to protect our nation. Sure.
But really, if you pull way, way back, all the way back past the moon and into the void, it's really fucking insane that humans can't even agree on continued survival. We can't even agree that nobody wants to die in mass bloodshed. We can't even agree it's a bad idea to create weapons that would destroy the entire planet in war, as if total annihilation is "winning."
We aren't the sharpest tools in the shed.
I grew up around guns. People very close to me are proud gun owners. I fired a shotgun for the first time when I was about twelve, off the deck at my grandparents' house. The kickback knocked me on my rear. My dad and uncles laughed, as did I. I felt cool, like one of the guys.
I grew up with John Wayne and Clint Eastwood. I grew up with Jerry Garcia and Bob Dylan. The gun owners in my life loved all four of those men.
I lean deeply toward the latter.
When I think back, and imagine it now, the gun doesn't feel American in my hands. It doesn't feel patriotic. It doesn't feel like freedom. It feels like cold metal filled with other metal that shreds muscles and stops hearts and shatters bones.
It feels like metal that kills some people and earns other people astronomical amounts of money.
But I get it. I get the "culture."
I get the mighty power an AR-15 offers, and how "cool" we feel firing weapons. So badass. So edgy. Gun culture. Whee.
Manly as fuck, you know. Real tough broad shit. The people in my life don't act like that. They don't flaunt their guns. They don't post pictures of themselves on Facebook with rifles and smirks to show how tough they are.
Even still, I only "get" gun culture in theory. I understand because I've seen it, but it's never felt like freedom to me, like love or life, like something to frantically protect.
A weapon for civilians that kills fellow civilians faster.
Huh.
After Sandy Hook, when dozens of first graders were mowed down in their classrooms, maybe sitting on their squares on the carpet, singing a song, brushing paint across rolled up paper, or at their desks practicing the letter "B" – when dozens of first graders can huddle in a room wide-eyed and crying while teachers hush them in a last sad pathetic attempt at life, to only bleed anyway on the carpet squares beneath letters the shapes of zoo animals on the walls – when those babies can die and not a goddamn fucking thing happens, nothing will ever happen.
Mac and I talked about that too. How there's nowhere to go from there.
Maybe we just give up.
Maybe we accept America will become some robotic zombie dystopian hell where we all carry guns and simply shoot each other at random to get our way. Like California before it was in the union, maybe.
If we take all the guns away, will it work?
Call my fucking representatives, but do they care?
I haven't the money of the NRA.
I lived in a nation once with strict gun laws. Spain, specifically. It was lovely. I felt four-hundred-and-fifty times safer.
But maybe we have too many guns in America.
Maybe it's too late for us.
Maybe we should try.
On my wall, I have a quote from Ursula K Le Guin that says, "We will need writers who can remember freedom. Poets, visionaries – the realists of a larger reality."
I suppose she means the freedom to sing to God without dying. Freedom to dance in sweat and moonlight, to stay alive in a high school, college, or first-grade classroom.
The faces of those babies.
They say more guns.
The insanity makes my head spin.
I take to the page to remember freedom.
Maybe the moon will be less bright tonight, but it always comes back in its brilliant indifference.
It's up to us to listen.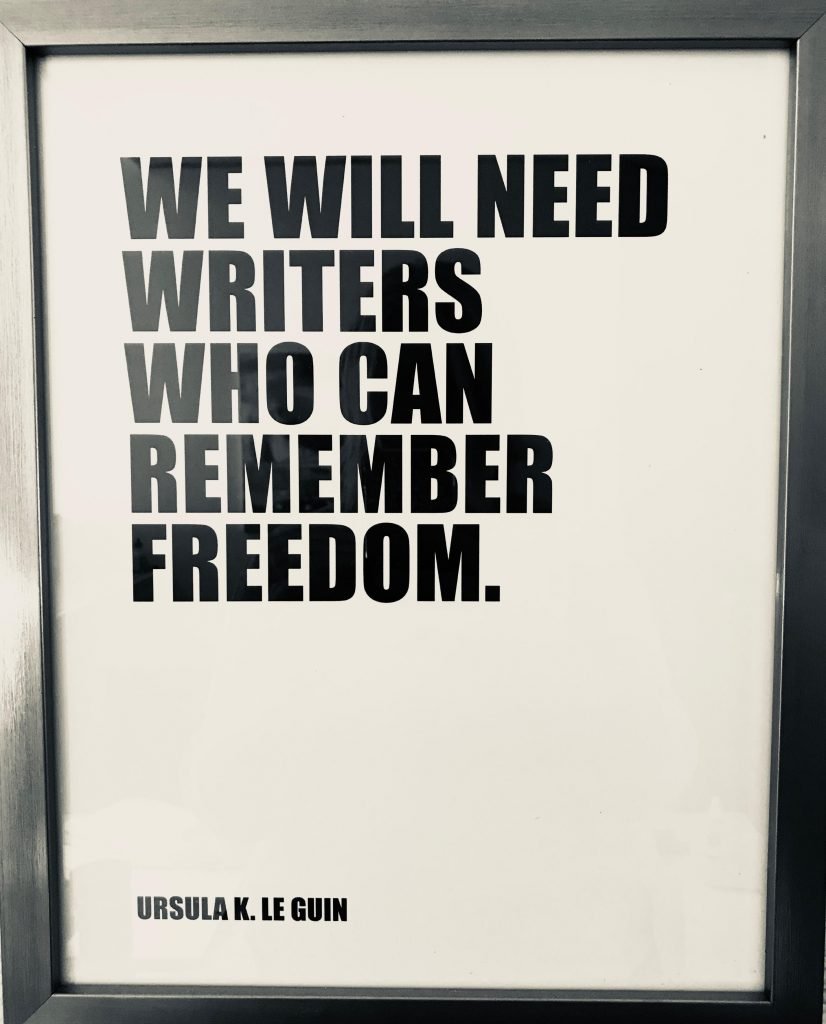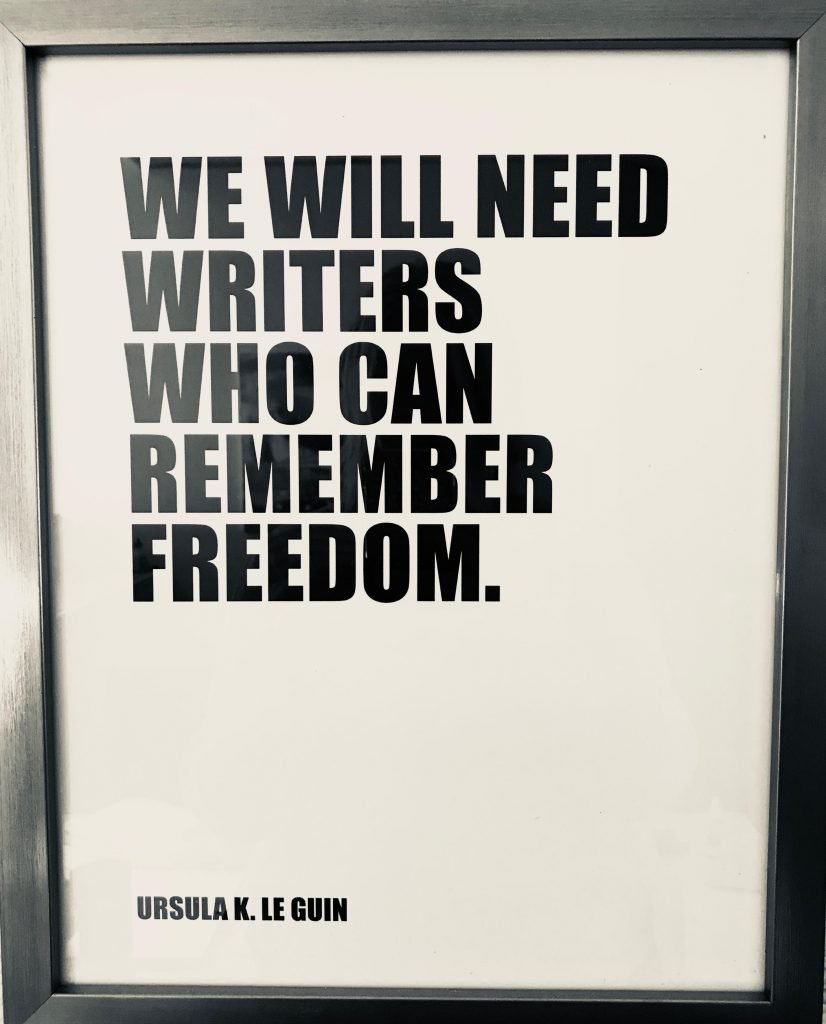 more stuff I shouldn't have said out loud: