A writer recently asked me how I handle assholes on the internet.
And I'm really glad she asked, because after six (nearly seven!) years of blogging, I have finally perfected the craft of polite, professional maturity in the face of trolls who don't read the post then call me "fat and ugly" just to be safe.
Or, do read the post and call me a "sad specimen of goat feces" who they hope "gets eaten by vultures." Vultures don't even eat feces, you fucking moron.
Sorry. Lost my maturity there for a second. This rarely happens.
Anyway, generally when I come across a comment that sends my blood rushing to the top of my head, where it swirls in incredulous shock and malaise, I click off of it and tell myself I shall ignore it like a mature professional adult.
I remind myself of all the other bloggers on the internet who get eaten alive by comments and don't respond at all and I tell myself "You can be like them, too, Janelle!" You can do it! You're a real grown-up now.
Then I click back over to the comment and reply, "I hope you die in a fire."
After that, I may delete it but I don't edit it because I don't want the commenter to know how much their comment bothers me. If it's been more than five minutes, I don't delete it because then the commenter will know I wrote something then deleted it, which means I don't stand by my word and am weak and afraid. Or maybe they'll call me out on deleted comments, which means they got the better of me.
Then I remind myself that the commenter HAS ALREADY IN FACT GOTTEN THE FUCKING BETTER OF ME BECAUSE I AM SITTING HERE OBSESSING OVER HOW TO RESPOND TO A COMMENT THAT SAYS, "I'm glad California is burning because of all the gays and I hope they learns and than stop blocking Trump from MAGA!!!!!!"
If I leave the comment, I swear I won't return because now I have re-doubled my maturity efforts and I'm sure they'll work this time.
I take a screenshot and send it to 2-17 friends.
Then I go about my life until a few hours later, when I see a notification from Captain MAGA. I think No don't look.
Then I look.
At that point, I either:
Ignore it (this happens twice a year);
Respond with a GIF which satisfies a little bit of my desire to have the last word while also allowing me to bow out of the conversation; or
Actually attempt words, then regret it immediately.
Sometimes, when I'm really feeling on top of my game, I unfriend and block the person then tell myself "I really should be more mature about thing," and remind myself that someday I'm going to be 90 years old (hopefully), and I will most likely look back at the whole days irate at some stranger in Idaho as something along the lines of "a waste of time."
Not that I spend whole days irate.
I definitely do that.
But I've come super far, guys. When I first started blogging, I used to spend 13 hours carefully crafting the perfect rebuttal to trolls, and I'd keep riding that train for hours or days, way beyond the point at which it became clear this person and I were FOR SURE NOT GETTING ANYWHERE EVER.
No worries. I would not be deterred. I was a motherfucking keyboard warrior.
It would end when I blocked them because I'd be like "This is my blog and YOU LOSE!"
Then I'd go back to wishing I were a real adult.
I was so ridiculous about it, I even had older, more seasoned writers EMAIL ME OUT OF THE BLUE to let me know that instead of responding to 37 randoms on the internet who hate me, perhaps I should just move on to my next writing project.
You know, for funsies.
I literally had a "talking to" by writers I know. GO TEAM.
After that, I only spent one hour shit-slinging with trolls I'll never meet.
And now, I'm down to like fifteen minutes, and sometimes even respond to asshole comments with a semblance of patience and tolerance.
That also happens twice a year.
You know what we call that, people? Motherfucking progress.
Baby steps to maturity.
Also known as, who fucking cares. 
Speaking of maturity, I just spent 45 minutes making an infographic.
Have a nice day.
Super Scientific Maturity Data Analysis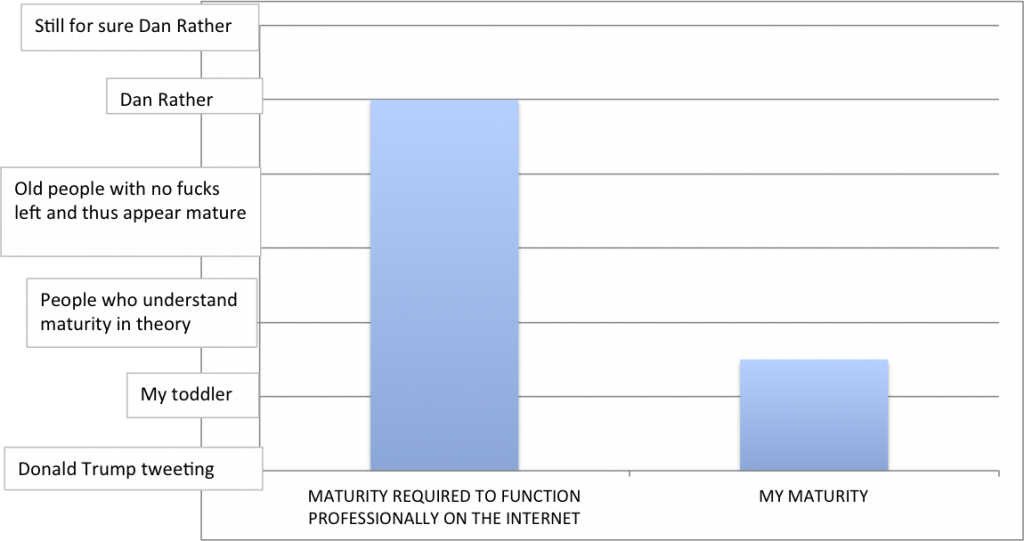 P.S. Fine. What I've actually learned after all these years is that the only thing that matters is that we keep going. With our words, our work, our art. And that, I fucking mean. 
***
Check out sponsor Meg Worden. She says cannabis is the new kale.
Perhaps that would help my maturity.