On the day your daughter turns sixteen, I suggest you not look at photos of her when she was four years old, sitting on the sand in Mendocino, with her belly covered in sand and poking out all big and toddler.
I suggest you not scroll through photos of her wearing dish towels as a rockstar dress, attached with chip clips, using a wooden spoon for a microphone.
I suggest you not observe the Tinkerbell tulle outfit of her 5th birthday, or the photo of her and her newborn brother that same year, with a caption that reads, "She's telling everyone "I have a brother named Rocketship and I'm so much cuter than he is.'"
I suggest you utterly refuse to look at the hallway wall, where you see yourself at twenty-three wearing a blue bandana with your baby face pressed against hers, grinning on the front lawn as if there were so many years left.
And don't look at the one of her holding her baby doll in the big puffy jacket on the first day of preschool, for you may remember the two years you were apart shortly after that, because somehow the dish towels and tulle and big toddler belly weren't enough to treat your alcoholism.
And don't look at the time when you were reunited, when she was seven years old and you were thirty and life rolled out in one miraculous trick of the universe.
Look at us, here again, on the lawn, together, with nothing to stop us now.
And don't look at the first day of junior high when she was twelve, and you knew what was coming but you said, "It's okay, I have six more years."
Don't do any of that, and don't look at next year, when she'll be driving and a junior in high school, and probably working, with one year left.
Don't look at two years from now, or think how they fly, how they mock and tease, racing by your face pressed against hers.
Don't wave. Don't try to grasp them like a goddamn fool.
They're already gone.
Don't think about the last Christmas she'll be here, or bringing her home for Thanksgiving, or phone calls instead of daily chats on your bed about grades and teachers and annoying acquaintances.
Look instead at the morning around you now – the way you woke up with your toddler in his Peppa Pig pajamas and said, "You know what day it is? It's Ava's 16th birthday! Let's go sing to her!"
And you walk out holding hands with that toddler and stand on a stool to sing a soaring, horrific operatic version of Happy Birthday that makes all the kids laugh, and when you're done, you look at that teenager and say, "How was that?"
And she says, "Nearly brought me to tears, mama."
"Ya really felt that one in your bones, right? Right in the soul?" Say that, and give her a hug, her body that's as tall as yours now.
Look as hard as you can at the waffles you made her for breakfast, and the gifts you'll later wrap today, the special chicken she requested for dinner and the cake you'll top with candles.
Listen with sixteen years of grace to the sound of her voice playing dolls and monsters with her younger siblings, a sound you wondered about when she was still in your belly, and it seemed you had forever.
What will it sound like, her voice?
It will sound like this, Mama.
Hold on to that. And listen.
The years aren't gone. They're in my hands, and hers.
Sixteen years.
Sixteen years.
Maybe that's why we cried the day she took our picture, for no reason at all, it seemed – because there's so much in the touch of our faces, and now, perhaps we see, just as much in the space between.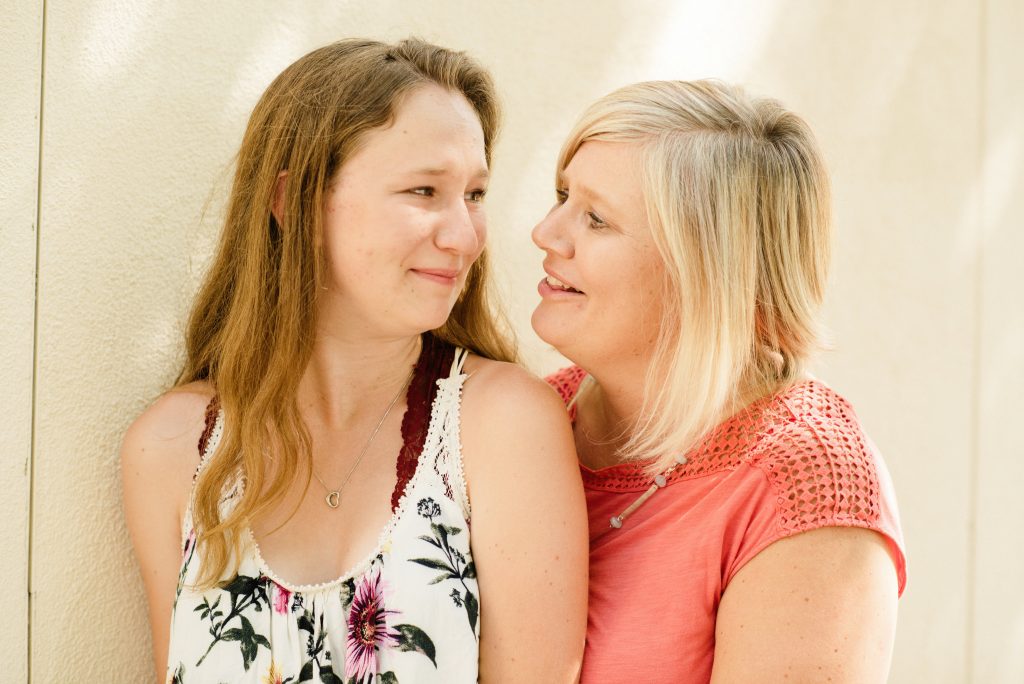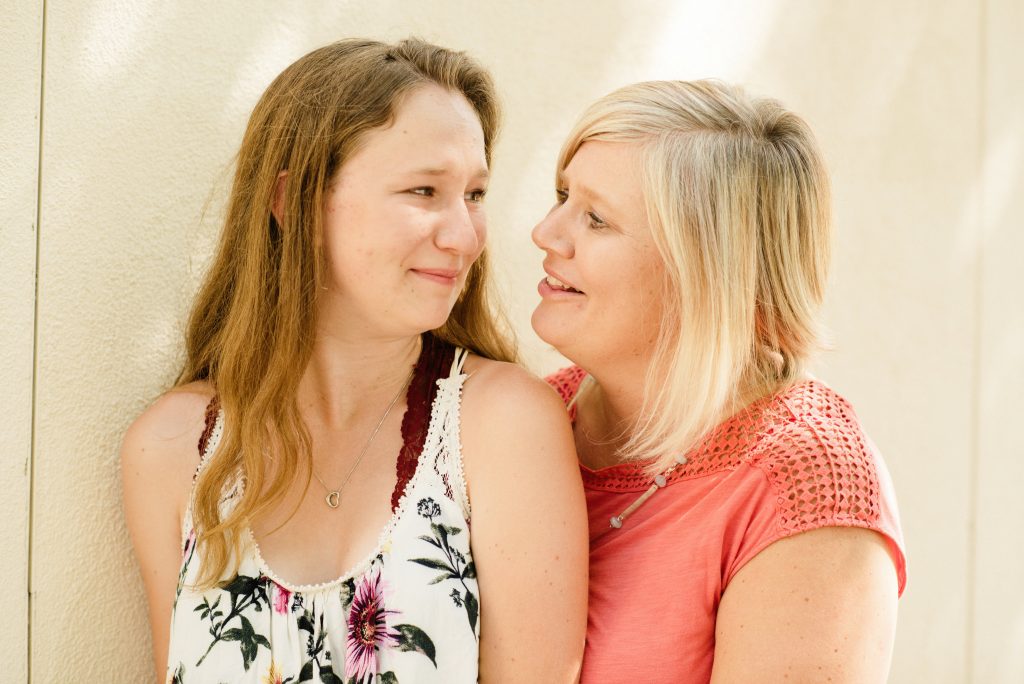 more stuff I shouldn't have said out loud: