Okay, I tried. I did. I grasped my tongue. I held it tight.
No really. I did. I can do that. I've done it twice.
In my life.
When I was ten.
But I can't any longer. My fingers are getting tired.
Can we just talk for a minute about some of the clothing made for young girls? Can we? Please? Thanks.
Let me just start this off with some obligatory save-my-ass caveats: 1.) We all have different taste in clothes; 2.) My taste, in general, sucks; 3.) I do not have anything against bows; 4.) I don't judge you for how you dress your kid.
That last one was a lie.
If you dress your kid in any of the following garments, I will judge you. I will tell myself to stop judging you, but I won't be able to help it. I will wonder what is wrong with you. (But I will keep it inside, then write about it on my blog.)
Just keepin' it real.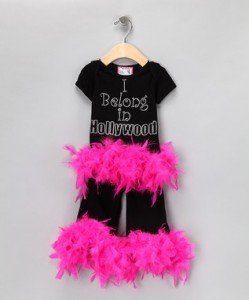 Your daughter belongs in Hollywood? Really? She "belongs" in a narcissistic, drug-laden, cut-throat cauldron of materialism, sex and exploitation? AND, have you even asked her that question? Have you asked her, "Honey, would you like to be in Hollywood when you grow up?" What if she wants to be a neurosurgeon? What if? What if she wants to join the army and shoot people? Before you go dictating where your daughter "belongs" in the world, you might want to wait until she has at least a say in it. Just a thought.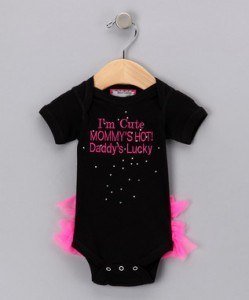 Better said: "I'm cute. Mommy's a self-appreciating ball of idiot using her child as a walking ego-boost. Daddy's fucking his secretary because his wife's a moron."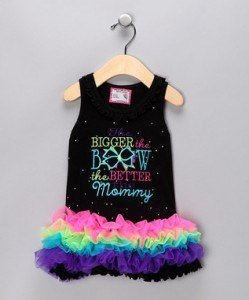 Yes. Exactly. One of the profound universal truths of life: The Bigger the Bow, the Better the Mommy. It's all about bows. You can be a crack-smoking prostitute AND AN EXCELLENT MOTHER if you put a big enough bow on your kid's head. Or your own head. Come to think of it, there's a lot of ambiguity there. Are they referring to the mother's bow or the daughter's bow? And if a mother is wearing a giant bow, won't people wonder if she has some sort of disorder making her think she's seven years old? And, if this is true, I really wish I would have known it sooner. Really would have saved me a lot of guilt, effort and worry. I mean if all I have to do to "be a better mommy" is use "a bigger bow…" shiiiit.
(have you ever heard anything so stupid? Freaking bows.) P.S. It's not the bows I have a problem with, it's the idea that motherhood can be defined by the SIZE OF ONE'S BOW.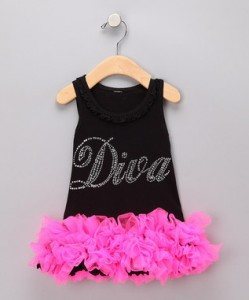 How in the hell do you look at your sweet, innocent baby girl and say to yourself…"What I see in you, little one, with your chubby legs and innocent eyes…what I see is a "DIVA." I see a future pop music star. I see somebody up on stage gallivanting in sparse clothing, rocking coliseums and making men drool. Maybe back in the day the word "diva" just meant "a successful female opera singer," but today that word is all wrapped up in sex. Interwoven with sex. Inextricably connected to sex and the objectification of it, in the form of the female voice and body. How are you going to slap that label on your little girl? HOW?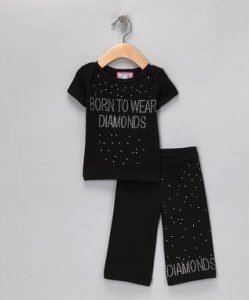 Aren't we all? Isn't that pretty much why we're all born? Just to "wear diamonds?" Is there anything more important in life? No. No there isn't. And how do you get those diamonds? By becoming a DIVA, obviously. (Or marrying somebody for their money because though you "belong in Hollywood" you never quite made it and therefore must acquire The Meaning of Life (diamonds!) by selling your life (and your soul) to some man who can provide). Aim high, I always say.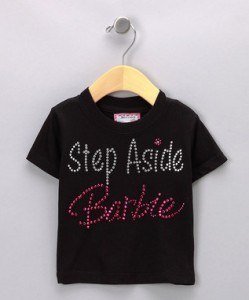 I think this one is my favorite. "Step Aside, Barbie." BARBIE. The most controversial "girl" toy in the world. A FUCKING PLASTIC DOLL. A plastic doll with perfect features, an endless wardrobe, large houses, fancy cars, hot men, a permanent grin and high heels… AND NO BRAIN. No brain! Just boobs (and a supernaturally tiny waist). Yes, isn't that our greatest dream for our little girls? That they become PLASTIC? That they become BRAINLESS? That they become mere shells of individuals, perfect in every physical way, perfect in their sexiness, and perfect in their mindlessness?
My dream for you, honey, is that you will take the place of BARBIE when you grow up.
Step aside, Barbie.
My daughter's a-comin'.
And she doesn't get to chose what she wants for herself. She doesn't get to wear clothes she can play in. She doesn't get to THINK about what she wants to be.
Because I've already decided all that for her. She is a diva. She belongs in Hollywood. She was born to wear diamonds. She will be the next Barbie.
And when you're 7 I'll start dressing you in mini-skirts and heels. When you're 9 we'll start on make-up. At 12, oh boy! At 12 we can do fake nails, bikinis and halter tops! Won't that be fun! And when you're 17, my dear, I'll get you your first boob job so you really can someday take Barbie's place.
Now come here, honey, put on this bow, so everybody can see how much I love you.
It's bullshit, I tell ya, the crap they make for little girls. And they are forced to wear it.
Before they can even object.
more stuff I shouldn't have said out loud: