The problem with writing these posts on Sunday is that I really can't remember what I did on Monday or Tuesday or, come to think of it, Wednesday through Friday. So I sit down and reflect and all I get is "I did busy stuff, like I do every week."
A few moments always stand out, however, like one I had at the gym a few days ago. I was on the elliptical alongside my friend and we were chatting (which so vastly improves cardio workouts), and suddenly this angry-looking female on my right taps my arm. "Will you lower your voice, please?" She said it with a glare and a really disgusted voice. My initial thought was "fuck you Satan," but I didn't say that for fear of getting kicked out of the gym. So I stared for a moment too long and mumbled "whatever," then proceeded to increase my voice level at least two octaves.
This is bad behavior. I would get mad at my kids for such behavior. But she was JUST SUCH A BITCH. She glared at me for the duration of my workout. My friend (being significantly more reasonable than her companion), suggested we relocate. But I didn't want to. That would ruin it.
Next time I'm going to ask myself WWJD? and turn the other cheek.
Speaking of assholes (the woman, not Jesus), I'm gearing up to write a blog post about what turns kids into bullies. In the past two weeks both my kids have been subjected to horrible bastard children (Ava has been straight sexually harassed at school – don't worry. I REGULATED), and I've really started wondering what it is that turns kids toward that kind of behavior. I mean my kids are annoying, and often misbehave, but they are not MEAN. They are very, very far from mean. Ya feel me? Totally different deal.
Have you ever noticed men don't use windshield wipers? I find that odd. I always have to tell my husband "dude. Water all over windshield. WIPERS." I thought it was just my husband, but via a friend's FB post, I have since learned it's like a male species problem.
We currently have two cats, two guinea pigs and a dog. How the hell did that happen? It's like a fucking menagerie in here. Damn cute furry things. Get me every time.
Yesterday I was assaulted by a childless judgmental female wonder. Our conversation went something like this:
Childless wonder: "Hi Janelle, I remember you from grad school last year."
Me: "Oh, hi!"
[Bunch of banter about whatever, leading to this]:
Me: "Well I have three kids so I'm super busy and tired. Plus I'm still in grad school and I work part-time as a consultant."
Childless wonder: "Wow, three kids?! That's a lot."
Me: "Yes. Yes it is."
Childless wonder: "What does your husband do?"
Me: "He's an ironworker and he works on his father's ranch."
Childless wonder, with fifteen layers of insinuated judgment: "And you can afford all those kids?"
[And here I begin realizing I'm talking to a smelly pirate hooker.]
Me: "Well, yes, sort of. I mean, we eat and wear clothes and stuff."
Childless wonder: "Huh, yes. But sending all three of them to college will be difficult. You aren't having any more are you?"
Me, with palpable sarcasm and disdain: "Yes, yes we are. We are having as many kids as possible. You see, the more kids we have the more we get from the government in the form of welfare and food stamps and medical care. My goal is ten."
And then I walked away.
Next time, I will ask myself WWJD? and turn the other cheek.
But she was JUST SUCH A BITCH.
Here's a picture of one of the kids I [apparently] can't afford. He probably would have behaved better. No, for sure he would have. When the bar is low, success is pretty easy.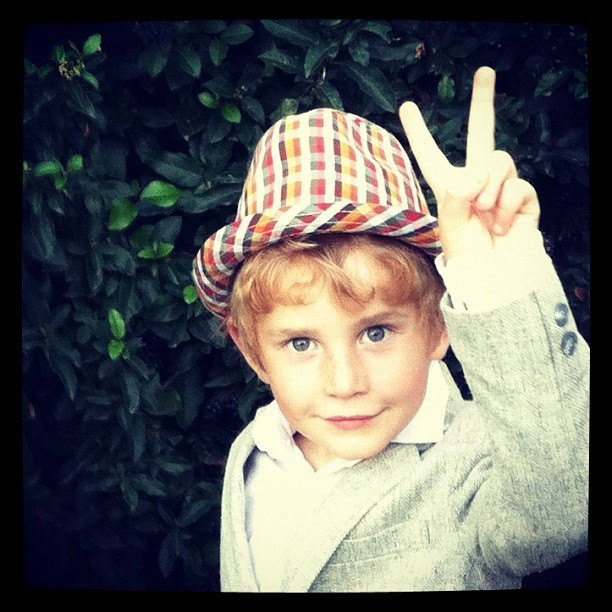 more stuff I shouldn't have said out loud: