Ava came home the other day with a sheet to sell cookie dough as a fundraiser for her school. She told me about it. Here's what she said: "Mama, the school wants me to sell cookie dough. When my teacher handed me the sheet I raised my hand and asked 'how much of the proceeds actually go to our school? You know, cause I don't want to sell my family something that's just going to make money for some company with sweatshop-like working conditions.'" Then she says "I'm probably the only 5th grader asking these questions, but I don't care, because I think they're important questions."
I'm sure her teachers adore her. No really, I'm sure they do.
Is it weird to have that sort of skepticism at 10 years old?
I don't understand those "baby on board" signs people put in cars. Every time I see them I'm like "So glad you let me know, because I was just about to ram into your vehicle. Now that I know there's a baby on board, however, I'll pick somebody else."
I think there's something wrong with my brain.
Speaking of something wrong, does anybody else have a son who pretty much cannot accomplish a ten-second task without getting distracted, possibly by something existing only in his brain? You know, like getting in the car. I swear to you my son gets distracted from the time he opens the car door until he sits down. He's just standing there with the door open and I'm like "Rocket! What are you doing?! GET IN!" And he's like flicking something off the handle, or staring at the ground, and when I yell at him he looks at me like I rudely snapped him out of a deep important revelry. More on that later.
My insomnia is back. I wake up every morning around 3:45. I could get up and  do something useful, but I seem to prefer to lie there miserable wondering why I can't sleep and wishing I could either sleep or die. Sometimes my preference for the former is miniscule. Such good times.
Oh, yeah. Rocket turned seven yesterday. I only cried about 5 times. For some reason I always have a tough time on his birthday, I guess because I got really sick with alcoholism almost immediately after her was born, so I was basically absent until he was nearly 4 years old. I try to forgive myself, move on, live in today, but the remorse sits like an old friend in my soul, all the time, and it rages when his birthday comes around, reminding me with perfect clarity of the birth of my beautiful son, and my joy at his arrival, and my prompt inability to be there for him. Last year I wrote this post on his birthday. At least I'm doing a little better than that.
Anyway we had a party for him on Saturday. Despite my attempts to urge him away from said party ("Rocket, let's go to the beach!! Wanna go to the BEACH!? The BEACH would be amazing! I love the BEACH."), he insisted on the party, so I made it happen. About 9 kids showed up from his class. Seven of them I had never met. It was a good party, I think. The painted pots went well. Also, as I mentioned on FB, I had a revelation: My kids are not that bad. No really, I mean it. There are some fucking terrible children in the world. More on that later, as well.
And so, here we go, my son is seven. Another year gone by, little man. Another moment I must accept, of a boy getting bigger, growing up, telling me things like "I liked being six. Six was a good age."
He wanted a cake with monsters and flowers. [I die, people, from this cuteness.] Since Ava, my mom and I have been taking a cake-decorating class (WHAT? You didn't know I'm Martha Freaking Stewart? Well, now you do. HA.), I was able to make a cake, frost it, and add monsters and flowers. (He stuck them on.)
I was, in short, relatively impressed with my skills. Okay fine. OUR skills.
But still. I made the damn monsters.
I love you, Rocketship Rock On.
And, the boy…on his second birthday. I know it's old, but I've always loved this photo…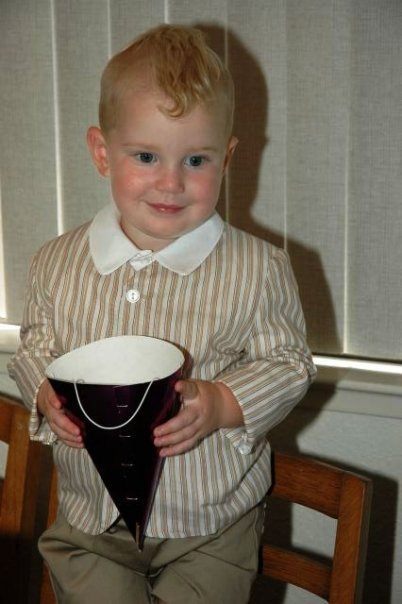 Alright fine. Here's more what he's like now…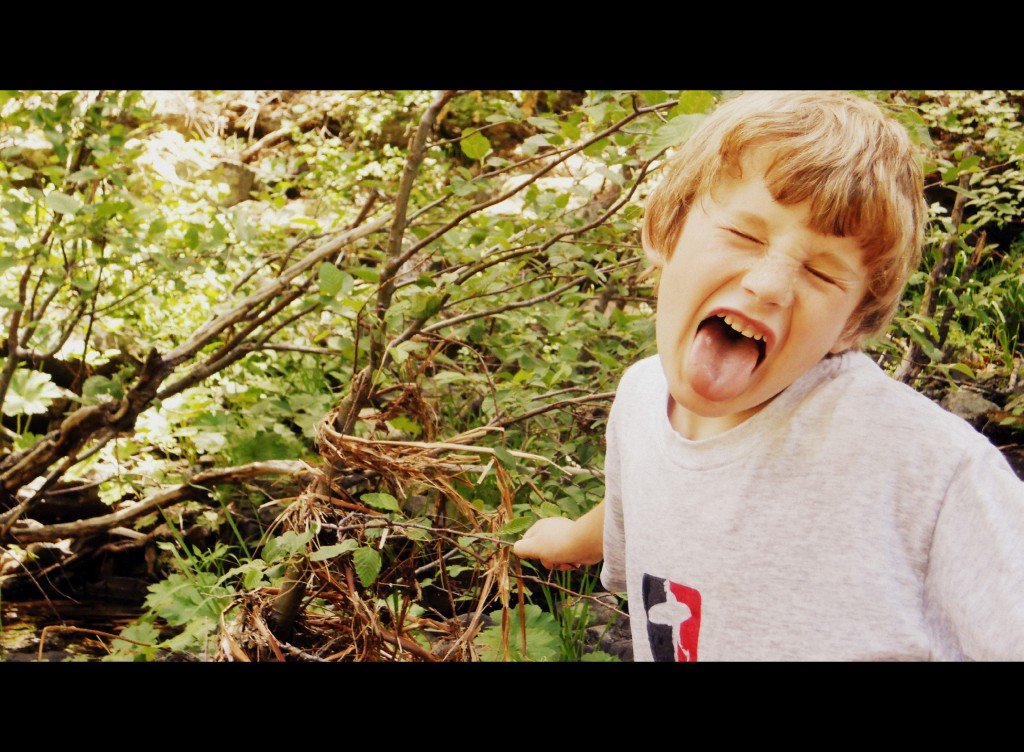 But to be honest, it's all the same to me. Happy birthday, son.