Welcome to the first installment of Fuck the Man Friday! Henceforth, we shall refer to it as "FTM Friday," because it's more open and inviting and proper.
I just wet my pants laughing.
And yes, I realize it's Saturday.
WHAT? I'm not a miracle worker here.
Anyway, for those of you who aren't yet familiar with FTM Friday, here's a rundown: In the last couple months, I've become obsessed with making my own body care products, and I'd like to tell you all about it, share what has worked, what hasn't, link to recipes I've used, adapted, etc.
It all started with some damn body scrubs. Body scrubs are the new gateway drug. One day you're making body scrubs; two weeks later you're washing your hair with fucking baking soda.
But I digress.
I've managed to replace shampoo, conditioner, body lotion, shaving cream, face wash, face lotion, facial toners, body washes, hair/dandruff tonic, baby shampoo, baby massage oil and deodorant with relatively inexpensive, chemical-free homemade versions. To illustrate, I give you this: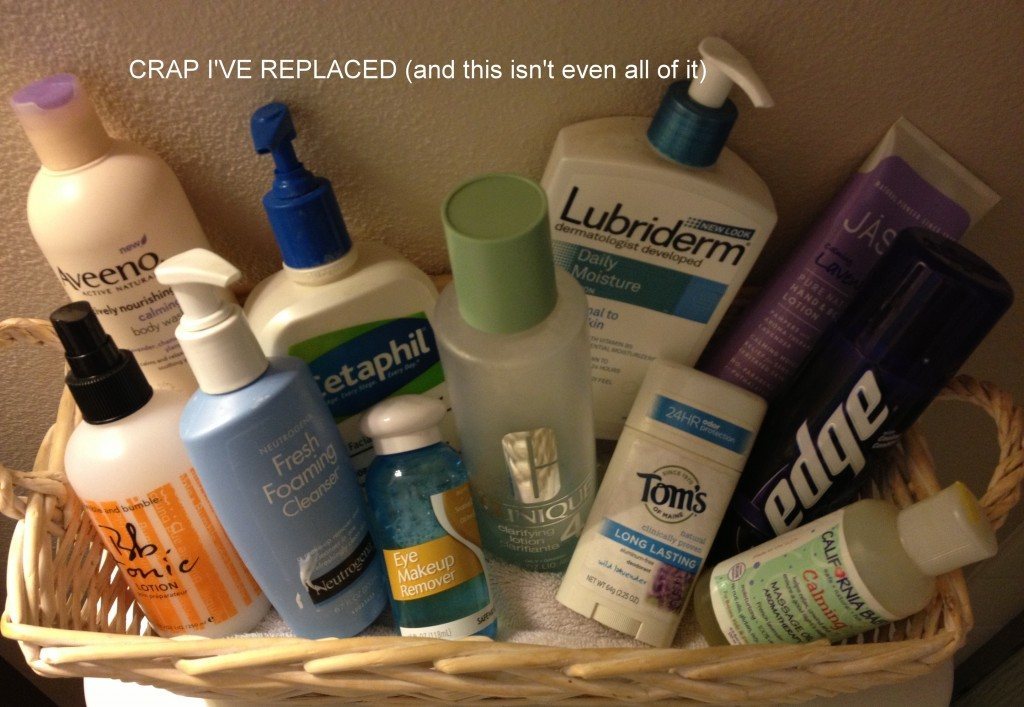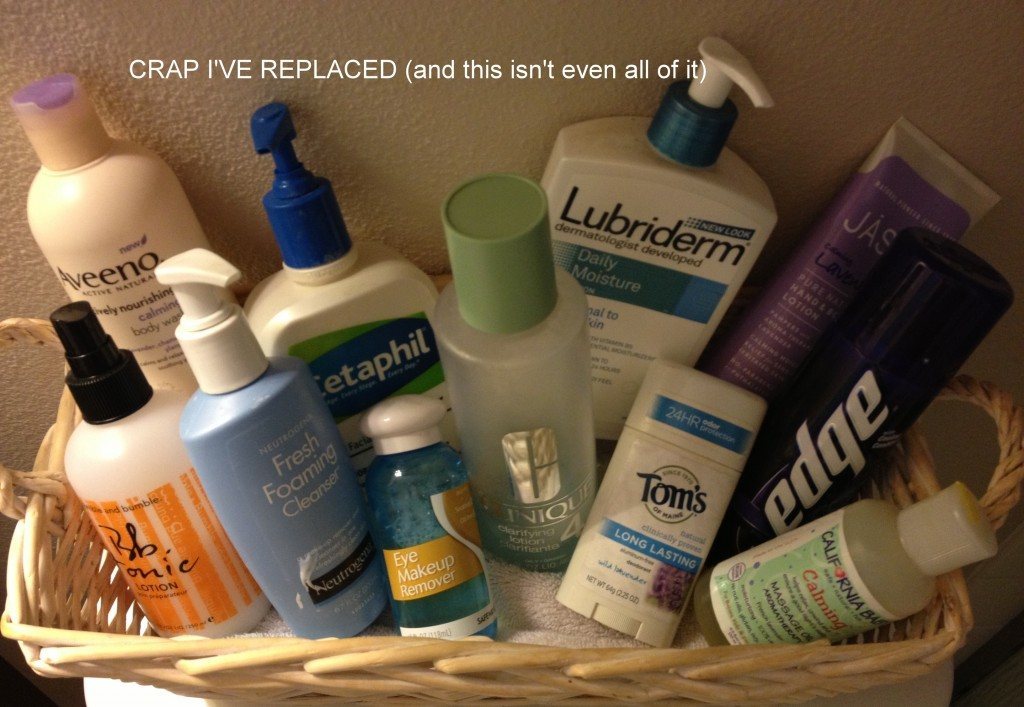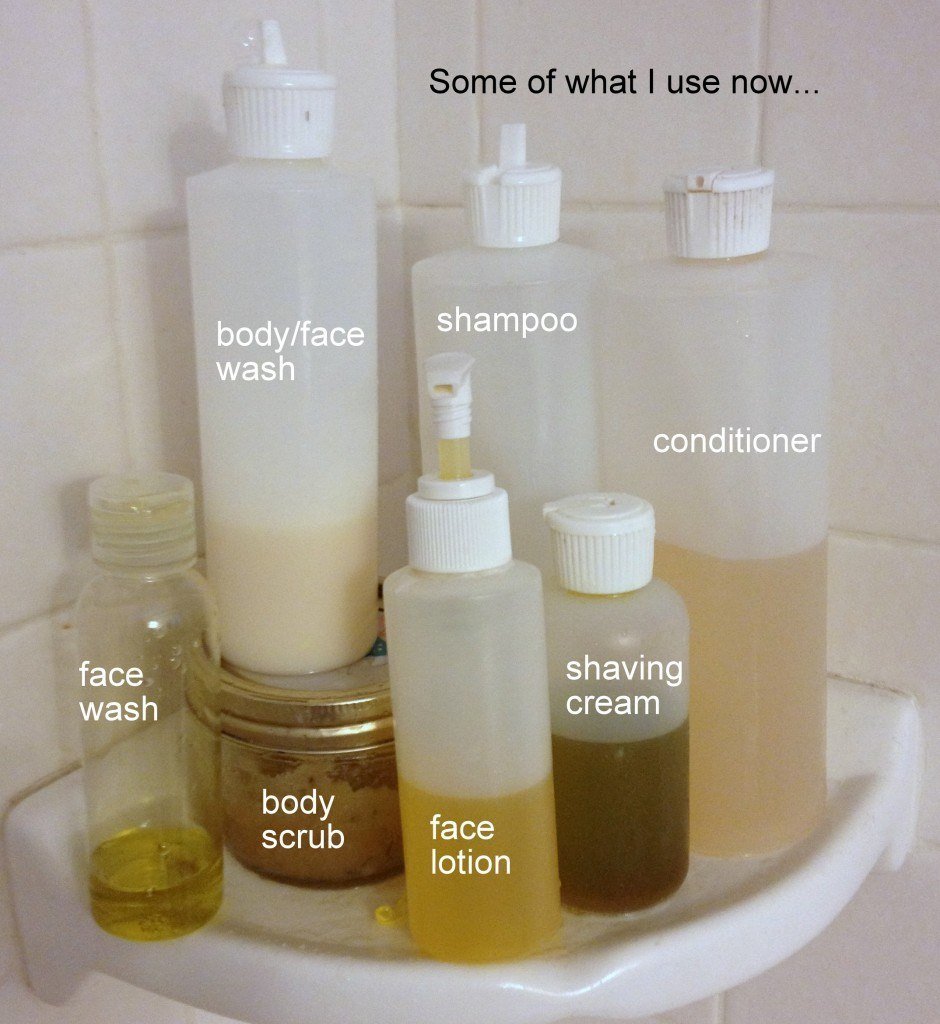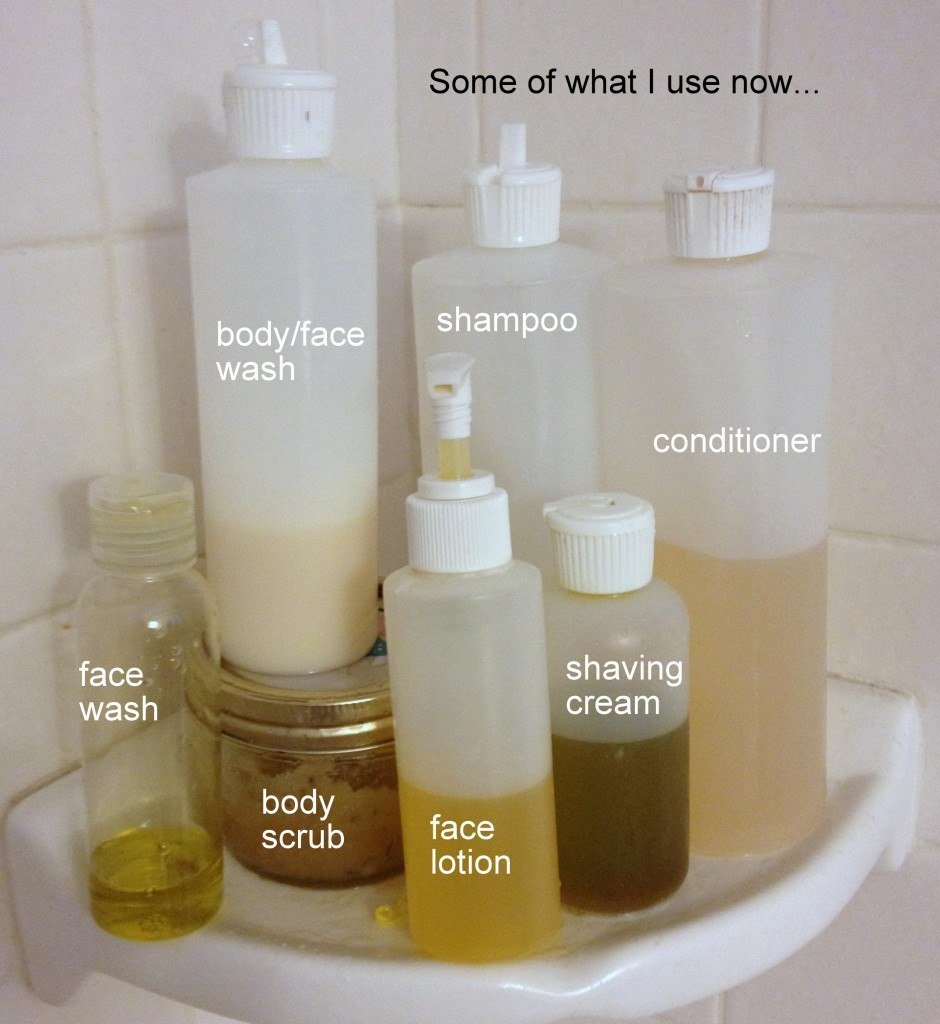 Did you notice how I put the "before" stuff in a cute little basket? Yeah, I know. IMPRESSIVE. We won't talk about how it's sitting on the toilet seat.
But check it out, considering I once referred to Soulemama as "Soule-Crushing Mama," it may seem rather hypocritical, out-of-character, or JUST PLAIN WRONG that I would one day, when nobody's looking, turn into some over-zealous eco-friendly body-product-making SouleMama wannabe, like it's nothing.
And I agree. There are multiple possible interpretations of this. One is that I've been lying to you this whole time and I'm actually a super-organized power woman who just pretended to suck at homemaking and life. I, for one, wish that were true.
But alas, the truth is this: We got poor. And disillusioned.
[And this crap is so easy even I can do it. It requires no precision, creativity, or talent.]
So yeah, we got so poor I started feeling every penny I spent, and I started thinking about how much money was going out and out and OUT, for everything, and I started wondering if I really needed to be doing this. It all just started feeling wrong and excessive and ridiculous. $9.00 for deodorant (or $5 for the kind with aluminum)? SERIOUSLY?
I was getting more and more bitter every time I went to the store – 10 bucks for this or that or $20 or $30 – it was no longer fun; I was just "over it."
So when I started making body scrubs for Christmas presents (in response to the poor thing), and I found out how easy (and absolutely freaking lovely they are), I started feeling a little more confident in my ability to make shit that smells nice. (And may even be, ahem, enters into the realm of cute.)
Oh God help me.
And the truth is that over the past few years, I've become increasingly disillusioned with American materialism in general, beyond body products. The whole uncritical consumer thing. Not in a holier-than-thou sense, like I'm above it or something, but rather because my house was full at one point of stuff STUFF STUFF I didn't need and plastic and crap, and my husband and I were working, day in and day out, for WHAT?
To have a bigger house? To have more stuff we don't need? To have a better car?
Ah, screw that. As Tyler Durden says: "You are not your fucking khakis."
And I believe that. And yet, it was hard for me to take the TV off the wall and donate the excess toy collection to the Goodwill. Well it was hard at first. It's not as hard now. I guess I'm becoming a little more detached.
So yeah, like many other people, I've become disillusioned with it all: the food we're provided, the idea that success is money and power, the idea that I need to pay a bunch of big ass corporations a bunch of money to take care of my body and hair. And unless I want to expose myself and my family to a bunch of chemicals with unknown consequences, I had to pay ridiculous amounts of money. Seriously, the hippie brands are OUT OF THEIR MINDS. There's a hand salve that sells at our local co-op for $15.00. NO JOKE. I make literally the same one (same ingredients, friends) for $2 or $3, and half that is the cost of the container. Trip out.
See what I mean? FTM.
So there was a little fire was lit under me and fueled by the gateway drug, I found myself searching for body scrub recipes and I found TONS AND TONS of recipes for everything. Lip balm! Shampoo! Lotion! Hair tonic! Shaving cream!
Turns out you can make it all, folks, easily and cheaply.
After body scrub, I made lip balm.
It was a disaster (sorry to those of you who got that first batch as a Christmas gift).
I made hand salve.
It was perfect.
And then I was "on."
Also, the reason I was able to devote the initial time & energy to this is because I was off work and school for SEVEN WHOLE WEEKS. That's the literal reason it happened. Frankly, I'm so used to running around like a maniac all the time, when I found myself with no school and no work for weeks on end, I got a little bored. Cleaning the house lost its appeal after like 10 minutes.
I've said it before and I'll say it again: I'm like a border collie. I NEED A JOB.
And so this isn't just about being eco-friendly or getting chemicals out or saving money (although it's about those things, too). It's about being independent. It's about the satisfaction of using a face wash I made for a dollar (and have better results), knowing I never need to spend $10.00 on it again. It's about making laundry detergent that costs $5.00 for 100 loads, and not worrying if my baby eats the counter spray (NOT THAT THAT HAPPENED).
Also, people, it's so fun you're gonna trip. I mean it. Get ready to turn to the dark side. And seriously, if I can do it, you can do it.
Your house may look worse than it ever has in its existence, but you'll have amazing healing salve to fix your kids' wounds, and you'll feel like a damn renegade anarchist badass.
Or maybe that's just me.
Whatever, we have a mascot (see below), so obviously we're the real deal. Thank you, Lisa, for that little fella, we love him.
See you next FRIDAY (I promise) for our first recipe. We're going to start with Super Fucking Easy (body scrub), because that's where I started. Each week after that I'll give you a new recipe, and we can FTM together.
But if you want to be ready for next week, you can prepare by making sure you have white sugar or kosher salt, grapeseed or almond oil (can buy at any grocery store), and some essential oils (lavender and peppermint are the ones I probably use the most). Optional items are raw, organic honey and baking soda.
Here's to critical consumerism, and body scrubs.
And Tyler.
AND THIS GUY, who understands: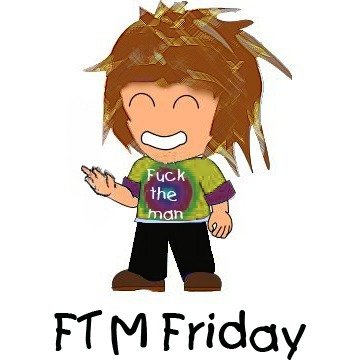 more stuff I shouldn't have said out loud: