Clearly, when we see the words "FTM Friday," we need to think of them sort of metaphorically, you know, loosely, so when we see FTM Friday on Saturday  morning, we won't be surprised, and we'll just roll with it rather than think to ourselves "Janelle really should change the title of this gig."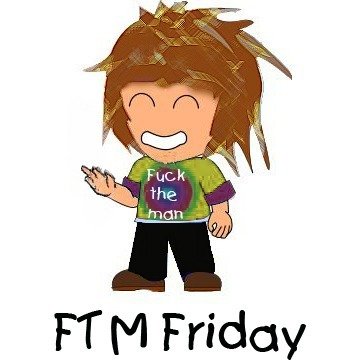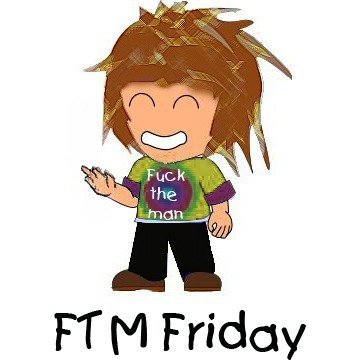 Or we can say to ourselves "There's Janelle, refusing to obey the man! Defying all rules! Raging against the machine!"
Or, we'll realize she was studying all day yesterday and lost track of time while simultaneously forgetting it was Friday and couldn't bring herself to do it at 11pm, when the opportunity finally presented itself.
You choose.
Anyway, this week we're making peppermint lip balm. If the body scrubs didn't make you feel like a badass, making this WILL.
It is exactly, and I MEAN EXACTLY, like Burt's Bees (only without the damn honey (more on that later)) or whatever the hell other $5.00 lip balm you've been purchasing at your local granola shop. It's so easy. You're gonna trip.
But you are going to need beeswax, which I doubt you'll have lying around, so you may have to do a little work. You can buy beeswax in two forms: chunks or "pastilles" (little pieces). If you choose the chunks of beeswax, you'll have to grate them. So duh. We're going with pastilles.
This brings me to the topic of where to buy ingredients and lip balm containers. I offer you this list, with brief pros and cons.
Pros: has everything you need to make anything (carrier oils, waxes, butters, containers, oils); gorgeous, natural/organic selections (If you buy something from Mountain Rose, you KNOW you're getting quality)
Cons: a little more expensive than other places; high shipping costs; kind of a long shipment times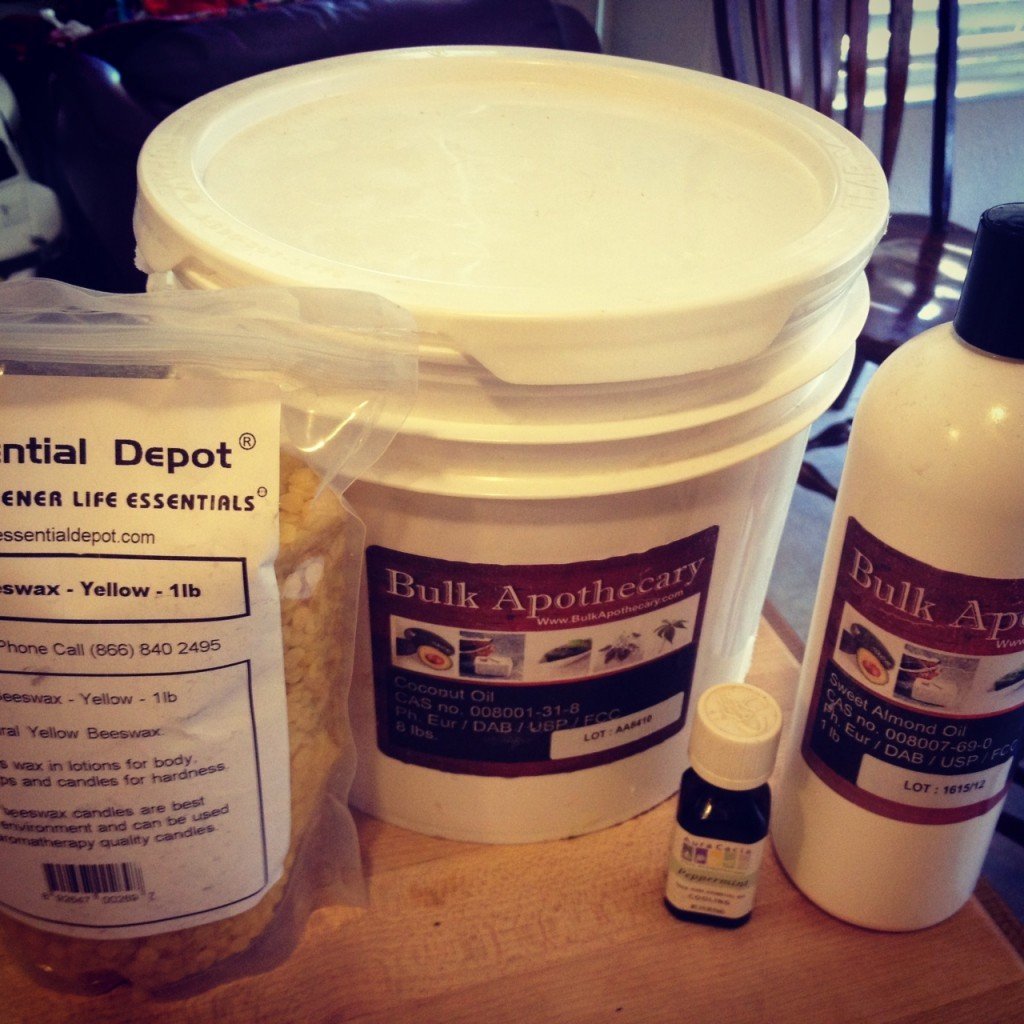 Bulk Apothecary
Pros: rapid shipping; HANDS DOWN the cheapest coconut oil, shea butter, carrier oils I've found anywhere (and they sell containers), even when you factor in the ridiculous shipping costs (for example: with shipping, 8 POUNDS of coconut oil was around $30.00). That's a shitload of coconut oil. That will last me months (cooking with it and making body products with it).
Cons: Must order a lot (which takes organization) to justify the high shipping costs.
Pros: free shipping (if you have Prime); super fast
Cons: It's Amazon. You could get crap. However, I've tried to beeswax linked above (on the word Amazon) and it's great, and I've bought essential oils there too, as you know.
Or, look for a local place.
I found Sunburst bottle, a wholesale container place in Sacramento with no minimum orders, and they let me pick up my orders. So I get low prices and no shipping cost (other than gas). In other words, SCORE. So get on Google and find your special place.
Okay, here we go.
The first time I made lip balm I tried this recipe from Soulemama and it was amazing. For like 2 weeks.
AND THEN IT WAS NOT AMAZING. A couple weeks after Christmas, after I had given everybody I know a tin of this, I discovered the one I kept for myself was suddenly sticky and disgusting. Turns out the honey separated from the rest and started squeezing out the sides of the tins, causing a honey-covered tin of joy in my purse.
Yeah, sorry about that.
So I'll never use honey again. I tried to remedy it for like five minutes (people say you have to make sure the honey "dissolves," but I waited like an hour and my shit never "dissolved," so I moved on to balms without honey), which brings me to this: basically to make lip balm you need 1 part beeswax to 3 parts carrier oil (coconut, almond, olive, etc.). Then you can add pretty much whatever you want to that (cocoa butter, shea butter, mango butter, Vitamin E, lanolin, whatever!). If you make it and it's too soft, add some beeswax. If it's too hard, add more oil.
A recipe that works FOR SURE (I adapted this from Soulemama (linked above) and Mountain Rose Herbs:
Peppermint Lip Balm
1 Tablespoon (or so) beeswax pastilles
3 Tablespoons coconut oil or almond oil or some combination of both (I like 2T coconut and 1T almond)
5-10 drops peppermint essential oil (more or less)
Optional: 1 Tablespoon shea or cocoa butter
3 capsules Vitamin E oil (cut open capsules & squeeze into mixture)
Melt all these things together and pour them into your containers. Then you let them harden. Then you use them.
THEN YOU BLOW MINDS.
Some people will tell you to use a double-boiler to melt them, others tell you to use a Pyrex measuring cup, or rest a metal bowl over a pan boiling water (what I like to call "ghetto double-boiler") and these methods work, but the best method I've found is an old jar in a pan of water over medium – because it works beautifully and you don't have to clean it. I just reuse the same jar every time I make a salve or balm or whatever, and I use a funnel to get it into the small containers. It really is difficult to clean beeswax out of anything (a pan, measuring cup, etc.).
BEHOLD: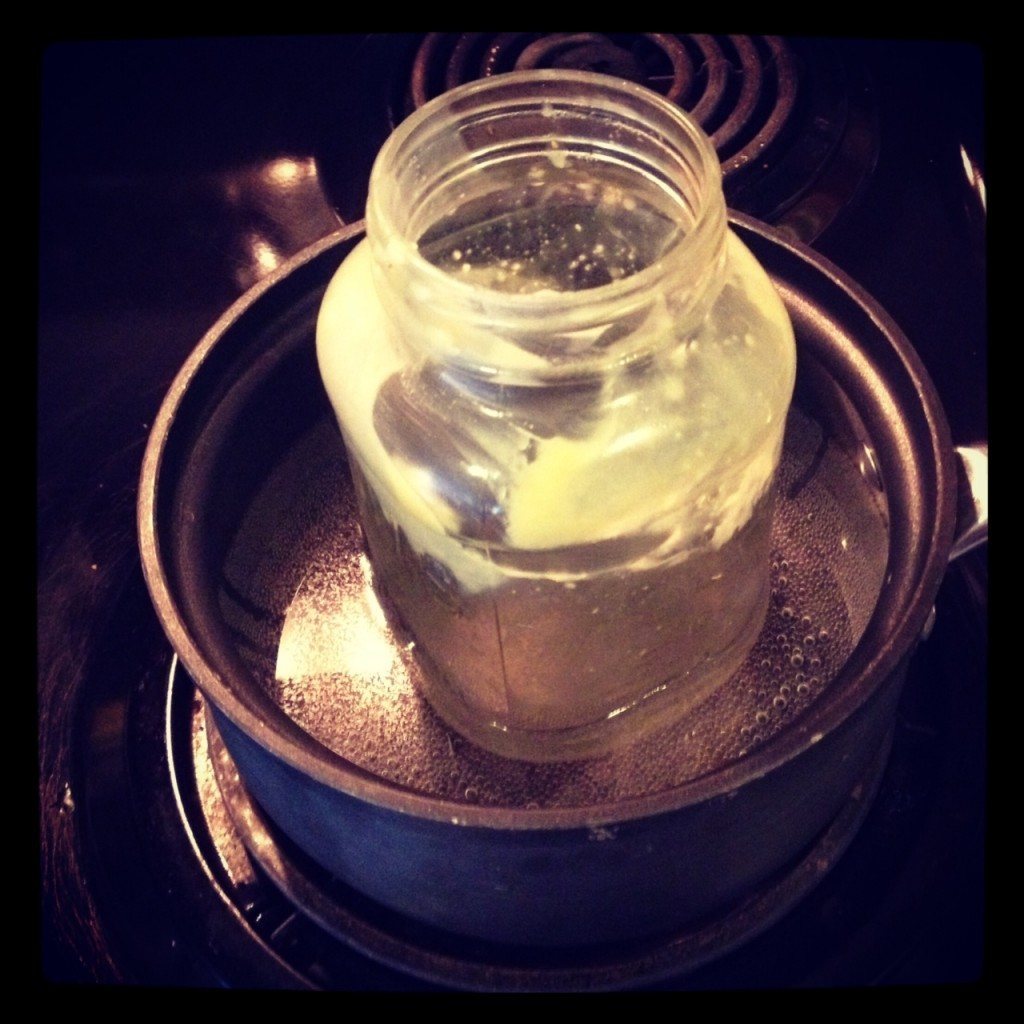 You could also just put all the ingredients in a glass container and microwave them til they're melted, but I feel way cooler when I'm using the stove and stuff. Whatever. Don't hate. I get it where I can.
SO YOU POUR: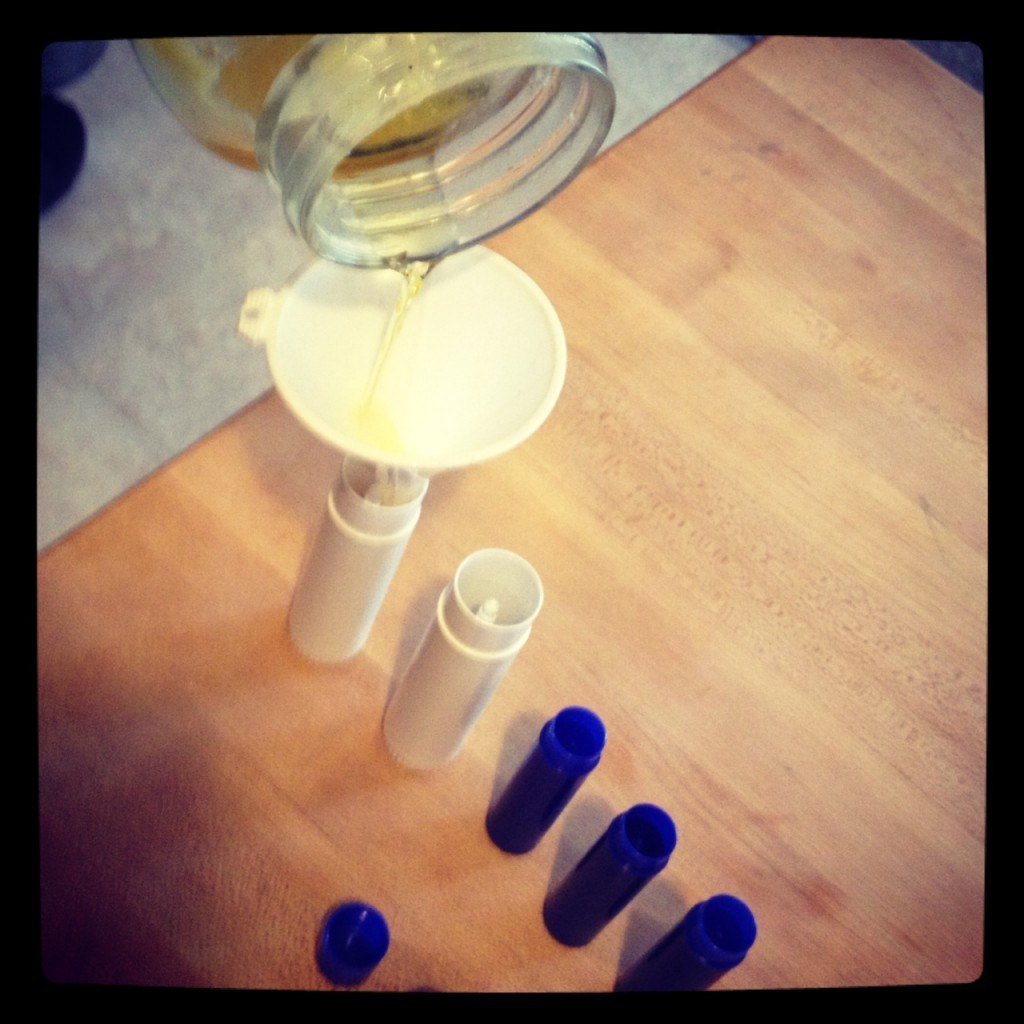 AND YOU SPILL:
You'll see some big white containers as well as small lip balm ones, that's because I like to keep a big one in my purse for lotion as well as balm. They're used quickly.
Try it. Tell me what's up.
I will get my act together, I promise. And by "promise," I mean "vaguely hoping," of course.