So I'm not exactly sure how to tell you this, but, um, I'm pregnant.
Yep. You heard that correctly, and no, I'm not joking. And yes, we're broke and living with my mother and between jobs and unsure where we'll be in a few months.
WHAT?
Yeah, I know.
If any of you are thinking "But you can hardly handle the three you've got."
Let me just say: "THAT'S WHAT I'M TALKING ABOUT DUDE!"
But logic has no place in the uterine equation, and when there's a dude who's SUPER INEXPLICABLY interested in another baby (at one point he was even like "But you promised me four kids the night we met!" and I was like "BUT I WAS ON ECSTASY MOTHERFUCKER!") and your friends keep reproducing and there's baby thighs and chin fat and you'll be 35 in March and you're like "but maybe just ONE MORE?" but then all hell breaks loose in your life and you're all "never mind let's wait" but then the IUD is already out so you get this app on your iPhone to determine when you're ovulating and shit but oops, yeah. Baby.
Hypothetically speaking, of course.
FYI, iPhone apps are horrible birth control. Tell your teens.
But this should explain my lack of writing and extreme exhaustion. I totally wanted to tell you all sooner, but you're supposed to wait and shit. And I did wait. I'm 10 weeks now and I've known since 5 weeks.
I wanted to announce this to you all in some super cute, Pinterest-y way, but, actually no. I didn't.
But that got me thinking about pregnancy announcements, which apparently exist, and then I was all "What would mine say if they told the truth?"
So obviously I made a few.
As always, please enjoy the clip art.
And let me just say: There will be bitching about this pregnancy. There will be sentimental slop. There will be a baby by mid-June of 2014 (or my heart hopes).
I'm glad we're doing this together. It should be fucking interesting.
I'm already crafting a post: "Top 5 stupidest things I've read on my Babycenter due date forum." (Yes, since I didn't have you people, I ventured over to hell to see what was up and WOW. Now I just go over there for material.)
Please feel free to pin any of these for future ideas.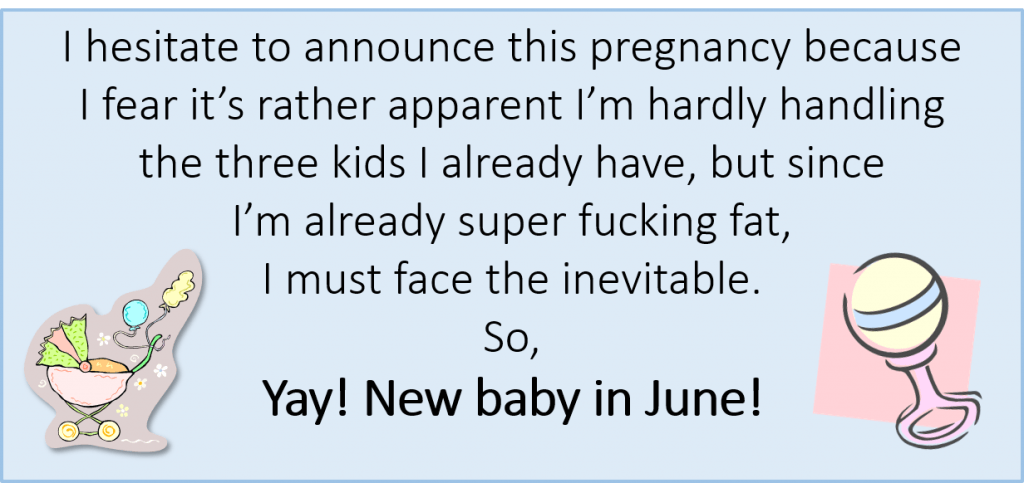 with so much love,
Janelle
P.S. So I'm planning another homebirth but since the midwives don't give you a "confirmation ultrasound" I totally made an appointment with the local women's health people and lied to the OB/GYN to avoid The Homebirth Lecture to get my ultrasound. I just couldn't believe it was real. I just wasn't feeling "connected."  I wanted to SEE something.
And when I saw the tiny rushing furiously powerful little heart I thought "Oh, yeah, there you are. I knew I loved you."
And I got excited, and that's the truth.
Also all of the above. That's true too. Some things never change, I guess.
P.S.2 REALLY should have made sure I wasn't going to have another baby BEFORE writing those baby sprinkle/gender reveal party posts because OHMYGOD my friends. Are losing it.
I'm 95% sure I may have both. But they will be ironic. As god as my witness, THEY WILL BE IRONIC.
And you're all invited.
more stuff I shouldn't have said out loud: