I have backed myself into a corner with this "truth-telling" thing. Here, on this blog.
You know, there really is no such thing in writing. As soon as the words come out they are untrue, because they seem to contain the whole, but they are never the whole. They appear but are never complete, full, entire, because they are only a manifestation, a creation, a curating, a picking and choosing.
They are the nebulous mess pinched and squeezed and formed into a linear string of words. They have no power to tell "the truth." It's not their fault.
We needn't blame them. Or their creator, really.
It's all just a question of which string I form, which piece I tell, which story becomes "the one."
I get really fucking tired of the internet with its inspirational quotes all day. I think if people fail they should admit that they failed. That shit is inspirational as fuck.
My favorite is when people tell me about a failure then post inspirational quotes about the value of failure but never admit publicly their own failure.
I guess it doesn't apply to them. Or something.
We are so fucking crazy.
Sometimes we just have to settle with "standard human," you know?
Dear internet, Sometimes you just have to be a standard human.
But nobody wants that. That won't get many likes. Even Instagram can't filter that shit into glory.
Alright. You want the fucking truth?
I am lost. I am tired of the bullshit. I am tired of the internet. I'm tired of the thing in me that seems to let everybody in and then gets too tired to keep them here. The life-suckers. I'm tired of them. My  friend circle has shrunk to very few humans. I imagine that is something I should have done years ago, but it takes what it takes to realize you have the "let everybody in" disease.
I am tired of my social media near-addiction. I am tired of escaping into the small rectangular box of my iPhone. I am tired of my husband being gone and the realization that it won't end for 5 more months. I'm tired of no time or space or privacy to write, of working at the fucking preschool when I want to be revising my book.
I'm tired of my 4-year-old saying NO to simple requests and the feeling I have toward her by the end of the day sometimes. I'm tired of nursing all night. I'm tired of my back aching, and the 50 pounds I want to lose. I'm tired of the way I turn to food to give me what it cannot.
I'm tired of my life right now in pretty much every direction and it feels relentless and boring and go ahead. Tell me how fast it goes.
I don't know that. I don't feel that every day when I realize my firstborn will be driving in 3.5 years and the baby I had 5 minutes ago is almost one year old.
THERE ARE NO CONFLICTING EMOTIONS IN BASEBALL.
A few nights ago Arlo was up for 6 or 7 hours straight, on my arm, dozing, crying, not feeling well. When he finally went to sleep I rolled over with the most profound relief and thought "oh thank God" and breathed and my body felt good and beautiful to be on its own, but just as I was drifting off he kicked me in the back, my ribs, his toes pinching my skin. It felt huge, violent, like a final kick on a broken body, a sucker punch. A last straw.
I wanted to cry, pass him off. Somebody take this baby!
But there was nobody else.
So I rolled over and nursed him again instead, since that kick was the beginning of awakening.
For him, at least. (Mine I hope is on its way.)
You think I don't see this stream of self-pity? I do. You think I don't know it's ridiculous? I do.
I get it, as I fall apart.
This is not new. It happens occasionally. The only thing I know is that I will be rebuilt. I always am. The universe gives me what I need. But I am in the thick of it and I am only a standard human.
Sometimes we have to settle for standard human.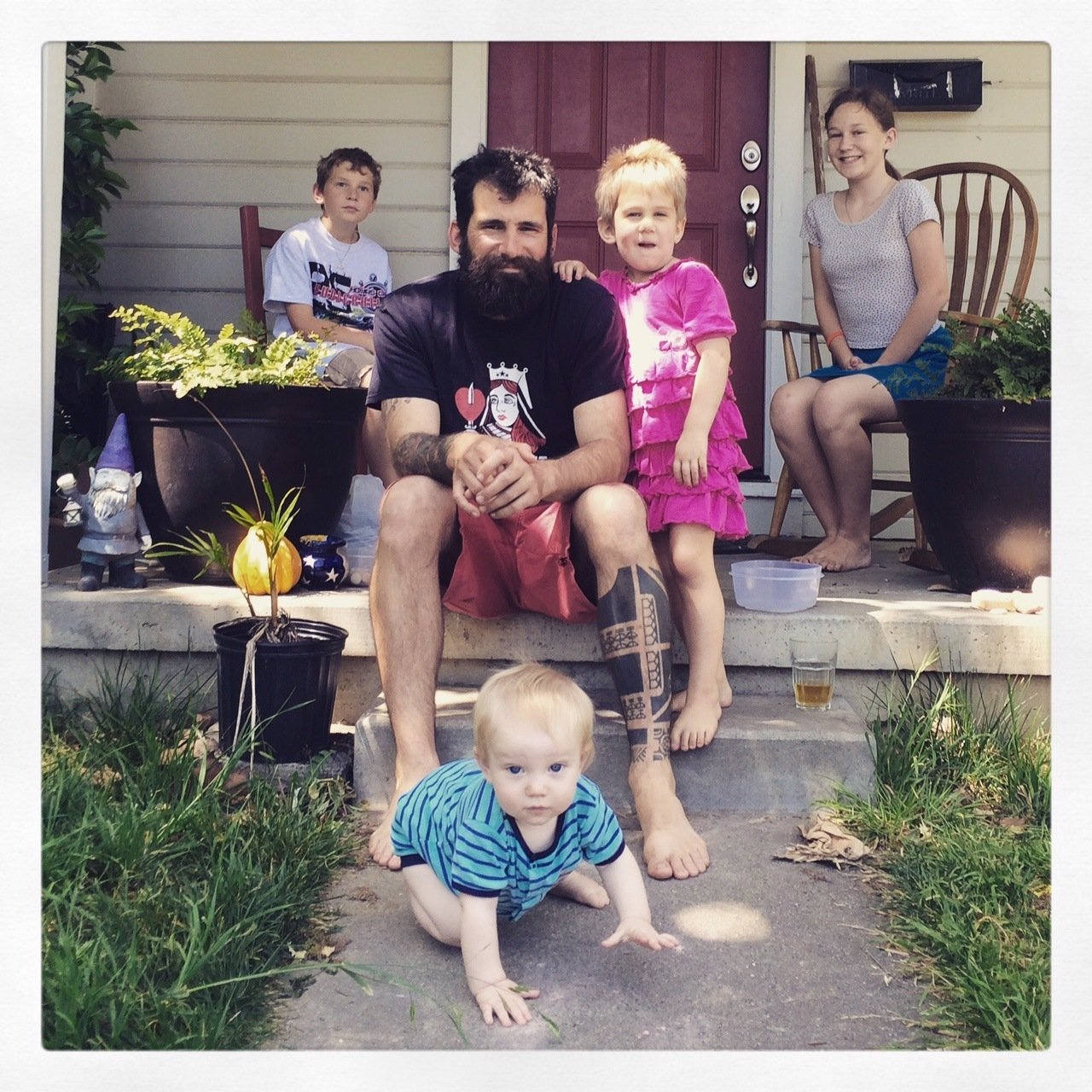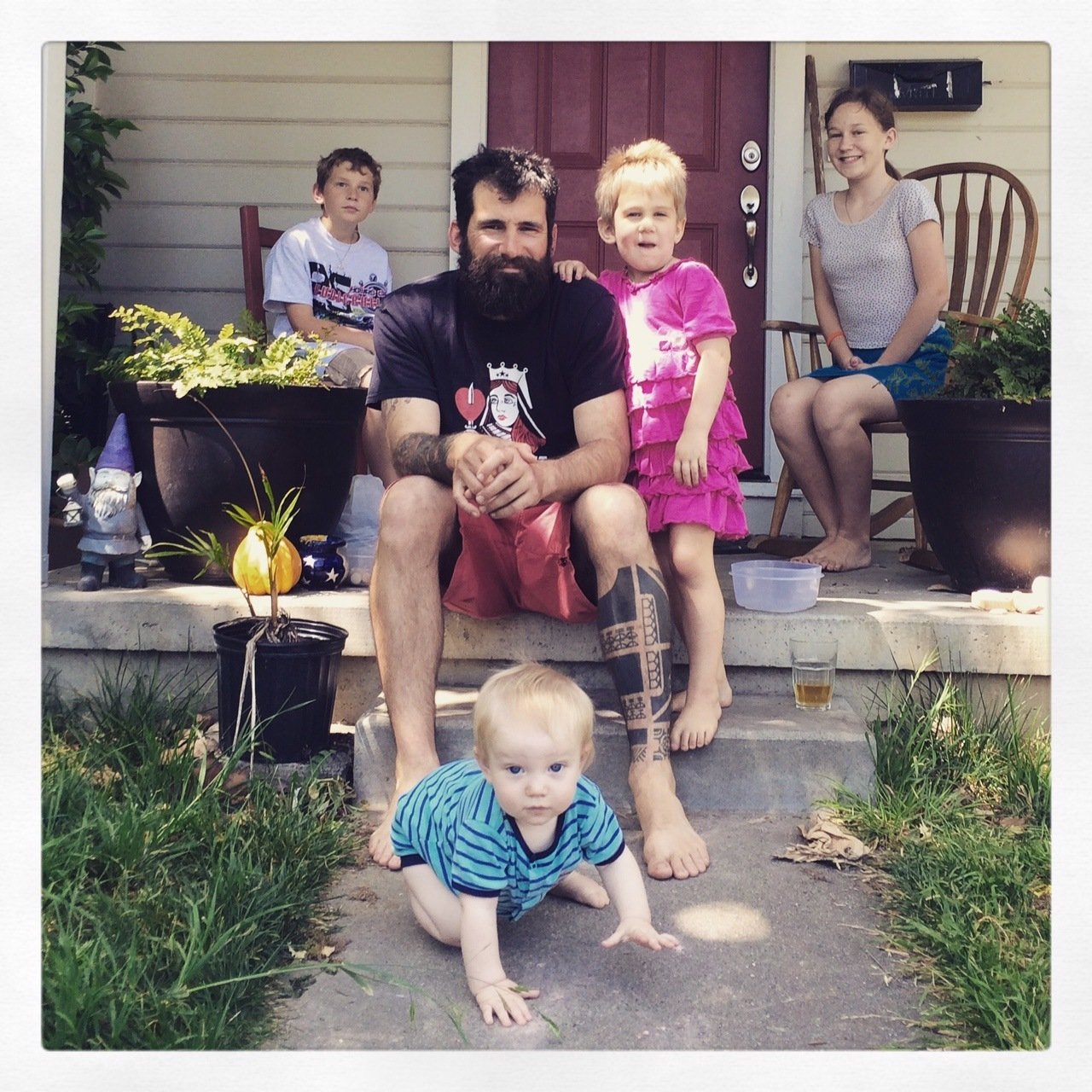 Usually I wait and write to you when I'm through it, when I'm looking back from the other side and have something hopeful to say, or pretty, or interesting, even. But now I'm just in it. Right there in the middle. Not one single answer. I could have chosen a different story but this is the hardest one to tell. This one feels "truest," though even in telling it I realize it's not enough, because I drove home today and that was waiting for me on my porch (that, over there, on the left).
I've developed a little faith in the brokenness, now, in the tearing down, in the decimation. I've almost got a little affection for the old bastard, the way he sneaks in and deconstructs, piece by piece, leaves me here looking ridiculous, lost, unstable, unsure and clinging. Everything I try feels wrong. I feel small and false and wrong.
I smile when I think about what maybe will come out of the wrongness.
A friend who knows I'm fucked right now wrote me this text: "I can't wait to read what comes out of you during this time."
I thought it was the kindest thing I've ever heard. Her compassion. Her faith. In me, in the brokenness.
(thank you, Sarah.)
I have tiny moments I can give you, the way Arlo holds his arm up every time we get in or out of the car, walk out of the house. He's ready to wave "hello." He waves "hello" at every passerby. He waves "hello" to his siblings as they play outside. He waves hello with his whole fist, opens and closes it rhythmically, sometimes with a smile, sometimes just staring intently, waiting for a response from the recipient.
If it's a passing car, I feel a little sad that they won't respond. I tell him "They can't see you, Arlo," and kiss his cheek.
There are times in life that are meant to be survived, trudged through, just one foot in front of the other into and through the gray. There are times when the world doesn't wave back, and you don't know why. You're trying. You're looking. Your arm is held up there stupidly, ready, for a glance back or a grin or laugh.
If you're lucky, you get a kiss on the cheek as a consolation prize, and another day to get through, to carry you through, to the other side, again.
Until then we keep waving, with our whole motherfucking fist, telling the truth and lies, looking up, over, until time robs us into a new day, a new story of the same old human.
In that dawn we look back and can hardly remember.
It's just too damn bright I guess.
more stuff I shouldn't have said out loud: