I know a few things. I've studied them, or better yet, felt them. I've watched, heard about them. Better still, lived them. I know a few things.
But I don't know shit about Baltimore.
I know CNN and Fox are liars, and they don't know shit about Baltimore either.
I watch people talk.
Here's a thread of women analyzing whether the mother who "beat" her kid for attempting to join the riots was right or wrong. As if that's the fucking point. Perhaps turn that white gaze inward.
I'm pretty sure they don't know shit about Baltimore.
Here's the "violence is never the answer people." That sounds nice. It would be even nicer if it were true. Violence, it seems to me, is America's go-to move, abroad, and at home, among the subaltern, the black and brown poor.
Now you speak up. Now that CVS was injured. Now all of a sudden you care about their "neighborhood" and "property."
Their lives though? Nah. Still not on the radar.
Where were you on violence when these children and men were killed, unarmed?
You don't know shit about Baltimore either.
That's for darn sure.
I read people saying the "rioters" are disgracing blacks, and I wonder why I never read the same about whites, when they burn and loot and break shit because their sports team didn't win.
Do we call them "animals?" "Thugs?"(just use the "n-word." it's way more honest.)
I watch whites cling to the people of color in agreement with them, the ones yelling "looting is not the answer."
"Look! A real black person agrees with me!" (definitive proof that they are correct, obvs.)
But I wonder if those people, whatever color, know shit about Baltimore, or West Baltimore, to be exact.
As in: Disenfranchised people of color living in poverty, geographically and systematically removed from that which "we" (those of us not in their shoes) see, that which we know, that which we understand to be "life."
And "America."
Centuries of removal.
I move in, I move out. Maybe today I think about race. Maybe I don't.
My newsfeed was eerily silent on Walter Scott, except from my black and brown friends. It occurs to me how choosy white liberals are. So enlightened, when it's convenient.
I do it too. It sickens me.
A student told me during a class discussion about racism: "You get to not think about this if you don't want to. I have to live it. Every day. No matter what."
Her eyes were tired.
I leaned against the whiteboard (ironically) and couldn't talk.
She said it all.
This ain't no ivory tower material. These are lives. These are lives that are not mine.
I have no capacity to understand any of it unless I shut the hell up and listen to people who know something about Baltimore.
I read these words the past couple days, between driving my kids around and not worrying about getting shot:
The Baltimore Protests are About Freddie Gray and So Much More and Freddie Gray's Death & Baltimore's Ongoing State of Emergency by Arnebya Herndon.
Black America's Baltimore schism: Why the Freddie Gray tragedy demands more serious soul-searching by Brittney Cooper, PhD.
This FB post by Erika Nicole Kendall. (Note: This now links to her blog since FB apparently deleted her post, which is a whole different problem, I think.)
And this one by Feminista Jones.
In support of Baltimore: Or; Smashing Police Cars is Logical Political Strategy by Radical Faggot
This Twitter essay by Jesse Williams
Nonviolence as Compliance, by Ta-Nehisi Coates
The Brutality of Police Culture in Baltimore by Conor Friedersdorf
Eyewitnesses: The Baltimore Riots Didn't Start the Way You Think  by Sam Brodey & Jenna McLaughlin
It's not lost on me that I'm SPEAKING (writing) the words "I need to shut up and listen." In other words, not shutting up.
But silence seemed wrong. Silence feels like compliance. Silence could be listening and learning or it could be quiet derision, or ignoring, because I can. Because it's comfortable and easy from a place of race and class privilege.
I don't know. Maybe I shouldn't say a word. Who cares? It does not matter. My voice is not the one to be heard, here.
I don't know shit about Baltimore.
Do you?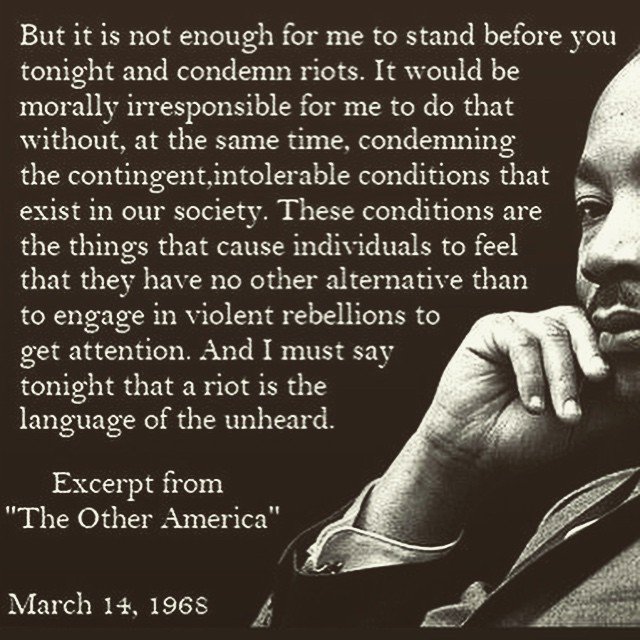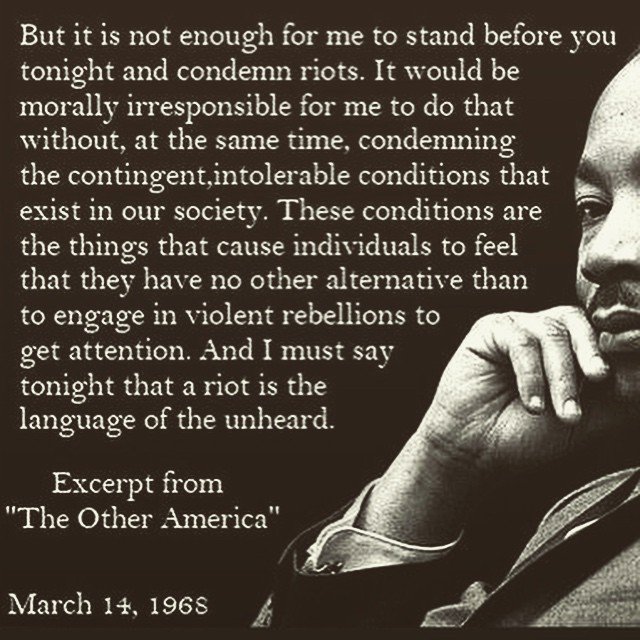 more stuff I shouldn't have said out loud: