Did you see what I did there? I talked about free speech then asked people not to talk so I violated their First-Amendment free speech rights.
No, I fucking did not.
BECAUSE THAT IS NOT WHAT "FREE SPEECH" MEANS.
I know this may be rough and wild in the world of "fake news" and "alternative facts," where apparently everybody goes around inventing information at random to suit political aspirations, but outside that special vortex, people try to use words according to their actual definitions.
In fact, some of us get super frisky and use the Google to research what a word means if somebody informs us we are using it incorrectly.
But you don't. This is what you do, Candy. (I named you Candy.)
Candy: "Milo Yiannopoulos losing his book deal is a violation of free speech! Dangerous! Sad!"
Somebody on the internet: "Hey, hi. That's not what free speech means."
Candy: "Hillary Clinton is a crook!"
Somebody: "Okay but that's still not what free speech means. Please look it up."
Candy: "Politically correct snowflake liberals love to silence people like Milo!"
Somebody: "That's probably true, but Milo's free speech rights are intact nonetheless. Google it."
But you don't. Ever. I am convinced you're not even trying.
But no worries. I am here for you. I googled "freedom of speech" (because that's the official terminology –I'm not trying to be sneaky), and here is what I found for its definition (incidentally, all dictionaries say the same thing, which is how definitions work):
"the right of people to express their opinions publicly without governmental interference, subject to the laws against libel, incitement to violence or rebellion, etc." (source)
Another: "the right to speak without censorship or restraint by the government. Freedom of speech is protected by the First Amendment to the Constitution." (source)
Okay so this is not complicated, right? The First Amendment of the U.S. Constitution protects our right to say virtually whatever the hell we want without fear of legally enacted censorship (although some speech acts are in fact illegal), meaning we can speak without fear of being thrown in prison, or killed by the government (although one may wonder what happened to some of those black Civil Rights activists of the 1960s and 70s who disappeared into thin air, but I digress.)
I can't be thrown in jail for saying: "Our President acts like Caillou."
Or "Gee I wish that Nazi was clocked 50 times instead of one."
Americans get to burn flags, protest, rage, scream, sing, teach, write, and paint without getting chucked into the poky.
Melissa McCarthy gets to make fun of Spicey. Baldwin gets to mock Trump. Limbaugh gets to say women live longer because their lives are easier. Milo YiannoFuckYou gets to be the head gay spokesman for the racist, xenophobic, misogynistic "alt-right." Bakeries get to gay-bash on Facebook.
IT DOES NOT MEAN THERE WON'T BE CONSEQUENCES FOR THOSE WORDS.
Please for the love of baby Jesus HEAR THIS:
It does not mean we won't get fired, shunned, uninvited, criticized, kicked off Twitter, blocked, banned, dragged, mocked, and publicly ostracized. Why? Because other citizens get to exercise THEIR freedom of speech in response to ours, and those of us in the private sector get to fire or ban or drag your ass for being an asshole.
Once again just for fun: "Freedom of speech" does not mean "protection from the natural results of being a dick and/or sharing opinions the majority of Americans have progressed beyond because they result in the systematic dismantling of the civil rights of others."
If I get mad at a coworker and yell that he's a "washed-up piece of cow shit," I can possibly get fired for violating a business policy of employing people with self-restraint and manners.
If I walk up to a gay bakery customer and start shouting: "You are evil in the eyes of Jesus and deserve no cake!" my boss can fire me because I am messing with business. Even beyond economics, businesses often have a mission statement, a corporate culture, and if my opinions are not in concert with that culture, I gotta go. 
It's a condition of my employment. And whether you like it or not, if you believe gay people shouldn't be allowed to marry, or women should stick with the kitchen gig, or all Muslims are terrorists, you are holding archaic beliefs many Americans do not support, so if you share those ideas, there may be repercussions.
This is called, "Being an adult."
Feel free to hold and yell and cuddle those ideas like your fleece Nascar blanket, but be prepared for what follows.
Societal progress is a motherfucker, ain't it?
Milo YainannaDoucheNozzleButNicePearls can say whatever the hell he wants, and indeed he was invited to UC Davis and UC Berkeley, but protestors created an environment that the university (or HE) felt was unsafe, so he left. He said all kinds of racist and xenophobic and misogynistic neo-fascist shit, and still got invited places and published.
But then it came out that he stated pedophilia isn't pedophilia if the kid has hit puberty, which apparently is JUST TOO FAR for Simon & Schuster and that Republican rally thing and Breitbart (who knew Breitbart had standards?!).
The rest though was no big deal for those guys, so not one deserves a cookie, not even stale ones with raisins in the back of grandma's cupboard.
In short, Milo shares a message that many American citizens believe does not deserve a platform. So they did their best to assemble, and deny him that platform. We can argue over the goodness and sanctity of that act, but his freedom of speech is intact. We know this because he's still walking around being blathering on as a washed-up piece of cow shit.
Boycotts are not a violation of freedom of speech.
Protests are not a violation of freedom of speech.
Losing a book deal is not a violation of free speech.
Being uninvited from a speaking engagement is not a violation of free speech.
Milo's career is smashed because of the choices he's made within the context of the world he's living in. Undoubtedly he will maintain a cult-following of alt-right worshippers, but the rest of us have no time for his bullshit, and kindly ask that you exit your unique snowflake word-definition vortex and figure out what "free speech" means, or shut the ever-loving fuck up.
Alright, not so kindly.
But this is America. Milo and I (I just threw up) and you and duck dynasty homophobe guy get to say what we want, and then, we get to deal with the consequences.
THAT IS OUR RIGHT.
Here. I made a handy guide the intended audience will never use.
It's called "Is my right to free speech being violated: A STARTING POINT"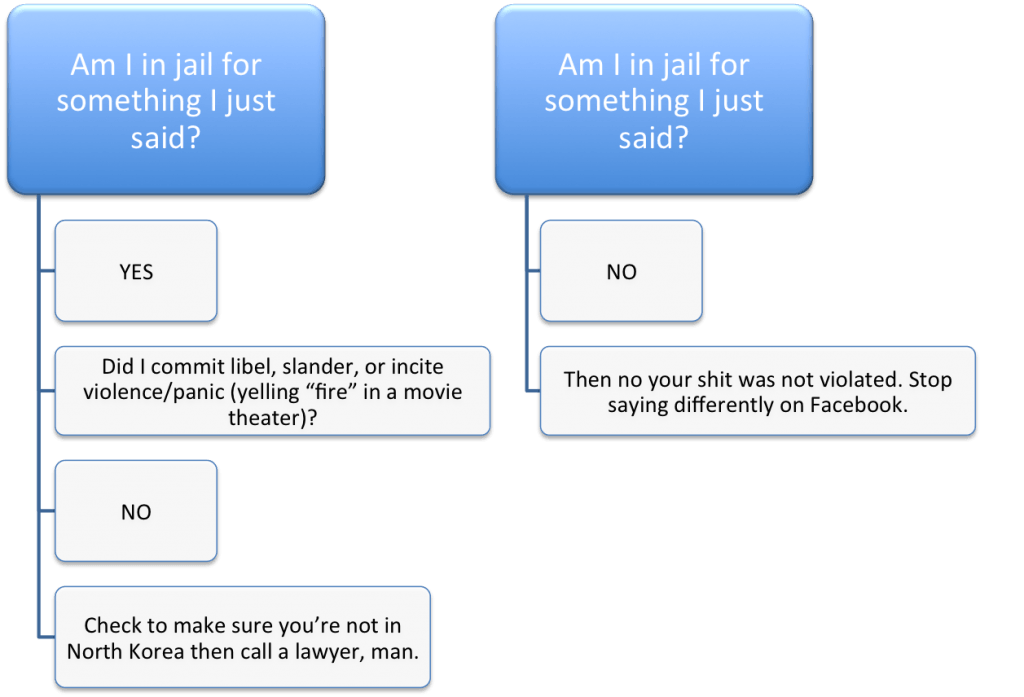 ***
Speaking of saying whatever the hell we want,
you should join my April online writing workshop so we can
DO THAT TOGETHER.
"Write Anyway" begins April 5.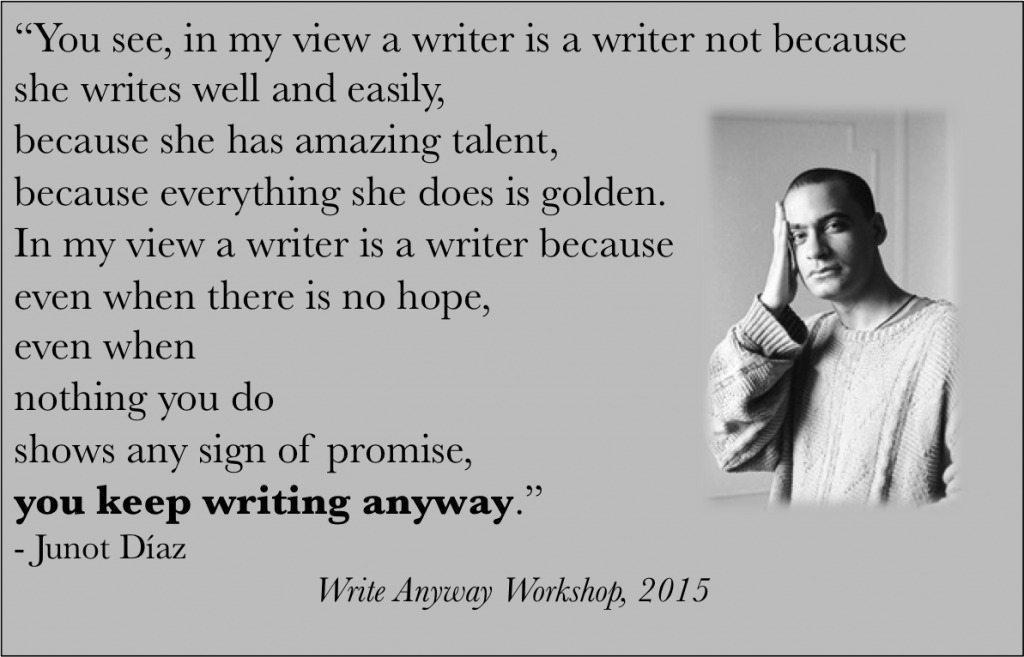 more stuff I shouldn't have said out loud: